In mid-January, I took my daughters and Mother-in-Law to experience Guajome Lake and Regional Park in Oceanside for a couple of hours. You see, we are constantly passing by the front entrance whenever we take Highway 76 to the coast.
I have always been intrigued by what Guajome Lake looked like, so today was the day to find out!
A Bit of Guajome Regional Park History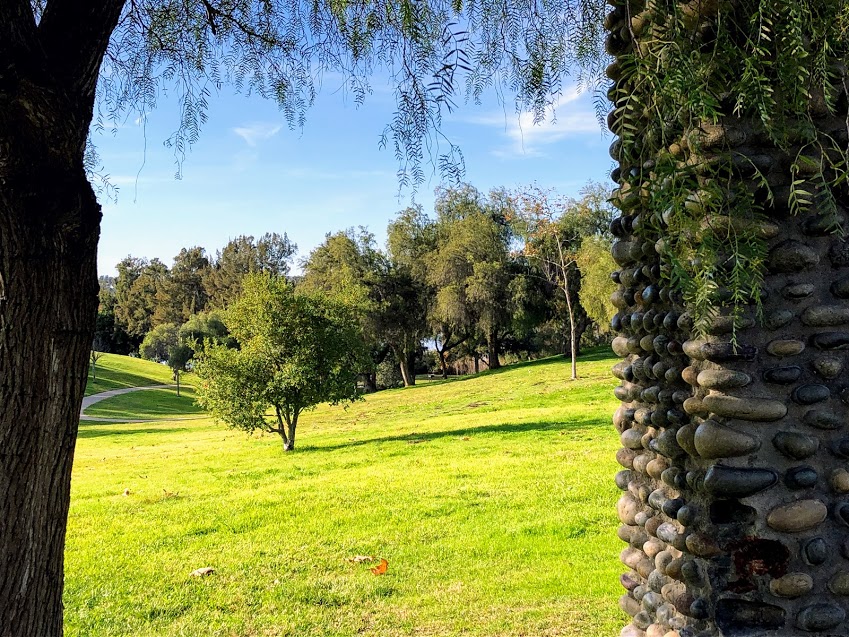 First off, here are a few statistics regarding Guajome Regional Park. The park spans over 394 acres and is 8 miles inland from the coast.
The first inhabitants of the area were Native Americans called Luiseno by the Franciscan Padres from the San Luis Rey Mission (est 1798.) (Fun fact- My children went to Luiseno Elementary School)
The land was granted to two Luiseno brothers in 1845 by the last Mexican Californian governor Pio Pico. The property changed hands several times over the years.
In the 1950s, the area was owned by Jerry Buteyn, who established a prized collection of birds and animals to create a private zoo. The lake and marsh areas were designed to enhance the look and feel of the estate.
Take special note that Jerry was the one who planted all the palm trees throughout the park.
Until the 1970s, the County of San Diego purchased this land to create the present-day park.
Guajome Lake and Birdwatching and Fishing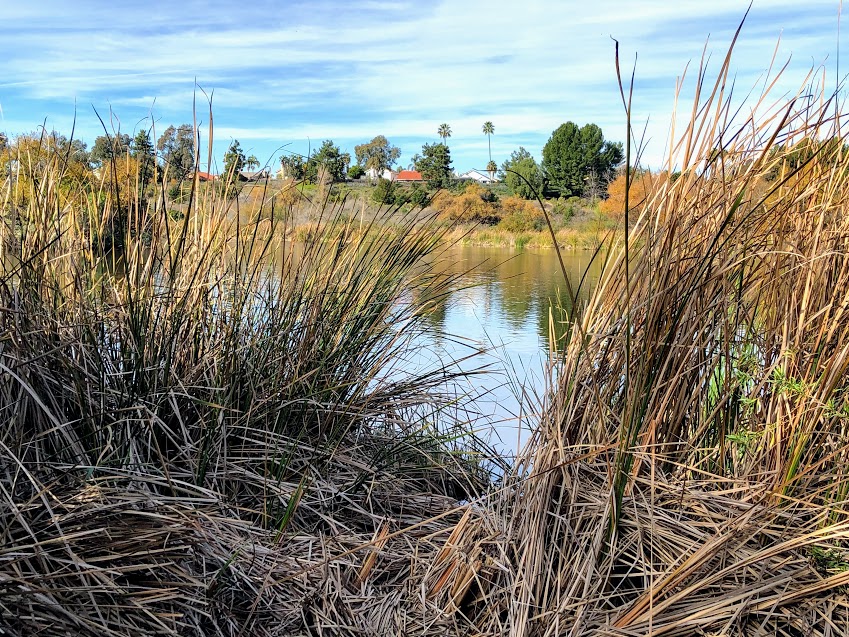 Guajome Lake, which is only 21 acres, is a San Diego County-managed water body within the San Luis Rey River watershed.
Located adjacent to the Lake is Guajome Marsh, which connects to the Lake via a small creek (Guajome Creek), draining over 1293 acres into the Lake.
Because urban and residential neighborhoods surround the Lake, it is impacted by draining runoff, especially during and after a storm. Due to increased nutrients, the Lake has an overpopulation of algae, which in turn depletes oxygen.
Surrounding the Lake are riparian and marsh habitats.
Birding at Guajome Regional Park
Over 186 different migratory bird species have been seen within Guajome Regional Park boundaries, making it a top North County San Diego birding hotspot!
Birds present within the park include waterfowls, neotropicals, hawks, kites, and pheasants.
Notable birds seen here include the endangered California Least Tern and the Light-Footed Clapper Rail.
For more San Diego Birding Hotspots- Click Here!
Fishing at Guajome Regional Park
Guajome Lake also offers the option of shore fishing, but only during park hours. So, what type of fish are you expected to catch? Well, after reading a few fishing reports, there are bass, bluegill, and channel catfish. One angler even suggested using hotdogs as bait!
The city has recently made a concerted effort to cut back much of the cattails around the Lake to allow for more access to anglers. Do not forget to have your fishing license on you at all times!
Guajome Regional Park Amenities
When entering the park for the first time, it looked like any other park, with large grassy lawns, two playgrounds, basketball courts, picnic tables, and a soccer field.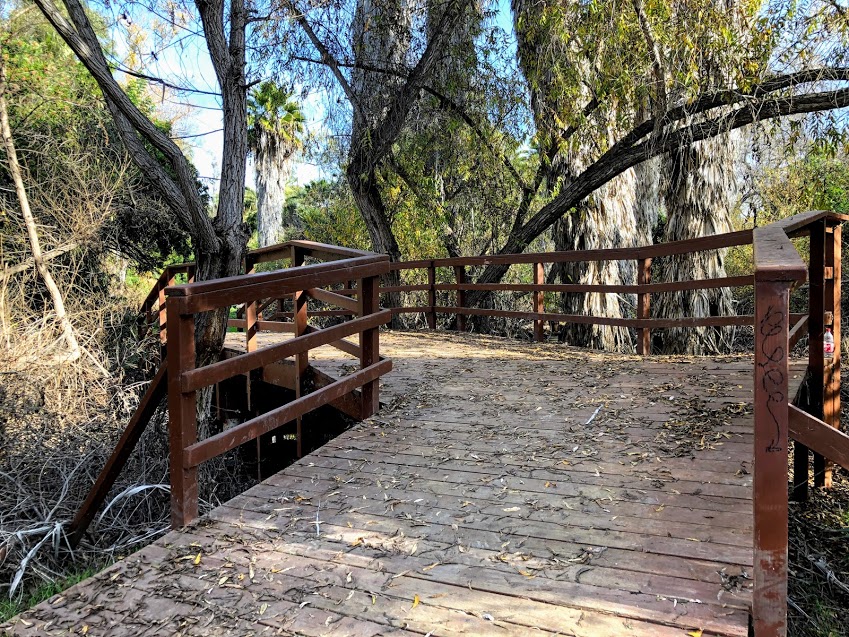 But once you start to walk next to the Lake, things begin to change. You begin to forget that you are, in essence walking around an area surrounded by an urban neighborhood. The trees help with the seclusion as well as the sounds of birds within these trees.
Another great feature that is here is the Guajome Regional Park Campground which has-
33 spots to camp
one family cabin provided via a reservation
partial water and electrical hook-ups
sewage dumping available
paved driveways
fire-rings
picnic tables
restrooms with hot showers
a large group Pavillion
outdoor amphitheater
large shade trees
Additional Information http://www.sdparks.org/content/sdparks/en/buttons/CampingButton.html
---
Hiking Through Guajome Regional Park Habitats
Guajome has 4.5 miles of trails to explore, introducing you to several diverse Southern California habitats, which include-
freshwater marsh
chaparral
woodlands
mixed grassland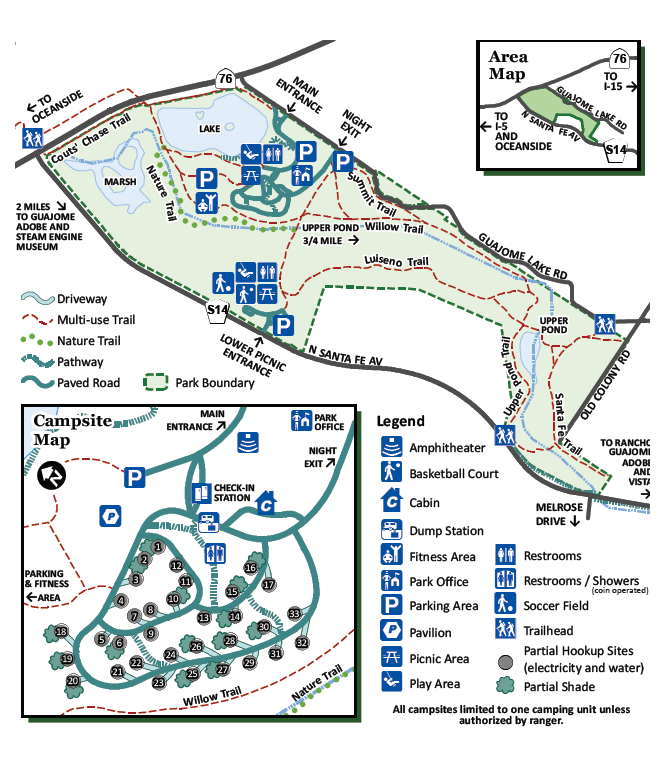 There is a self-guided Nature Trail (see map) located just after the Lake. There are placards set up, showcasing the different types of plants and animals in the Guajome Regional Park.
Dogs are allowed here, but only on a leash, and equestrians also use several trails. So do not be surprised if you happen to see a horse or two.
Let's now take a look at what we saw!
The girls and I continued on the Willow Trail for about a mile and then turned back around because my Mother-in-Law was getting a bit tired. I wish we could have kept on a bit farther, but that was not in the cards today.
Notable Places of Interest Near Guajome Regional Park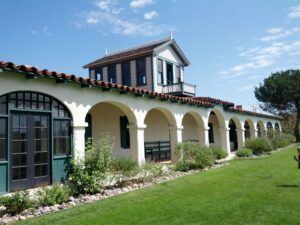 Ok, there are a few significant interest spots located around the Guajome Regional Park.
About one mile east, off of North Santa Fe Ave, there is the 7000 square foot, 22 room Rancho Guajome Adobe. Built-in the 1850s, this Historical Landmark adobe served as the headquarters of the Rancho Guajome Estate.
The Antique Gas and Steam Engine Museum are just south of the Adobe, which showcases technological and mechanical advances of the early days of farm life in rural America (from 1849 through the early 1960s.)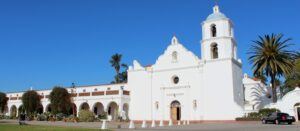 One mile west of the park, you will find  Mission San Luis Rey de Francia, one of the first places ever built in the area. San Luis Rey means 'king' as it is the largest of the twenty-one California Missions.
On the corner of North Santa Fe Ave and Highway 76, you will find the end of the San Luis Rey River Trail at the most northwest corner of the park. Here is where you can walk, jog, skate or bike ride eight miles west and reach the coast of Oceanside, just east of Oceanside Harbor.
---
I hope that you enjoyed our adventure today. Here are a few other articles about the Oceanside are, if you would like more information! Please check back, as I am always going somewhere on the coast, and I love to share!
Until next time!
I have always had a deep-seated passion for the Ocean Environment which ultimately led me to receive a degree in Marine Biology. Living in the San Diego area for over 30 years, I have extensively explored the 70 miles of San Diego's coastline, and I am here to share! Please use my website to your advantage and have a look around at all the wonders that the beaches of San Diego can offer you!