On the morning of April 29th, I woke up on a mission. A mission to take in some glorious sights and breathe in some crisp and clean ocean air. I wasn't sure where to start this adventure, so I let my instincts guide me. While driving to the coast, several ideas pop in and out of my head. So today, I decided to take a closer look at the Carlsbad Sea Wall Trail, which is extremely popular in North Carlsbad.
—>Beaches of San Diego County<—
Below is an outline of the Beaches of Carlsbad. On this particular day, I visited all the beaches except South Ponto.
Carlsbad State Beach
Robert Frazee State Beach
Tamarack State Beach
Warm Water Jetty Beach
South Carlsbad State Beach
Terramar State Beach
North Ponto State Beach
South Carlsbad State Beach
South Ponto
Exploring the Carlsbad State Beach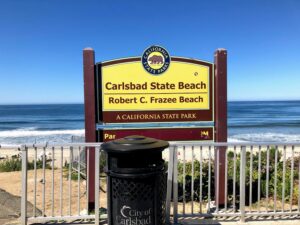 Today, I thought I would start over at Robert Frazee Beach, where Carlsbad State Beach's northern boundary begins. A small parking lot is located off Oak Ave and Ocean St, but I found a parking spot right off Pine Street in the residential area.
I can not express just how gorgeous the day it was! The sky was crystal blue with not a cloud in the sky. It felt so good to be on the coast!
Now there are two choices for hiking over here. The first is located right down on the beach- The Carlsbad Sea Wall Trail, while the second option would be to walk up above on Carlsbad Blvd.
Dogs are not allowed below on the trail, but you are welcome to walk with them above, with a leash along Carlsbad Boulevard.
—> Dog-Friendly Beaches in San Diego<—
Let's now take a look at what I saw, shall we?
---
Walking the Carlsbad Sea Wall Trail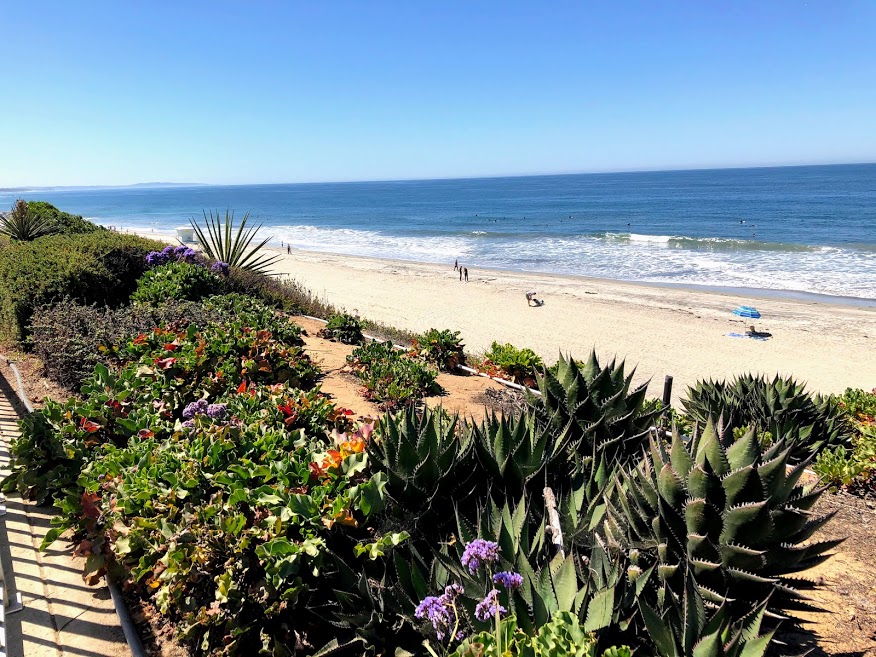 As stated previously, the Carlsbad Sea Wall Trail is a part of the California State Beaches, and I urge you to look at the Sea Wall itself. Here are a few examples of the native plants found in Southern California.
First and foremost, it is essential to mention that this trail is wheelchair accessible and is a 1.4 miles round trip.
The photo above is where you walk down to the beginning of the trail at Robert Frazee State Beach, taking you to Tamarack State Beach.
At the end of the Trail is Tamarack Beach, as well as the Agua Hedionda Lagoon Inlet.
I couldn't help it; here are a few more photos!
Agua Hedionda Lagoon Jetties
I always love to come here and check out the lagoon's inlet! The tide was coming in on this day, so the significant influx of water formed a few waves between the jetties.
Did you know that in 2008, an individual observed a great white shark fighting with up to eight dolphins right here between the Agua Hedionda Lagoon jetties? He had been driving over the bridge around 6:15 am when he witnessed this strange event. If you would like more information on shark sightings in San Diego, I have provided you with a link below.
Warm Water Jetty Beach
The Warm Water Jetty Beach is south of Tamarack Beach and the Agua Hedionada Lagoon inlet. Here is a trendy surf break. The beach got its name due to the warm water discharge from the Encina Power Plant.
---
Continuing to South Carlsbad State Beach
So, I decided to turn around and head back north to where I had initially started. Once back in the car, I continued my journey to Terramar Beach. Rather than looking for parking off of Carlsbad Blvd, I always like to park again in the residential area across from the Terramar Beach staircase.
When I arrived at this beach, the tide was too high for me to walk the shoreline, so I concentrated on the bluffs instead. Ever since I was introduced to the Cristianitos Fault over at San Onofre State Beach, I have become obsessed with the geology of the coastal cliffs in San Diego.
Terramar Beach and Bluffs
---
Walking Through the Torrey Pine Trees in Carlsbad
I am fascinated with an old abandoned swatch of land within the California State Park System. Over the street from Terramar Beach is a row of Torrey Pine trees that I have been documenting for the last four years.
This was the very first time taking photos here when the sun was shining and not overcast. Also, the trees were in bloom, bringing some added joy to the situation.
So if anyone has any information about these Torrey pine trees, please leave me a comment below!
---
Walking North Ponto Beach
North Ponto Beach is one of my favorite beaches because you always see many surfers carefully walking down the bluffs with their surfboards. To say I have respect is an understatement, and they have skills!
Usually, it is easy to find free parking here, but getting down to the beach is slightly declined.
Touring 10 North County San Diego Beaches
South Carlsbad State Beach Campground
I continued my adventure by walking south of North Ponto beach and found a staircase connecting the South Carlsbad State Beach campground.
The campground was pretty much filled up on this day, which was nice. If you ever wanted to experience camping on the coast in San Diego, this campground is one of the best. I had the pleasure of camping here in 2017, and there is something to be said about falling asleep to crashing waves- pure heaven.
---
Thank you for joining me on my Carlsbad adventure! If you want an easy hike with gorgeous views, head to Carlsbad today!
Until next time!
I have always had a deep-seated passion for the Ocean Environment which ultimately led me to receive a degree in Marine Biology. Living in the San Diego area for over 30 years, I have extensively explored the 70 miles of San Diego's coastline, and I am here to share! Please use my website to your advantage and have a look around at all the wonders that the beaches of San Diego can offer you!