Hallelujah! I took the time to finally walk the beaches of Solana Beach on a glorious summer day. It was super hot inland, so I thought, what better time to go and check out the coast? I have wanted to go to Solana Beach forever, so here I am!
Solana Beach is situated between Encinitas to the North and Del Mar to the South, and the beach stretches for over 1.7 miles.
Solana Beach has also been a favorite hangout of juvenile great white sharks in the past couple of years!
Fun Fact- Solana is Spanish for "warm wind"
So here is a list of the beaches of Solana Beach that I had the pleasure of walking on, starting first from the North down to the South-
South Cardiff State Beach- Seaside Beach
Tide Park Beach
Fletcher Cove
North Seascape Surf Park
Del Mar Shores
Del Mar North Beach (Del Mar)
Let's now look at each beach, followed by exciting facts highlighting each area.
---
South Cardiff State Beach- Seaside Beach
Seaside Beach is the very first beach on the northern boundary of Solana Beach. Two popular offshore surf breaks, Seaside Reef and Cardiff Reef, make South Cardiff State Beach a surfing mecca for locals and tourists alike.
San Elijo Lagoon sits just behind this beach and has roped off the south section of the beach for the Western snowy plover and California least tern, as well as an isolated area for native dune plants to flourish.
Cardiff State Beach is a wheelchair-accessible beach that offers both manual and power beach chairs with a beach mat next to Tower 15.
There is a large paid parking lot at the entrance of the beach.
You are welcome to have your dog over here, but they must be leashed.
As a bonus, several restaurants are located on the sand just behind the beach.
---
Tide Beach Park
The next isolated beach for the day is Tide Park Beach, which becomes a secluded cove during a high tide.
The entrance to this beach is in the residential area at the intersection of Solana Vista and Pacific Ave.
The water here is calmer compared to neighboring beaches and is a prime spot for snorkeling and scuba diving around the reef offshore.
Table Tops reef surf break with tidepools on the north end of the beach.
Dogs are allowed on the beach with a leash but only north of the stairs to Cardiff State Beach.
There are showers available, but no restroom, and lifeguards are on duty only during summer months (10 am to 6 pm)
Fun Fact- I was visiting this beach for the very first time with my family in March of 2018. To my surprise I was able to witness just how this bluff was modified. Take a look below!
---
Fletcher Cove Beach Park
Fletcher Cove Beach is found at the end of Lomas Santa Fe in the heart of Solana Beach.  This beach is also referred to as Pillbox because there used to be concrete military gunnery set up on the bluff during WWII.
There is a small parking lot above the beach and a larger one across the street from the Solana Beach Public Library.
This is the beach to go to regardless of the tide, as it is the widest of all Solana Beach's beaches.
Fun Fact- This pathway at Fletcher Cove was created in 1922 by the community leader and developer, Colonel Ed Fletcher, to connect down onto the beach. Tons of cliff material was broken down by this one man just by using a fire hose and overflow water from Lake Hodges. He was able to finish this project in three months!

Fletcher Cove
---
North Seascape Surf Park/ Cherry Cove
Beach access is found at 501 S Sierra Ave, inbetween the Seascape Sur condos and the Solana Beach and Tennis Club; look for the big blue arrow. A large public parking lot is located across the street from the entry point.
I assume it might be a bit busy here on the weekends as it is the designated beach of the condos up above.
no restroom
popular surfing and boogie boarding
wide sandy beach at low tide
volleyball courts
only lifeguards in summer months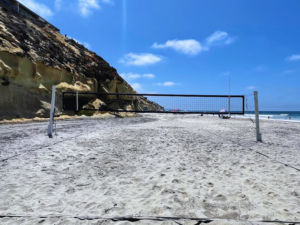 ---
Del Mar Shores Beach
A public stairway is located at 180 Del Mar Shores Terrace and Sierra Ave. Parking is residential, so look for the signs pointing the way near the Del Mar Shores Terrace condominiums.
The best time to visit here would be during a low tide as the beach is relatively narrow or completely wet during a high tide.
Del Mar dog beach is just right around the corner from here.
Be sure to check out all of the fossils!
no restrooms or showers
leashed dogs are allowed from the stairway south to Del Mar
popular surf fishing beach
popular boogie-boarding spot
lifeguards are only present in summer from 10 am – 6 pm
Fun Fact- In the early 1970's, large condominium developments were built on top of the cliffs in Solana Beach. There are over 850 units!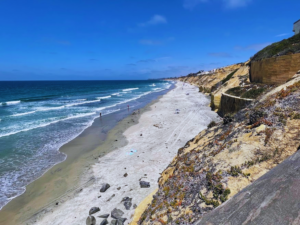 ---
Del Mar North Beach
So I wanted to add Del Mar North Beach and the San Dieguito Lagoon to my adventure post. Though technically, I have just crossed the Solana Beach border (see photo above) and walked into Del Mar, I would love to share a few facts from over here.
Del Mar North Beach is a dog-owners mecca! You can let your dog run leash-free from Labor Day until June 15th! After June 16th, you must have your dog on a leash.
Make sure to check out the 4-acre bluff reserve overlooking the beach.
The hike isn't too hard, and boy, oh boy, the views!
---
San Dieguito Lagoon 

So what did you think about the beaches of Solana Beach?
Pretty impressive, yes?
I still can't get over how many condos are situated above, but maybe I am just jealous that I don't live there.
Please feel free to ask any questions you may have below!
Until next time!
---
Close By Attractions
---
Helpful Posts-
Resources–
I have always had a deep-seated passion for the Ocean Environment which ultimately led me to receive a degree in Marine Biology. Living in the San Diego area for over 30 years, I have extensively explored the 70 miles of San Diego's coastline, and I am here to share! Please use my website to your advantage and have a look around at all the wonders that the beaches of San Diego can offer you!