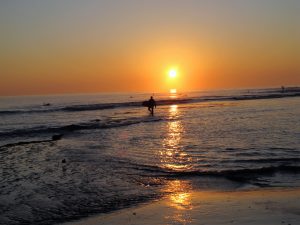 As I have said many, many times, San Diego has some of the best beaches in the country. Most are well known and are almost always busy, but there are a few that not many know about. Today I would like to concentrate on one of my favorites, Swami's State Beach.
This hidden beach oasis is situated toward the southern end of Encinitas, California, about 25 miles north of Downtown San Diego.
Would you like to come and join me for a tour?
Let's go!
Continue reading "Swami's State Beach-Hidden Paradise"
I have always had a deep-seated passion for the Ocean Environment which ultimately led me to receive a degree in Marine Biology. Living in the San Diego area for over 30 years, I have extensively explored the 70 miles of San Diego's coastline, and I am here to share! Please use my website to your advantage and have a look around at all the wonders that the beaches of San Diego can offer you!