With over 70 miles of coastline, San Diego tide pools are less common than expected. You see, it all depends on the topography of the shore. Here I would like to present the top 10 San Diego tidepools. I will start in North County, San Diego, and end at the most southern location in Point Loma.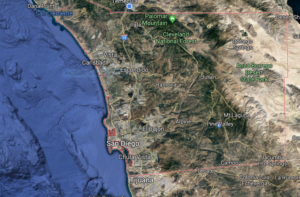 I have linked each address to a Google Map to make it easier for you. Also, please click on each photo to see a larger version.
As a rule, you should always check the tidal chart before heading to the beach. The best time to experience the tide pools is during low tide, and anything below a +1 is an opportune time to visit. Now that would be far superior if you could go during an adverse tide, but most of those only happen in winter.
I have also included a pamphlet, courtesy of the Cabrillo National Monument, which will help you identify some of the tide pool specimens. Please have a look and print it out!
San Diego Tide Pools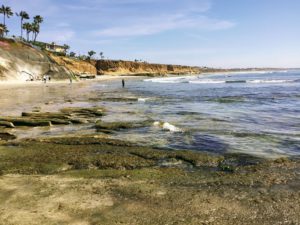 Cerezo Dr & Carlsbad Blvd, Carlsbad, CA 92008
 There are two possible ways to reach Terramar Beach. Above I have linked the address of Terramar Beach proper, but you may also enter this location via Warm Water Jetty Beach and then walk a bit south. The truth is that the tide pools are about halfway between these two beaches.
What I liked about these particular San Diego tide pools is that you can examine what is below in the water and watch all the surfers in the waves simultaneously.
Parking is limited and is found off the street or in the residential neighborhood, and there are no restrooms available here.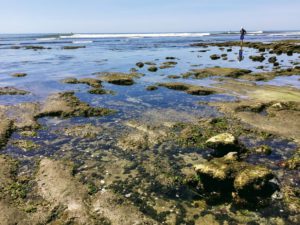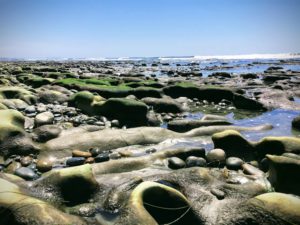 ---
1298 S Coast Hwy 101, Encinitas, CA 92024
Swami's State Beach has always been one of my favorite places to go and check out the San Diego tide pools. This beach is unique because the reef near the shore is almost always exposed to every low tide. Here you can see many California mussels and the Gooseneck barnacles up close.
There is a small parking lot with about 25 spaces, a restroom, picnic tables, and a grassy lawn at Swami's Seaside Park.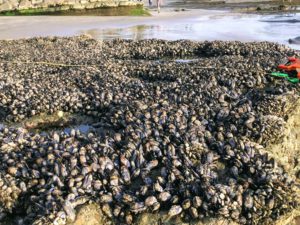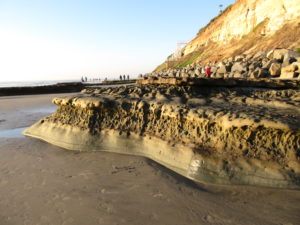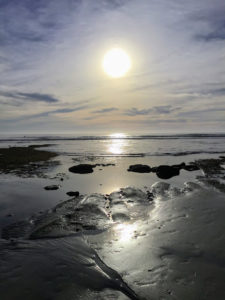 ---
San Elijo State Beach
2050 S Coast Hwy 101, Cardiff, CA 92007
San Elijo State Beach is located just south of Swami's State Beach, so you can reach this beach from Swami's and park up on top of the bluffs at the San Elijo Campground. Here the reef is right onshore rather than, say, up against a bluff. You may encounter small fish as well as local invertebrates.
Restrooms and showers are available at the campground and Swami's State Beach.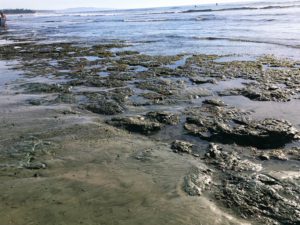 ---
South Cardiff State Beach-Seaside Beach
2504 S Coast Hwy 101, Solana Beach, CA 92075
Here we have what is called the Table-Top reef that is located between here and Solana Beach right near Lifeguard Tower 10. It is estimated that this sedimentary reef is over 45 million years old! If you look closely, you will find clam and oyster fossils.
There is a large paid parking lot here, restrooms, and showers.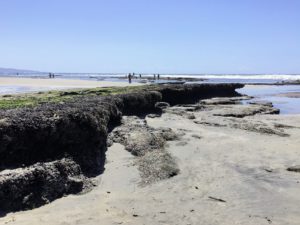 ---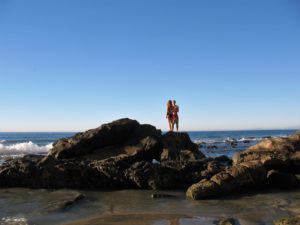 El Paseo Grande & La Jolla Shores Dr, La Jolla, CA 92037
Dike Rock is another excellent place to go and check out the tide pools! The Scripps Aquarium offers curated tours at this location in the winter and spring. If you would like more information, go here.
---
Calle Frescota & Camino Del Oro, La Jolla, CA 92037
South La Jolla Shores Beach has some incredible tide pools. Located just south of the La Jolla Shores Beach Hotel, these tidepools are enormous. They are tricky to maneuver through, so caution is given.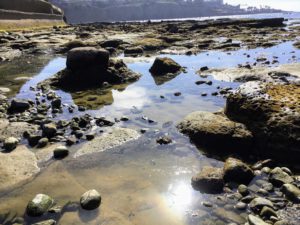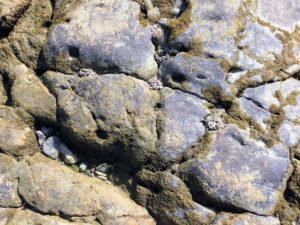 ---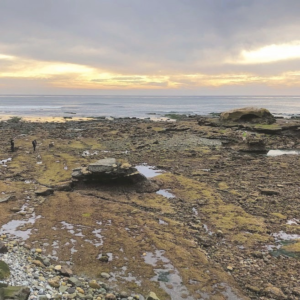 Dolphin Pl & Bird Rock Ave, La Jolla, CA 92037
Bird Rock is by far one of the best San Diego tide pools! When I was in college, this was the beach we went to on an extremely low tide for my Marine Invertebrate Zoology class, which was simply amazing. Again, as you can see from the photos, this beach is only accessible during extremely low tide.
Bird Rock beach is located in a residential neighborhood, so parking and no restroom or shower are limited.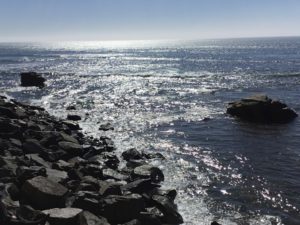 ---
341 Sea Ridge Dr, La Jolla, CA 92037
I came upon this beach access site while exploring North Pacific Beach and was taken aback by the sheer number of rocks on this shoreline. Though I have yet to study the area in detail, I can safely say that False Point is one of the best San Diego tide pools. Scripps Aquarium offers curated tours in the winter and spring here as well!
Again, this spot is located in a residential neighborhood, so parking is limited, and there are no restrooms or showers.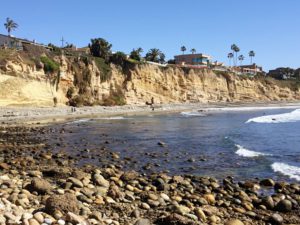 ---
Santa Cruz Beach Access-Ocean Beach
5030 Santa Cruz Ave, San Diego, CA 92107
Ocean Beach Pier has some fabulous reefs just south of it that stretch out quite a bit and is an incredible place to explore on a negative tide. What makes this site unique is a small walkway parallel to the bluffs that give you access to an otherwise remote location.
A little caution, though, as these bluffs can be slippery when wet. Make sure that you have appropriate footwear! The above address I have linked will take you right to these stairs, or you can reach this site by following the cement walkway south of the pier.
Parking may be limited, as this location is in a residential neighborhood, but you may park at the Ocean Beach Pier parking lot and follow the path south. There are restrooms on the pier, which is always a plus!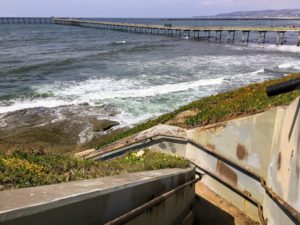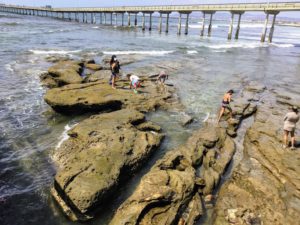 ---
Cabrillo National Monument-Point Loma
1800 Cabrillo Memorial Dr, San Diego, CA 92106
So I have saved the best for last! The Cabrillo National Monument tidepools are honestly the best San Diego tide pools. Situated on Point Loma Peninsula, Cabrillo National Monument is the go-to place to experience the wonders of the Rocky Intertidal Zone.
My family and I came here on January 1, 2018, on the lowest tide of the year, called a Spring Tide. As you can see in the photos, so much of the shore was exposed. If you want to read about our adventures, I have linked the post here.
It is also important to mention that this is a National Park, so there is a 15-dollar fee to enter. Seriously, if you have a chance to go here, do it! You will not be disappointed.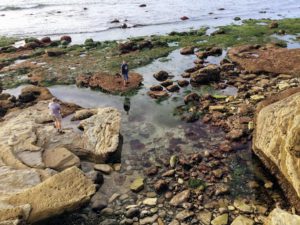 End of the List
So there you have my Top 10 best San Diego tide pools! To sum it up, the best time to visit a tide pool is when the tide is low; ideally, a negative tide is best. Also, remember that these beautiful negative tides only happen during the day in the winter or spring.
I hope that this list has helped you out, but if you may have any questions or comments, please leave them in the comment section!
Until next time! Happy tide pooling to you!
---
I have always had a deep-seated passion for the Ocean Environment which ultimately led me to receive a degree in Marine Biology. Living in the San Diego area for over 30 years, I have extensively explored the 70 miles of San Diego's coastline, and I am here to share! Please use my website to your advantage and have a look around at all the wonders that the beaches of San Diego can offer you!