Today, I would like to take you on a tour of the San Elijo Lagoon Nature Center, which lies between Encinitas to the north and Solana Beach to the south in San Diego North County.  I have always wanted to explore the San Elijo Lagoon as you can see it from both HWY 101 and off of Interstate 5.
Come and join me, would you?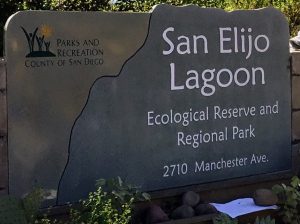 First off, here is a bit of information for you.
The California Department of Fish and Wildlife, as well as the County of San Diego Department of Parks, are in charge of overlooking the lagoon.
Hours- 9am-5pm
Please click on each photo to see a larger version.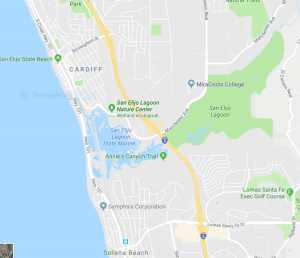 San Elijo Lagoon Ecological Reserve
There are over 1000 acres with 7 miles of trails and eight trailheads available to walk around at the San Elijo Lagoon.
Located within the reserve are six plant communities to explore:
Coastal Strand
Salt Marsh
Brackish/Freshwater Marsh
Coastal Sage Scrub
Mixed Chapparal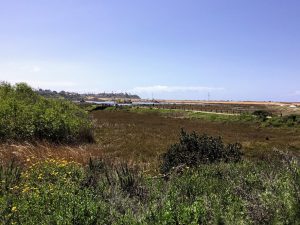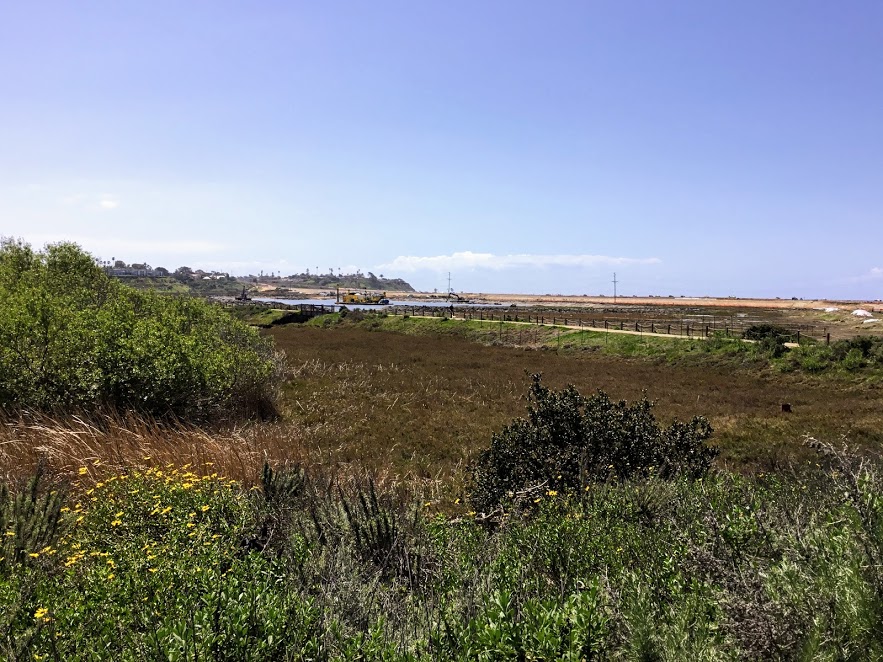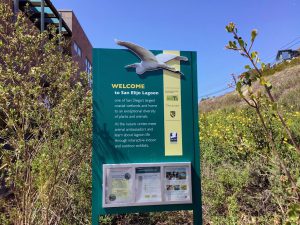 Let's now have a look inside!
---
San Elijo Lagoon Nature Center
Established in 2009, the San Elijo Lagoon Nature Center offers a variety of interactive displays as well as historical facts.
According to the San Elijo Conservancy website, "The 5,600-square foot building is Platinum-Certified by U.S. Green Building Council's Leadership in Energy and Environmental Design (LEED). The two-story building is made from recycled materials and relies on solar energy, natural light, and ventilation."
This state of the art center, which even uses recycled water to irrigate the landscape, replaced the nature center that had previously opened in 1988.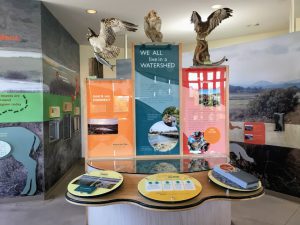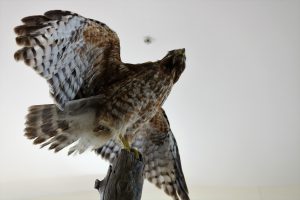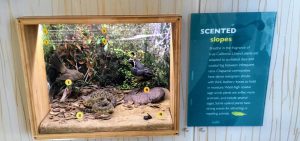 There are several examples of fragrant plants in this display. It helps you get a good idea of what you are smelling while walking around the lagoon.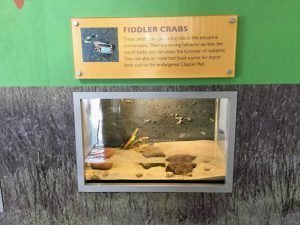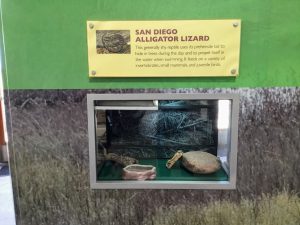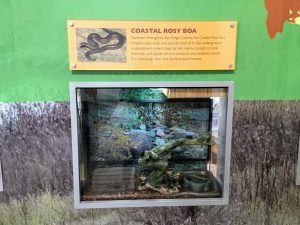 A Brief Look at the History of this Area
I was very interested in going over these historical displays.
Here you can learn very quickly all that has been happening in the area for over the past hundreds of years!
Let's have a look!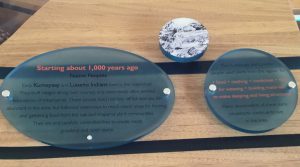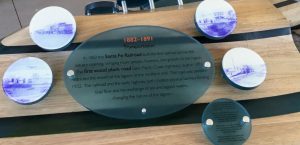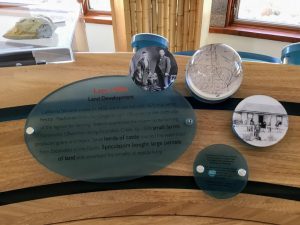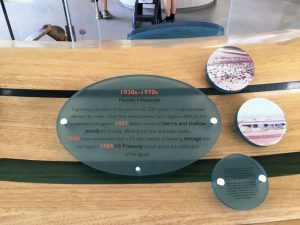 Time For A San Elijo Lagoon Nature Walk!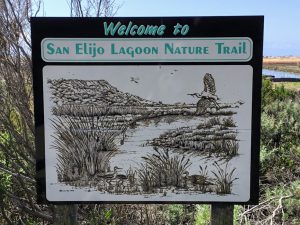 So today, we decided to walk around the San Elijo Lagoon Nature Trail Inner Loop, which is only .3 miles long.
Here you get to walk next to the inside of the lagoon and experience the Salt Marsh, Brackish-Freshwater, and Coastal Sage Scrub environments.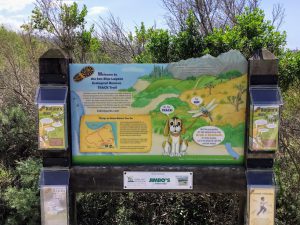 Before we start our adventure, I have found a couple of excellent resources to help you out in identifying the plants and birds at the lagoon compliments of the San Elijo Lagoon Conservancy.
At the time of our visit, crews were out in the lagoon dredging. There has been a consorted effort to restore the lagoon both from the city and from concerned private citizens.
Here are a few more examples of several birds seen here. Over 40% of North American bird species have been seen here!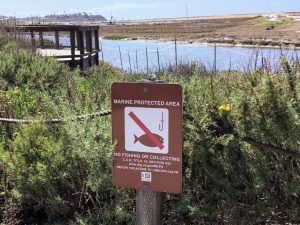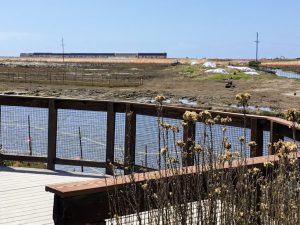 The Amtrak train passes by the lagoon several times a day.
Do you notice the dredging machine in the background?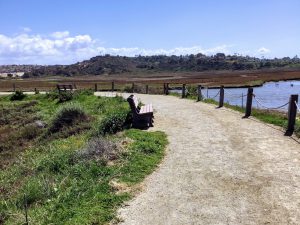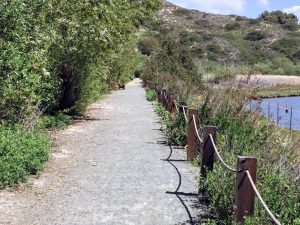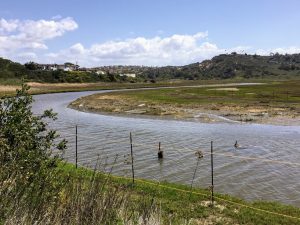 Seeing the San Elijo is an Ecological Reserve, it is important to remember to always stay on the designated paths.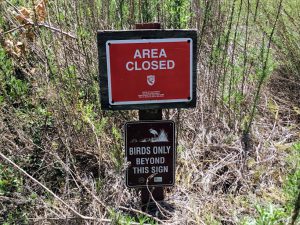 Here we are entering the center of the Inner Loop Trail.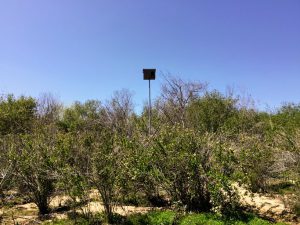 Here is an Owl Box on the reserve, located in the middle of the Inner Loop Trail.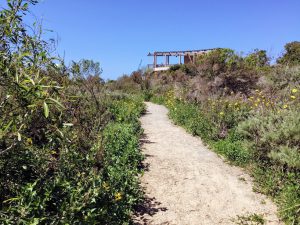 We are now heading back to the Nature Center now.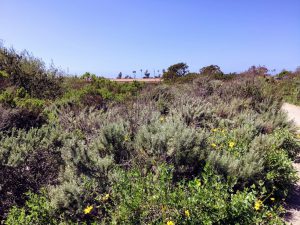 View From the Top of the San Elijo Lagoon Nature Center
As we come to an end of our walk around the trail, let's now have a look at the second story of the San Elijo Lagoon Nature Center!
Did you happen to notice the sign for Sunday Family Fun Day? I would also like to mention that every first and third Saturday, the San Elijo Lagoon Nature Center, offers free naturalist-guided tours from 10 am- 11 am!
Here is a pamphlet that I picked up at the nature center, which provides information about other programs that are held here.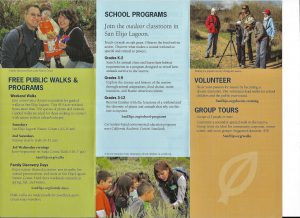 While we are walking up the stairs to the second floor, there were these beautiful drawings of birds to take in.
Here is a bit of the artwork that the kids make on Family Fun Day. There is something special when you can have fun learning!
I wish I were able to take a few more photos up here, but a swarm of bees started to surround me, so I thought it was a great idea to head back down!
End of the Day
So I hope you enjoyed a mini-tour of the San Elijo Lagoon Nature Center and the .3 mile Nature Center Trail Loop!
The Nature Center is an excellent location to learn about the early history of the area as well as learning about what animal and plant species that are prominent in Southern California.
In Southern California, over 90% of the coastal estuaries are gone due to development. Because of this,  restoration and preservation of the remaining estuaries are essential.
It gives me such pride to see another fellow San Diegans taking the initiative and effort to keep the Southern California coast as pristine as possible.
It has been a pleasure visiting all of the Coastal Lagoons and Nature Centers in San Diego! I have been learning so much!
I hope that you have enjoyed our mini-tour and that one day you can come here in person!
Please leave any comments or questions you might have!
Until next time!
Resources Used-
The Nature Collective- Formally Known as the San Elijo Lagoon Conservancy
---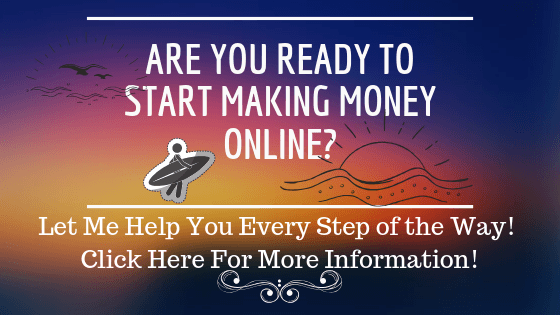 I have always had a deep-seated passion for the Ocean Environment which ultimately led me to receive a degree in Marine Biology. Living in the San Diego area for over 30 years, I have extensively explored the 70 miles of San Diego's coastline, and I am here to share! Please use my website to your advantage and have a look around at all the wonders that the beaches of San Diego can offer you!