I knew that the King Tide was due that weekend, so I thought, what better place to check out than the tide pools over at Sunset Cliffs Natural Park-Garbage Beach?
My husband and I had tickets for the 'King' of all concerts- Tool at  Viejas Arena SDSU (San Diego State University) on Sunday, January 12. It was a Christmas present from my sister-in-law (thank you, Tess!). My husband even made the situation sweeter by getting a hotel room. I usually work on the weekends, so you can probably imagine how excited I was to take a day off! My main objective was to make this one of the best days in San Diego (my best days are always at the beach!)
What is a King Tide?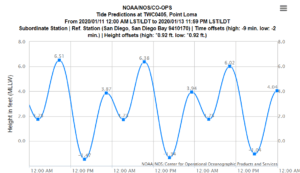 A spring tide occurs after a full and new moon occurs due to the moon and the sun's gravitational pull. The result produces a very high tide and a shallow tide. In essence, a Spring Tide is when there is the most significant distance between the high tide and the low tide. The best time to experience the tide pools is during an extremely low tide and, of course, the day. In the summer months, all of the very low tides happen at night.
Today's (January 12) spring tide peaked at 4:44 pm at -1.34 ft. We arrived at our destination at 2:15 pm and left by 3:44 pm. While keeping this in mind, notice the difference in the water level in the photos I will present to you.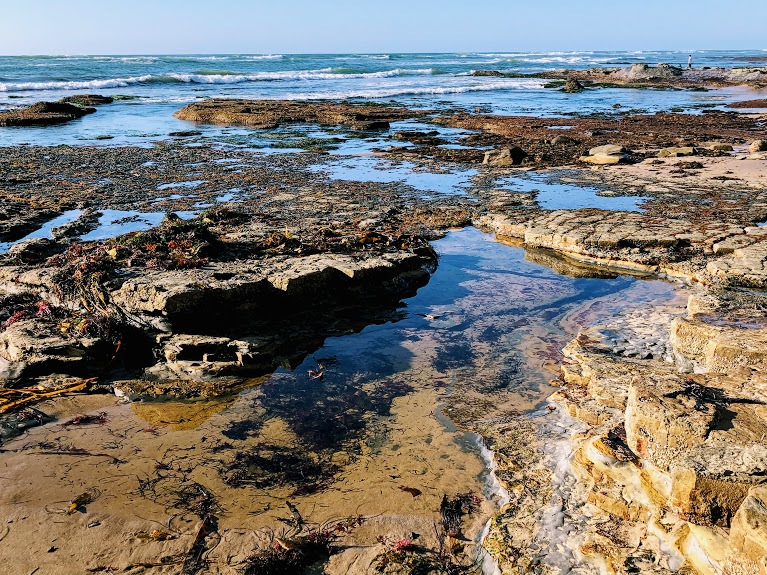 I have written a few posts on Sunset Cliffs Natural Park, so I will leave the links here if you want to take a gander at them.
Are you ready? Let's go!
Sunset Cliffs Natural Park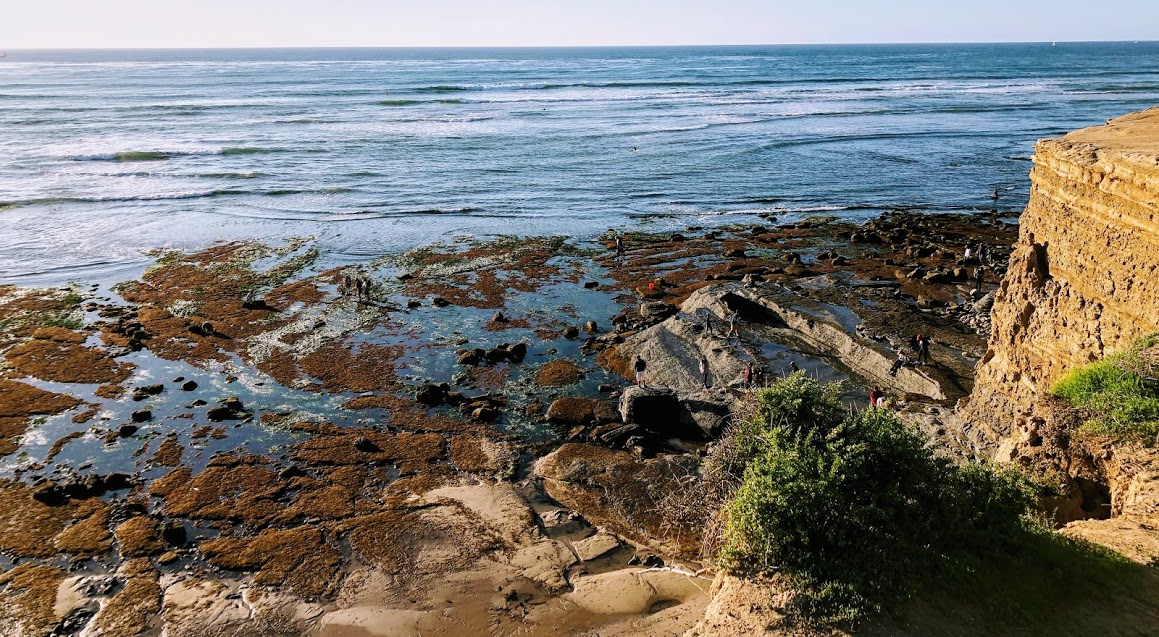 Why Sunset Cliffs Natural Park? Well, I have always wanted to go to the beach here as we always hike above the 18-acre linear trail, which runs parallel to the Pacific Ocean.
The topography of the land here includes weathered sandstone coastal bluffs, arches, and sea caves. So if you want to know the main reason for coming here, I want to see the caves!
Danger! Beware! The Cliffs are Very Dangerous!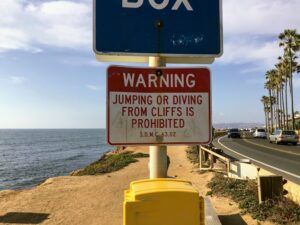 Right off the bat, it must be noted that this area is hazardous. In fact, from 2005 – 2018, there were 24 deaths and 49 severe injuries in and around the waters of Sunset Cliffs, and almost all were from out of town. There are many signs up and down the linear trail that warn of the cliffs' danger being unstable.
Please be very careful and do not walk too close to the edge. If you want more information, I linked a relevant article above, showing where each injury occurred.
Going Down to Garbage Beach
Sunset Cliffs Natural Park- Hillside Park (50 acres) is located at Sunset Cliffs Blvd and Ladera Street. On the corner, you will find a metal staircase that will take you down to the rocks below. Usually, you cannot walk on these rocks without getting a little wet.
But today, the stones are nice and dry, but we made sure to stay away from those rocks with algae as they are very slippery. We also consciously tried to stay away from anything living on the rocks. At times this was not easy, especially when faced with the fact that there is just one way to go regardless.
---
---
We finally arrive on the sand at the south end of the rocks. Almost immediately to the left, there is a rope. I quickly realized that this was the infamous way down to the beach I had only heard about.
---
---
I saw one woman coming down the rope with a small-mid size dog. I couldn't even imagine doing such a thing, but these two seemed to know what they were doing.
Later, we reached the entrance point when we were hiking up above Sunset Cliffs Natural Park—in front of Point Loma Nazarene College parking lot.
King Tide at New Break Beach 
As we were going to New Break Beach, I got very excited because this beach is usually covered with water. Only a tiny patch of sand is present on most days, but today that was not the case.
I made my way to take a closer look at the tide pools. Too bad we didn't have more time as I would have liked to walk out a little more to see some sea creatures. But second thought, that probably wouldn't be a great idea as I did not have the right shoes.
---
Walking Around Sunset Cliffs Natural Park-Hillside Park
After checking out the tide pools, we climbed the staircase and continued to the Hillside Park Section of Sunset Cliffs Natural Park. I love to see how things have been coming with the renovations taking place here since 2005.
Here are a few to compare-
Southern Maritime Chaparral and Coastal Sage Scrub in the northern canyon and Maritime Succulent Scrub and Coastal Sage Scrub are located in the northwest canyons and southeast corners.
 Sunset Cliffs Natural Park Linear Trail
As you can see, we left the coast about an hour before the low tide reached its peak. I wish we could have stayed longer, but we needed to get dinner and prepare for the concert!
Here is a comparison photo that I took when we first arrived and then when we were about to leave. Can you see the difference?
Do you like to inspect tide pools? If you live in the San Diego area, the next best time to go will be on Feb 7-9th.
Until next time!
Resources-
https://obrag.org/2019/06/deaths-and-dangers-at-beautiful-sunset-cliffs-a-survey-from-2005-through-2018/
https://www.sandiego.gov/sites/default/files/legacy/park-and-recreation/pdf/parkdesign/sunsetcliffsmasterplan.pdf
---
I have always had a deep-seated passion for the Ocean Environment which ultimately led me to receive a degree in Marine Biology. Living in the San Diego area for over 30 years, I have extensively explored the 70 miles of San Diego's coastline, and I am here to share! Please use my website to your advantage and have a look around at all the wonders that the beaches of San Diego can offer you!