On June 15, 2021, one of my best friends and I took her two dogs to Fiesta Island at Mission Bay Park. Though I have been visiting Fiesta Island for over 30 years, today was the first time I entered the infamous leash-free dog park; this place is magical! Ironically, the next day, the California Coastal Commission formally decided that Fiesta Island Dog Park would stay the same way it had been for years- rustic and undeveloped. I had no idea this was up for a vote.
A bit more commentary on this subject later.
So as I said before, I have been coming here for years, but in 2018, I did a photoshoot of the island. I was surprised at how special it is over here. Would you care to see what I saw?
Let's also look closely at all the things you can enjoy at Fiesta Island. As a bonus, I will include phone numbers and links to relevant websites about this area!
A Few Mission Bay and Fiesta Island Facts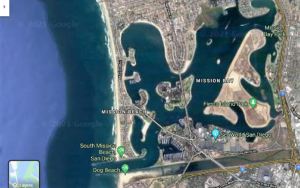 Phone Number– (619) 235-1169
Hours– 4:00 am to 10:00 pm
Click on the map below for a better idea.
#– Fiesta Island Dog Park is open 24 hours, seven days a week, but the island is closed to cars after 10:00 pm. You may enter, but you must park off the island and walk.
---
A Bit of Mission Bay History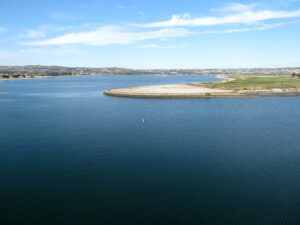 Before I get to Fiesta Island, I must mention Mission Bay Park.
Mission Bay, referred to in the past as False Bay by the infamous Spanish explorer Juan Rodriquez Cabrillo in 1542, was once an extensive tidal marsh connected to the San Diego River.
The reference to False Bay was because, on average, the water level was relatively low and sometimes lacked water altogether.
But back in 1852, the United States Army created a dike on the south side of the river to prevent it from flowing back into San Diego Bay. You see, before this year, the river emptied into both False Bay and San Diego Bay.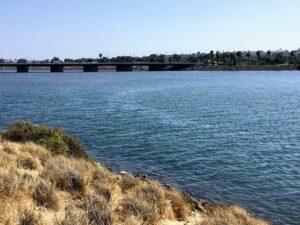 Due to the placement of the dike, False Bay became an even bigger estuary. In the late 1880s, some development began but was ruined due to a massive storm that produced mass flooding.
In 1944, the San Diego Chamber of Commerce recommended developing the area into a tourist and recreational spot to help diversify the city's economy. San Diego was and still is a big military town.
The constant dredging, moving, and filling of over 25 million cubic yards of sand created what is now known as Mission Bay Park.
Interestingly, most leftover sands dredged when creating Mission Bay became what is now known as Fiesta Island.
---
Fun Facts for Mission Bay Park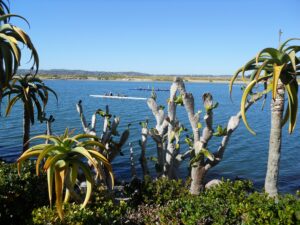 developed in the 1940s to 1960s
largest water park in the country
27 miles of shoreline and 4235 acres of land
54% water, 46% land
SeaWorld was built in 1964
---
A Few Fun Facts- Fiesta Island
Fiesta Island Sunset 2005
Fiesta Island is a unique, primitive, and undeveloped peninsular island located in the southeastern section of the heart of Mission Bay Park. The entrance is found right near Tecolote Creek in East Mission Bay.
A one-way road circles the island's circumference counterclockwise at a lovely speed of 25 mph. Usually, it is sparsely populated, with most visitors being seen over at the world-famous dog park. No parking lots exist, so cars can drive onto the sandy beach and park. Most vehicles on the beach are there to launch personal watercraft, but you find some just sitting and enjoying the day.
---
-A Few Frequently Asked Questions-
How Big is Fiesta Island?
-463 acres
How Big is the Dog Park?
-90 acres
How Many People Visit Fiesta Island Each Year?
-over 5 million people visit annually
What Special Events Happen Over at Fiesta Island?
-Old Mission Bay Athletic Club has been hosting the Over-the-Line Tournament since 1953
-Fiesta Island is the home of the first "Triathlon" swim/bike/run on September 25, 1974, which the San Diego Track Club directed.
How Special is the Fiesta Island Dog Park?
-Fiesta Island Dog Park was voted the number one leash-free dog park in the Nation by readers of USA Today in 2016
Are There Any Conservation Areas on Fiesta Island?
-both the north point and south point (Stoney Point) of the island are closed off to the public to protect California's least tern nesting sites; and also, parts of the central island are off-limits as well
---
Ok, now that we have a bit of historical perspective and a few fun facts, let us go and look around, shall we?
Fiesta Island Photo Tour and Directory
East Side of the Island- Calm Waters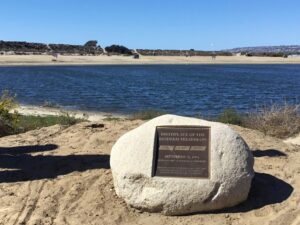 The entrance of Fiesta Island is found in the southwest corner of Mission Bay Park. There is a tiny parking area at the entrance, where you can find a row of Torrey pine trees.
As you pass over and onto Fiesta Island, looking to the right and left, the jet skies fly around here.
—>Desperately Seeking Torrey Pine Trees<—
Tecolote Creek
Tecolote Creek is found just north of the entrance of Fiesta Island. Here is a great area to check out shorebirds! Every time I am here, there are always birds.
—>Best San Diego Birding Hotspots<—
Tecolote Cove
Now we are on the island. Continuing north, we pass by Tecolote Cove, where you can ride on your watercraft (5mph).
For more information, click on the photo below.
Enchanted Cove
As we continue the journey heading north on the island, we come upon what is known as Enchanted Cove.
Enchanted Cove is located in the southeast corner of Fiesta Island. The speed limit here is five mph, so it is an excellent spot for stand-up paddleboarding (SUP) and rowing.
While I was here, several fishing poles were set up on both sides of the shorelines. That is a good sign that the potential for catching fish is high.
—>Saltwater Fishing in San Diego<—
Fiesta Island Youth Camp and Youth Aquatic Center
We approach the Fiesta Island Youth Camp and Youth Aquatic Center as we continue north. Here is where you can bypass the island's northern tip, as you can follow the road to the left or continue straight (see map above.)
The seclusion of Enchanted Cove makes it also an excellent place for birdwatching. While there, several different shorebirds were wading on the waterline for food.
This area is not for public use but only by various San Diego Youth Groups, such as Boy Scouts, Girl Scouts, Boys & Girls Club, Seascouts, YMCA Indian Guides & Princess, and youth church groups. The children learn to sail, canoe, row, kayak, windsurfing, stand-up paddle boarding, and swim.
The campsite, adjacent to the Aquatic Center, can hold up to 250 campers in 25 camp clusters.
For more information, click on the links below.
Phone Number- (619)235-1169
—>Boy Scout of America–Camp Fiesta Island Information<—
—>Summer Camp Leader's Guide 2023<—
Northern Cove
We are towards the island's northern tip, where you cannot beach, launch, or anchor. But continuing to go around the end and down a bit more south, here is where many will launch their small personal watercraft into Fiesta Bay, where you can go more than five mph.
Also, it should be noted that the northern tip of Fiesta Island is off-limits and is enclosed for California's least tern.
Center of the Island
Over the Line Fields
Here is the area where the infamous Over-The-Line Tournament takes place. The last tournament occurred50-Year,"      this weekend (July 16-18.)
The rich history of this annual San Diego event began in the mid-50s, sponsored by the Old Mission Bay Athletic Club.
I found this excellent tribute video of the event.
---
Are you interested in participating in an Over-the-Line tournament?
Click on the link below for more information.
—>Old Mission Beach Athletic Club<—
Launching Model Rockets? Yes!
Another little-known fact is that you can launch model rockets here on the  Over-The-Line fields, but you must get a permit beforehand (see link below).
—>Permits for Private Use of Model Rockets<—
Sand Dunes
As we take a bit inland, you can look around at a few native and many non-native plants and a few animals if you are lucky. Again, it is pretty refreshing walking around here, as most people prefer to stay by the water, and hardly anyone else is around.
—>Plants at the beach <—
Here is a list of a few native plants that I noticed while here-
coastal goldenbush- Isocoma menziesii
beach evening primrose- Camissonia cheiranthifolia
big saltbush- Atriplex lentiformis
pickleweed- Salicornia virginica
The West Side of Fiesta Island
Fiesta Bay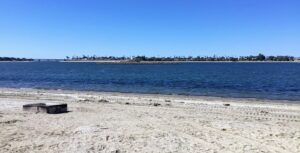 From the northern tip of Fiesta Island down to the southern end on the west side, you can go as fast as you like (within reason) from sunrise to sunset. So you can see countless personal watercraft mixed in with boats and sailboats.
Stoney Point
As we head south around Fiesta Island, we come upon Stony Point, connected to the dog park. Due to the isolation of the area and a good food source, Stony Point is a favorable nesting site (April to September) for the endangered California least tern.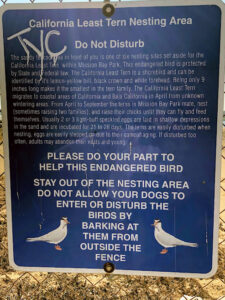 #Updated Information!
So, my girlfriend and I took her two babies for a walk over here in late October and this area was open! This is the very first time that I have been able to check out this area!
Want to take a look?

Fiesta Island Dog Park
If you had to pick one spot that screams Fiesta Island, it would be Fiesta Island, Dog Park.
This area is truly magical in the southwestern section of the island. While researching, I came across a Yelp review stating that this dog park is the best in the world!
I am not sure about that, but it was voted the number one dog park in all of the United States but the readers of USA Today.
—> Dog-Friendly Beaches in San Diego<—
While walking the dog park with my friend and her dogs, I didn't realize that the following day the city would decide to keep Fiesta Island the way it stands today.
The staff at the Coastal Commission wanted to breathe new life into a past proposal to open up broader public access to the island. They argued that the Coastal Act encourages opening waterfront areas to as many people as possible.
Below is a link to the proposed plan if you would like to look.
—>Fiesta Island Park Precise Plan-General Development Plan: Reduced Intensity (Version 4h)<—
Several from the kayak and canoeing communities wanted to develop parts of the island that would allow shoreline access. This plan also included decreasing the size and entrance of the dog park. Opponents of the plan point out that there is already shoreline access across the way at the South Shores Launch Ramp.
Fortunately, the proposal did not pass, and the Fiesta Island Dog Park remains just how it has always been.
For more in-depth information, click on the links below.
—>Save Fiesta Island Dog Park<—
—>Coastal Commission Agrees With FIDO and Cancels Proposed Changes for Fiesta Island Off-Leash Area<–
Hidden Anchorage
Hidden Anchorage is an isolated cove found on the island's southeastern tip.
Here is the spot to go if you like to water ski!
A permit is needed before waterskiing (see the link below).
Another interesting fact I learned is to acquire a waterskiing permit, you must also be a member of a waterskiing club.
Because of this, I have found a few Waterskiing Clubs in San Diego to make the process easier for you.
Please see the information provided below.
—>Waterskiing Permit Information via Lifeguard Station<—
Waterskiing and Wakeboarding Clubs near Mission Bay
San Diego Waterski Team- (sdwaterskiclub.com)
Convair Waterski Club- (convairwaterski.com)
San Diego Water Ski Team | Hidden Anchorage, Mission Bay (sdwaterskiclub.com)
---
End of the Tour!
So what do you think? Hopefully, I have included enough information that someday soon, you, too, will be able to experience Fiesta Island up close and personal.
Until next time!
Resources-
I have always had a deep-seated passion for the Ocean Environment which ultimately led me to receive a degree in Marine Biology. Living in the San Diego area for over 30 years, I have extensively explored the 70 miles of San Diego's coastline, and I am here to share! Please use my website to your advantage and have a look around at all the wonders that the beaches of San Diego can offer you!