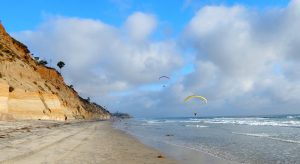 I have been visiting Encinitas's beaches for over thirty years, and I have many pictures to prove it! If I had to pick my favorite stretch of beaches on the 70 miles of coast in San Diego, it would have to be the beaches of Encinitas.
Would you like to join me on tour?
Let's Go!
The Beauty of Encinitas Beaches
The beaches of Encinitas cannot be defined by one word but by many. Spectacular, astounding, magnificent, eye-catching, and breathtaking immediately come to mind to recall past trips to this area.
I love the beaches of Encinitas. Is this possible? Well, I say yes, and this is why.
These beaches are beautiful to the eye and serene and comforting to the soul.
There is so much to take in and to be a part of when encountering the beaches of Encinitas for the first time that you may have sensory overload.
The sheer magnitude of the towering cliffs, the soft sand beaches, and the lulling of the offshore waves might be too much for some people. May I suggest taking a deep breath, drawing in the beauty and energy within, and holding it for a while?
Where is Encinitas?
Hands down, the beaches of Encinitas are some of the most beautiful beaches in all of Southern California,
Surrounded by Batiquitos Lagoon to the north and San Elijo Lagoon to the south, the beaches of Encinitas cover 6 miles of rugged coastal terrain. All beach entries are bluff except for Moonlight State Beach and Cardiff State Beach, where both have street-level access.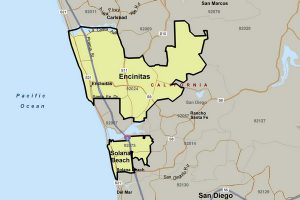 The beaches of Encinitas (Spanish for "little oaks") are approximately 25 miles north of Downtown San Diego in the North County area of San Diego County, California.
When imagining the stereotypical beach town, Encinitas might come to mind. Encinitas has an easygoing, laid-back, and mellow vibe, and the people are friendly and warm to each other.
Go figure!
The surf culture rules here and is evident by the sheer number of surfboards seen everywhere.
Surfer.com even named Encinitas the #7 Best Surf town in America in 2017!
The Beaches of Encinitas Through the Years
 For over 20 years, my family and I have been walking up and down this Beach countless times. Whenever we had a chance to go to the Beach, we always ended up at Moonlight State Beach.
This Beach is centrally located so we would venture south and occasionally north. Remember, I have the pictures to prove it!
We will now start our tour of the beaches of Encinitas, beginning at the most northern Beach, Grandview Beach.
Ok! Let's go!
---
Grandview Beach
Grandview Beach is located at the northern end of Encinitas,  in the community of Leucadia. The entryway for this Beach is squeezed into the corner of a residential area along with a small parking lot. Once parked, a long, steep staircase will take you down to the sand.
There is a lifeguard tower and shower at the base of the stairs. This Beach is preferred for surf schools to teach beginners because of the consistent beach break.
This Beach is narrow, so it is very dependent on the tide. There are no restrooms here, but Carlsbad's South Ponto beach is less than a mile walk north if you need to go.
1700 Neptune Ave, Encinitas, CA 92024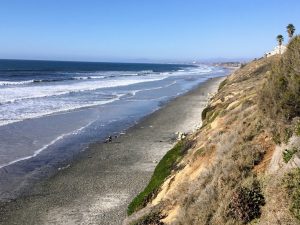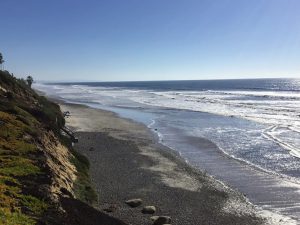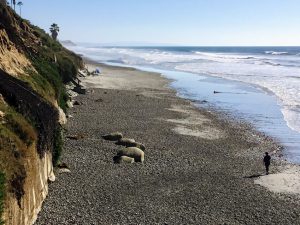 ---
Beacon's Beach
Beacon's Beach is 1 mile south of Grandview Beach, located on Neptune Ave, between Jasper St and West Leucadia Boulevard.
This beach is one of the leading neighborhood beaches in the area, with an iconic narrow switchback dirt path that turns three times against the bluff before reaching the bottom.
Fun Fact- This beach once had a Coast Guard beacon tower, located north of the dirt path that would help guide warships during WWII.
Beacon's Beach is a local hangout for surfing and its picturesque views. This Beach has no restrooms.
948 Neptune Ave, Encinitas, CA 92024
(760) 633-2740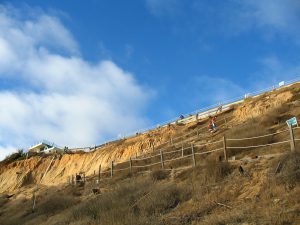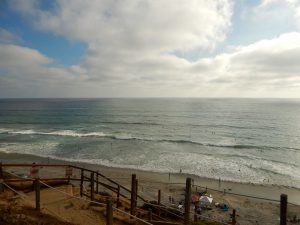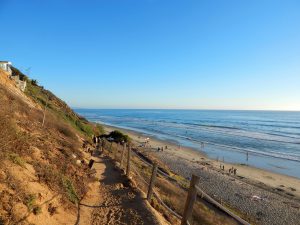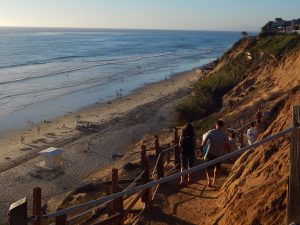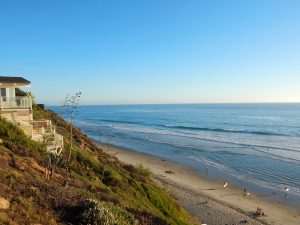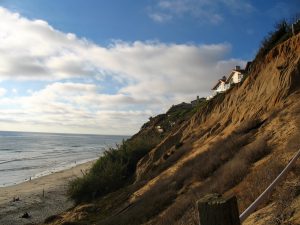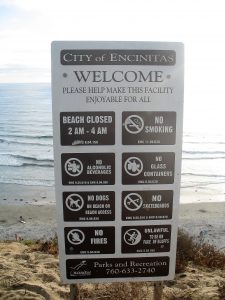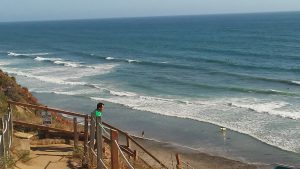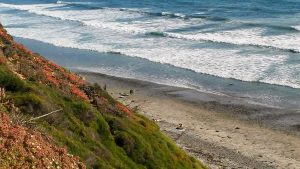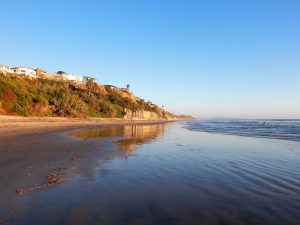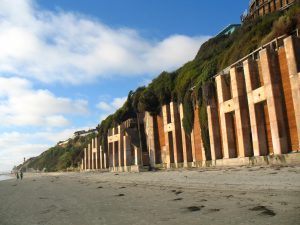 ---
Stone Steps Beach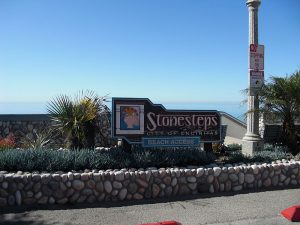 Stone Steps Beach is located north of Moonlight Beach and is a local favorite spot because hardly anyone knows it.
At the top of the stairs, there is a small parking lot. A steep staircase takes you down to a narrow stretch of Beach with many stones. Again this Beach is tide-dependent, and it is not unheard of to get stuck when the high tide comes in.
The cliffs are unpredictable in this area, so do not lie too close if you are interested in sunbathing here.
There are no restrooms here, but Moonlight State Beach is just a short stroll away.
350 South El Portal, Encinitas, CA 92024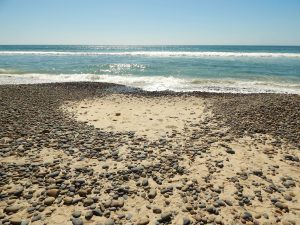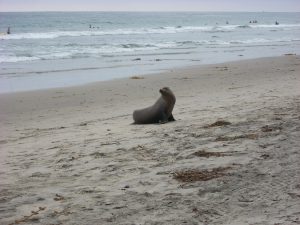 ---
Moonlight State Beach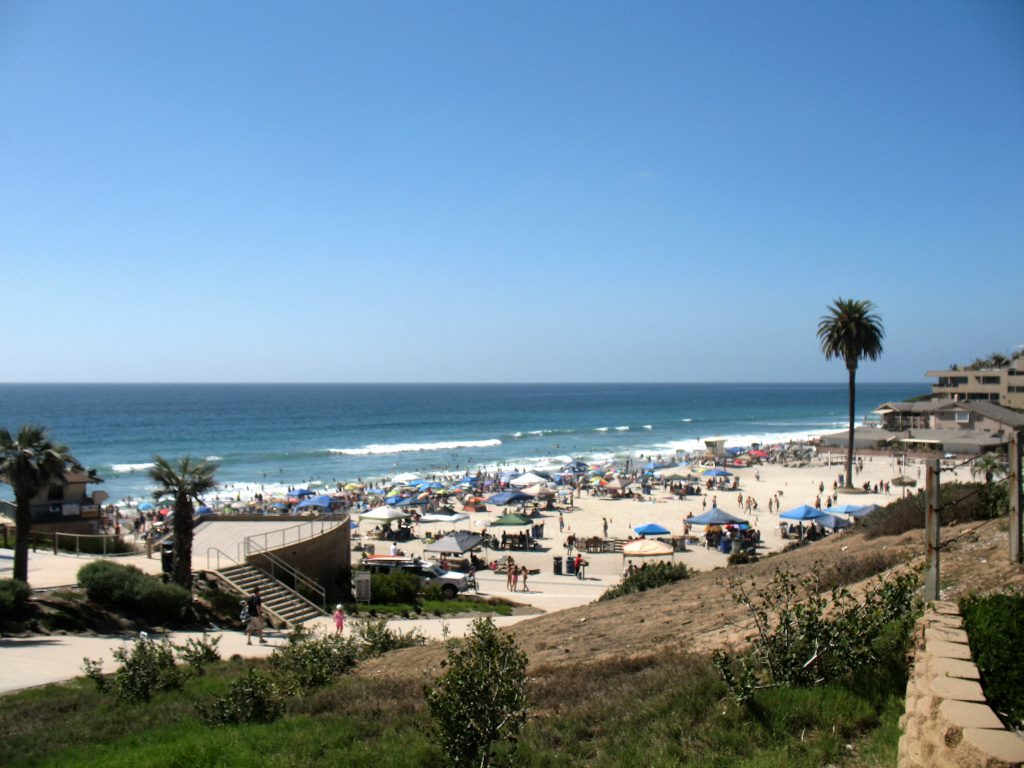 Moonlight State Beach is the most popular of the beaches of Encinitas.
First of all, this Beach is in the center of town, and likewise, it is one of the few beaches in North County San Diego with level car access and a drop-off point (on B St.) to the Beach. And one more thing,  there is a significant free parking lot!
Did I mention that parking is free? Well, regardless of whether parking is free, during the primetime hours (12-4), you will have difficulty finding a place to park, so patience is a must!
Some other great features offered at this Beach include ample restrooms, a food stand,  a beach rental stand, three volleyball courts,  a grassy park, a children's playground, picnic tables, and fire pits. This Beach has everything, including the crowds, but it is not bad.
The waves sometimes get rough, but three lifeguard towers watch the action.
Urban Runoff and Moonlight State Beach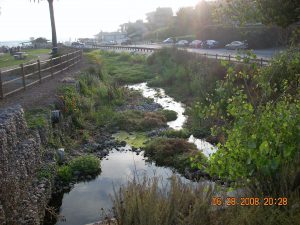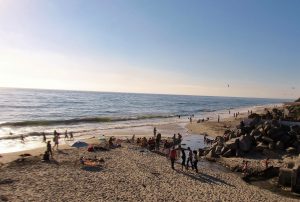 Cottonwood Creek empties into the ocean at Moonlight Beach, so you should keep this in mind if you visit this Beach after it rains.
As a rule of thumb, the San Diego County Department of Environmental Health advises not to go into the ocean or bay waters for up to 72 hours after it rains due to potential health hazards from the urban runoff.
Moonlight State Beach Special Events
Free summer concerts every Sunday.
Encinitas Beach Kids- a non-competitive beach program for kids ages 6-8, emphasizing learning beach safety and awareness, first aid, marine life awareness,  introduction to body surfing, and just having fun on the Beach.
The local Temple Solel holds some of its services down on the Beach.
Volleyball tournaments and held here year-round.
Surf Camps for adults and children are offered on this Beach.
Temple Solel conducting services on the beach.

Fun Fact- In the early 1900s, there was a bathhouse, playground, a boardwalk, and a dance hall situated here at this beach. Moonlight Beach got its name around this same time, because people would come out here at midnight when the moon was bright and have picnics.
(760) 633-2740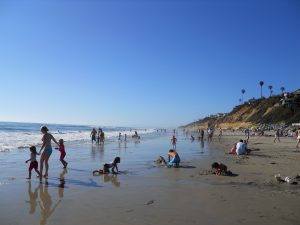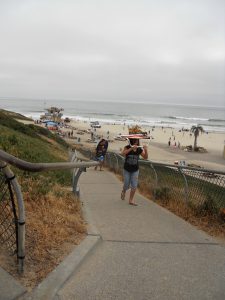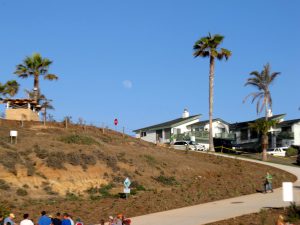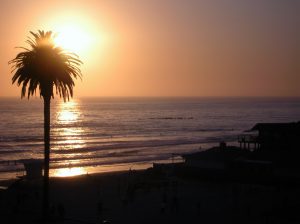 ---
D Street Beach
D Street Beach is another favorite surfing spot for locals, so much so that many on the website Yelp have left reviews begging (in so many words) for others to keep quiet about its location. With this in mind, let us look at D Street Beach.
This Beach is located at the end of D Street, just one block south of Moonlight Beach.
This southern portal has a large wooden staircase with an observation area that connects you to the Beach. At the bottom is one lifeguard tower, shower, and a short walk to a restroom at Moonlight.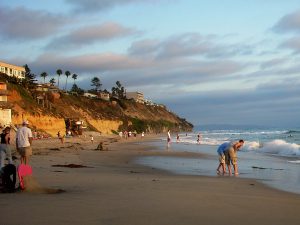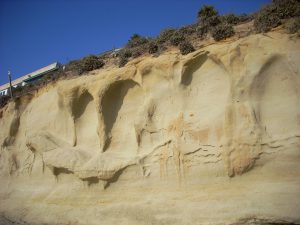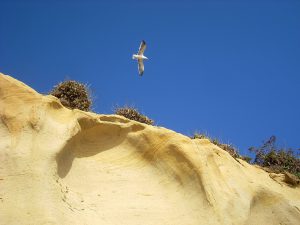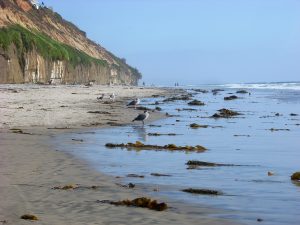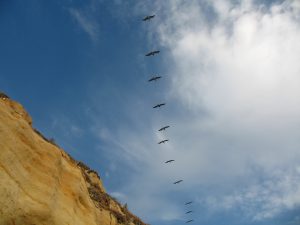 ---
Boneyard Beach
Boneyard Beach is another favorite surfing spot, including all beaches south of D Street Beach and north of Swami's Beach.
This dry sandy beach from low to mid tide is not accessible during high tide. The bluffs are very steep here, so the homes above the cliffs cannot see the Beach below. Because of this, this Beach attracts the 'clothing-optional kinda crowd.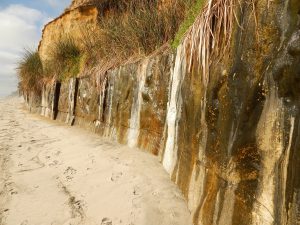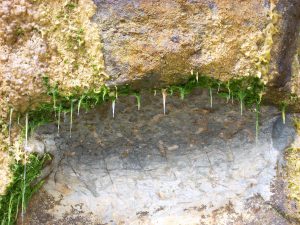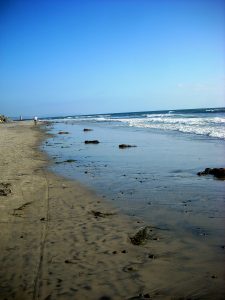 If you want to see this Beach, you may start north at Moonlight, D Street Beach, or south at Swami's Beach.
---
Swami's State Beach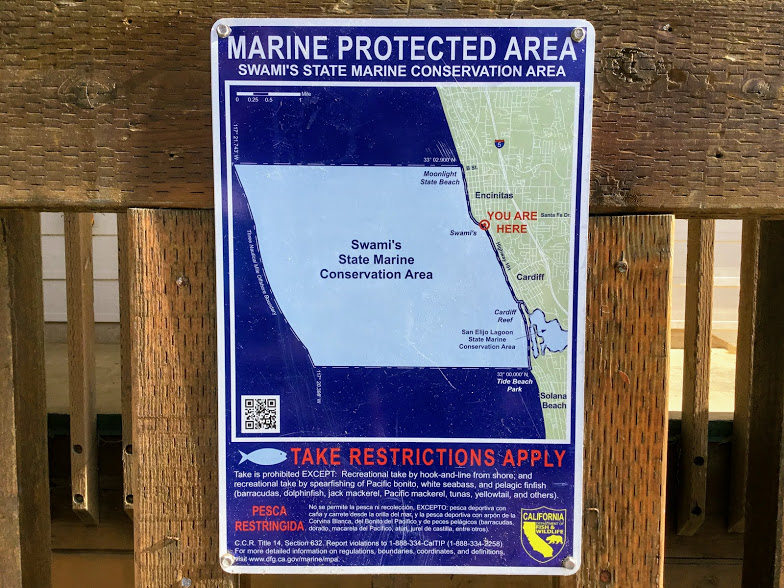 You will find Swami's Beach-Swami's Seaside Park entrance, located right next to the Self-Realization Fellowship Center Temple and north of the San Elijo State Beach Campground. To be sure, this is another beach of Encinitas that the locals want to keep secret. Shhhhh.
This park has about 25 parking spaces, a large grass lawn, picnic tables, and a restroom. A large wooden staircase will take you down to this isolated beach oasis.
 From Moonlight State Beach down to Cardiff State Beach, you will find Swami's State Marine Conservation Area (SMCA), three miles offshore. Since 2012, this site's purpose has been to protect marine life by limiting the removal of marine wildlife within its borders.
Fishing onshore with hook and line is permitted, but no scoop nets are allowed. You may also spearfish here, but only for pelagic recreational finfish (Pacific bonito and white sea bass); sorry, no halibut.
For more fishing information, please see- Swami's Marine Conservation Area (SMCA)
Swami's Beach is world-famous when it comes to surfing. You will find other surfers up top checking out the action at any time of the day.
A reef and kelp forest are offshore, so diving and snorkeling are popular. If you would like more detailed information on this Beach, please see- Swami's State Beach-Hidden Paradise
1298 S. Coast Hwy 101, Encinitas, CA 92024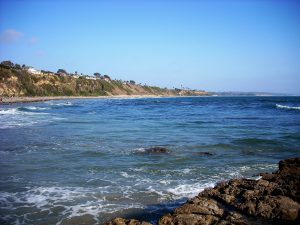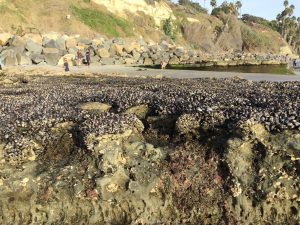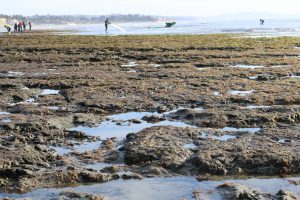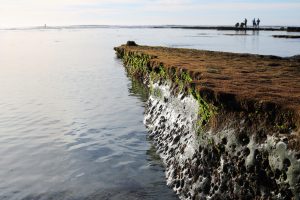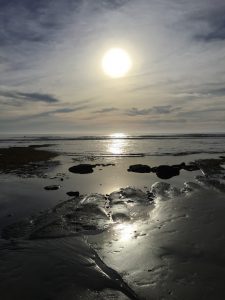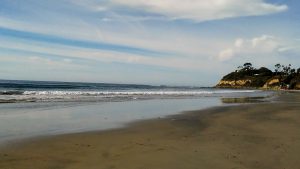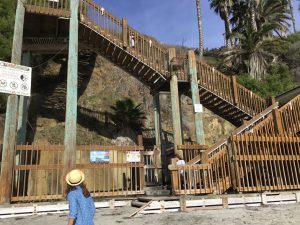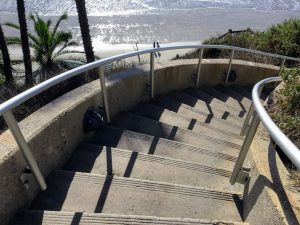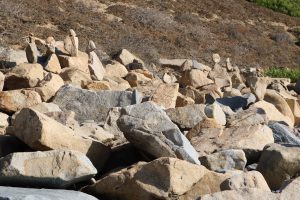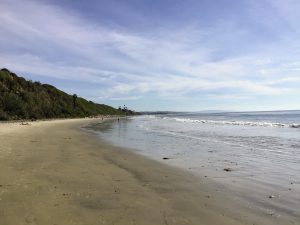 ---
San Elijo State Beach
The San Elijo State Beach entrance is on the southbound lanes of 101 near the intersection of Chesterfield Drive.
The San Elijo State Beach Campground is on top of the bluffs, with the campsites overlooking the Beach below. Several stairways and ramps nearby connect from the campgrounds down to the Beach.
Many reefs are onshore here, so tide-pooling and diving offshore in the kelp forests are popular. This Beach can be dangerous to swim in due to rip currents, so be cautious.
Restrooms and showers are available at the campground.
2050 S. Coast Hwy 101, Cardiff, CA 92007
(760) 753-5091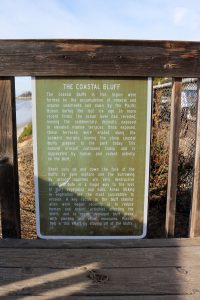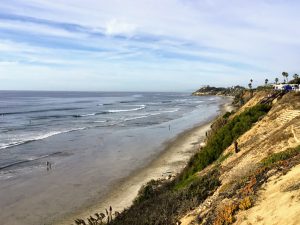 ---
Cardiff State Beach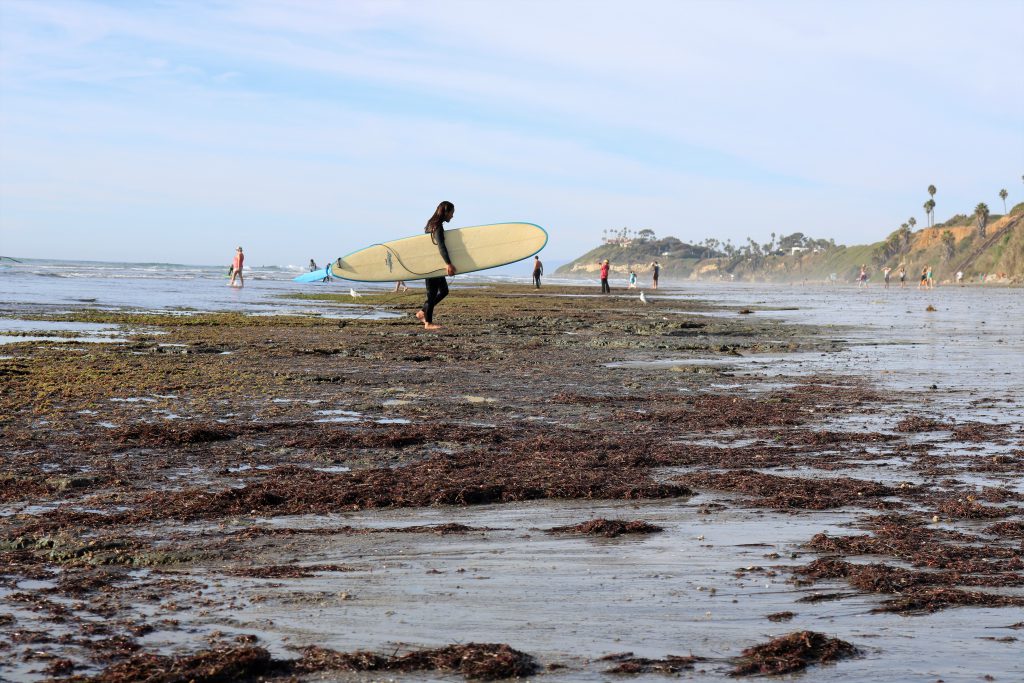 Cardiff State Beach is at the southernmost section of Encinitas in the coastal community of Cardiff-by-the-Sea. You will find this Beach just south of the San Elijo State Beach and where the San Elijo Lagoon enters the ocean.
The San Elijo Lagoon is one of the most extensive remaining coastal wetlands in San Diego County, covering over 1000 acres and hosting over 1000 plant and animal species.
This Beach is a gently sloping sandy beach that is very popular for surfing, swimming, diving, and beachcombing.
—>Best San Diego Surfing Beaches<–
Cardiff State Beach offers a whole list of amenities and two restaurants on-site. This Beach is perfect for kids, as there is so much to see and explore.
Notably, dogs are allowed here, provided that they are on leashes. No other beach in Encinitas allows dogs, even on leashes.
A parking lot is available for 15 dollars, but the lot closes at 10 pm.
2504 S. Coast Hwy 101, Cardiff By The Sea, CA 92007
(760) 753-5091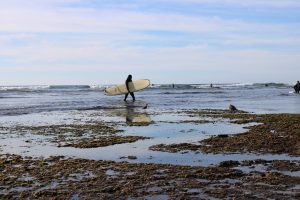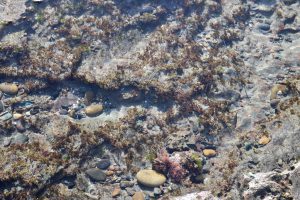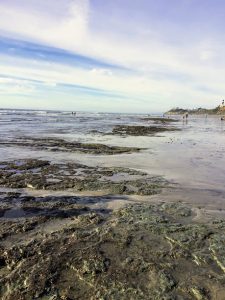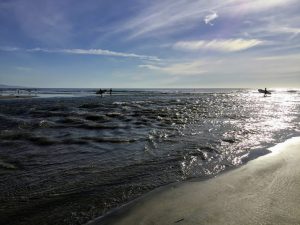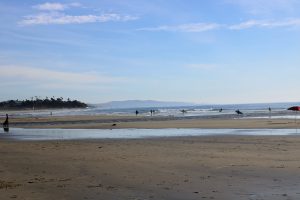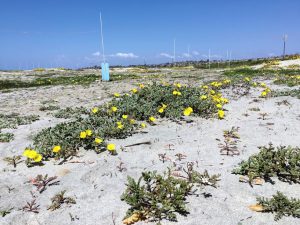 ---
The End of the Tour
First, I would like to thank you from the bottom of my heart for joining me on this tour of the beaches of Encinitas!
Generally speaking, I am curious to know which one of these beaches caught your attention the most. You can see the beauty. To put it differently, which of these shores would you like to visit if you had the chance?
May I suggest you come here on a shallow tide day? And that way, you can walk 6 miles of Encinitas coast, from Cardiff north of Grandview Beach to Carlsbad!
But remember, those 6 miles will soon turn 12 before you know it.
Please leave any comments or questions you might have. Also, I would love to see any favorite beach pictures you might have and would like to share. Here is to another day and another beach!
Until next time!
---
I have always had a deep-seated passion for the Ocean Environment which ultimately led me to receive a degree in Marine Biology. Living in the San Diego area for over 30 years, I have extensively explored the 70 miles of San Diego's coastline, and I am here to share! Please use my website to your advantage and have a look around at all the wonders that the beaches of San Diego can offer you!