On the morning of March 9, 2018, my mother-in-law and I decided to trip to the Buena Vista Lagoon in Oceanside, California.
I had been here before but had never taken the quarter-mile hike around the Buena Vista Lagoon Audubon's Nature Center.
I have been intrigued ever since, so we are back!
Come and join me for a tour!
Buena Vista Means "Good-View" In Spanish
2202 South Coast Hwy, Oceanside
760-439-2473
# Please click on each photo to see a larger version size.
Let us now go over a few things before we take our hike.
The Buena Vista Lagoon is 223 acres of freshwater wetland that serves as a natural barrier between two cities- Oceanside and Carlsbad.
It is also important to mention that there are no other freshwater lagoons in Southern California.
So, we have a unique coastal ecosystem here!
You may fish from shore, and hiking is allowed on designated trails only.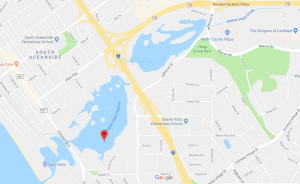 I have always wondered about this lagoon/ coastal wetland ever since I moved down here 30 years ago.
Not only do you notice it when driving on Interstate 5, but you can also see it on Hwy 78, which runs east.
This waterway (Buena Vista Creek) runs parallel to Hwy 78 for almost 10 miles inland.
Continue reading "A Walk Around Buena Vista Lagoon"
I have always had a deep-seated passion for the Ocean Environment which ultimately led me to receive a degree in Marine Biology. Living in the San Diego area for over 30 years, I have extensively explored the 70 miles of San Diego's coastline, and I am here to share! Please use my website to your advantage and have a look around at all the wonders that the beaches of San Diego can offer you!