Wow! Do I have some exciting information for you all! Many of you may have somewhat of an idea of my complete, somewhat obsessive love of King Tides. For all others, a King Tide is when you have the highest and lowest tides of the year (click on the link for more in-depth information.) Most attention is ordinarily given to the high tide, as people seem to enjoy seeing just how far the ocean will reach on land.
I absolutely love going to the beach during the lowest of the tides, so I can examine what is usually covered by the ocean and have rare access to beaches that are usually not accessible.  And let me tell you, today is one of those days.
Yes! My girls and I were able to explore two caves at the La Jolla Underwater Park!
Now I must say this right up front that getting to these caves is no easy feat. You have to have tremendous balance as there is at least a quarter-mile of rocks to walk over until you reach the semi-sandy beach over at Caves Beach.
Would you like to see what we saw?
Let's go!
The La Jolla Underwater Park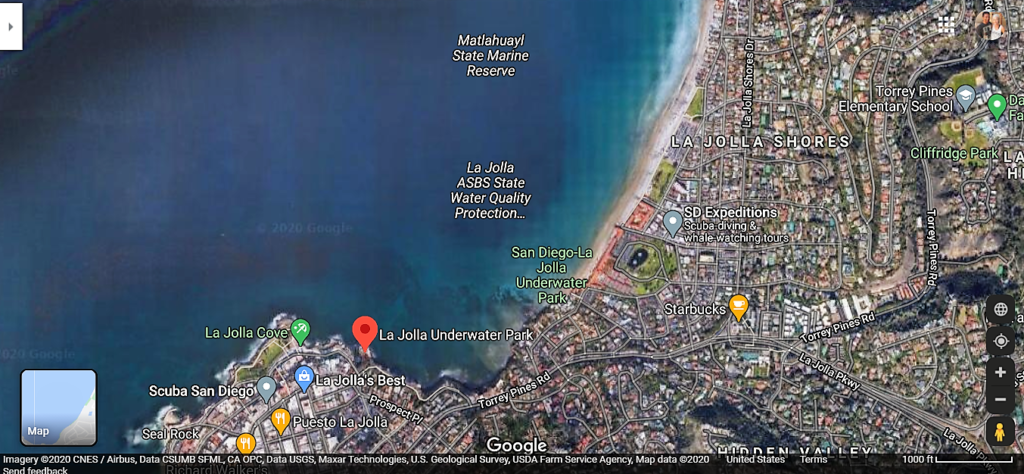 First off, a little background information for you.
The La Jolla Underwater Park was established in 1970 by the City of San Diego and covered over 6000 acres.  The most northern boundary begins over at Black's Beach (Torrey Pines State Beach), and the southern boundary is over at La Jolla Cove.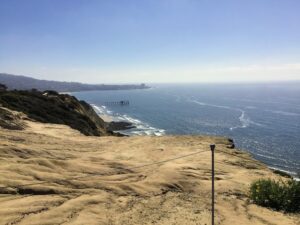 Down below, I have provided several photos that showcase the park from varying different vantage points, starting from the South to North.
California State Marine Protected Areas
The La Jolla Underwater Park has two different State Marine Protected Areas within the Park. The first, the southern section, is Matlahuayl State Marine Reserve (MSMR), which spans from mid-La Jolla Shores across to La Jolla Cove and is designated as an Ecological Reserve, meaning you may look but not touch.
Fun Fact- Matlahuayl is a Kumeyaay word that means, "land of caves", for which the area was once was called.
In other words, no take, damage, injury, or possession of any living, geological, or cultural marine resources is allowed.
There are buoys set up to help distinguish the boundaries. Needless to say, but absolutely no fishing is allowed within the buoyed section.
In the Northern section of the La Jolla Underwater Park, the San Diego- Scripps Coastal Marine Conservation Area (SMCA) (est 1929), a Marine Life Refuge, begins at the Ellen Browning Scripps Memorial Pier and continues all the way to Black's Beach.
Over at SMCA, some recreational and/or commercial take of marine resources may be allowed.
The Scripps Institute of Oceanography (SIO) is located hereabouts and takes full advantage of the Marine Refuge to research. Due to the proximity of SIO, both Scripps Canyon and La Jolla Canyon are the most researched submarine canyons in the world.
Referring to the map above, you can see that this region (the Marine Reserve) extends farther out west than the Ecological Reserve.
Fun Fact- Located just above the Scripps Canyon on top of the bluffs, is a San Diego Hidden Gem- the Scripps Coastal Reserve Biodiversity Trail. I highly recommend you checking it out!
The Two La Jolla Submarine Canyons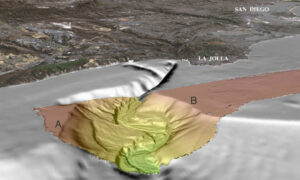 There are two submarine canyons located within the La Jolla Underwater Park:
La Jolla Canyon
Scripps Canyon
The La Jolla Canyon is found offshore around mid- La Jolla Shores Beach.  Here the beach slopes very gradually and suddenly drops  500-ft (152 m) to the ocean floor.
The lowest depth of the La Jolla Canyon within the park is 600 ft (182 m).
I have been trying to find out the maximum depth of La Jolla Canyon but have failed. If anyone happens to know what it is, please leave a comment.
Scripps Canyon is a narrow gorge one mile long that is considerably shallower than La Jolla Canyon, with a maximum depth of only 500 feet.  The submarine canyon starts at Black's Beach.
Scripps Canyon is a top-rated diving site due to the canyon's vertical walls being relatively close to the shore ( at a 40-foot depth.)
Both canyons join together at 900 feet and continue together seaward until a depth of 1600 ft (see map above).
Submarine Canyons Influence?
Because of these submarine canyons and the kelp beds close offshore, the wave energy is reduced here considerably, making this a prime beach for little children, launching a kayak, and going paddleboarding, snorkeling, or scuba diving.
Another great highlight over here is that it is not uncommon to see a rich and wide variety of sea life, including gray whales feeding very close to shore.
Starting Our Adventure at La Jolla Shores Beach
Ok, it must be stated that to access these caves, the tide needs to be very low and negative; at least 0, but negative is the best.
This is, of course, if you plan on exploring the La Jolla Underwater Park on land.
La Jolla Underwater Park Ecological Reserve-Matlahuayl (SMR)
Have you ever heard the adage, nothing great comes to you easy? Yeah, that definitely applies here.
To reach these caves, you must walk over a whole bunch of tide pool reef rocks. Most of the rocks are very slippery due to the algae, so please take that into account. Also, try not to step on anything living.
Personally, I prefer to be barefoot, as it is easier for me. But, I did see several people wearing special beach footies, so there is that.
It was not an easy task; let me tell you. Especially having a backpack on, but we were able to come upon two caves without falling once.
I can not tell you how excited we were as we were not expecting to turn a corner and come upon an empty cave.
You see, our focus had always been on Caves Beach, just south of where we were walking. We needed to get to see the Seven Caves of La Jolla. We were determined!
So, all the while we were hiking over the rocks, we kept looking across. Distracted by our determination, I guess you could say.
So it was a complete surprise when we came upon these two caves, closest to La Jolla Shores Beach.
Seeing that time was slipping away, and we could see one more cave close by, we decided to stay put and explore.
A Couple of Sea Caves at La Jolla Underwater Park
Here is the first cave we came upon! I didn't take as many photos as I would have liked due to so many people being around.
The inside was humid and smelled of minerals and salt. Thank goodness there were no beach flies present. We came upon a diver in her wetsuit inside of this cave. She mentioned that she made a special trip from Los Angeles down here because it was a King Tide day.
So if you are a diver, it may be easier to visit these caves than having to walk over all of the reef rocks—just something to keep in mind.
Here we are in the second cave, which is only about a five-minute walk from the first cave.
If you look closely at the third photo, you can make out a couple of the Seven Caves of La Jolla across the water.
So what do you think? Pretty incredible, yes?
Before I leave you, I wanted to add a couple more dates for you if you would like to experience a King Low Tide at the beaches of San Diego in the New Year.
King Low Tide Dates for 2021
January 2021
11th at 2:27 pm- (-1.7 feet)
12th at 3:09 pm- (-1.8 feet)
13th at 3:50 pm- (-1.7 feet)
14th at 4:29 pm- (-1.4 feet)
February 2021
8th at 1:39 pm- (-1.3feet)
9th at 2:19 pm- (-1.5 feet)
10th at 2:55pm- (-1.5 feet)
11th at 3.28 pm- (-1.4 feet)
Until next time!
Other Helpful Posts- Can you tell that I love this area?
I have always had a deep-seated passion for the Ocean Environment which ultimately led me to receive a degree in Marine Biology. Living in the San Diego area for over 30 years, I have extensively explored the 70 miles of San Diego's coastline, and I am here to share! Please use my website to your advantage and have a look around at all the wonders that the beaches of San Diego can offer you!