Today I would like to take you on a mini photo tour of San Diego Bay! Will you join me?
First off, fun fact.
Did you know that San Diego Bay was mentioned in the Treaty of Guadalupe Hidalgo in 1848?
 After the U.S-Mexican War, the Treaty (which is still in effect) pointed out that the entirety of San Diego Bay would belong to the United States.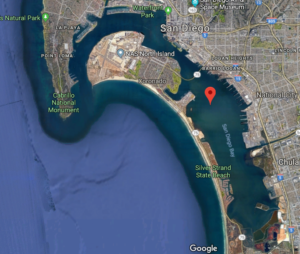 Discovering San Diego Bay Via Photos
The San Diego Bay is a natural deepwater harbor found minutes away from Mexico and the United States border and is the third-largest Bay in California after San Francisco Bay and Humboldt Bay.
The San Diego Bay is over 12 miles long and 1-3 miles wide and is separated into two sections:
North Bay-North Island, Shelter Island, Spanish Landing, Harbor Island, Coronado, Embarcadero
South Bay -National City, Chula Vista, Silver Strand, Imperial Beach
So today, we will start our tour north at the mouth of the Bay. We will continue to make our way on the Bay's east shore, going south and back north on the western coast of San Diego Bay.
Ready? Let's go!
---
North Bay San Diego
The Navy has larger ships in North San Diego Bay, as the water here is deep enough for them, and South San Diego Bay waters are relatively shallow in comparison.
Depths of 60 feet have been noted in the northern part of the Bay, while in the most southern region, the water is only a couple of feet deep. The average depth of the entire San Diego Bay is 21 feet.
---
Naval Base Point Loma
Starting at the mouth of the San Diego Bay, on the shores of Point Loma, we have the Naval Base Point Loma (NBPL)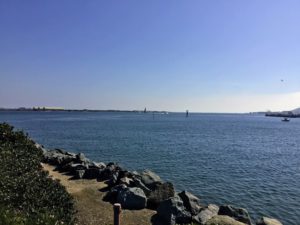 Here we are looking at the mouth of the San Diego Bay from Shelter Island, with Point Loma on the right and Naval Air Station North Island on the left.
In 1998, the Navy consolidated under the Commander, Navy Region Southwest. I found out through research that there are seven facilities here, which include:
Submarine Base
Naval Mine and Anti Submarine Warfare Command
Fleet Combat Training Center Pacific
Space and Naval Warfare Command
SPAWAR Systems Center
Fleet Intelligence Command Pacific
Naval Consolidated Brig, Miramar

Fun Fact- It is not uncommon to hear the Navy's trained sea lions barking, as well as seeing the Navy dolphin trainers out with the dolphins in the bay around this area.

---
Shelter Island
Shelter Island is not an island but is attached to the mainland by a thin stretch of land.
Originally this area was a sandbank only seen during low tide. But in the 1950s, San Diego built the site into dry land using material initially dredged from the Bay in 1934. It is essential to mention that the dredging was necessary to allow for deeper waters to enable ships to access the Bay.
Today, Shelter Island is the home to hotel resorts, restaurants, marinas, a pier, a boat launch, and a public park.
Here we are at the southwest spot of Shelter Island, where the San Diego Harbor Patrol Station is located.

Looking toward the northeast at the tip of Shelter Island, there are two yacht clubs across the Bay on the eastern shore of Point Loma:
Pacific Rim Park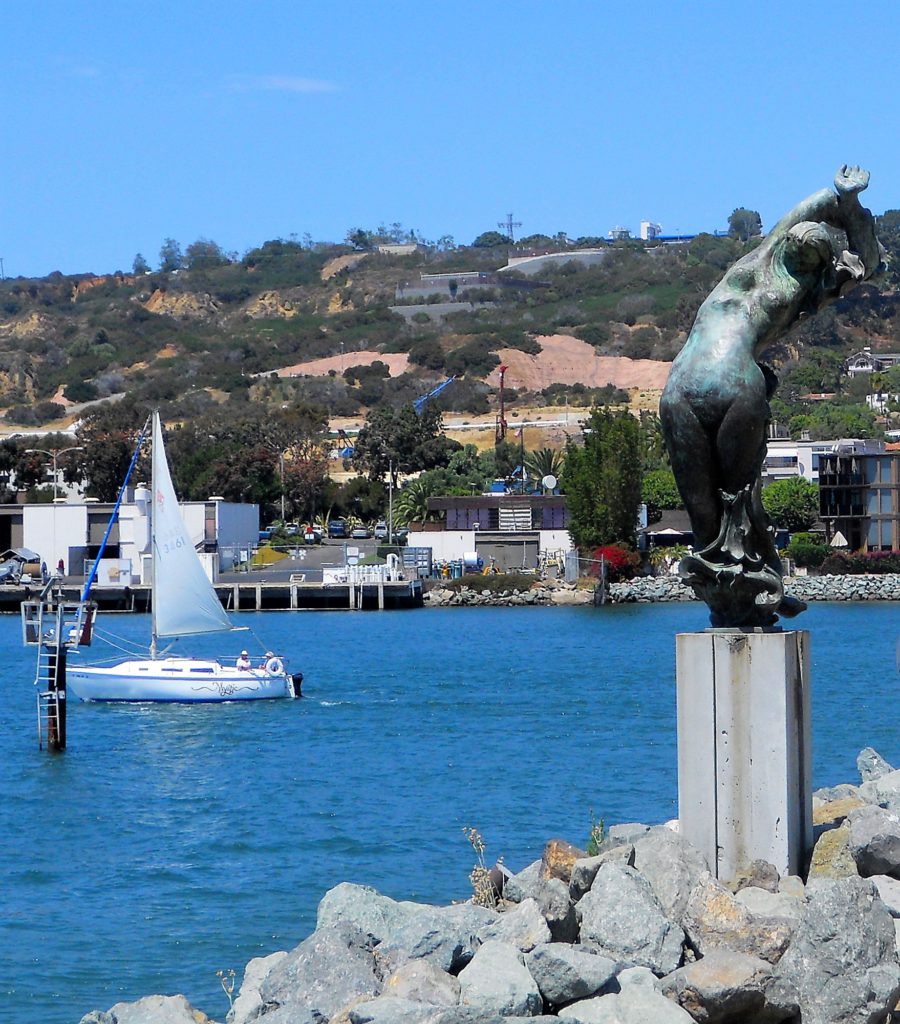 The Pacific Rim Park is located on the southeastern tip of Shelter Island and has a one-of-a-kind view of the Bay's mouth.
Here we have the Pearl of the Pacific, a gateway park art project which showcases and blends the artistic attributes of each of the four Pacific Rim countries-United States, Russia, Mexico, and China.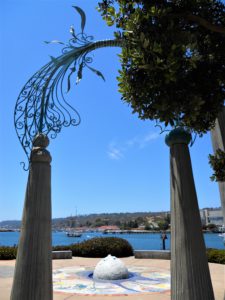 The Pearl of the Pacific was a collaborative effort taken on by architectural students from San Diego and sister cities Vladivostok, Tijuana, and Yantai, China, under the famed artist and designer James T. Hubbell.
If you would like to know more about the symbolism of this park, I found some more in-depth information here.
Shelter Island Pier
A small T-shaped pier is always pretty busy in the middle of Shelter Island. Due to its close location to the Bay's entrance and the deeper waters, you may have a better chance of catching bigger fish, such as yellowtail and barracuda, on this pier.
When I visited last week, I was pleasantly surprised to see a new food cafe on the pier-Fathom. If I drank beer, what a treat that would be to sit and have a glass while watching the boats go by and all of the fishing action.
I have linked Fathom's webpage above if you would like to have a look. They make homemade sausages as well as kimchee. Take a look at the menu. I have to say that it is very eclectic for a pier restaurant!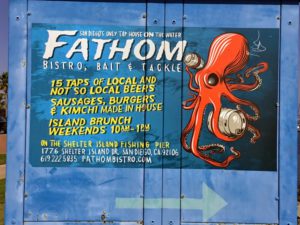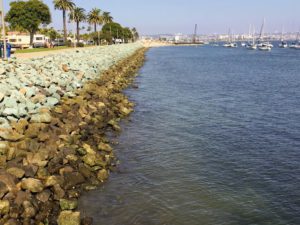 Here is a view from the entryway of the pier. Do you notice how low the tide is?
Shelter Island Launch Ramp
Making our way east, we come upon the Shelter Island Launch Ramp. Here is one of the busiest launch ramps in San Diego Bay because its location is close to the Bay entrance. Upon further research, I found that over 50,000 boats launch from here every year.
Construction started in May of 2017 and is estimated to be opened again in late 2018. But as you can see by this photo, taken on Oct 23,  I would guess more like early 2019, but then, I am no expert on construction.
Below is a blueprint of what the new ten-lane launch ramp will eventually look like when completed.
Very lovely!
America's Cup Harbor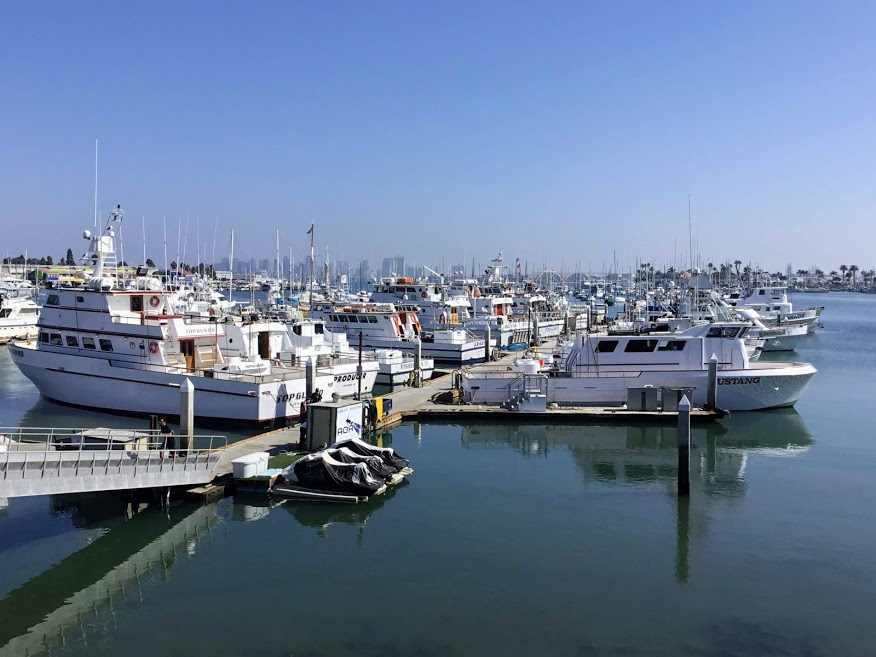 Shelter Island Dr. San Diego, CA 92106
The American Cup Harbor is located in the northwestern part of Shelter Island. As you probably figured, it has been named after the famous sailing race, America's Cup.
At this Harbor, there are three Sportfishing Landings:
H&M Landing
Fisherman's Landing
Point Loma Sportfishing
 One of my favorite seafood restaurants is also here, Point Loma Seafoods. If you are ever in the area, you must try fish and chips!
---
Spanish Landing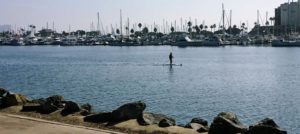 3900 N Harbor Dr. San Diego, CA 92101
Spanish Landing, located directly across the street from the San Diego Airport, is a linear park that offers a bike path adjacent to the Bay and connects you to Embarcadero and Downtown San Diego.
The park was named to commemorate the anchoring here of the two Spanish ships, the San Antonio and the San Carlos, on May 4-5 in 1769.
To summarize quickly, there was a land expedition in Baja, California, to meet ships within the Bay. Because so many onboard these ships had scurvy, the Captains decided to settle and make camp to wait for the land explorers to arrive. Once the two parties met on May 14 and then again on July 1, they joined forces and began the occupation of what was to be called "Alta California."
Fun Fact-The Alta California territory in 1769 also included the land of Arizona, Nevada, Utah, Colorado, and Wyoming.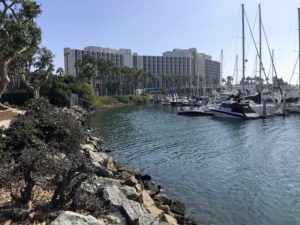 Cancer Survivor Park

At the most eastern point of Spanish Landing, we have Cancer Survivor Park. Richard Bloch (founder of H&R Block), along with his wife Annette, founded the R&A Bloch Cancer Foundation with the primary goal of helping those who are battling cancer. There are 23 parks throughout the United States and 2 in Canada.
If you would like more information on the Cancer Survivor Parks and discover what other major cities have one, I have linked their official website above.
---
Harbor Island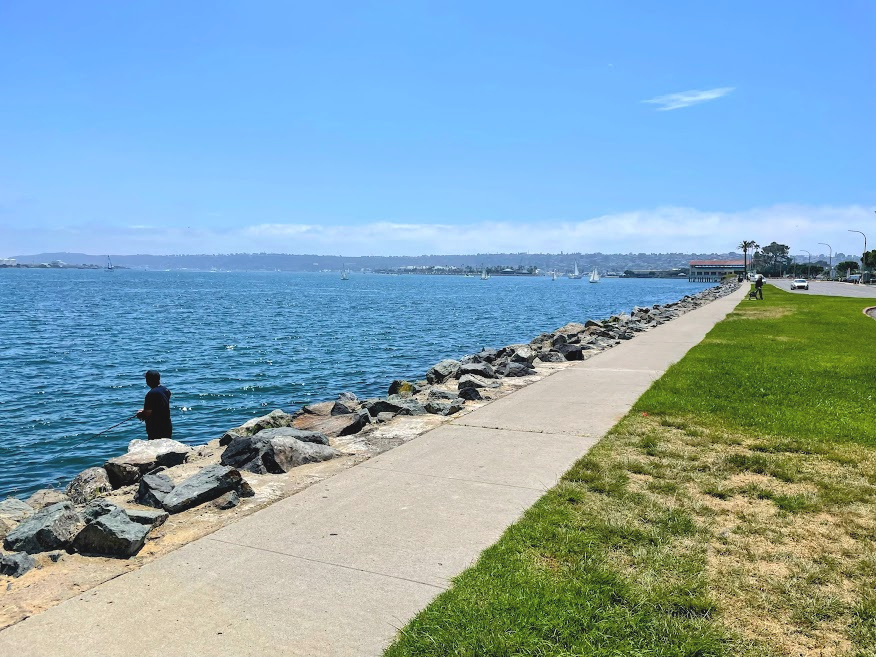 Harbor Island is a man-made island created in 1961 from dredging material located between Downtown San Diego and Shelter Island and directly behind the San Diego Airport.
The island is 2 miles long and only a few hundred feet wide, with two high-rise hotels, restaurants, and several marinas.
Harbor Island Park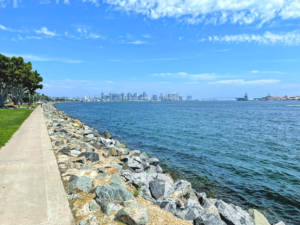 Harbor Island Park – Google Maps
Free parking is available at Harbor Island Park as well as picnic tables, restrooms, and gorgeous large trees to sit underneath.
Lovely east and west views of North San Diego Bay, North Island, Downtown and the Coronado bridge.  The rocks here are a popular spot for anglers hoping to catch fish and watch the planes come in and take off over at North Island.
Cabrillo Isle Marina
Cabrillo Isle Marina was voted the top marina in the 2017 Boaters' Choice marina by Marinas.com and ranked among the full 2% highest-rated marinas in the United States.
I have listed many sailboat charters in a previous post-San Diego Whale Watching Tours dock in this marina.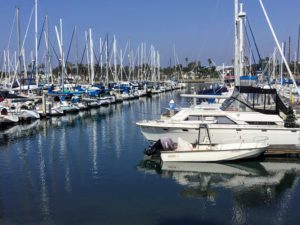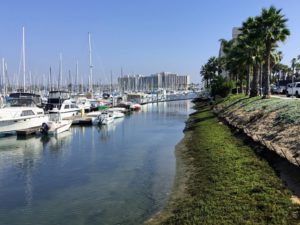 ---
North Embarcadero- San Diego Bay
N Harbor Dr. San Diego, CA 92101
As we make our way east, we pass by the San Diego Harbor Police and the United States Coast Guard Sector San Diego until we finally reach Embarcadero.
Translated from Spanish, Embarcadero means 'landing place' and is the home to the San Diego Cruise Terminal, a Maritime Museum, the USS Midway Museum,  Seaport Village, several parks, marinas, restaurants, and the San Diego Convention Center.
Various waterfront art pieces are scattered along the boardwalk to complement the beautiful scenery and sculptures with historical significance. I will be adding a few of them, but I found this terrific North Embarcadero Self-Guided Art Tour printout if you would like more information.
Let's have a look!
Maritime Museum and the Star of India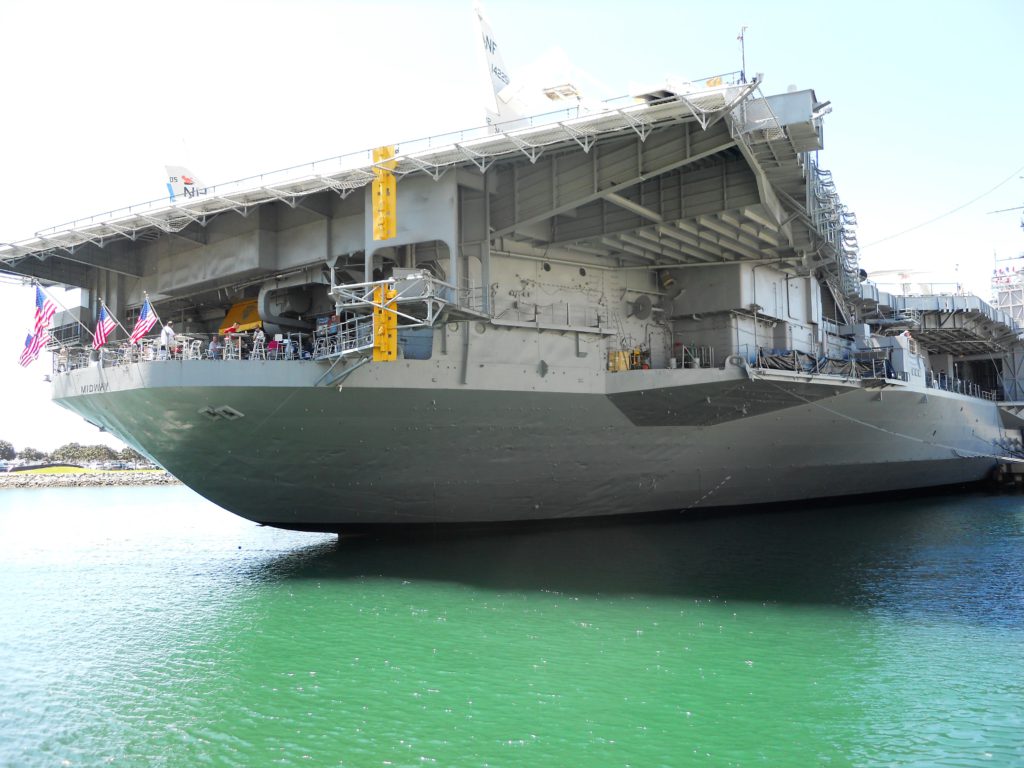 1492 N Harbor Dr, San Diego, CA 92101
The Maritime Museum has a worldwide reputation for restoring, maintaining, and operating historic vessels. The Star of India is the oldest active ship in the world! Tours are available daily; see the link above for any further information.
We come upon the International Cruise Ship Terminal as we make our way south.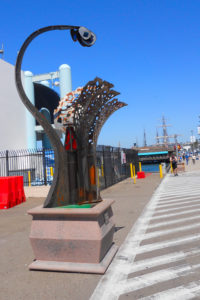 1140 N Harbor Dr. San Diego, CA 92101
---
Embarcadero
USS Midway Museum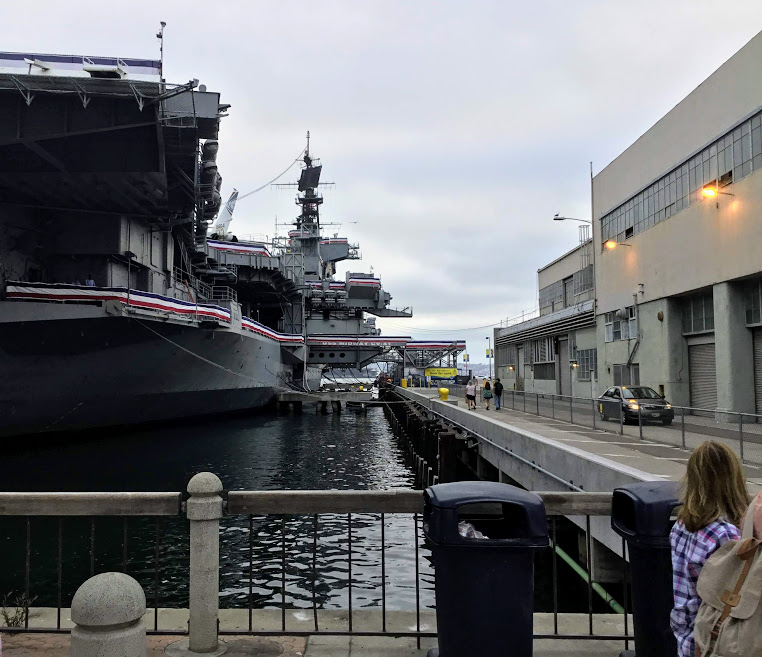 910 N Harbor Dr. San Diego, CA 92101
Just south of the San Diego Cruise Terminal, we come upon the USS Midway Museum- the longest-serving aircraft carrier in the 20th century.
I was honored to visit this vessel for my husband's Christmas work party nine years ago. I was surprised at how low the ceiling was below, and I am only 5 foot 2 inches tall!
Please click on the link if you would like more information on the USS Midway Museum.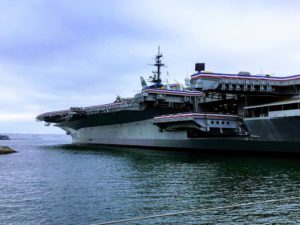 Tuna Harbor Park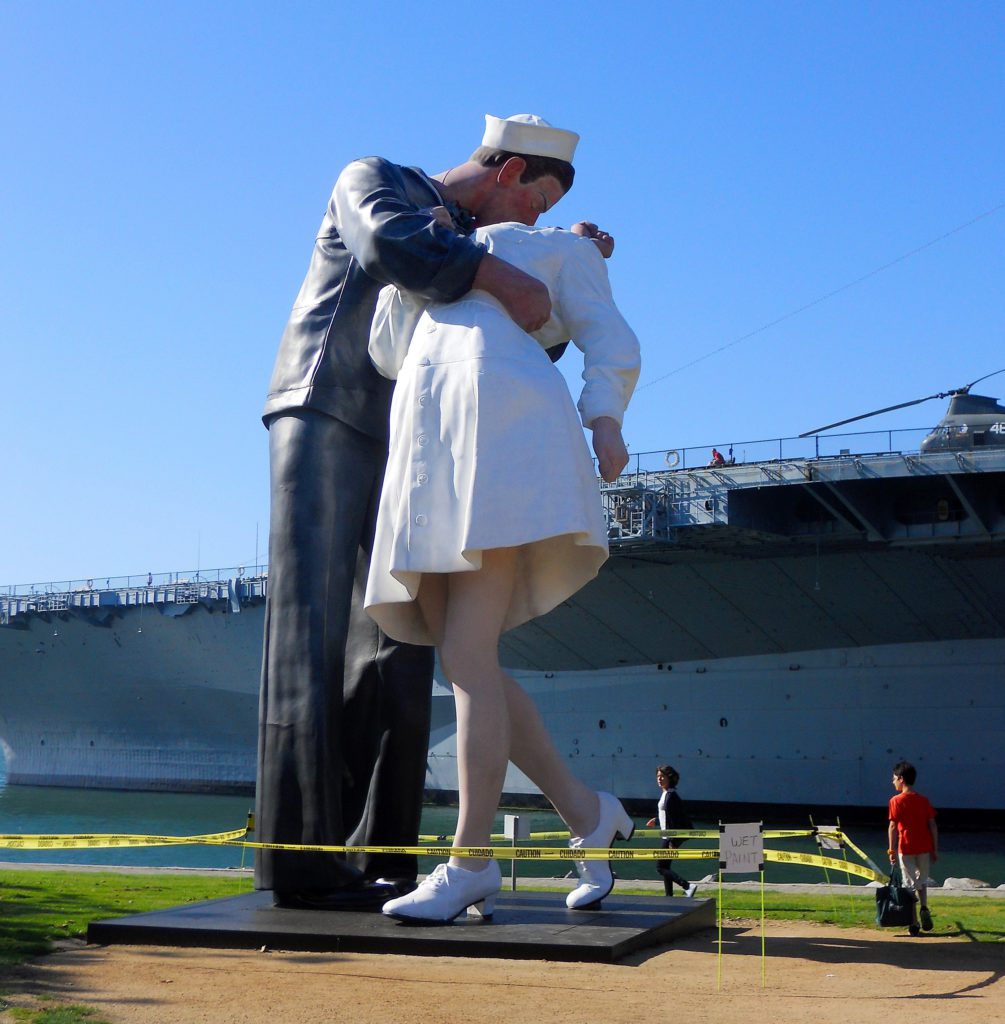 598 Harbor Ln, San Diego, CA 92101
The Tuna Harbor Park is on a small peninsula south of the USS Midway Museum. The Harbor and park were named in honor of San Diego's rich history of once being the tuna capital of the world. Though this was over fifty years ago, San Diego still remembers.
Several war memorials honor the servicemen and women of the United States Military, located within and around the park.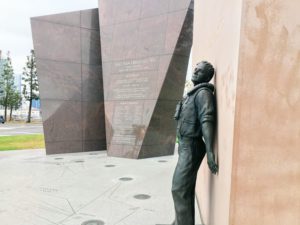 I wanted to mention quickly that one of my favorite seafood restaurants is found here- The Fish Market. If you are hungry when visiting here, you must experience this place. Make sure to sit outside on the patio overlooking San Diego Bay!
Fish Market San Diego | Seafood Market and Restaurant (thefishmarket.com)
The National Salute to Bob Hope and the Military Memorial is next to the Fish Market.
Let us now have a look at Tuna Harbor which has an excellent view of the Coronado Bridge.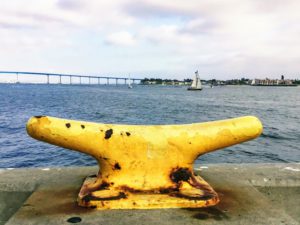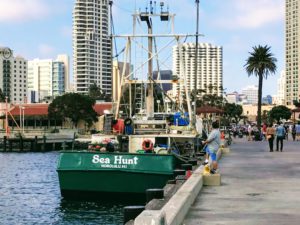 Seaport Village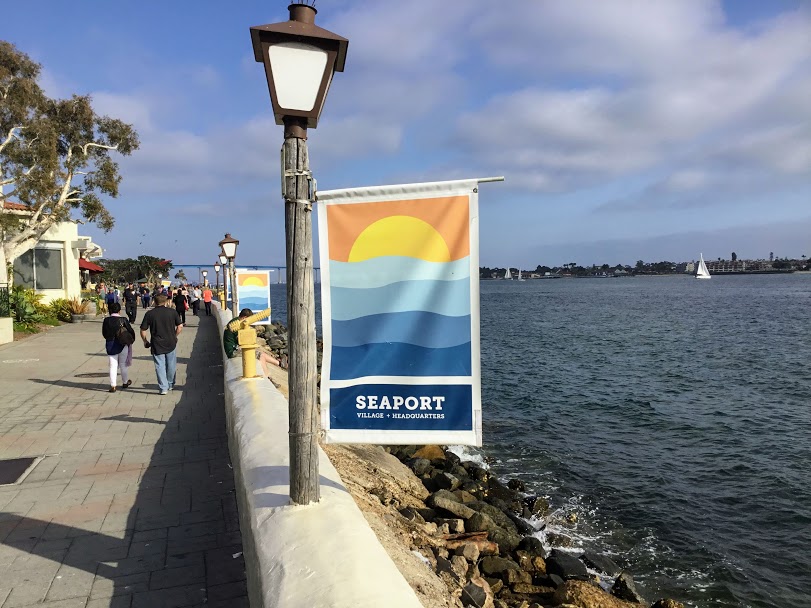 825a Kettner Blvd, San Diego, CA 92101
Seaport Village is located just south of Tuna Harbor and is home to various shops and restaurants on the waterfront.
I have written a bit about this spot in a previous post if you are interested in checking it out.
There are over four miles of paths to follow in and around Seaport Village, as well as many unique shops and food places to visit! Down below is a list of shops if you are interested.
–>Interactive Seaport Village Map<–
Have a look for yourself.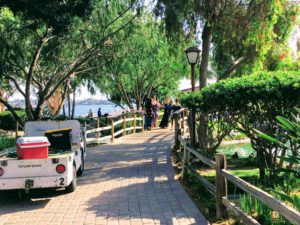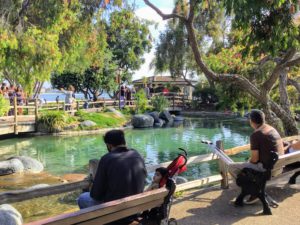 Here is one of my favorite spots at Seaport Village. Looking inside the pond closely, you will find red-eared slider turtles. It is so calm and peaceful here.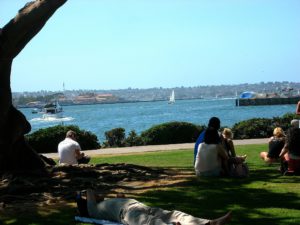 Walking straight out of Seaport Village at the most southern section, you will enter Embarcadero North Park, one of my favorite spots to take pictures of the water and people-watch.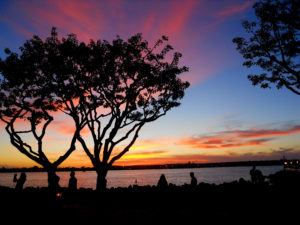 I have added the above picture to illustrate the photographic potential of sunsets. Seaport Village is one of my favorite places to film sunsets. I love the coral trees here in the wintertime, as they perfectly contrast the sky.
Sorry, I went off on a tangent. Let's keep going, shall we?
---
South Embarcadero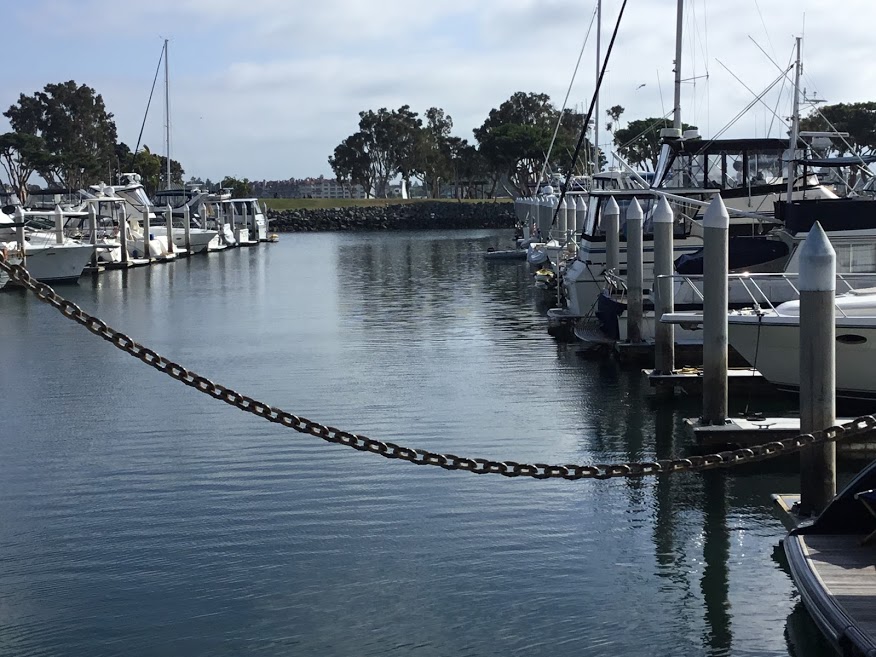 South Embarcadero begins just south of Seaport Village and is the home of the Marriot Hotel and Marina, the San Diego Convention Center, Embarcadero Marina Park South, the Embarcadero Fishing Pier, and Fifth Ave Landing,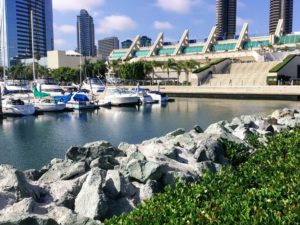 Embarcadero Marina Park South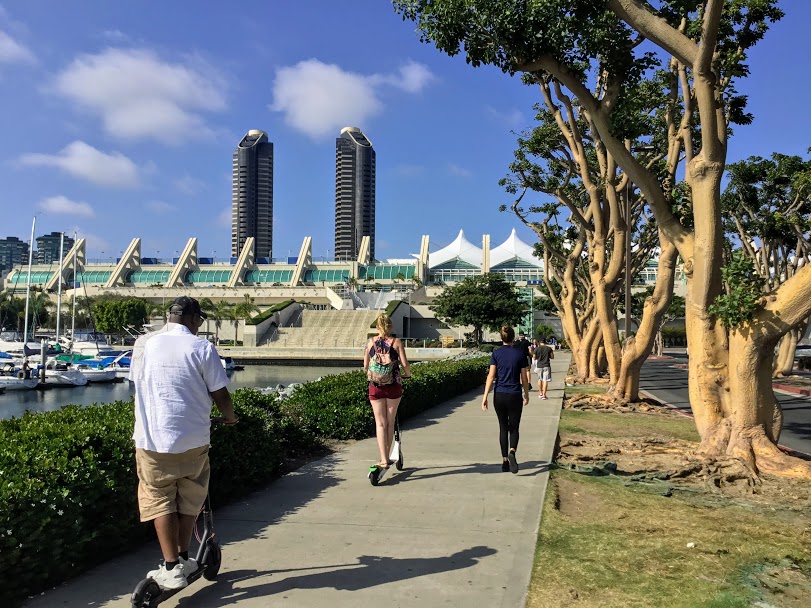 200 Marina Park Way, San Diego, CA 92101
As we make our way to the end of the Embarcadero bike path, we come upon the Embarcadero Marina Park and Pier.
The Embarcadero Pier is a famous fishing pier near Downtown San Diego. I have written extensively about this pier in a previous post. If you want to look at it, I have it linked here.
If you are looking to have a snack after our long adventure thus far, Burgers, Bait, and Beer are at the base of the pier. As the name suggests, they sell bait and rent fishing rods by the hour.
Here is a look at the menu.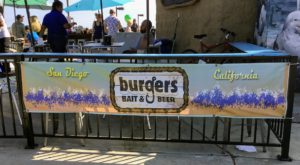 Fifth Ave Landing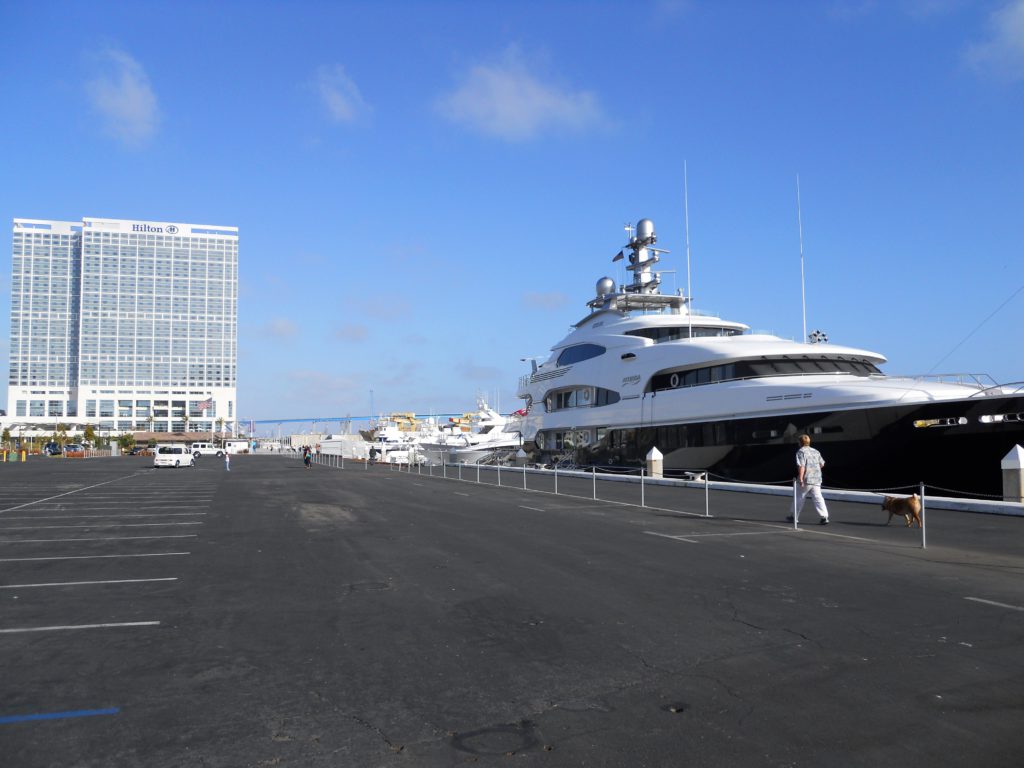 As we leave Embarcadero South Park and continue south, we come upon the Fifth Ave Landing. Here is where all of the 'Superyachts' must land, seeing that they are too large for the marinas. Every time we are down here, there is a new colossal yacht to check out.
Just past Fifth Ave, Landing is the Hilton San Diego Bayfront Hotel, with a prime location next to the San Diego Convention Center.
---
San Diego's Working Waterfront
1800 Crosby Rd, San Diego, CA 92101
Following South Embarcadero, we come upon shipyard after shipyard, otherwise known as San Diego's Working Waterfront. Did you know that San Diego is home to the largest shipbuilding and repair force on the West Coast?
Let's have a quick look.
The Five Port of San Diego Shipyards:
BAE Systems
Continental Maritime
General Dynamics NASSCO
Newport News Shipbuilding
Pacific Ship Repair and Fabrication
According to the Port of San Diego's official website, the San Diego Working Waterfront, along with its suppliers, is responsible for building, fixing, and maintaining commercial vessels and the US Navy vessels, whether homeported here or destined for the far seas.
The maritime business in San Diego contributes over 13,000 direct jobs on the waterfront and $2.7 billion in direct economic impact to the region of San Diego.
Free Public San Diego Waterfront Tours
I found something exciting! The Port of San Diego offers free tours of San Diego's Working Waterfront every year in May as part of Maritime Month in San Diego! Upon further investigation, more dates were added throughout the year due to the popularity of these tours. I am not sure what will be offered in 2019, so please look at the link, as you might get lucky.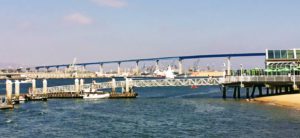 Fun Fact-  The top three imports that come into the San Diego Bay are the following: bananas, fertilizer, and cars. I found it fascinating that over 3 million metric tons of bananas pass through the port of San Diego from Central America each year! 
---
Naval Base San Diego
3455 Senn St, San Diego, CA 92136
 Naval Base San Diego is the second-largest Surface Ship base of the United States Navy. Home to 50 ships of the Pacific Fleet as well as 190 tenant commands. Established in 1921, the base sits on 977 acres of land and 326 acres of water and has 13 piers.
There are over 25,000 military personnel as well as 10,000 civilians that work on this base.
---
South San Diego Bay
Have you noticed that we have not seen one salt marsh, mudflat, or any eelgrass beds in every place that we have visited so far? This is because North Bay San Diego was dredged to allow the large Navy vessels deep in the Bay's north.
San Diego Bay National Wildlife Refuge Complex
 Over 90 percent of the historical wetlands of San Diego Bay have been drained, diked, or filled in, so preserving all that is left is of utmost importance.
Established in 1999, the San Diego Bay National Wildlife Refuge Complex put aside 2620 acres of land and water in and around South San Diego Bay. There are two units: the Sweetwater Marsh Unit, which consists of 316 acres, and the South San Diego Bay Unit, which has 2300 acres.
The main goal of the refuge is to protect and restore the habitat for the hundreds of thousands of migratory birds that stop here while using the Pacific Flyway, as well as for the native species that call the Bay home.
Let's continue our adventure, shall we?
---
Pepper Park-National City
3299 Tidelands Ave, National City, CA 91950
As we continue south past Naval Base San Diego, we come upon the National City Marine Terminal, specializing in foreign car imports and exports. This is the port of entry for one out of every ten new foreign cars shipped to the United States.
Pepper Park, located in the far southeastern corner of the National City Marine Terminal and adjacent to the Sweetwater River Channel; spans 5.5-acres, has a fishing pier, a boat launch, and Pier 32 Marina.
Across from here is the Sweetwater Marsh, within the San Diego Bay National Wildlife Refuge.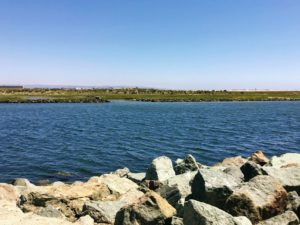 If you look closely, in the middle of the far background is one of the openings of the Sweetwater River into the Sweetwater Channel. This is one of the reasons that anglers like to fish off of Pepper Park Pier.
---
Living Coast Discovery Center
1000 Gunpowder Point Dr, Chula Vista, CA 91910
On our way south, across from the Sweetwater Channel, lies the Living Coast Discovery Center– an interactive Nature Center/Zoological Center. I was fortunate enough to have visited here this past summer.
There is a fee required to enter here. The parking lot is located right outside the reserve, and a shuttle bus comes by every 15 minutes to pick up passengers.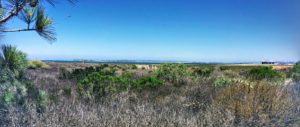 Here we are looking at the Sweetwater Marsh Unit, which is part of the San Diego Bay National Wildlife Refuge.
I have written extensively about the Living Coast Discovery Center, so if you want more information, click on the link above.
---
Bayside Park
999 Bayside Pkwy, Chula Vista, CA 91910
We pass by a couple more shipyards as we continue south before reaching Chula Vista's Bayside Park. We have a huge grassy park, sandy beach, restrooms, pier, launch ramp, and the California Yacht Marina Chula Vista.
 There are additional wetlands and mudflats here just past the launch ramp to the south. Sitting just south of the launch ramp is Bayfront Park.
Here is another excellent spot to sit and watch the birds within the salt marsh. Over 172 species have been noted here!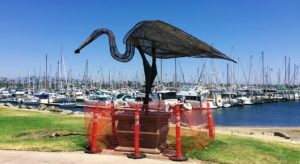 ---
South Bay Salt Works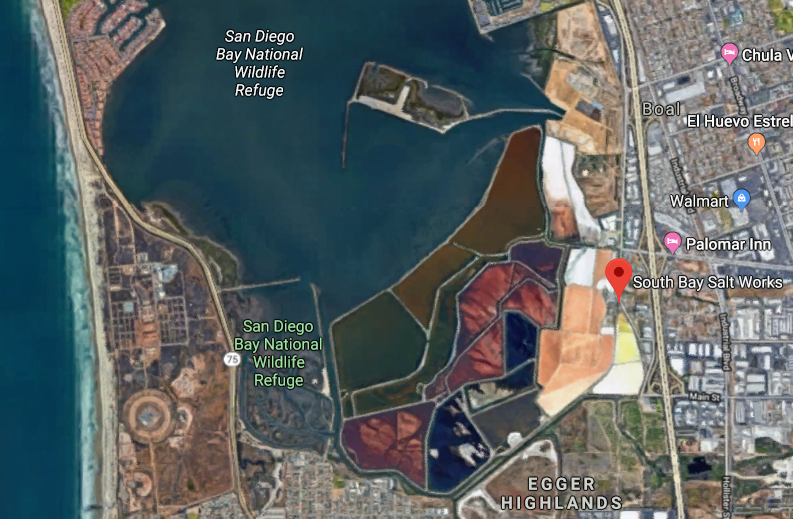 1470 Bay Blvd, Chula Vista, CA 91911
After passing by the salt marshes south of Bayside Park, we come upon South Bay Salt Works, which has been in business since the 1860s, making it one of San Diego's oldest businesses after the San Diego Union-Tribune newspaper.
South Bay Salt Works still incorporates the same way of salt extraction as it has since its inception. Spanning over 1000 acres, salt water is moved from pool to pool, and with time evaporation occurs, and piles of salt, some 40 feet high, are seen sunning in the sun.
Fun Fact- The salt works produces over 75,000 tons of salt a year from the salt ponds. Since it has been operating, over a million and a half tons of salt has been harvested!
Salt Ponds and Migratory Birds
The salt ponds fall within the San Diego Bay National Wildlife Refuge territory and attract hundreds of thousands of birds yearly.
It turns out that the increased salinity found in these pools is a perfect home to brine (a tiny shrimp-like creature) that birds love to eat.
Though this site is off-limits to the public, an accessible birdwatching tour is offered from time to time through the San Diego Audobon Society. Here is a link to a few of their field trips. So far, nothing is listed, but please check back after the first of the year.
---
Silver Strand
Silver Stand begins right towards the southern section of San Diego Bay, part of the Coronado peninsula that connects to Imperial Beach.
Along the 7 miles of the thin sandy isthmus, the Silver Strand runs the 24-mile long Bayshore Bikeway. It should be noted that only 16 miles are on a designated pathway, while the remaining miles consist of bike lanes on the city streets.
I appreciate the Siver Strand because you are far from the highway on this bike path section and have excellent views of South San Diego Bay.
If you are interested in more information on Bayshore Bikeway, click on the link above.
---
Coronado Island
As we make our way from the Silver Stand, we enter Coronado Island. A lot of rich history has taken place here, and I have written extensively about the island's west side, so if you are interested, click on the link above.
Coronado Island has always been a favorite place to visit for my family and me. On the northeast shore of the Coronado, there is a boat launch and a small outdoor mall, the Coronado Ferry Landing, with many shops and restaurants. There is also a small pier, and if you haven't already guessed it, because of its name-a, a ferry landing.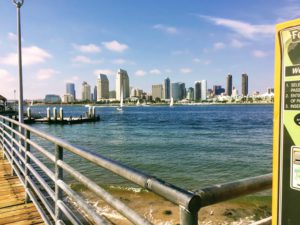 Take a Flagship Ferry Ride!
Here is a spectacular chance to go on a boat and experience the San Diego Bay up close and personal! A Flagship Ferry departs from Coronado every 30 minutes and takes you to Downtown San Diego. There are two destinations to choose from once the ferry crosses the Bay-South Embarcadero or North Embarcadero. If you would like more information, click on the link above.
---
 Naval Air Station North Island

Located south of San Diego Bay and north of Coronado, Naval Air Station North Island is part of the largest aerospace-industrial complexes in the United States Navy-Naval Base Coronado (NBC).
Naval Air Station North Island is home to 23 aviation squadrons,  80 additional tenant commands and activities, homeport to several aircraft carriers; as well as, and the largest aerospace employer in San Diego, the Navy Aviation Depot.
When all the ships are in port, there are over 35,000 active duty military, selected reserve military, and civilian personnel on this base.
There is also a tiny military fishing pier just north of the Coronado Ferry Landing pier that is a favorite of those living and working on the base.
---
End of Tour

Wow! That took a lot of work to put together! I never realized how big San Diego Bay is! As you can see, with over 34 miles of waterfront, there is something for everyone here.
Let's see; there are five fishing piers to choose from and countless marinas, harbors, parks, shopping centers, restaurants, museums, bike paths, and harbor cruises. How did I do? Did I forget anything?
Thank you so much for making it this far. I know that this is a lot of information. Please check back soon as I will go more in-depth regarding South San Diego Bay.
I can not wait to go down near the San Diego Salt Works to go birdwatching this winter, and I will take a fair share of pictures and explore the South San Diego Bay National Wildlife Refuge in Imperial Beach and Silver Strand.
Please feel free to leave any comments or questions that you might have!
I have always had a deep-seated passion for the Ocean Environment which ultimately led me to receive a degree in Marine Biology. Living in the San Diego area for over 30 years, I have extensively explored the 70 miles of San Diego's coastline, and I am here to share! Please use my website to your advantage and have a look around at all the wonders that the beaches of San Diego can offer you!