Today I would like to showcase a few of the best beaches of La Jolla in the hope that the beauty and wonder will encourage others to visit San Diego and experience the loveliness firsthand.
 La Jolla is a seaside community situated on top of towering cliffs overlooking the Pacific Ocean, located 20 minutes north of Downtown San Diego.
Best Beaches of La Jolla
I will be concentrating on The Best:
Family
Picnic
Hiking
Marine Life Experience
Surfing
Diving/Snorkeling
Tidepool Adventure
Swimming/Kayaking/Paddleboarding
 Hidden Gem
First off, La Jolla hosts several marine protected environments to encounter and explore, which include-
Mesa Top
Coastal Canyons and Bluffs
Sandy Beach
Rocky Intertidal
Submerged Coastal Plain
Deep Submarine Canyon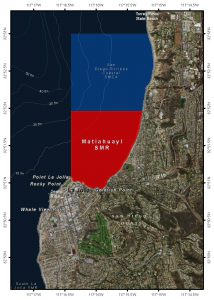 Of particular note, the marine protected areas begin at Torrey Pines State Beach and end at La Jolla Cove.
The La Jolla Underwater Ecological Reserve starts at La Jolla Cove and stops halfway at La Jolla Shores Beach (see map above).
 La Jolla, California- The Jewel City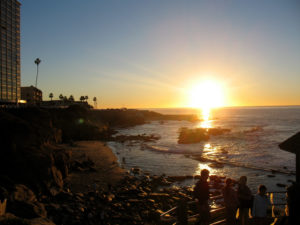 To say that La Jolla is one of a kind or is breathtakingly beautiful would be a gross understatement.
How about awe-inspiring, magnificent, astonishing, thrilling, gorgeous, energizing, and magical?
These words still can not sum up how you feel when you are here. You need to experience this place in person to comprehend it, but I will try my best.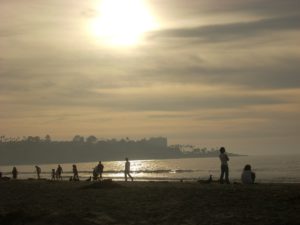 How Do You Pronounce La Jolla?
First, let us get the pronunciation of La Jolla out of the way- LA HOYA; the double L's are silent.
Ok, that was easy, right?
It is believed to be Spanish, meaning "The Jewel." This is where the nickname "Jewel City" comes from.
Where is La Jolla Located?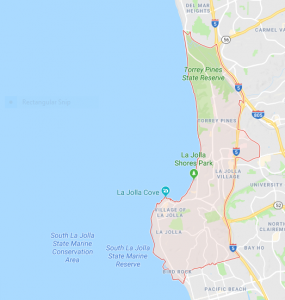 Bordering Del Mar to the north and Pacific Beach to the south, La Jolla occupies 7 miles of rugged coastline and boasts some of the best views, if not beaches, in all of San Diego.
Please click on the appropriate underlined links to get more 'in-depth' information as we go forward.
Are you ready?
---
Best Family Beach in La Jolla
Best Beaches of La Jolla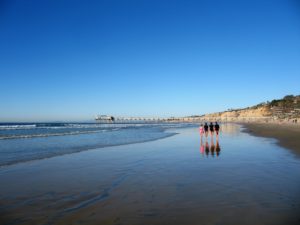 Calle Frescota & Camino Del Oro
I would like to start my list with one of the most popular beaches in La Jolla. There is so much to do here that it is not a surprise that I have listed this Beach as the first entry.
What Makes La Jolla Shores So Unique?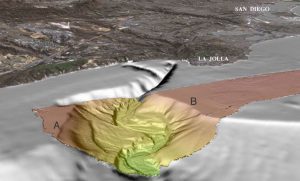 Right offshore of La Jolla Shores beach is a very deep underwater trench-The La Jolla Submarine Canyon.
The ocean bottom here slopes and suddenly drops 500 feet and reaches 600 feet within the park.
That is a huge drop!
Because of this trench and other offshore reefs, the tidal swells slow down considerably; thus making, the waves gentle and forgiving, which makes for great swimming and other water sports, such as scuba diving, snorkeling, kayaking, paddle boarding, and learning how to surf.
Do You Like to Walk as a Family?
You have an extensive sandy shore where you can walk for miles north on a low tide. Black's Beach is a three-mile hike or only 5.4 miles to Torrey Pines State Beach!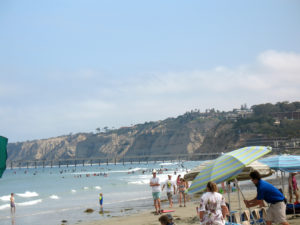 How about a short 10-minute walk to the Ellen Browning Scripps Memorial Pier?
There are many sea creatures to check out on the cement pilings and excellent photographic opportunities at the pier.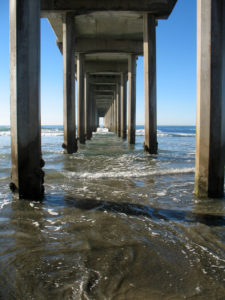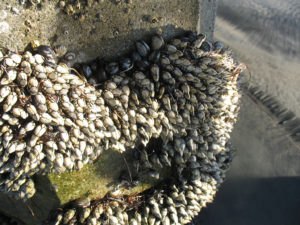 A Playground and Picnic Area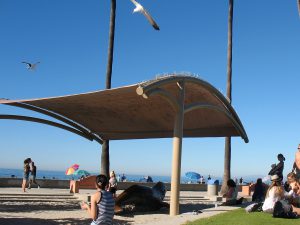 Another enjoyable aspect is the large children's playground. I can not tell you how often I have brought my kids here for a picnic and how much fun they all had at this playground!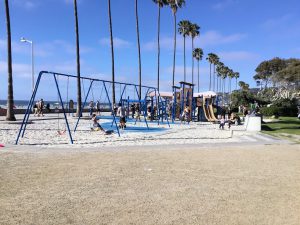 To sum it up, La Jolla Shores has everything you need for an outstanding, Family Friendly beach experience.
There are several lifeguard towers, two restrooms, showers, playgrounds, water sports rentals, picnic areas, and a large parking lot.
Word to the wise, though, come early, or you will have to look for parking in the residential neighborhoods.
Helpful Posts-
---
#2 Best Family Beach in La Jolla
Best Beaches of La Jolla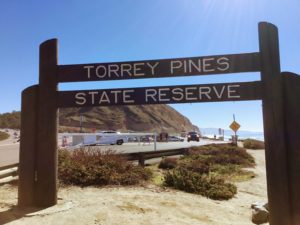 Torrey Pines State Beach
Another fantastic Family Beach is Torrey Pines State Beach. Here is where my husband and I would bring our children when they were small.
We would pack up the baby playpen, umbrella, towels, and food, and we were all set for a fantastic day at the Beach!
The views here are incredible, especially the towering 300 feet of sandstone cliffs. There is something to be said about how small you feel standing next to these giants!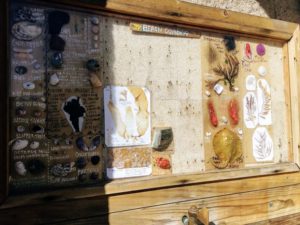 Do You Like to Walk as a Family?
Torrey Pines State Beach is an excellent place to go. "Beachcombing"  In the photo above is the display case showing objects and creatures found by fellow beachcombers.
I wonder if anyone ever saw my husband's wedding band that he lost while in the water 22 years ago?
As stated previously, Torrey Pines State Beach during low tide is a fabulous location to take a long beach walk.
As mentioned above, it would be 5.4 miles from here to Scripps Pier at La Jolla Shores Beach!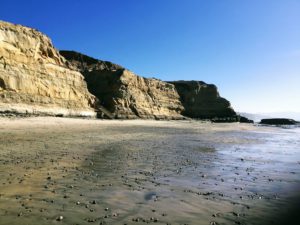 Los Penasquitos Lagoon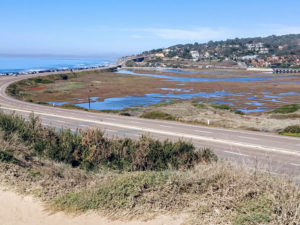 I would also like to comment that a trail goes across the street to the Los Penasquitos Lagoon. The Marsh Trail makes its way along the southwestern part of the lagoon and marshland shore for about 3 miles.
Los Penasquitos Lagoon is a prime spot for the serious birdwatcher.
For more information, please click on the link below.
Family Fun At Torrey Pines State Beach
Torrey Pines State Beach has two parking lots and a few spaces along the road leading up to the park entrance.
In summary, if I had my say, Torrey Pines State Beach is one of the best family beaches in La Jolla or all of San Diego.
There are many lifeguard towers, restrooms, a picnic area in both parking lots, showers, sinks, and even the option of hiking up top at the Torrey Pines State Natural Reserve, but more on that later.
Helpful Posts
---
Best Picnic Spot in La Jolla
Best Beaches of La Jolla

Calumet Park Beach
I thought I had a pretty good idea of all the 'secret' beach locations in San Diego, but I was pleasantly surprised at what I found when I came here.
You see, it is essential to realize that an open area with green grass in a residential area overlooking the Ocean is not something you see every day in San Diego.
What an excellent spot to have a picnic! It is as if you are at the Beach without the sand!
Calumet Park Beach is a city park that overlooks a famous surf break-Rock Pile. A dirt path at the north end of the park will take you down to the rocky Beach.
Rock and Roll Stones
It is also a great place to come on a low or negative tide as there is not much Beach, mostly all large to medium-sized stones.
The music these stones make with each wave is another reason to check this place out! The only way I can think of describing the sound is eerily beautiful.
Have a listen to the video for yourself below!
---
---
Look at these views!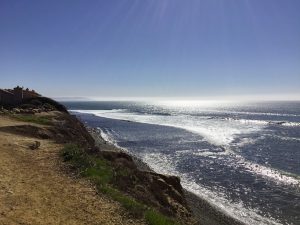 Whether you come here to eat a picnic, check out the shore at low tide, or watch the surfers way out in the water, you will always have a fantastic time.
I felt like a little kid at Christmas the first time I came here. I have always known that central La Jolla had stellar views and enormous crowds.
Here at Calumet Park Beach, you can have the views virtually to yourself! Please use caution when standing on or near the bluff, as it is precarious.
This park is in a residential area, with limited parking, and no restrooms exist.
---
#2 Best Picnic Spot in La Jolla
Best Beaches Of La Jolla
La Jolla Strand Beach
Here is another beach that not many know about as it is rarely crowded! Shhh! The La Jolla Strand Beach is found right near the La Jolla Hyatt Regency and is a little piece of heaven.
There is much to see here on white sandy beaches with tide pools to the north and south.
La Jolla Strand Beach is unique because you can shelter between the tidal shelf rocks on the shore and pretend no one else is around.
 The surf at the La Jolla Strand Beach breaks right on the shore.   Sitting and watching the waves crash into the sand is thrilling.
Big Splash!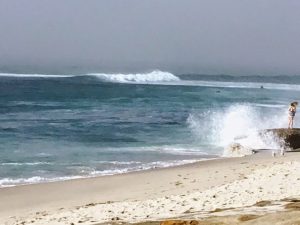 For instance, you can feel the vibrations of the sounds of the waves crashing, resonating in your body!
Additionally, I like how sometimes my mind tricks me, and I sense the wave's vibrations before it even hits the shore.
Have a listen for yourself!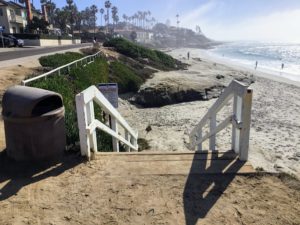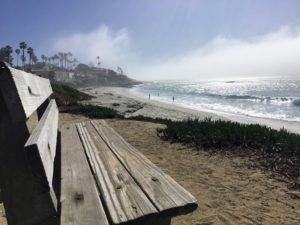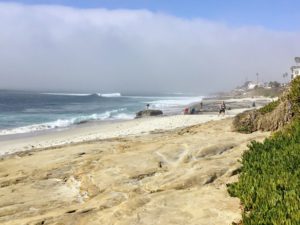 La Jolla Strand Beach is in a residential neighborhood, so parking is limited, and again no restrooms.
---
Best Hiking Beach in La Jolla
Best Beaches of La Jolla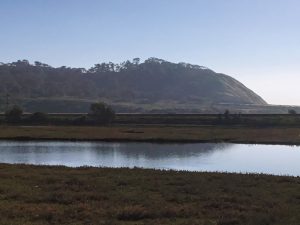 If you want to hike on a Mesa top with an ocean view, look no further than Torrey Pines State Natural Reserve.
Torrey Pines State Natural Reserve is an example of what Southern California used to look like in the past. There has been no development on this site ever.
Home to one of the rarest pine trees in the nation, the Torrey Pine, this Reserve has several trails to choose from and a visitor center with copious amounts of information on the area.
 Naturalist-led tours are available each weekend. For more information,  please click on the link above.
We were making our way up the hill to the trailhead and the Visitor's Center.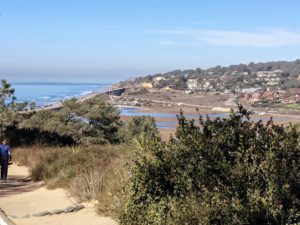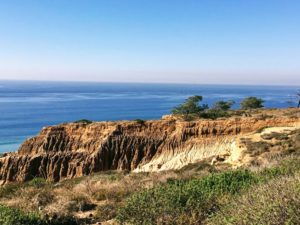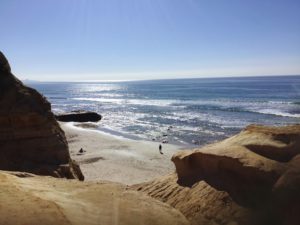 Torrey Pines State Natural Reserve is my number one recommendation for beachside hiking. The views and the terrain are just out of this world.
You must come here and experience it for yourself!
---
Best Marine Life Experience in La Jolla
Best Beaches of La Jolla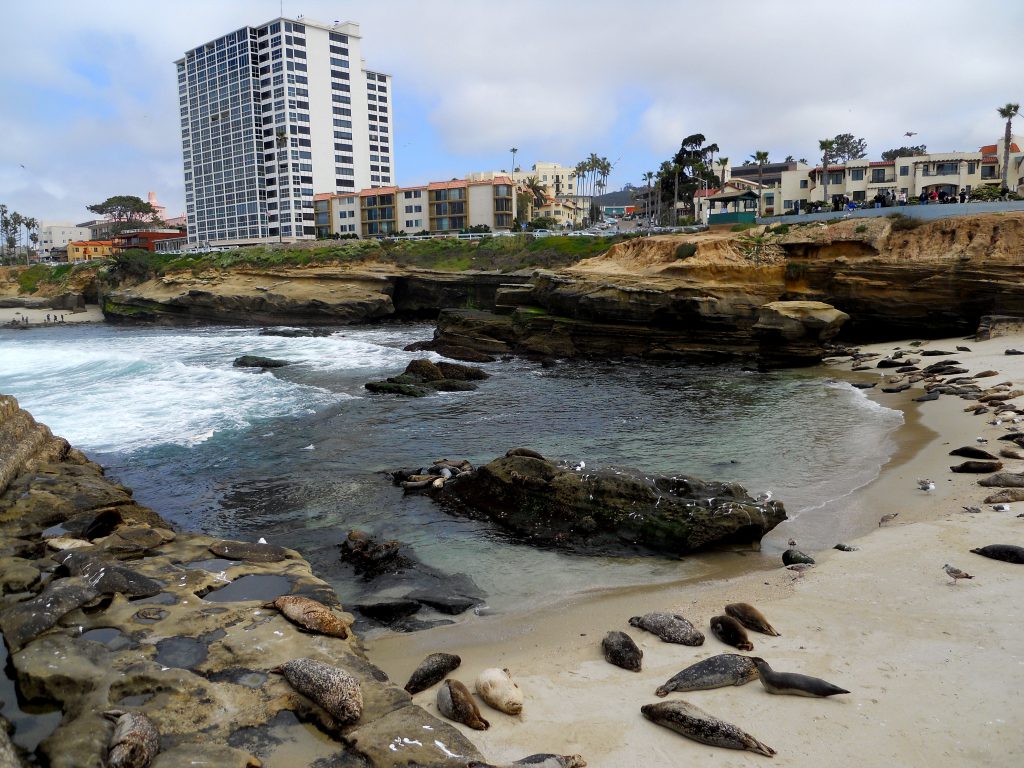 The La Jolla Children's Pool Beach
How often do you see a California sea lion or a harbor seal up close? At least when I say up close, I mean more like 30 feet away.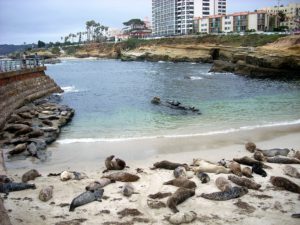 Anyone caught bothering them or trying to scare them back into the water will be fined $500.
These marine mammals are seen off the coast of La Jolla with much frequency and love to hang out here at the Children's Pool or on the big rock-Seal Rock just outside of the Children's Pool.
Ideally, this spot was perfect for children to swim because the seawall shelters the area. But there is a problem with water pollution due to these animals, so it is not recommended to swim here.
Though that doesn't seem to stop some from doing just that; nevertheless, I, for one, would not.
A great time to visit is during the Spring when the babies are born.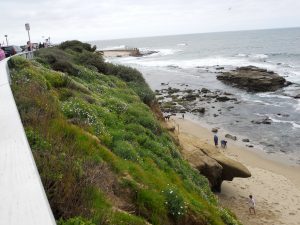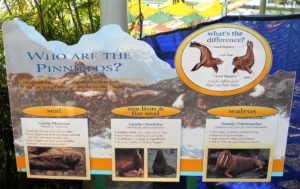 Helpful Posts-
---
Best Surfing Beach in La Jolla
Best Beaches of La Jolla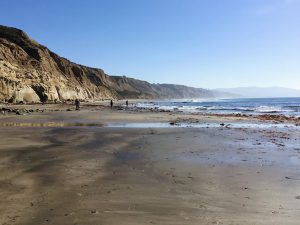 Black's Beach
 Black's Beach has some of the best surfing in all of Southern California, making it one of the best beaches in La Jolla. I have yet to go, but I will soon.
Another exciting feature I would like to add is that it is an optional clothing beach.
Nude surfing, anyone?
—>Black's Beach-The Naked Truth<—
Black's Beach is a half-mile stretch of Beach known for its powerful and consistent waves because the La Jolla Submarine Canyon funnels the swells straight into this Beach.
The underwater canyons increase the power of the waves and, in turn, create terrible rip currents. These waves are definitely for the advanced surfer.
No Direct Route Here
Black's Beach is hard to get to as there is no direct route. There is a dirt path behind the Torrey Pines Gliderport, and I have linked the address above.
The trail is very steep, so I do not recommend this way if you are not up to it, especially holding a surfboard!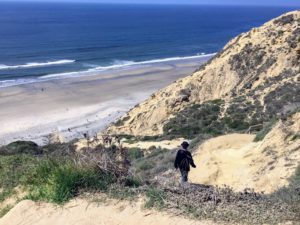 I would advise starting at La Jolla Shores and walking three miles (on low tide). Or you could also start at Torrey Pines State Beach and walk only two miles.
There are no restrooms or showers here, and lifeguards patrol randomly throughout the day.
Video Credit- JacuzziSurfer
---
 #2 Best Surfing Beach in La Jolla
Best Beaches of La Jolla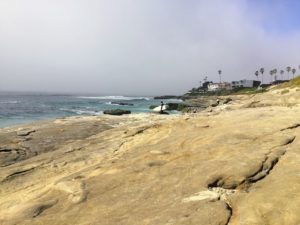 Windansea Beach
Windansea Beach is another extremely famous surfing beach in San Diego and the west coast.
The surf is considered a moderate to severe shore break due to the steep beaches, resulting in the hard-hitting waves on the shoreline. Because of this, it is recommended to surf during low tide when the waves are a little farther out.
—>Best Surfing Beaches in San Diego<—
Windansea Beach is suggested to be for advanced wave riders only as many serious accidents have occurred here in the past.
The Surf Shack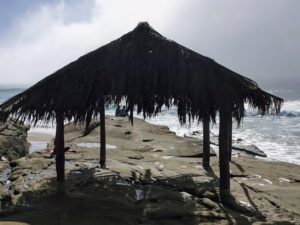 The palm-covered wooden shack (The Surf Shack)- was first built in 1946 by three famous surfers-Woody Ekstrom, Fred Kenyon, and Don Okey.
It was knocked down by large waves and a high tide on Dec. 24, 2015, but was eventually rebuilt by locals in June 2016.
The Surf Shack by Windansea Beach was further named a historical landmark by the San Diego Historical Resource Board on May 27, 1998.
Fun Fact- Windansea Beach was the inspiration for the many "Beach Films" of the 1960's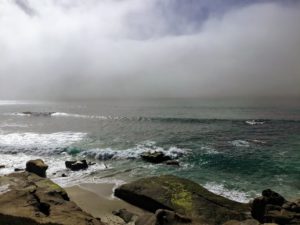 Parking might be a problem here as there are only a few designated parking spaces for the Beach in this residential area. Furthermore, there is no restroom or shower at this location.
---
Best Diving/Snorkeling Beach in La Jolla
Best Beaches of La Jolla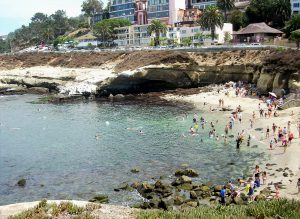 La Jolla Cove Beach
There is one sure winner for the best diving/snorkeling spot, and that would be La Jolla Cove!
Look at this place!
A tiny white-sand beach between sandstone cliffs is the gorgeous background you will experience while swimming in the clear blue-green waters. Visibility here can sometimes be more than 30 feet!
As stated earlier, La Jolla Cove is part of the La Jolla Ecological Reserve, so everything here is protected. Nothing is to be touched or taken. Also, avoid seals or sea lions as they may bite if frightened.
The diversity seen here is incredible. You can stay in the cove and experience the underwater sandy shore and rocky intertidal or swim out a bit and discover the Giant Kelp Forest!
I do not have an underwater camera yet, but I found this lovely video highlighting this location. I am sure you will enjoy it!
Video Credit- Jamie Norcutt
Helpful Posts-
---
Best Tide Pool Beach in La Jolla
best Beaches of La Jolla
Bird Rock Beach
Bird Rock Beach is a tidepool dream come true on a Spring Tide (one of the year's lowest tides!)
Unknown to many, it remains a terrific secret and is not easily assessable to the general public unless you have directions.
Bird Rock is the go-to place to experience tidepools at their best! This is the first place college professors bring their students to identify rocky intertidal specimens.
I will present to you two videos, with the first one that I took on a low tide of around 1ft, and the second is the effects of a Spring Tide of -1.9ft.
Do you notice how utterly transformed the shoreline looks when the water is pulled away with such a negative tide?
Tidepool creatures are genuinely the most adaptable creatures in the world, don't you think?
Video Credit- James Weaver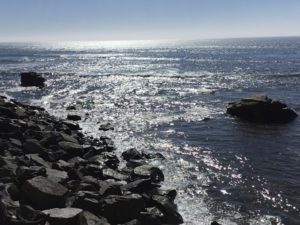 Tide Pool Specimens
Creatures that you might encounter here include-
sea anemones
hermit crabs
mussels
barnacles
sea hares
octopi
limpets
sea stars
brittle stars
I have made this printable list of possible tidepool specimens available to help identify flora and fauna the next time you are in the tide pools. (Courtesy of the Cabrillo National Monument).
And if you are coming for the tide pools, make sure it is sometime in the winter because that is when the lowest tides occur.
Bird Rock Beach is located in a residential neighborhood so that parking may be a problem. The early morning or the late afternoon is your best bet if you wish to avoid crowds.
Again, no restrooms are available here.
Helpful Posts-
---
Best Swimming/Kayaking/Paddleboarding Beach in La Jolla
Best Beaches of La Jolla
Calle Frescota & Camino Del Oro
Well, what makes for a good swimming/ kayaking /paddleboarding beach?
First, you need a beach that is easy to enter the water and where there is not much tidal action.
Do you happen to recall reading about such a place? Why yes, good old La Jolla Shores Beach.
Do you also recall that I previously mentioned a vast underwater trench offshore? And that said, a trench is why the waters are relatively calm.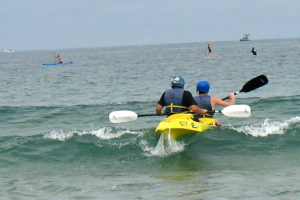 Many companies rent kayaks and paddleboards up the street from the Beach.
One of the benefits of kayaking in La Jolla is the caves.
La Jolla Shores is a Great Beach!
Well, as you can see, there are endless activities to do at La Jolla Shores Beach, making it indeed one of the best beaches in La Jolla!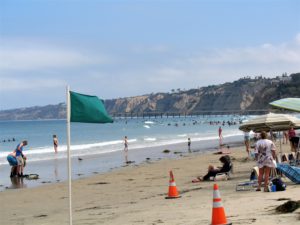 La Jolla Shores Beach has it all, be it swimming, diving, snorkeling, paddleboarding, kayaking, boogie boarding, or surfing near the pier,.
—>Sea Caves at La Jolla Underwater Park<—
Oh, did I mention underwater photography too?  Seriously, you mus come to this Beach and experience for yourself!
---
Best Hidden Gem Beach in La Jolla
Best Beaches Of La Jolla

Camino de la Costa Beach Access
Driving up to Camino de la Costa Beach Access, I  had no idea what I was in store for or what I was about to discover.
After parking in the residential neighborhood, I proceeded to the stairway. I immediately noticed  hat this Beach was made up entirely of medium to large stones with a bit of sandy shore on the south.
I have to say that when I turned my head to the left ar the stairway, I was taken aback by what I saw.
Multi-million-dollar views!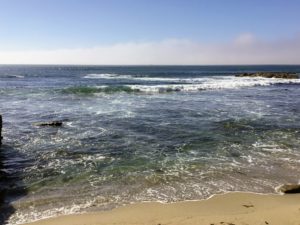 Here is only a little bit of Beach.
It was low tide, so I can only imagine that the water most likely covered the whole area during the high tide.
I am so thrilled that I found this spot. Next time I visit, I plan to sit on a roc  ledge and gaze out onto the horizon. I am hopefully waiting to see if some whales o  dolphins pass by the shore.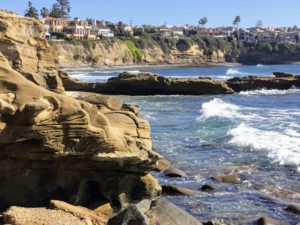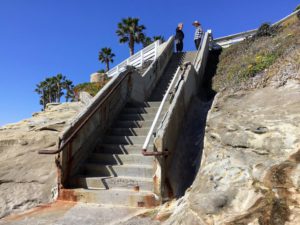 Just one more look before I say goodbye.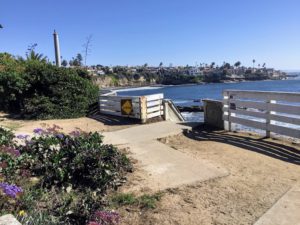 ---
End of the List
I hope you enjoyed my picks for the best beaches of La Jolla.  As you can see, La Jolla is a pretty spe acular place to visit.
Please check back soon as I will make a comprehensive list of tour companies and hotel and motel deals!
I would like to leave you with a few Honorable Mention Photos of other great beaches in La Jolla because I felt these other four needed to be seen and appreciated.
Until next time!
---
Best Beaches of La Jolla Honorable Mention

Hospital Beach
Hospital Beach is another La Jolla beach in a residential neighborhood that photographers and scuba divers enjoy.
---
Marine Street Beach
Do you like to boogie board? Here at Marine Street Beach, the waves crash extremely ha d onto the shore
.Really, the waves here have the nickname "The Whomp."
---
Whispering Sands Beach
Whispering Sands Beach is another fabulous spot to photograph as well as check out tide pools!
---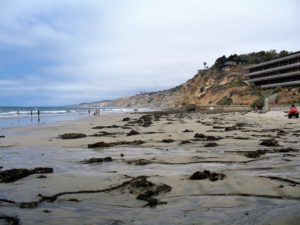 Scripps Beach
 El Paseo Grande & La Jolla Shores Dr
Scripps Beach is north of the Ellen Browning Scripps Memorial Pier. If you keep walking north, you will find "Dike Rock," a beau iful place to look at the tide pools.
In this area, you are allowed to surf as well.
Black's Beach is about 2 miles from here.
I have always had a deep-seated passion for the Ocean Environment which ultimately led me to receive a degree in Marine Biology. Living in the San Diego area for over 30 years, I have extensively explored the 70 miles of San Diego's coastline, and I am here to share! Please use my website to your advantage and have a look around at all the wonders that the beaches of San Diego can offer you!