Torrey Pines State Natural Reserve is a 2000 acre park located in the community of La Jolla in San Diego California off North Torrey Pines Rd. Nothing here has ever been altered or diverted at Torrey Pines State Natural Reserve making it one of the wildest coastal stretches left in California.
I can not emphasize enough just how beautiful this Reserve is!
Come and join me for a tour!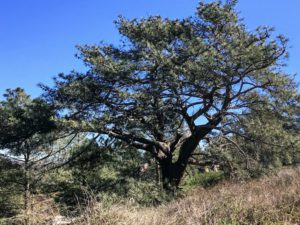 What is a Reserve?
 Everything here and surrounding the Torrey Pines State Natural Reserve is a protected area. That includes the Penasquitos River Valley east of the highway, which is one of the last salt marsh estuaries in San Diego and the Underwater Ecological Reserve offshore.
A Reserve is not a 'park,' but an assigned area of importance and commonly is one that contains threatened plants, animal habitats or unique geological formations.
 There are over 300 birds and native plant species that are threatened or endangered within the Torrey Pines State Natural Reserve. The Torrey Pine, which is the namesake of the Reserve is a very rare endangered pine tree- the rarest pine tree in the United States, but more on that later.
The Motto Here is "Preserve the Reserve"
Because endangered and threatened species live here, there are stringent rules. For instance, no food or drink is allowed into the Reserve. Also, there are no trash cans within the park, so you are to take all trash with you.
The sandstone cliffs can be perilous, and there are also rattlesnakes, so children are to be with an adult at all times. You are also to stay on all trails as going off can damage the habitat. I think I covered most of everything, but please double check this sign below.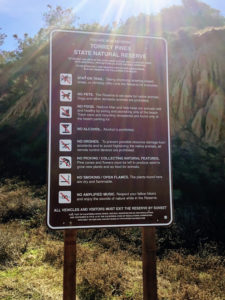 First, let's get through with all the basics.
Torrey Pines State Natural Reserve 
General Information
(858) 755-2063
Park Hours
7:15am-Sunset
Visitor Center Hours
9am-6pm (summer)
10am-4pm (winter)
Torrey Pines State Natural Reserve Parking
Parking at the Torrey Pines State Natural Reserve can get a little tricky due to the popularity of this state beach.
There are two parking lots, the North and South. Once entering the Park via the South entrance, there are several small parking lots also available up on the hill close to the trails.
Additionally, there are about 20 spots available on North Torrey Pines Rd that are free, but as you can imagine they fill up extremely fast.
Please refer to here for parking prices.
 All recreational vehicles that are longer than the standard parking lot space must park in the North Parking lot.
Hiking Torrey Pines State Natural Reserve
There are over 8 miles of trails to hike here at this Reserve, ranging from easy to moderate. All have something special and unique to see.
Due to varying elevations at this park,  there are several habitats found here. For example, freshwater and saltwater ecosystems, coastal strand, sage scrub, salt marsh, chaparral and finally conifer woodland are all present here at the Reserve.
Let's Go Hiking!
Today, my son and I started our hike parking at the North Parking lot which is adjacent to the Los Penasquitos Lagoon. When the tides are changing, there are some great photo opportunities to be found here.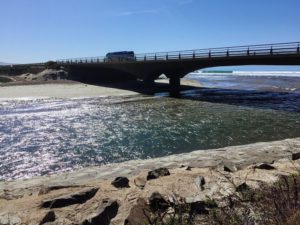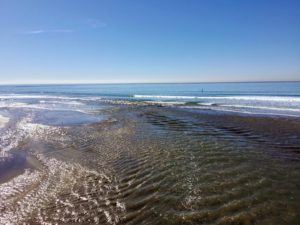 Here is the Los Penasquitos Lagoon inlet as it is rushing out at the start of the low tide. You get an excellent perspective here while standing on the bridge.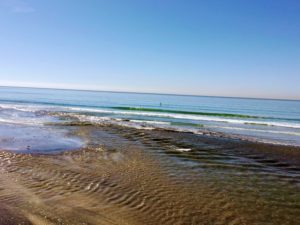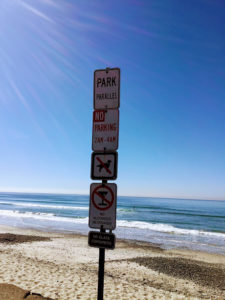 We are almost there!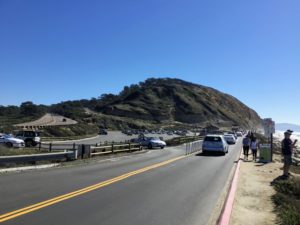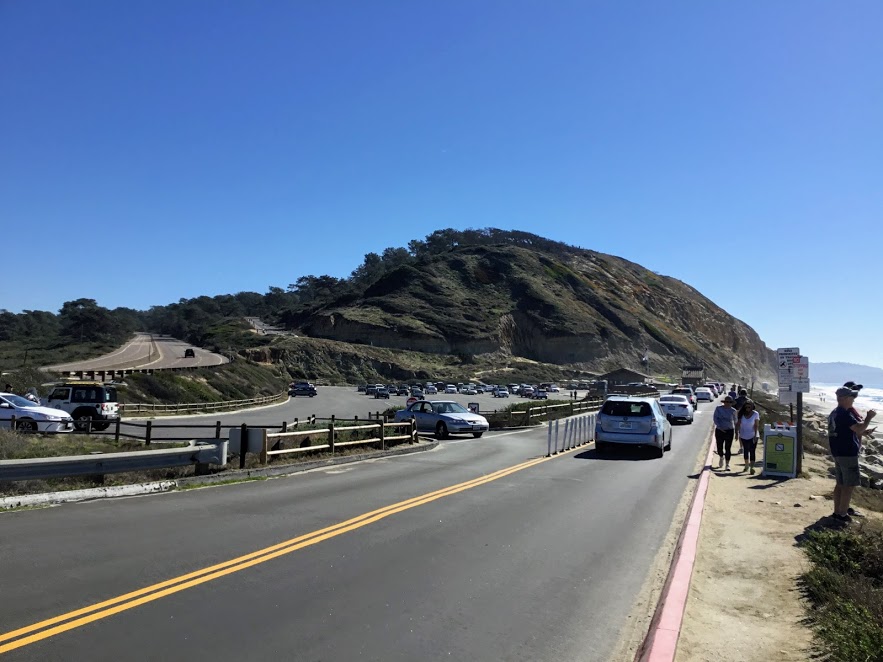 Do you notice the grove of Torrey Pine trees on top of the hill?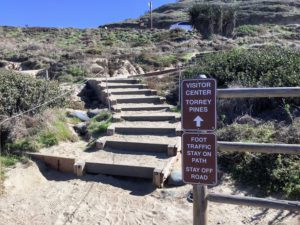 Here is the road that takes you up to the trails. Word of caution, this is a steep hill that goes on for 3/4 a mile.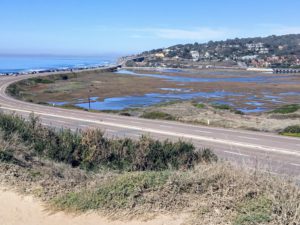 The Torrey Pine-Pinus torreyana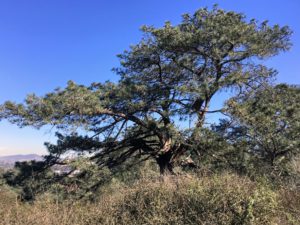 As stated above, the Torrey Pine is the rarest pine tree in the nation if not the world. This tree is found only growing on a thin piece of coastline in North County San Diego. You also may see them on one of the Channel Islands-Santa Rosa off the coast of Santa Barbara to the north.
This species is native to the coastal sage and chaparral ecoregion in California. Let's have a look at all of the trees that we see walking up into the park.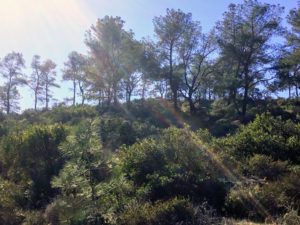 An Interesting Torrey Pine Tree Fact
It is interesting enough to have a pine tree growing on the coastal bluff, not to mention a semi-arid coast.
If it wasn't for the all-day low cloud cover seen in the spring and fall here in Southern California, these trees could not survive. These trees acquire just enough moisture to help with their survival.
Click here for more information on Torrey Pine tree.
Guy Fleming Nature Trail
 Once near the top of the hill, the Guy Flemming trail is the first trail that you will come upon. Out of all of the paths to choose from at the Torrey Pines State Natural Reserve, this one is the easiest.
Just in under .7miles, this trail loops back and has many Torrey Pines as well as many gorgeous spots to soak in the magnificent view.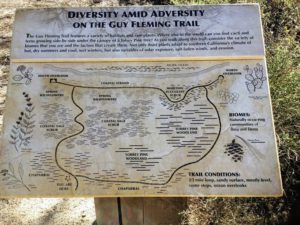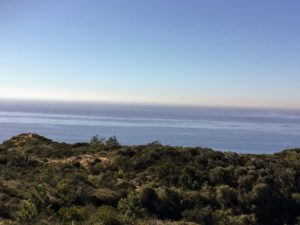 Parry Grove Trail
Here we have another relatively short .5 mile loop trail.   Devastated by the drought and an infestation of the Bark Beetle, this grove has been slowly making its way back to recovery.
 There is also a native garden, The Whitaker Garden, at the beginning of the Trailhead. The entryway is very steep with over 100 stone steps.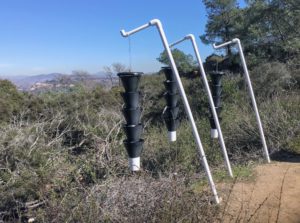 Torrey Pines State Natural Reserve Visitor Center
Located at the very top of the hill and adjacent to the restrooms and parking lot sits the Visitor Center.
 Formerly called the Torrey Pines Lodge, this pueblo styled structure used to be a restaurant. Back in the day, many people would stop here from Los Angeles while on their way to San Diego.
Today this is the place where you can find large amounts of interesting facts about the natural history of this Reserve along examples of different plant and animal species that you may encounter while hiking. I genuinely encourage all to visit here!
Furthermore, the visitor center offers guided tours every weekend and holidays at 10 am and 2 pm. Each trip last for an hour and only ten people per group is allowed.
Fun Fact- Along with guided tours, the Visitor Center additionally offers a "Mindfulness in Nature" tour rain or shine on the first Sunday of every month at 8 am-9: 45 am.

Beginning with a guided tour to one of the lookout points you will later be able to go off by yourself for deep introspection allowing yourself to deepen your connection with the land. No reservations are needed.
A Closer Look Inside The Visitor Center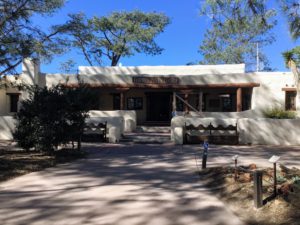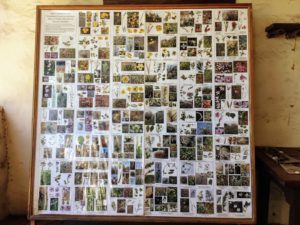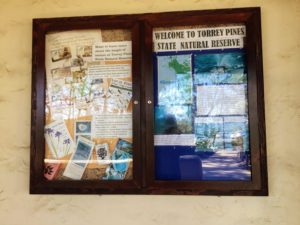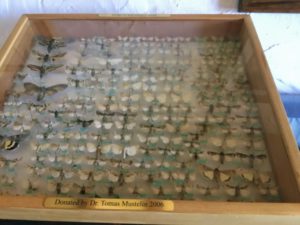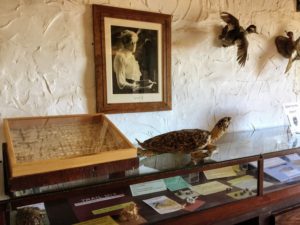 Ellen Browning Scripps donated money to start this Reserve back in 1922. She was a very generous philanthropist that provided funding as well as her time for many famous institutions here in San Diego.
Such as the Scripps Insititute of Oceanography, the San Diego Zoo, as well as the Children's Pool in La Jolla, just to name a few.
Here we have a bit of information explaining the geological formations at the park and surrounding areas.
Here we have an interactive display where you are encouraged to pick up and take a closer look at all of the different types of rocks that are found within the Reserve.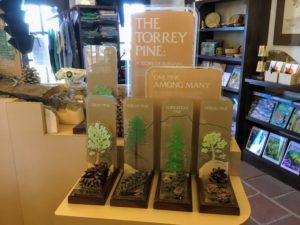 If you take a closer look, you can see how enormous the pinecones of the Torrey Pine tree are compared to other pine species found in the Reserve.
Let's now take a look at the back patio of the Visitor Center.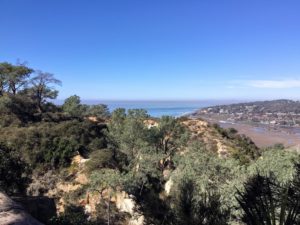 Southern Reserve Trails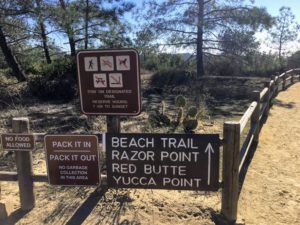 Just a bit of a way from the Visitor Center is a few more trails with two of them taking you down to the beach.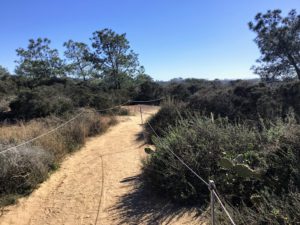 Razor Point Trail
The Razor Point Trail as described in the park brochure is 1.4 miles through ravines and badlands. At the end of the trail, there are spectacular ocean views. Have a look for yourself!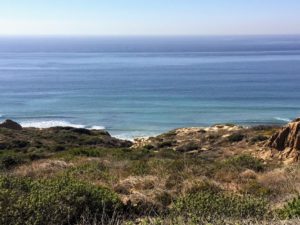 The Beach Trail
Are you looking for a good workout? The Beach Trail is indeed for you! Clocking in at 3/4 of a mile it is relatively steep but what a view!
We also must not forget about the reward at the end!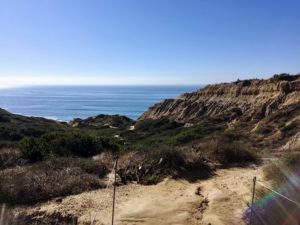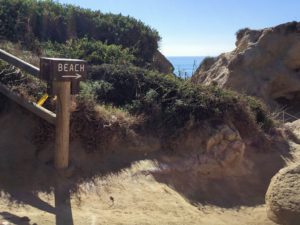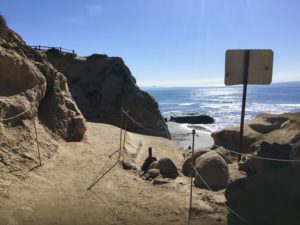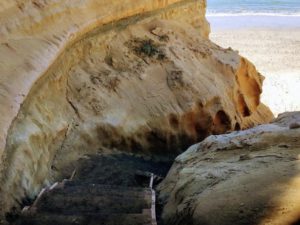 Thank you so much for joining me on a tour of the Torrey Pines State Natural Reserve! How did you enjoy the views? How about all the information? Did I persuade you to come down here to San Diego? I sure hope so!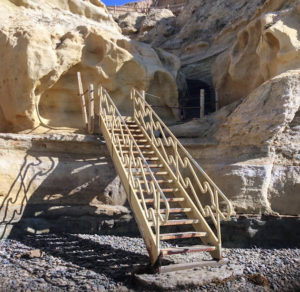 Please check back later as I will be writing about the rest of our adventures down below at the Torrey Pines State Beach!
Please feel free to leave any comments or questions below.
Until next time!
---
Learn How To Make A Business Website For Free!
I have always had a deep-seated passion for the Ocean Environment which ultimately led me to receive a degree in Marine Biology. Living in the San Diego area for over 30 years, I have extensively explored the 70 miles of San Diego's coastline, and I am here to share! Please use my website to your advantage and have a look around at all the wonders that the beaches of San Diego can offer you!