Have you ever been to San Diego? With over 70 miles of coastline, San Diego has some of the most enchanting beaches in the world! Do you love the beach as much as I do?
Today, I would like to give you my shortlist of the five best San Diego beaches you must visit if you are ever down here!
I have written extensively about each area, so click on the appropriate link. I have also included a short video for each site to help you get a 'real' feel for each beach. Please have a look!
Top 5 Best San Diego Beaches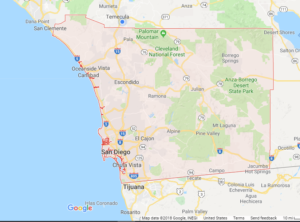 I would first like to state that I am covering the entire San Diego County (where the 70 miles of coast refer.) I will be listing exciting things to do at each location.
Ready? Let's go!
---
Trestles- San Onofre State Beach
3929 S El Camino Real, San Clemente
Trestles Beach, referred to as Trestles,  is located on the northern border of San Onofre State Beach and is accessible in three different ways; all are quite a hike but so worth it.
Many people come from far and wide to surf this world-renowned surf break.
—>Exploring Trestles Beach Trail<—
Why do I love this beach? Why did I include this beach as one of the best San Diego beaches?
—>Getting to Know San Onofre State Beach<—
Well, I have never come here on the weekend at least during the week, and the rustic charm has something to do with it. Also, it is never really crowded, which is a plus.
Things to do–
the trek to get here can be considered 'hiking.'
by going via the Trestles Beach Trail, there are copious amounts of wild, overgrown vegetation (I love old plants!)
San Mateo Creek/ Lagoon is located adjacent to the Beach Trail and ends right near the shoreline- it is an excellent place to birdwatch
watch surfers
explore the dunes
walk north towards San Clemente
south of Trestles is Churches which is another famous surf break, as well as The Point, Old Man's, and Dogpatch found further south
there is also a walking trail next to the train tracks to check out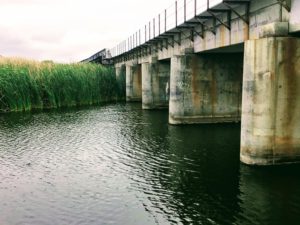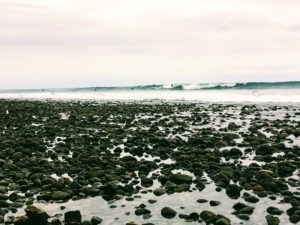 ---
South Ponto Beach
 South Ponto Beach, 31 miles north of downtown San Diego, is located in southern Carlsbad.
Here is another rustic beach in an undeveloped area that lies adjacent to the Batiquitos Lagoon.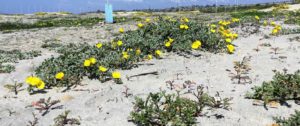 I have written extensively about this beach, adding it to my Five Hidden Gems in San Diego; click on the link provided for more information.
Things to do–
a huge paid parking lot-free on-street parking
swimming, sunbathing, boogie boarding, surfing, volleyball (bring your net)
explore the outside of the fenced-in dunes
long beach walks
watch surfing
head up top via the bluff stairway to check out the views-great place to sit and wait for whales
go across the street and visit the Batiquitos Lagoon
---
Torrey Pines State Beach

Here is one of my favorite places to visit, Torrey Pines State Beach. On top of the bluff is the Torrey Pines State Natural Reserve which has miles of trails to explore.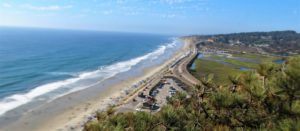 Things to do-
two large paid parking lots plus free on-the-street parking
swimming, sunbathing, walking, beachcombing
snorkeling, boogie boarding, surfing
long beach walks-north towards Del Mar, south towards Black's Beach
visit the Torrey Pines State Natural Reserve up on top of the bluffs to explore miles of trails as well as see the rarest pine tree, the Torrey Pine
explore the Los Penasquitos Lagoon Trail (found at the south perimeter of the lagoon)
birdwatching
tide pools exposed when the tide is very low
---
Ocean Beach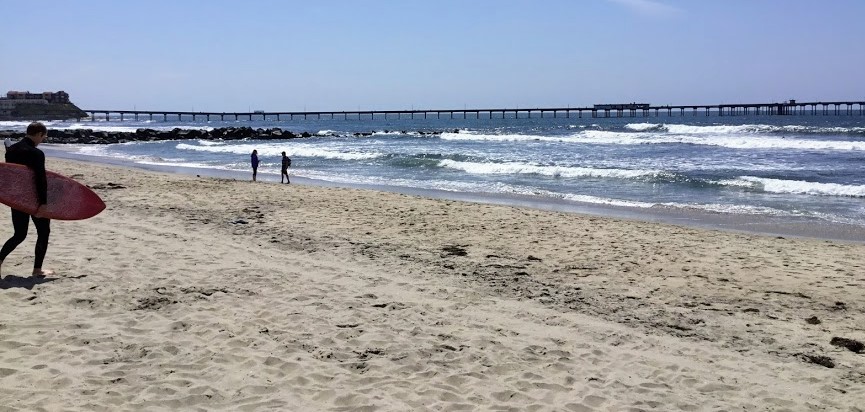 Ocean Beach was my stomping grounds back when I was in college. The first time I came here, I was in love. The vast sandy beach reminded me of the beach I would always go to growing up in Los Angeles.
Things to do-
swim, boogie boarding, surf, sunbathe
visit the Ocean Beach Pier
take a walk north over to Dog Beach
stroll through the dunes and visit The San Diego River Mouth Living Museum, which is behind the Dog Beach
walk the San Diego River Trail (found next to Dog Beach)
downtown Ocean Beach is very close by and has many bars, cute restaurants, unique shops, antique stores
visit tide pools next to the pier when the tide is very low
Sunset Cliffs Linear Park is only 2 miles south of here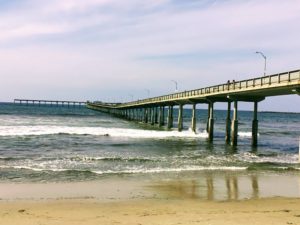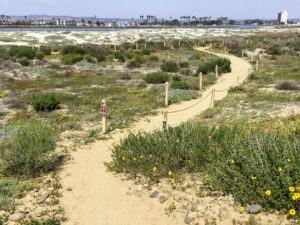 ---
Coronado Beach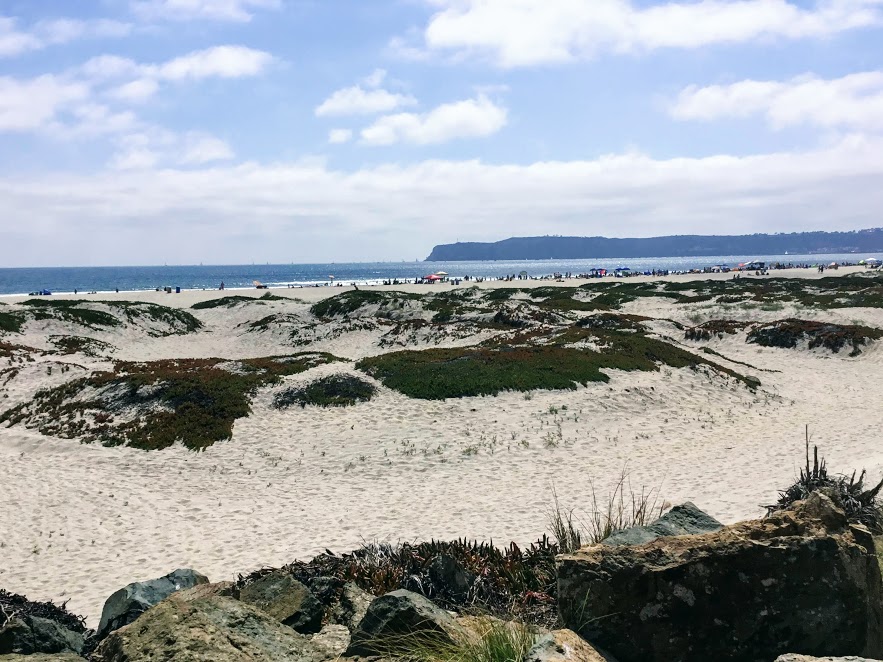 Coronado Island is a spectacular spot to visit just across the bay from downtown San Diego!
Over at Coronado Beach, wide white sandy beaches sparkle in the sunlight.
Things to do–
swim, sunbathe, boogie board
walk the coast north to Coronado Dog Beach and Naval Air Station North Island – south towards Gator Beach at Naval Amphibious Base Coronado (where the Navy Seals train)
explore the expansive dunes,
walk over to the Hotel Del Coronado, go inside and explore,
lay on the beach, and watch the helicopters and airplanes landing at North Island (enjoyable at night!)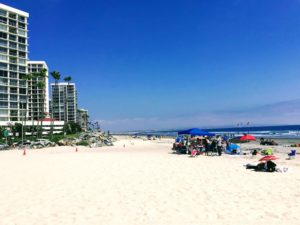 ---
 Best San Diego Beaches- So Diverse
Thank you for making it this far! My mantra is, the more sand, the better! From my top picks of the best beaches in San Diego, can you see that I enjoy rustic and undeveloped beaches the most?
—>The Beaches of San Diego County<—
If I had to pick my favorite, it would have to be Trestles. But in all honesty, it is extremely secluded, and you must not also forget the one-mile hike to get there. So please keep this in mind.
My most convenient and easily accessible pick, including free parking to boot, would be Ocean Beach.
Which beach would you like to visit? Do you appreciate rural, untouched beaches as I do? Are you fascinated with coastal plants like I am?
Please feel free to leave any comments or questions down below!
I have always had a deep-seated passion for the Ocean Environment which ultimately led me to receive a degree in Marine Biology. Living in the San Diego area for over 30 years, I have extensively explored the 70 miles of San Diego's coastline, and I am here to share! Please use my website to your advantage and have a look around at all the wonders that the beaches of San Diego can offer you!