Have you ever walked down the southern Oceanside beaches? Did you know that there is a private beach named Saint Malo Beach at the very end, right near the border of Carlsbad?
The community of Saint Malo owns the part of the Buena Vista Lagoon closest to the Pacific Ocean.
Not much is known about this beach, and because of this, I was highly intrigued to learn more. I want to mention that there is hardly any information about this area on the internet right up front.
I spent countless hours trying to find something, anything!
Well,  I found just enough, so here I am to take you on a mini-tour of this infamous beach.
Come on!
Let's have a look!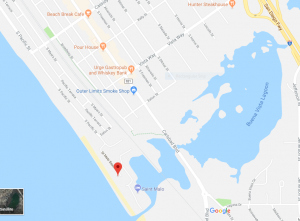 The History of Saint Malo Beach
Saint Malo Beach was the first private gated community in San Diego!
The houses here were first built in the late 1920s by a Pasadena architect and his wife, Kenyon and Louise Keith.
Initially, he was only interested in buying a few beachfront houses, but ultimately, he had to purchase 28 acres of prime beach real estate.
And as they say, the rest is history.


---
The Saint Malo Community
A large majority of the original owners in this community are from notable "old money" Los Angeles families.
The same family generation has owned approximately 2/3 of the 80 houses after generation.
Over the years, the property owners would sell to just family members and friends to keep the community as tight as possible.
Again, it seems to have worked!
Elite Retreat
Saint Malo Beach was the "It" place to go in the 1930s and 1950s. The wealthy elite and Hollywood types would jaunt down here from Los Angeles on the weekends using the train.
You see,  a train station is only steps away from here. Some notable guests that have spent time here include Harpo Marx and Al Capone.
With a little more digging, I found Prince Andrew and Princess Anne stayed her during the 1984 Olympics in Los Angeles, and Julia Childs's parents had a house here at one time too.
Even today, Saint Malo is an ideal location for summer homes and vacation rentals for the rich and famous.
Saint Malo Home Design
Saint Malo Beach was inspired by the island city of Saint Malo, located off the Brittany coast of France. The architecture of this community is unique as all the houses are designed in a French Normandy village style.
For instance, homeowners are to keep to strict architectural detail:
Slanted wood-shingled roofs
Redbrick chimneys
Animal-shaped weather vanes
Saint Malo Beach-Code of Silence
Not only do all houses have to adhere to this design, but the residents must also keep a code of silence.
I have lived in the San Diego area for over 30 years and have never heard of this place, so I would say this code of silence has worked extremely well!
I will not add any of the family's names to respect their wishes, but I will give you a few hints.
One family has its name on a famous street in Los Angeles; I grew up one block away from it.
Another family has a California State Beach named after them, only 34 minutes north of here!
So are you ready to go and see this mysterious place? Well, to begin with, to get there, you will need to walk for a little under a mile, starting at the South Oceanside beach entrance off of Cassidy Street.
This is the only entrance from Oceanside, or you could start further south at Carlsbad City Beach. Today though, we will be starting in Oceanside.
Let's go!
  Saint Malo Beach Walk
To start our adventure, we had to park off the street as there was no parking lot.
As a rule, this beach access route is entirely dependent on the tide due to how narrow it is. Because of this, always check the tide report before walking on this beach.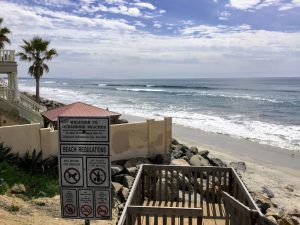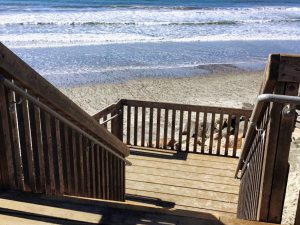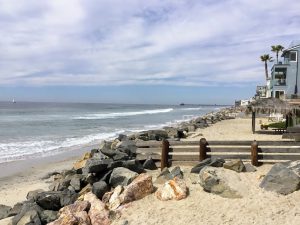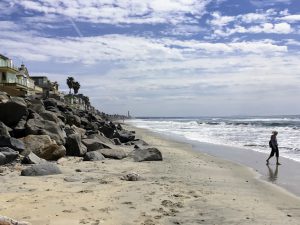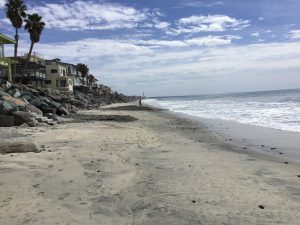 About halfway on our walk, the Saint Malo community begins. Each house has its unique stairway making its way down to the beach.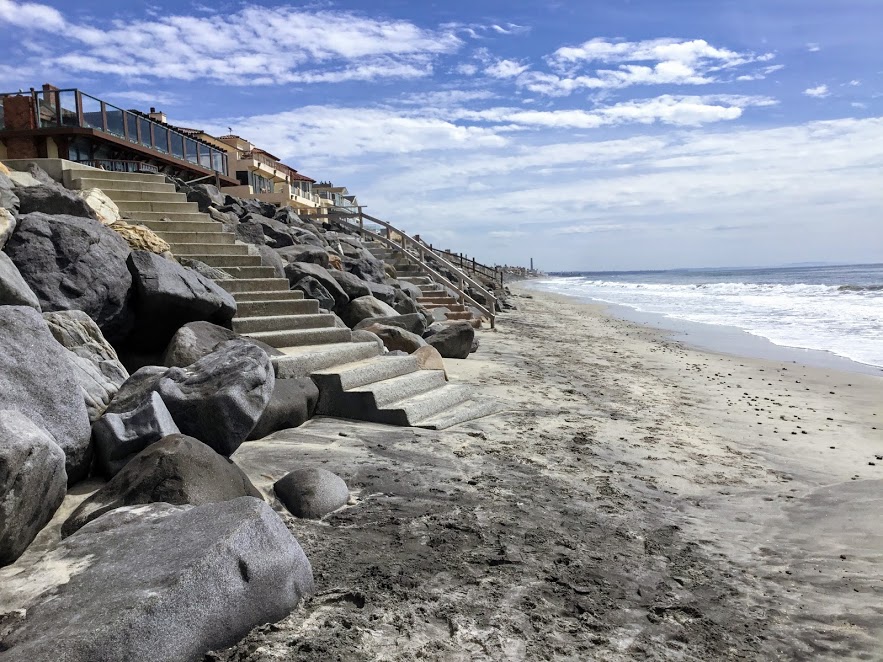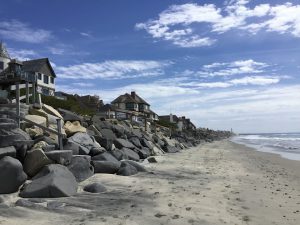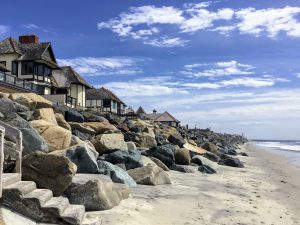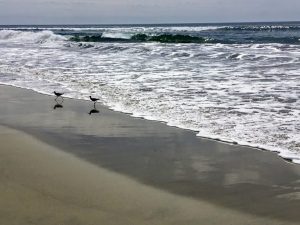 When taking a  look up top, I will not lie, but I was pretty nervous walking up this stairwell.
Keeping my eye on the sign which plainly states no trespassing, I  intentionally kept this photoshoot short!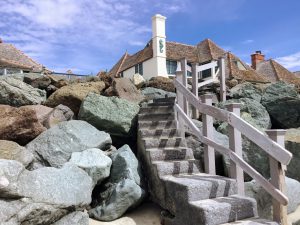 I appreciate how all the houses have the same slanted wood-shingled roofs. Don't you find this charming? I especially like the animal-shaped weather vanes.
A View From the Top

 When visiting today, the tide was low, but the waves crash right into the rocks when the tide is high, making this beach impossible to go on.
Could this be another reason why not many are aware of this area?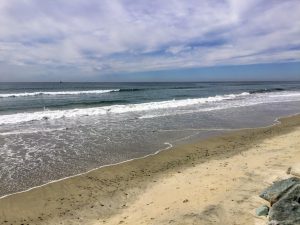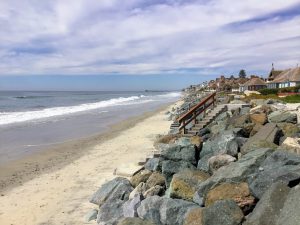 Can you imagine the waves crashing onto the rocks here and how wonderful that would sound?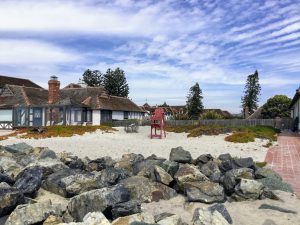 Here is a look at the private beach, which includes a lifeguard! What a gorgeous spot for sunbathing!
The Backside of Buena Vista Lagoon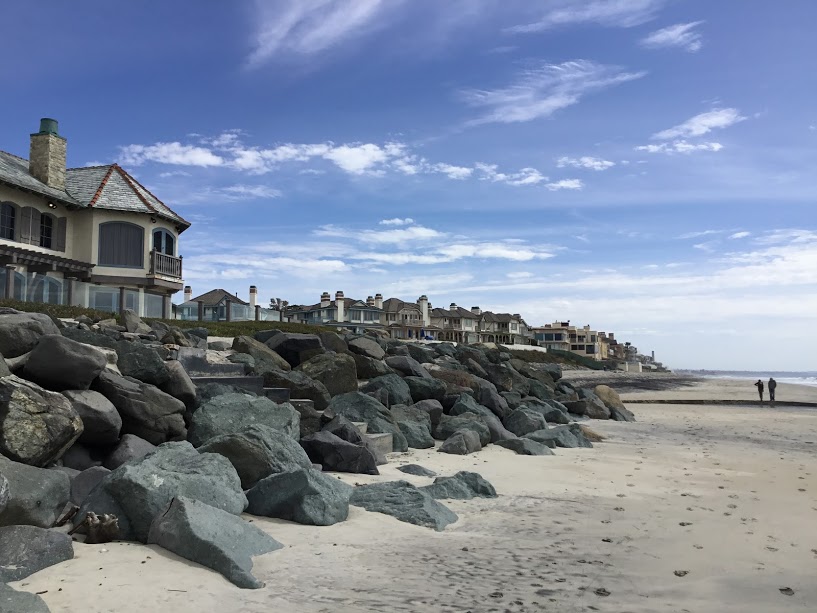 As we come toward the end of Saint Malo Beach, we come upon the backside of the Buena Vista Lagoon.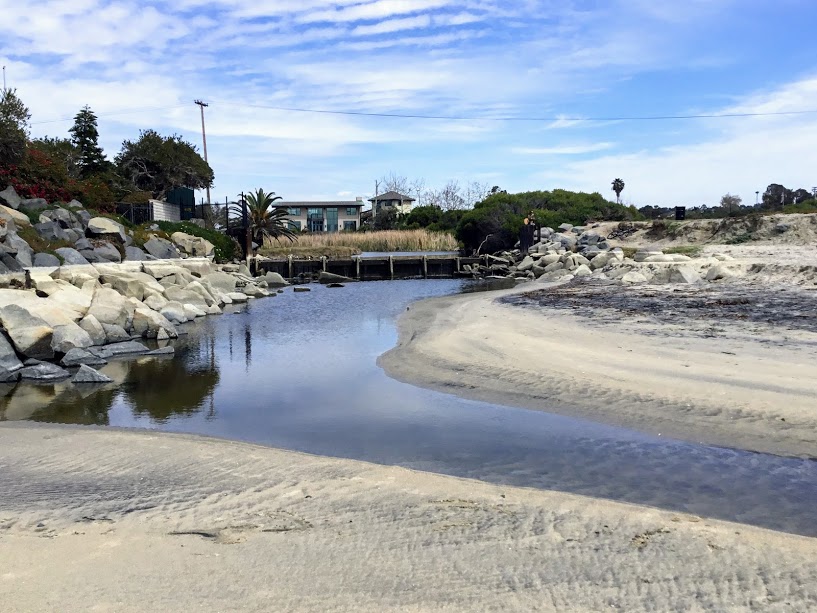 In the past, the Buena Vista Lagoon was a saltwater lagoon because it naturally connected to the Pacific Ocean.
But in the early 1940s, that all changed. The homeowners of Saint Malo placed a small dam (weir) to keep the ocean out.
Ultimately this weir has turned this area into a freshwater lagoon.
Long story short, the Saint Malo community believed it was in their best interests to have a freshwater lagoon compared to a saltwater lagoon. Needless to say, there has been controversy over this decision. Please go here if you would like more information as I have written more on this in-depth.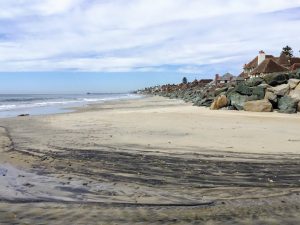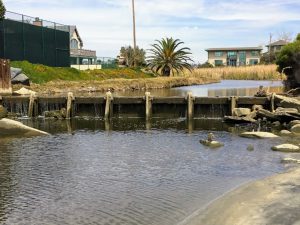 Can you imagine what the views must look like inside these houses?
Here we are at the city border-Oceanside is on the right, and Carlsbad is on the left.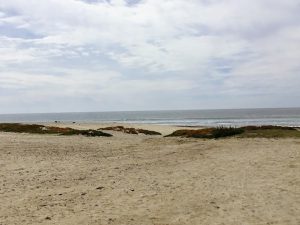 Let's now walk toward the water again and soak in the views.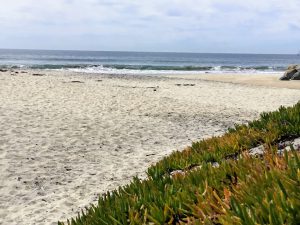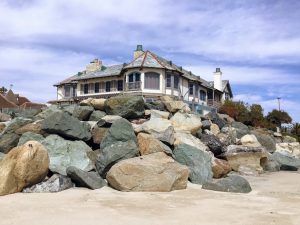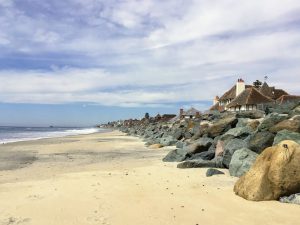 Well, here we have come to an end.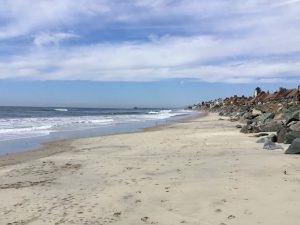 End of the Line
I hope that you enjoyed our quick tour walking the beach of South Oceanside and Saint Malo Beach!
What do you think about the architectural design of the homes? How about a sense of community? How has this spot been kept secret for so long?
I am happy that I could finally come here and see it for myself. I hope that one day you will too!
Until next time!
---
I have always had a deep-seated passion for the Ocean Environment which ultimately led me to receive a degree in Marine Biology. Living in the San Diego area for over 30 years, I have extensively explored the 70 miles of San Diego's coastline, and I am here to share! Please use my website to your advantage and have a look around at all the wonders that the beaches of San Diego can offer you!