San Onofre State Beach is over 3000 acres of sandy and rocky beaches, weathered bluffs, and coastal wetlands located on the northernmost border of San Diego County and 3 miles south of the city of San Clemente in Orange County. 
My family and I love to explore this area!
Over 2.5 million people frequent San Onofre State Beach every year, making it one of the top five most visited state parks in California.
Come and join me for a tour!
Fun Fact- "Onofre" in Spanish means defender of peace.
---
San Onofre State Beach Directions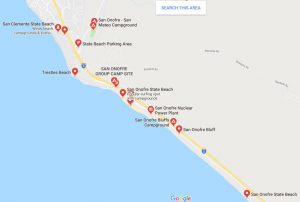 There are two entrances to San Onofre State Beach: the Basilone exit originating in San Diego County or the Cristianitos exit coming out of Orange County.
San Diego Entrance-
Exit on the Basilone offramp on the Interstate 5 freeway, head south, turn right before the power plant and follow the street down to the parking lot (a 15-dollar fee).

Keep going straight, and you will end up at the San Onofre Bluffs State Campground, which also has a day-use parking lot.
Old Pacific Highway, San Clemente- CA, 92672
(949) 492-4872
Park Hours-6am-10pm (4/15-9/31)
6am-8pm (10/1-4/14)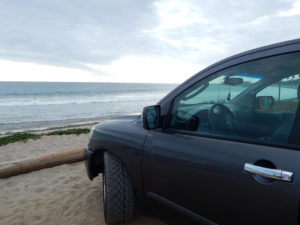 San Clemente Entrance-
Exit off Cristianos Rd and park near Carls Jr in a paid parking lot or look for free parking off the street.
Once parked, cross the street, and there will be an opening in a fence.
Continue to follow to the right on a nature path from the San Mateo Campground.
The walk will take about 15 min to go 1 mile. Once under the train trestle, you have arrived at "Upper Trestle Beach."
3929 S. El Camino Real- San Clemente, CA, 92672
Park Hours-6am-10pm (4/15-9/31)
6am-8pm (10/1-4/14)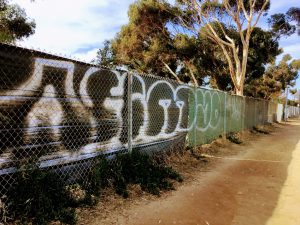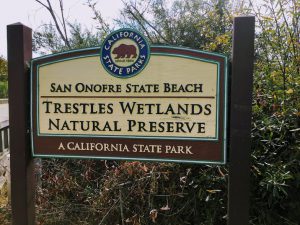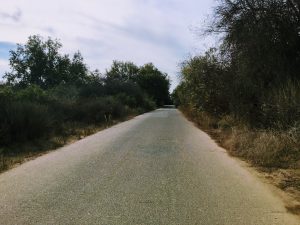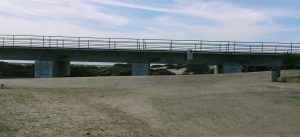 You will absolutely adore this beach if you love vast sandy beaches with sparse crowds!
 With all the fantastic surf breaks available, you would think this beach would be crowded, but this is not the case.
Why may you ask?
Of course, the area's seclusion may factor into this and the lack of facilities, not to mention the 1-mile hike to get here, but needless to say, we enjoyed every minute of our time here.
Fun Fact- A fun way to pass the time on this walk is to notice all of the surf graffiti tagged on the cement walkway.
---
The Three Sections of San Onofre State Beach
Let's start with some necessary information before we start our walk.
To begin with, San Onofre State Beach is separated (from South to North) into three unique areas: Trails, Old Man's, and Trestles.
Let's now get an idea about each area.
Trails-Fronting the San Onofre Bluffs State Campground south of the power plant.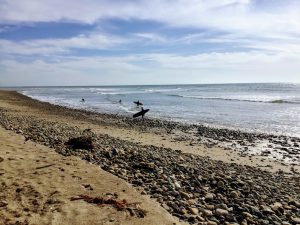 Old Man's Beach– San Onofre State Surfing Beach (the official name)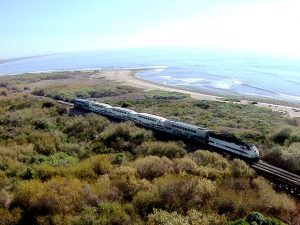 Lower Trestles– South of San Mateo Creek, Trestles Beach is a collection of surf spots designated by the train trestle.

Uppers-the beach you end up on when entering via Cristianitos Rd
Lowers-10 minute walk south from Uppers
Middles-the break between Lowers and Church
Here is a great interactive map to give you a better idea of the area.
Now is the time to start our walk.
First,  we will head North via the San Onofre Surf Beach entrance from the Basilone directions.
---
Walking San Onofre State Beach
It is time to start exploring San Onofre State Beach, and I can not wait!
Come on, let's go!
Camp Pendleton's San Onofre Beach Campground
San Onofre State beach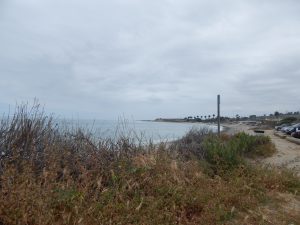 Once we start walking, we come to Camp Pendleton's San Onofre Beach Campground on the right.
This beach is a private military campground open for active, retired reservists, 100 % DAV (disabled veterans), and Department of Defence personnel, including their guests.
This site offers various activities for camping in tents or RVs and provides affordable cottage rentals.
Dogs are not allowed on the beach but the campground with a leash. There is a $500 fine if a dog is on the beach.
Website– http://www.mccscp.com/sanonofrebeach
Beach Club Road, San Clemente, CA
(760) 763-7263
Church Surf Break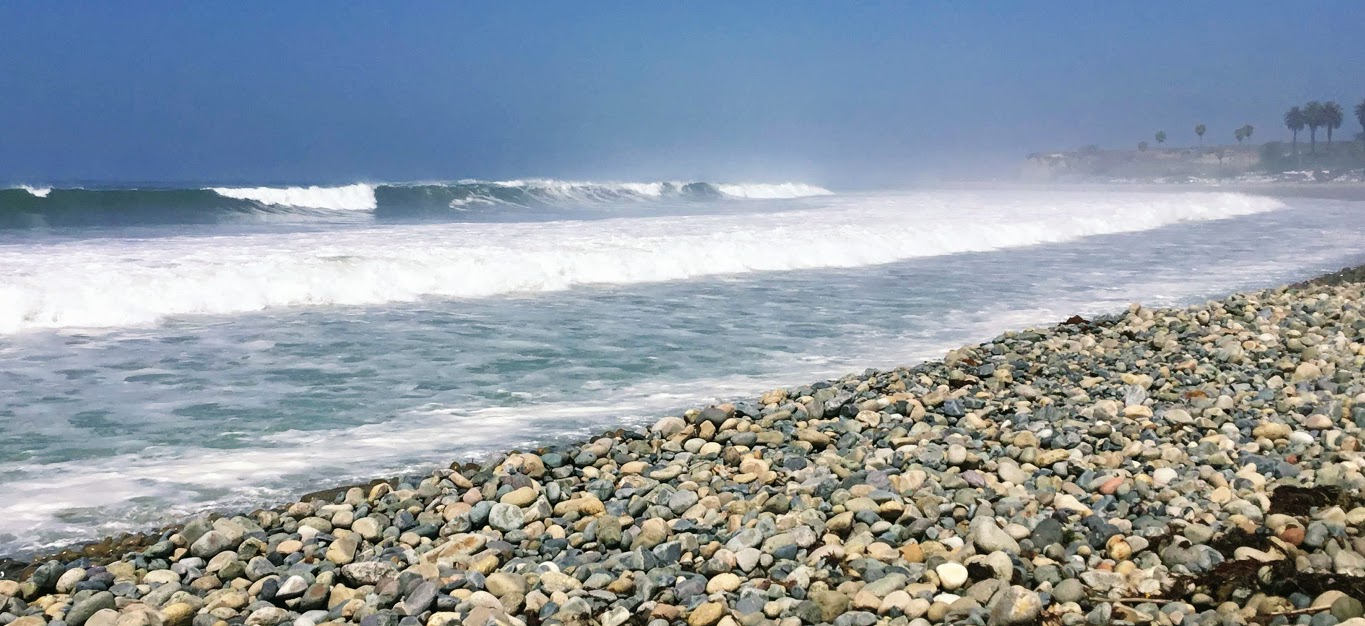 Right off Camp Pendleton's San Onofre Campground, there is a great surf break called Church. It earned that name because there was once a church near this site long ago.
While researching Yelp for reviews, one surfer commented on how fortunate he felt to surf here because of an invitation he received from a friend in the military.
He explained that hundreds of surfers lined up south at San Onofre Surf Beach. While at the same time, there were only about ten surfing at Church. He was very fortunate, indeed!
Church and Water Quality
Another essential thing to add concerns the water quality found at this site. Just a friendly reminder that the San Onofre Creek runs into Church.
So what does that mean?
Because of this, expect high bacterial levels after it rains due to large amounts of urban runoff.
Fun Fact- Well, definitely not fun, but on April 29, 2017, a woman was attacked by a shark off of this beach.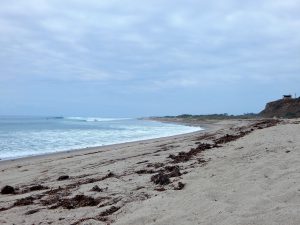 ---
Lowers- Trestles Beach
San Onofre State Beach
After passing Middles, we now come upon Lower Trestles, just south of the San Mateo Creek River mouth. This beach has one of the most famous surf breaks in the country.
Andrew M from Los Angeles describes it best, and boy does he have a way with words!
"The lefts are punchier, but the rights are a thing of beauty. If ever a wave was shaped like a video game skate park, Lowers is it. Navigate the drop, drive-thru you turn to bottom, hit the lip, and pump/punt/float/slash down the line."
On Yelp reviews from Palo Alto, California, GY puts it in simpler terms, "The waves have a perfect A-frame that is super consistent and forgiving."
Because of Lowers's remote location, lifeguards rarely patrol here. Something to keep in mind.
Fun Fact- Again, not too fun, but I found this outrageous story about a woman who picked up 2 rocks from this area and put them in her shorts pocket. When she arrived back home, several hours later the rocks burst into flames, still in her shorts pocket.  If you would like to know more, go here.
---
---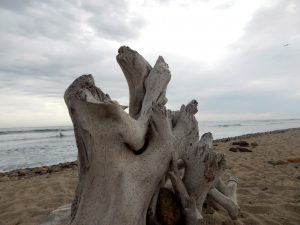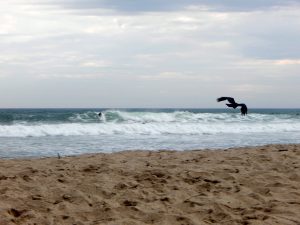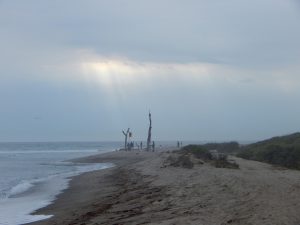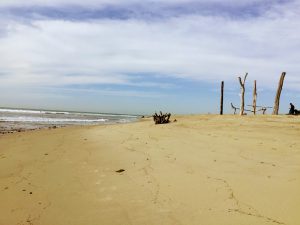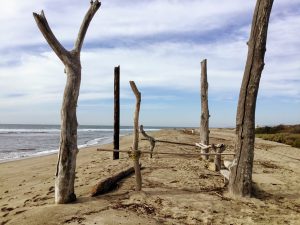 ---
Upper Trestles- San Clemente
San Onofre State Beach
As we walk north on Lowers for about 10 minutes, we will enter Orange County.
It is important to note that Uppers is where you will end up following the Cristianitos Exit's nature trail.
Fun Fact- In this video looking north in the distance at Cottons Point in San Clemente is where the former President Richard Nixon's, Western Whitehouse, otherwise known as "La Casa Pacifica" (Spanish for The House of Peace) is located.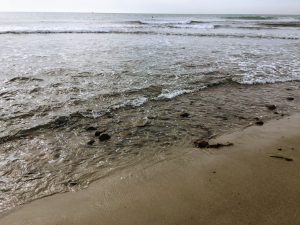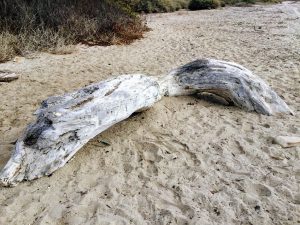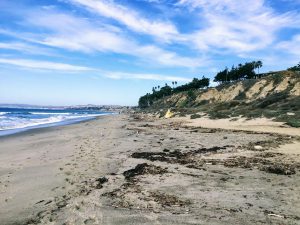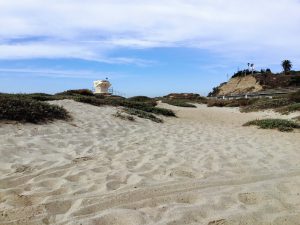 Let's return from the shore and observe the dunes and the Natural Preserve.
---
 Trestles Beach and San Mateo Creek Natural Preserve
San Onofre State Beach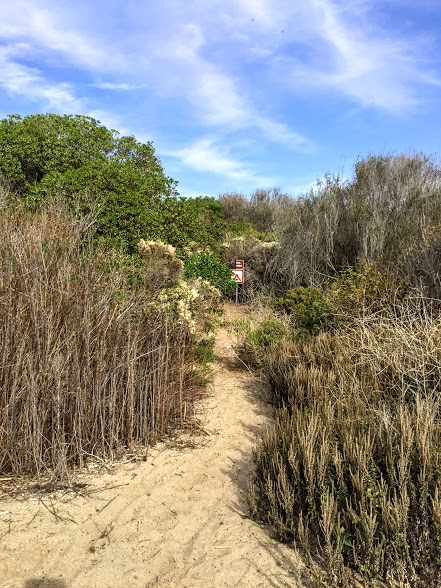 The San Mateo Creek Natural Preserve is over 160 acres and consists of a freshwater lagoon, marshlands, and several distinct plant communities- Coastal Sage Scrub, Willow Woodland, Sycamore/ Cottonwood Woodland, Coyote Bush Scrub, Marsh Wetland, and Coastal Strand.
Can you believe that over 219 plant species are located within the San Mateo Creek Natural Preserve?
–>Plants at the Beach-San Onofre<–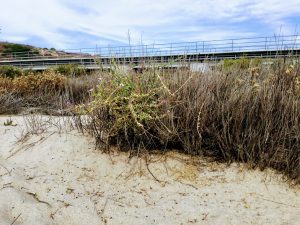 San Mateo Creek has a  below-surface water flow,  which pools up at the mouth of the lagoon. It is common for the lagoon to break its banks and flow into the ocean during winter.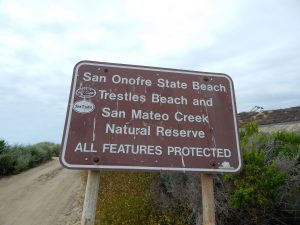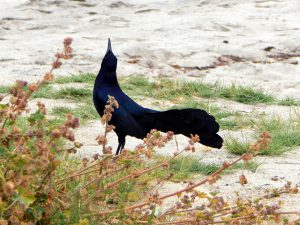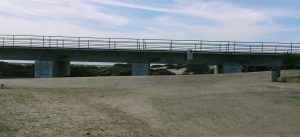 Here is the backside of Trestles Beach. If you turn around and head east on the trail for about 1.5 miles, you will end up at the San Mateo Campground at San Onofre Beach.
3929 South El Camino Real San Clemente, CA 92672
---
San Mateo Campground

San Onofre State Beach
The San Mateo Campground is only 1.5 miles from Trestles beach, connected by the Panhe Nature Trail.
Fun Fact- The ancient sacred site of the Acjachemen Nation, the indigenous people of California, is located 3.5 miles inland from Trestles.
  The Panhe village is over 8000 years old and is the first site where contact was made between Spanish explorers, Catholic Missionaries, and the Acjachemen people. The first baptism in California took place here in 1768.
Please see the link provided before if you are interested in the Acjachemen Nation's history.
–>Juaneno Band of Mission Indians Acjachemen Nation<–
San Mateo Creek And Biodiversity
The San Mateo Creek flows east of the San Mateo Campground toward the ocean. Surrounding the campsite are many riparian and wetlands that host some rare and even seven endangered species.
A riparian zone is an example of cooperation between land and a river or stream.
For instance, hydrophilic plant (plants that mix with water) roots help stabilize the soil, slow down the energy of the water, and be a natural biofilter for the water environment.
San Mateo State Campground Amenities
Each campsite includes a fire pit and picnic tables. RV Hookups are also available with electricity and water. Another great feature about this campsite compared to San Onofre Bluffs State Campground is HOT SHOWERS and flush toilets here!
If you want more information on this campsite and other San Diego beach camping sites, click the link provided.
830 Cristianitos Road, San Clemente, CA  92672
(949)  361-2531
---
San Onofre State Surfing Beach
San Onofre State Beach
 Let us now start to head back south from where we began to investigate the San Onofre State Surfing Beach (AKA-Old Man's or San 0)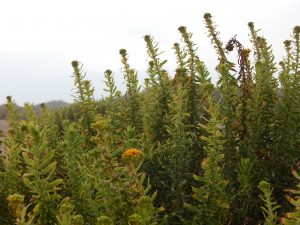 Following this trail found adjacent to the San Mateo Creek and the train trestle, you will eventually find yourself behind Camp Pendleton's San Onofre Campground.
---
Surfing Paradise at San Onofre
San Onofre State Beach
I think it might be time to share a little more history about this area.
San Onofre Surfing Beach, known as Old Man's, is a significant water region with many rocks onshore and offshore.
These rocks create a slowing down process, a lessening of the waves' energy, so to speak, making fun and gentle waves.
––>Best Surfing Beaches in San Diego<—
Why Are There Three Sections?
With rocks piled up over time, rock-created peaks, and three of those peaks are right off of San Onofre State Surfing Beach.
The northernmost peak, The Point, is located at the north end of the parking lot.
The next spot is Old Man's or San 0, toward the middle.
Here is where one of my absolute favorite places exists. Something so marvelous that words can not describe just how special it is.
I will do my best to capture it with photos and videos, but it is best to experience it personally. 
And finally, Dog Patch Beach includes all beaches south of the parking lot to the San Onofre Nuclear Generating Station.
The Point surf break is excellent for shortboard surfing. While on the other hand, over at Old Man's, the longboards rule.
Finally, the southernmost peak, Dog Patch, is usually pretty calm. It is easy to enter into the water here- one of the many reasons why paddleboarders, kayakers, and beginner surfers enjoy it here much.
All of these surf breaks are ideal for beginners.
This beach is for day use only, and alcohol is not allowed.
---
The Point – San Onofre Beach Fishing Camp
San Onofre State Beach
In the 1930s,  Santa Margarita Ranch (who owned this site since 1830) leased out San Onofre Beach to Frank Ulrich, who then, in turn, founded the "San Onofre Beach Fishing Camp."
The camp was extremely popular with anglers who would catch large croakers, halibut, and sea bass.
The anglers wanted nothing to do with the surfers because they believed their water scared the fish away.
Consequently, they wanted to have them barred from the fishing camp.
Considering everyone was paying a fee to get in, those complaints fell on deaf ears. 
 You see, the surfers were being charged 25 cents to get in or 50 cents to stay the weekend, and as you may recall, this was during the depression, so that was quite a bit of money.
The anglers tried to remedy the situation by erecting massive pillars to stop the surfers from driving onto the beach. However, surfers would just cut them down just as fast.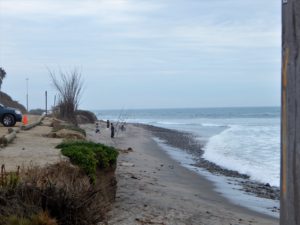 ---
San Onofre State Surfing Beach History
San Onofre State Beach
San Onofre is known for its rich surfing history dating back almost 100 years. In the early 1920s, people noticed cars driving down the Old coast highway with surfboards strapped on their roofs.
It turns out that with the arrival of waterproof glue in the manufacture of plywood, the public could now make their boards.
In the early 1920s, between 50 to 75 'surfers' pioneered the Southern California coast for that 'perfect wave.
The waves here are consistent, gentle sloping, and long peeling, and in essence, a perfect form to have fun with.
All the beaches here are South facing, so perform best on a south swell. The beach here takes any surf and slows it down to a very leisurely pace due to all the rocks on the beach's bottom.
San Onofre State Beach was and still is one of the most famous surfing sites.
---
Rocky San Onofre State Surfing Beach
San Onofre State Beach
I want to present a few photos I took at shallow tide to illustrate how many rocks are here on this beach and in the water.
While researching this site, I can not tell you how many times everyone complained about these rocks, especially if you are out in the water. If you plan to surf, booties are a must!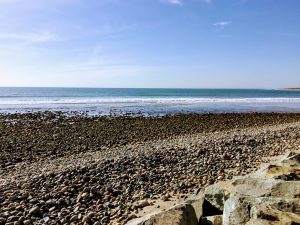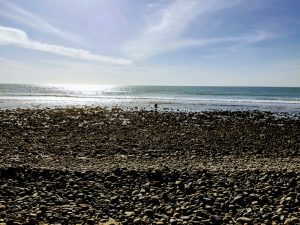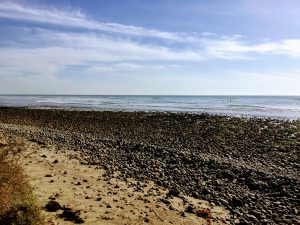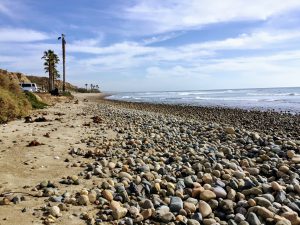 ---
Old Man's Beach at San Onofre 
San Onofre State Beach
This spot is one of my favorite places in San Diego.
I love all the creativity that the surfers put into this area, and it makes me feel so much closer to the rich history of this beach.
For instance, this back spot was a local hangout where wave riders in the 1930s would surf with 11 to 14-foot-long boards all day (some weighing over 90lbs!). 
Finishing the day off by drinking wine around the fire pit and singing Hawaiian songs to the ukulele at night, 
As one 'old-timer' put it, "there was no club; we came to 'Nofre' to get away from that… everyone was a member, or no one was a member because nobody cared." 
I was fortunate enough to reach out to the San Onofre Surf Club via the internet, and a member gave me some great information about this area.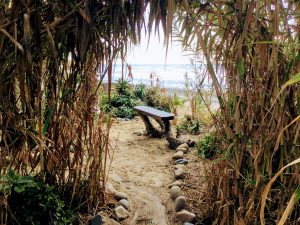 This bamboo garden originated sometime in the 1940s.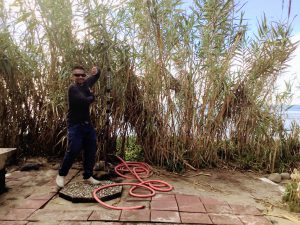 "Old-timers" of San Onofre recall that clumps of plants and roots would wash up on shore from the riverways after a big storm.
Seeing that the plants were starting to take root and grow independently, the surfers in the area began to protect and provide water for them.
To this day, members of the San Onofre Surf Club maintain this garden oasis.
Thank you so much for your continued dedication and for preserving a bit of history for us all!
Let's take a look around!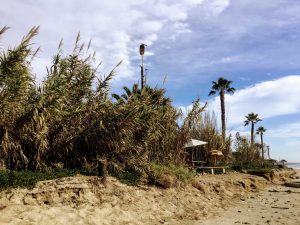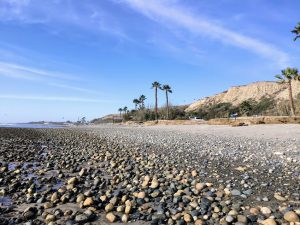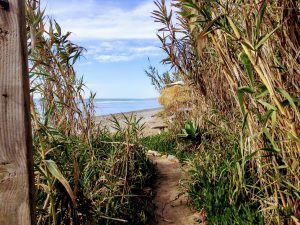 .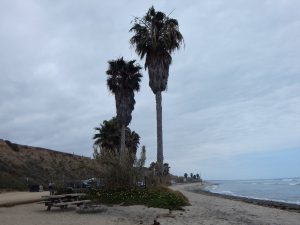 Dogpatch Beach

San Onofre State Beach
Dogpatch Beach is located at the end of the parking lot and spans the San Onofre Nuclear Generator (SONGS).
This beach is very popular with paddleboarding and kayaking and is a perfect spot for beginners to surf to learn in a forgiving water environment (no rough white-wash).
The waves break in slow motion at high tide, making these the most relaxed kind of waves to learn on.
Dogs are permitted on this beach with a leash.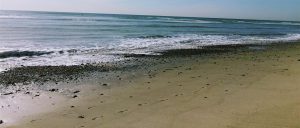 ---
San Onofre Nuclear Generating Station (SONGS)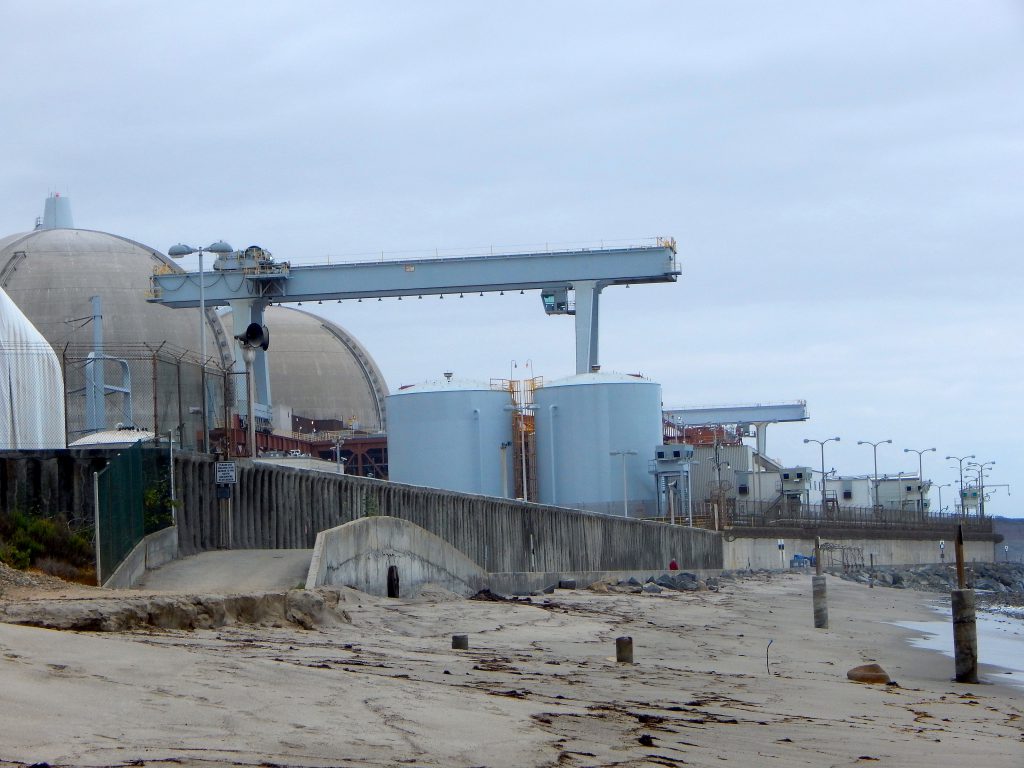 OK, how many times will you have the opportunity to walk right next Nuclear Power Plant?
San Onofre Nuclear Generating Station has been closed since 2013 and is still in the initial decommissioning stages, but that doesn't make it any less weird and eerie.
A word to the wise: make sure you run around the walkway corner because thousands of bugs are due to kelp buildup.
Here we are in the middle of the walkway. I suggest you consult a tide chart before walking here as you can get very wet when the conditions are right.
Once south of the Power Plant, you will see the San Onofre Bluffs Campground above the cliffs.
---
San Onofre Bluffs Campground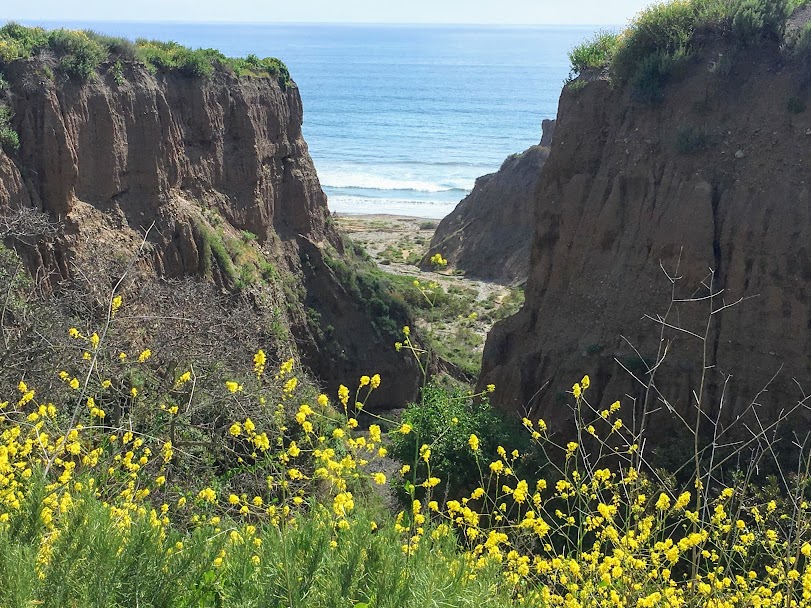 San Onofre State Beach
Located just south of  (SONGS)  where the original Hwy 101 used to be,  you will find San Onofre Bluffs State Campground.
Situated on top of the San Onofre Bluffs, six quarter-mile trails connect to the 3.5 miles beach below aptly named Trails.
Dogs are allowed on both Trail-1 and Trail-6 with a leash.
Three hundred eighty sites for RVs (up to 36 ft.) or tent camping.
By doing a little bit of research on reviews of the area, I found that sites 1-23 or 105-112 have the best ocean views!
All sites include a fire pit, picnic table, cold water showers, and chemical toilets.
There are no utility hookups, but there is a dump station available.
As you can see, it is a very primitive campground here but well worth it if you would like to experience the rugged California coast.
There is also a day-use parking lot on this site, including an entrance fee of 15 dollars.
Camping is open from May 16- Sept 30, but the day-use parking lot is open year-round.
Fun Fact-  Due to the seclusion of this area, Trail 6 beach has become an unofficial nude beach.
5200 S. Pacific Coast Hwy-San Clemente, CA 92672
(949) 492-4872
Trail Hours- 6 am -Sunset
Let us now explore Bluffs Beach!
---
Bluffs Beach-San Onofre
San Onofre State Beach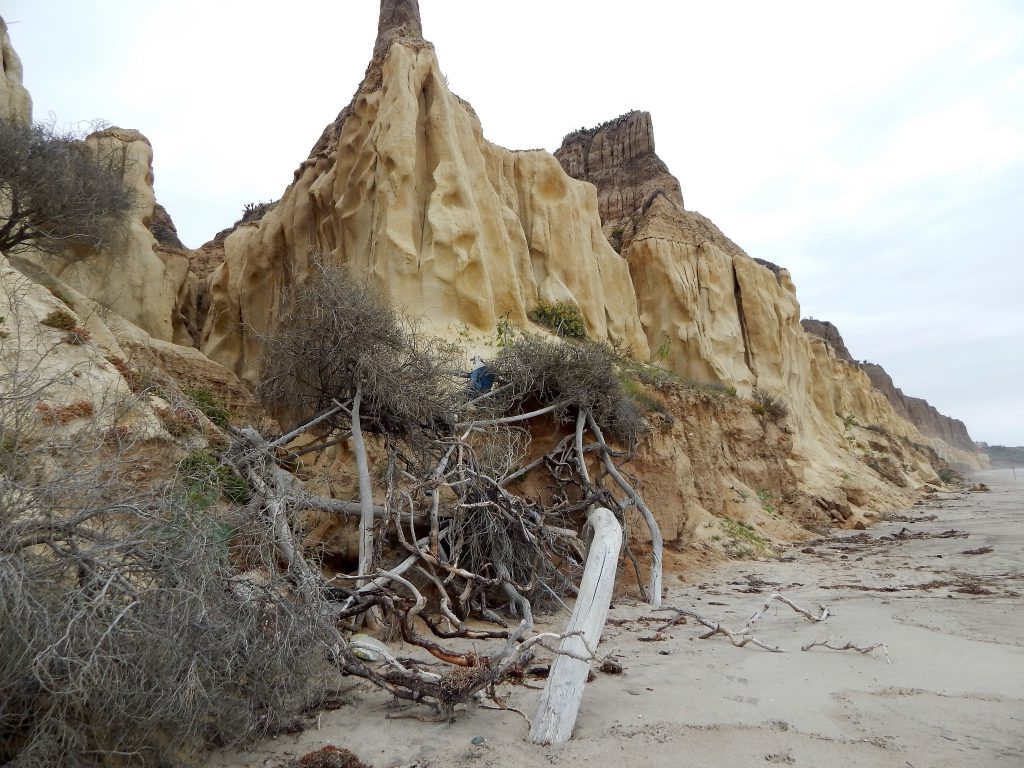 As previously mentioned, there is a fee for day use of San Onofre State Beach, and some may find that the 15-dollar entrance fee is a bit high.
 Considering over 6 miles of trails, 3.5 miles of adjacent beach,  panoramic ocean views, and unbelievable sandstone bluffs, it is well worth the price.
 The San Onofre Bluffs is over 20 million years old and composed of soft, quickly eroded sedimentary rocks.
These geological formations formed when this entire region was underwater.
Please click on the link below if you are interested in more information on the unique geological formations.
––>Checking out the Cristianitos Fault<—
The lighter-colored rock is Sandstone, and the darker is an alluvial deposit, which is river sediment comprising: silt, clay, gravel, sand, and organic material.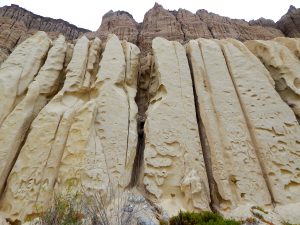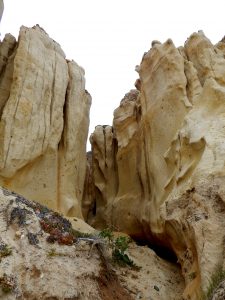 We like to go into these fissures and imagine what it was like when it was all underwater.
Notice all of the erosion.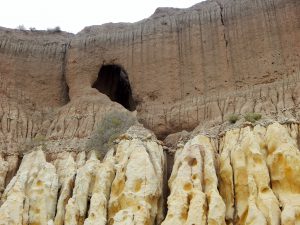 Landslides are widespread along these bluffs, especially during very intense periods of rainfall.
Here we have layered marine siltstone interbedded with volcanic ash. You can tear out a piece, which will crumble in your hands.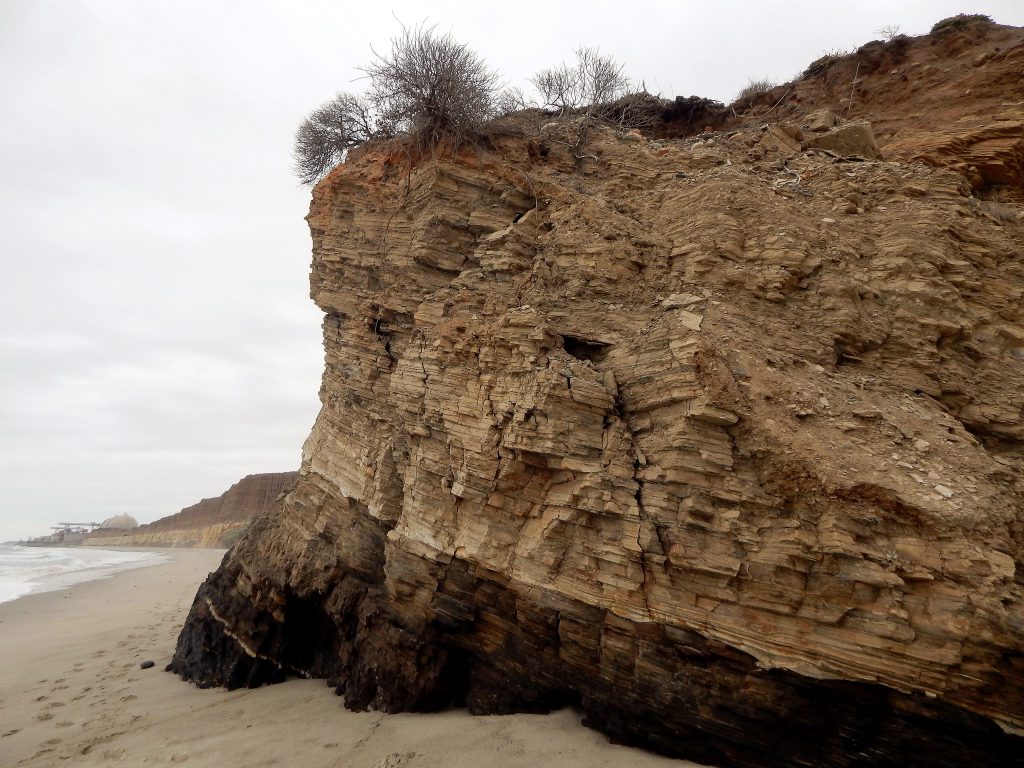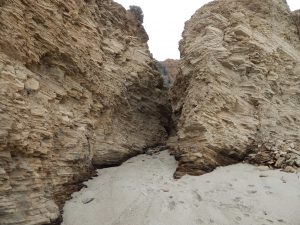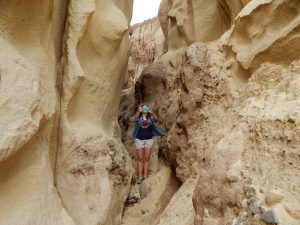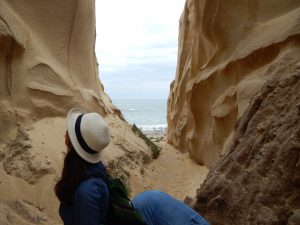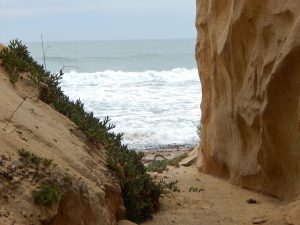 Before we leave Bluffs Beach, I would like to mention that this surfing spot is notorious for Great White Shark sightings, yet most seen are juveniles.
Here is a great video I found of one such encounter!
Bamboo Heaven at Old Man's Beach
Heading back north to the parking lot, we must stop where all the bamboo is once again. Did I happen to mention how much I love this place?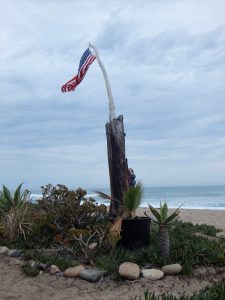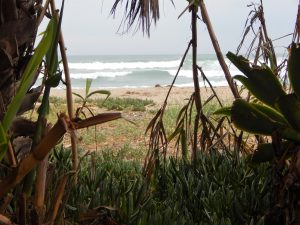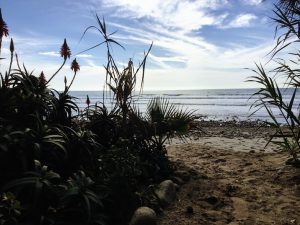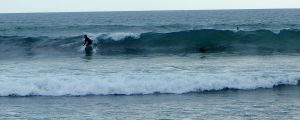 I hope you enjoyed exploring one of the most beautiful beaches in San Diego.
There is something extraordinary about being alone on the beach with practically no one around.
---
It is Hard to Say Goodbye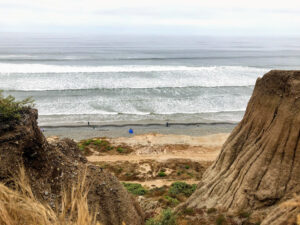 In conclusion, San Onofre State Beach is ideal for surfing, walking, hiking, bird watching, paddle boarding, fishing, and sunbathing.
And do not forget about the volleyball court at Old Man's.
I hope you enjoyed your experience! If you are interested in visiting another famous surf break found in Encinitas,  Check this out.
Thank you for visiting, and please comment below with any thoughts or questions!
Until next time!
Update- My husband and I made a return visit (notice the better pictures?) My primary concern was photographing this area without all the cloud cover I had before. I hope you enjoyed it!
---
I have always had a deep-seated passion for the Ocean Environment which ultimately led me to receive a degree in Marine Biology. Living in the San Diego area for over 30 years, I have extensively explored the 70 miles of San Diego's coastline, and I am here to share! Please use my website to your advantage and have a look around at all the wonders that the beaches of San Diego can offer you!