Last month, my husband and I could visit his family north of Santa Barbara County. I was super excited because we could stop by Carpinteria and check out the largest Torrey Pine tree in the world! The tree even has a formal name- the Wardholme Torrey Pine.
It may seem a bit dramatic, but I gasped when we approached the tree! You can not deny the presence of this giant.
Let's take a look close and personally, shall we?
Important Information
Scientific Name

Inland Population- Pinus torreyana
Santa Rosa Island- Pinus torreyana var. insularis

Habitat

coastal sage scrub
chaparral

Endangered
One of the rarest pine trees in the world as it only grows naturally in two places in Southern California.

A small strip of the coastline in Del Mar and La Jolla
Santa Rosa Island, off the coast of Santa Barbara County

Very slow-growing and can live up to 100 years
Distinguished by the needles on the branches being in bunches of five
Six-inch (15 cm) pinecones
Map- 5100 Carpinteria Ave, Carpinteria, CA 93013
The Wardholme Torrey Pine – The Largest in the World
I thoroughly enjoyed my ten minutes of visiting the Wardholme Torrey pine, but I have to say that it was so enormous that I had a hard time photographing it!
Before I start, I would like to mention that I have previously written in-depth about the Torrey pine tree, so please click on the link below for more information.
–>Desperately Seeking Torrey Pine Trees<–
When Was The Tree Planted?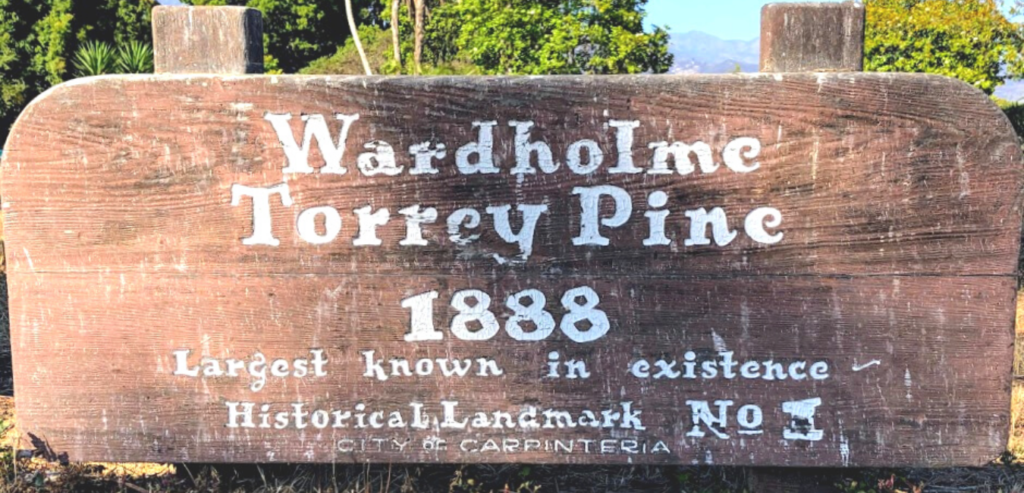 How Tall is the Wardholme Tree?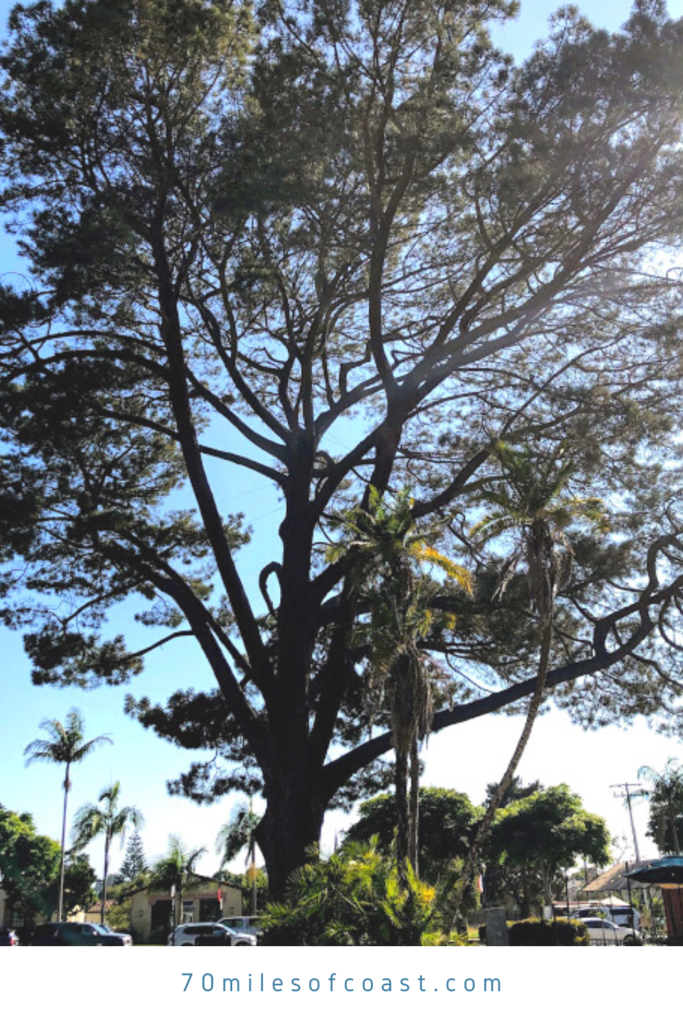 Can you believe that the tallest Torrey Pine tree in the world is over 126 ft (38 m) tall?
What is the Circumference of the Trunk?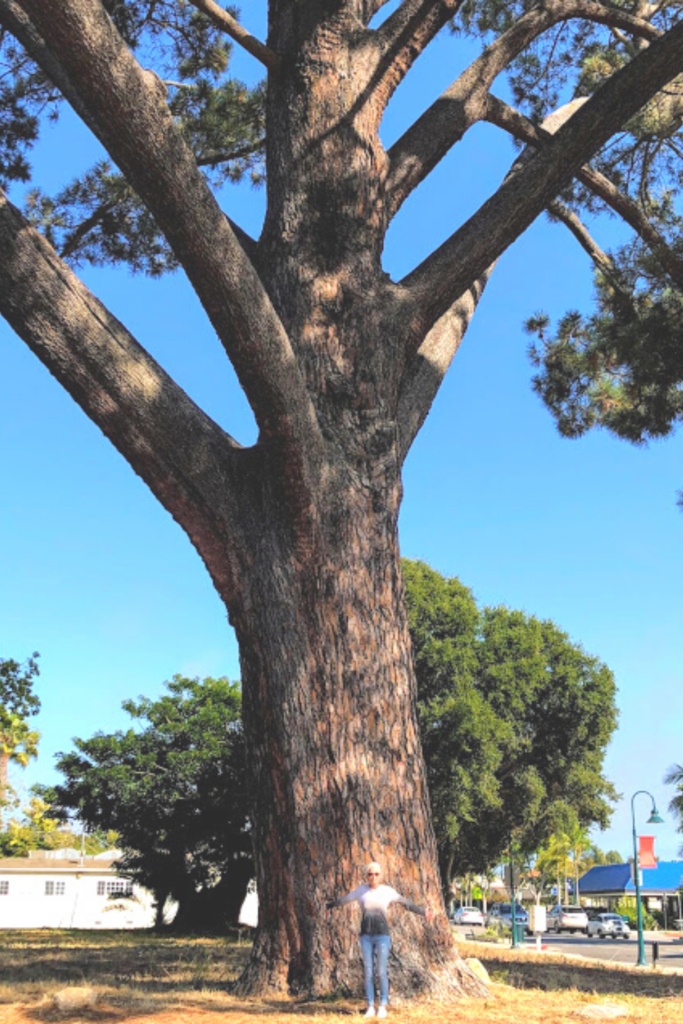 Twenty feet and one half an inch is the circumference of the trunk.
How Large is the Branch Spread?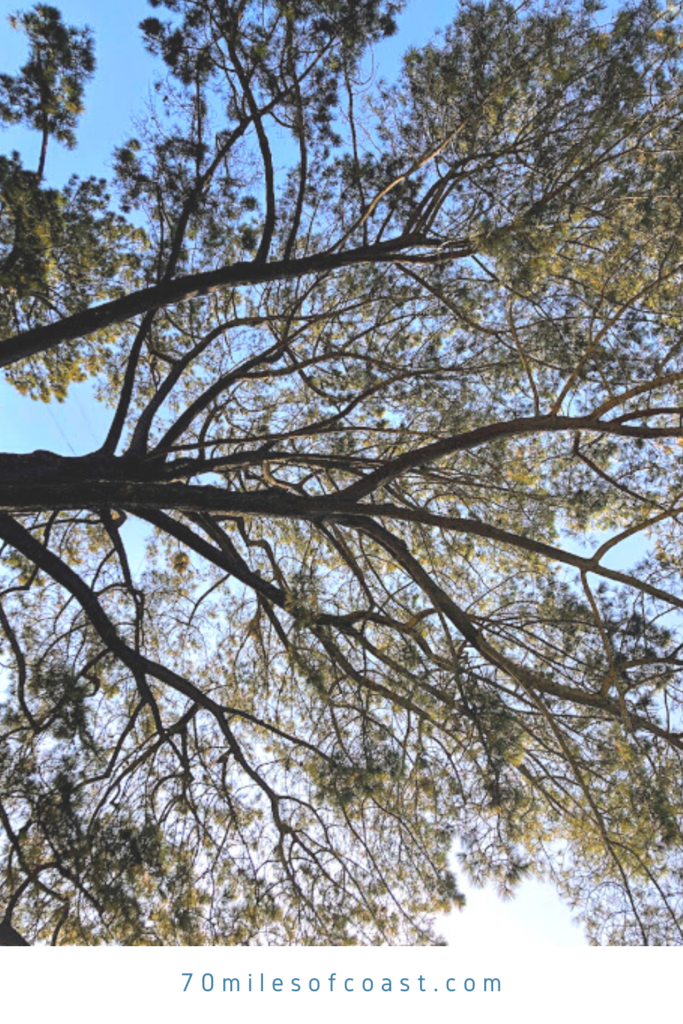 The crown of the tree measures over 130 feet across. That sure is a lot of shade!
When and How Did This Tree Come About?
As previously noted above, the Wardholme Torrey pine tree started its' existence as a bit of an anomaly. In 1888, Carpinteria had a friendly neighborhood contest to see who could grow the most unusual plant.
Judge Thomas Ward took this challenge to heart and decided to plant a Torrey pine tree seedling in front of his home, a gift from his friend Thomas Stith Brandegee. It is believed that Thomas must have acquired the seeding from Santa Rosa Island.
The Ward Family has been taking care of this tree ever since. When Florence Ward inherited the property, she suggested that the tree be protected and recognized as an official landmark.
So in 1968, the Wardholme Torrey Pine tree became Carpinteria's first Historical Landmark. And in 1988, there was a city-wide celebration to commemorate its 100th Anniversary.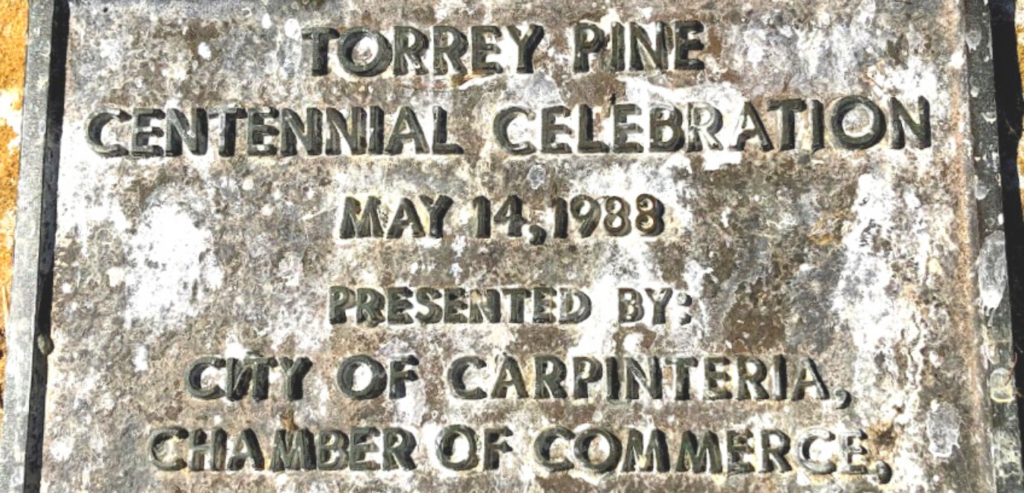 A Bit More Interesting Information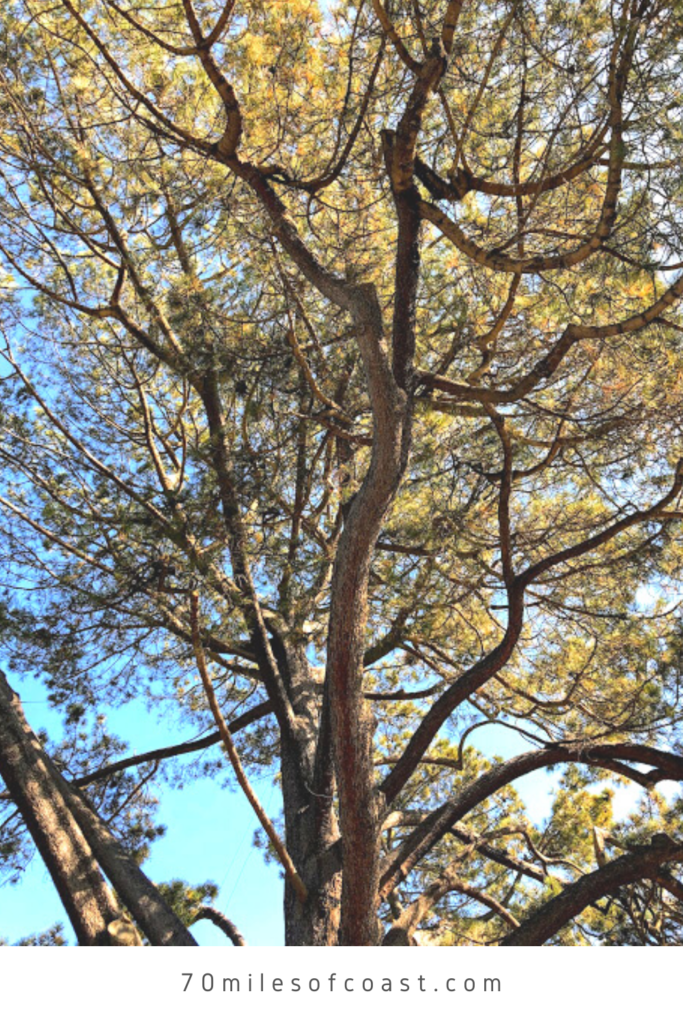 As I was searching the internet to find anything about this tree, I found the information quite limited.
But, I did learn that in 2005 developers were looking into the area, but the community fought to protect the tree. Hallelujah!
Additionally, in 2007, seedlings from the Wardholme tree were planted at the Santa Barbara Botanical Garden at the Hill Campus in Carpinteria.
And finally, in 2011, the tree suffered a massive branch failure. Because of how tall and thin the tree is, the tree service company deemed it too dangerous to use a bucket truck to trim it.
The company in charge of this task, Bartlett Tree Experts, had a specially trained crew climb up the tree to trim it and adjust the cable riggings that stabilize the tree.
Ok, that is all I have.
Thanks for making it this far! I hope you enjoyed this incredible tree as much as I did.
Please check back soon, as I will continue our Central California Coast exploration by sharing with you our experience at Surf Beach in Lompoc. We did not see any great white sharks, but I always have many photos to share!
Until next time!
I have always had a deep-seated passion for the Ocean Environment which ultimately led me to receive a degree in Marine Biology. Living in the San Diego area for over 30 years, I have extensively explored the 70 miles of San Diego's coastline, and I am here to share! Please use my website to your advantage and have a look around at all the wonders that the beaches of San Diego can offer you!