I have wanted to write this post for quite some time. Since starting this website, I have found some gorgeous hidden gems in San Diego while out in the 'field' doing research, and I am here to share!
San Diego Hidden Gems? 
So what do I mean by a hidden gem? Hidden in plain sight might be a better way to put it. Not much is known about it. Maybe locals are keen, but the average San Diegan and the new-to-town tourists have no idea.
Coastal Hidden Gems in San Diego
Also, today I will concentrate on the coastline of San Diego County- seventy miles of coast that stretches all of the way down to the border of Mexico.
I have also included a video featuring each hidden gem in San Diego.
Let's look at the top five places on my list so far, shall we?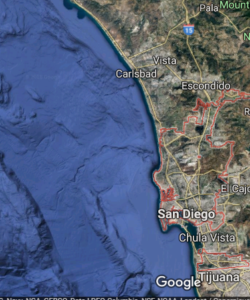 Gem #1- South Ponto Beach

Carlsbad Blvd, Encinitas, CA 92024
South Ponto Beach is located in the southern portion of Carlsbad State Beach and is 31 miles north of Downtown San Diego.
So why do I choose South Ponto as a hidden gem? The first time I came here, I was amazed by how 'rustic' and 'wild' it was at this beach. Here in San Diego, it is scarce to have undeveloped beachfront property.
South Ponto Beach Amenities
South Ponto Beach has a relatively ample paid parking lot on-site and limited free parking off Highway 101 (Carlsbad Blvd.) A big plus is that there are restrooms and showers here also.
Let's Explore!
Here we are at the entrance to the beach. The roped-off area is the back end of the Batiquitos Lagoon, a nature preserve.
South Ponto Beach is a sandspit that shelters the lagoon from the Pacific Ocean.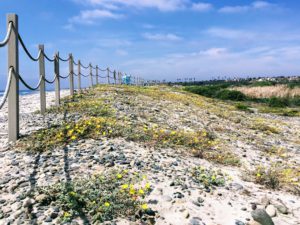 I appreciate this area so much! I am utterly impressed with plants that can grow in sand.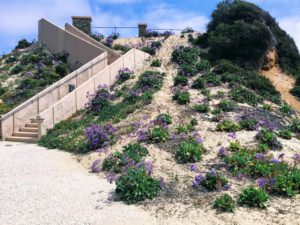 Here we have the staircase that will take you up to the overlook. I have to say when I saw this for the first time I was very excited. I love overlooks!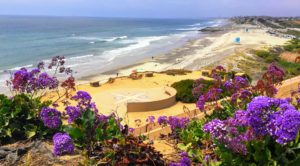 Do you notice the compass down below?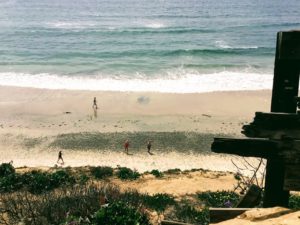 Here we are looking toward the east on top of the overlook at fields of the non-native plant, the Algerian Sea Lavender. As you can see in several of the photos, this plant is everywhere on the coast.
Walking east, you come upon a semi-isolated sandpit covered in native plants. If you dare to explore, please ensure you do not step on any plants!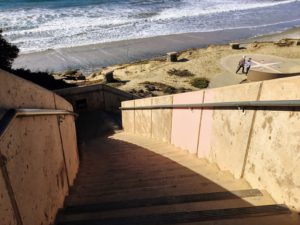 *November 2019 update- I am unhappy to report that the above area I enjoyed so much is now under construction. A 130-room luxury hotel- The Encinitas Beach Hotel, is expected to open sometime in 2021. If you would like a little more information, look over here.
---
Gem #2- Self-Realization Fellowship Meditation Gardens
215 W K St, Encinitas, CA 92024
(760) 753-1811
Hours-9 am to 5 pm
#Self-Realization Fellowship Meditation Gardens Video
The Self-Realization Fellowship (SRF) Meditation Gardens is located in Encinitas, 26 miles from Downtown San Diego and adjacent to Swami's State Beach.
All are welcome here as it is accessible to the public. There is also free parking available on the street as well as in the residential area.
Swami Paramahansa Yogananda
Swami's State Beach received its name from the founder of SRF, Paramahansa Yogananda, the father of Western Yoga.
It has been said that many surfers would notice him on the bluffs looking down at his long dark hair and flowing orange robe. One day, the surfers started calling this beach Swamis in honor of him.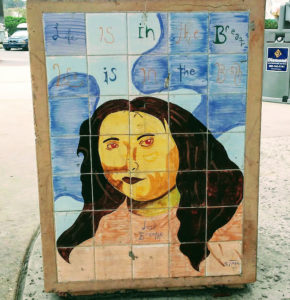 In 1936,  Swami Paramahansa Yogananda designed the gardens himself. I took this to heart when I was walking around.
Have I ever mentioned how much I love old plants?
Taking in the Garden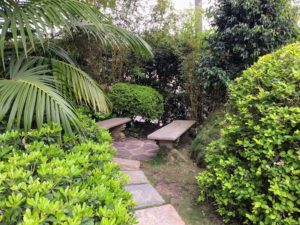 Scattered throughout the gardens, you will come upon many alcoves to encourage you to sit and meditate.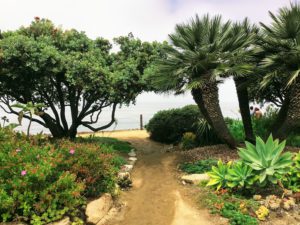 Here we have the original site of the SRF temple, which was built in 1938. Paramahansa Yogananda designed the Temple, intending to incorporate the beauty of nature as much as possible.
The Taj Mahal inspired the design. Inside, a large glass window facing the Ocean and a four-story glass observation tower to take in the view. Unfortunately, the Temple had to be removed five years later due to bluff erosion.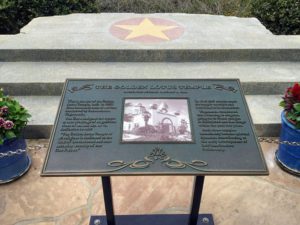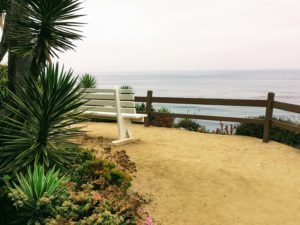 A beautiful place to sit and watch all the surfers below, and Swami's State Beach is on the bluff's edge.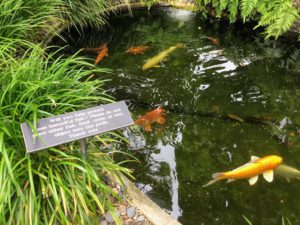 The Koi pond is another relaxing feature of the Meditation Gardens. I love the sound of the running water in harmony with the waves below!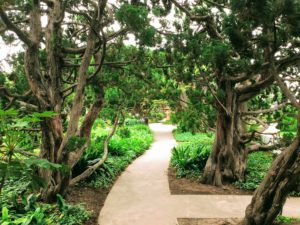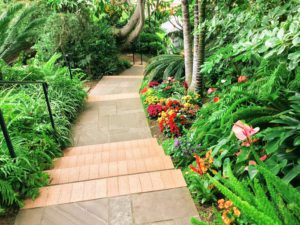 ---
Gem#3- Del Mar North Beach-North Bluff Preserve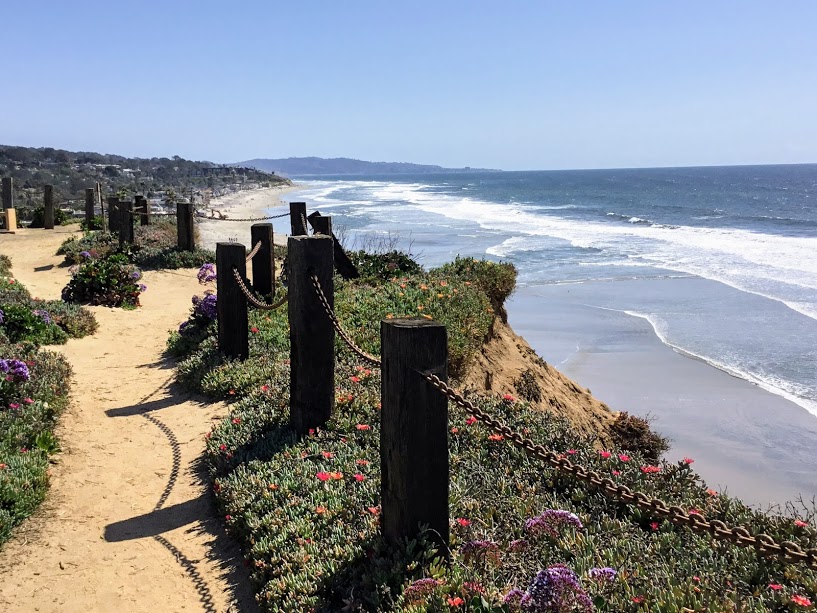 3200 Camino Del Mar, Del Mar, CA 92014
Del Mar North Beach is 22 miles north of Downtown San Diego in Del Mar, right behind the world-famous Del Mar Racetrack.
I came about this spot by pure accident. You see, I was going down the coast photographing all of the beaches in Del Mar. I have been to this beach prior, but I can not recall seeing the stairs going up the bluff. I might have mentioned earlier that I love overlooks! Especially wild, native overlooks.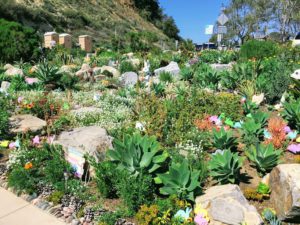 At the beginning of the beach, there is this cute garden.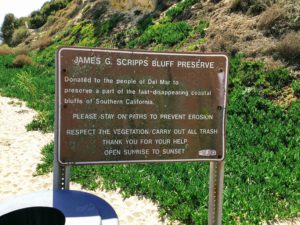 James G. Scripps Bluff Reserve is 4 acres on top of the coastal bluff that overlooks Dog Beach.
Let's go up!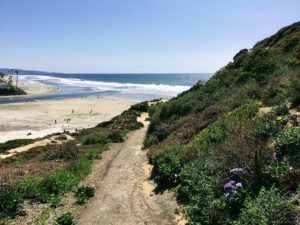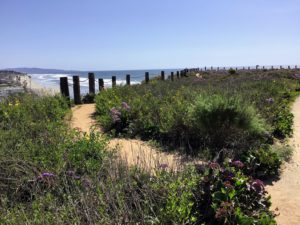 It is so fortunate that two philanthropists saved this piece of land from being developed back in 1971 to become a natural reserve. Nothing has been done in this area since.
The views from here are just breathtaking.
The path that loops around the reserve is pretty short, but I enjoyed that it was still very wild.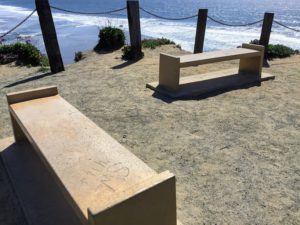 These benches would be ideal spots to sit and watch for gray whales passing by, not to mention spying dolphins swimming close to shore.
---
Gem #4- Scripps Coastal Reserve
9400 La Jolla Farms Rd, La Jolla, CA 92037
#Scripps Coastal Reserve Video
The Scripps Coastal Reserve Biodiversity Trail is located in La Jolla, just 14 miles north of Downtown San Diego and south of Black's Beach, up on the bluffs.
If you want to read more, I have written about this site in a prior post-La Jolla Shores Beach.
The Scripps Coastal Reserve is over 1000 acres and includes the shoreline and the upland area, referred to as the "knolls," as well as the canyons on both sides of the Biodiversity Trail.
Let's have a look!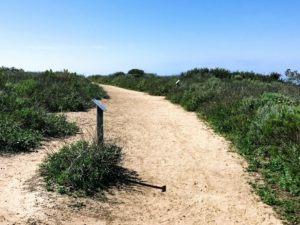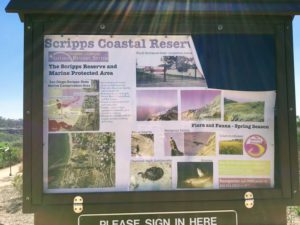 I want to quote a bit from the placard below that I found fascinating.
"Our reserve is part of the UC Natural Reserve System (NRS). Although small, the terrestrial amount of the reserve accommodates over 200 plant species, 88 bird species, and a dozen mammal species.
San Diego County has the most extraordinary plant diversity in the continental United States. Still, it also has the highest concentration of listed rare and endangered plants (some of which are located here at Scripps Coastal Reserve)."
Walking the Trail at the Scripps Coastal Reserve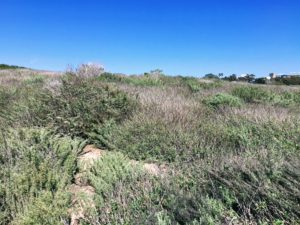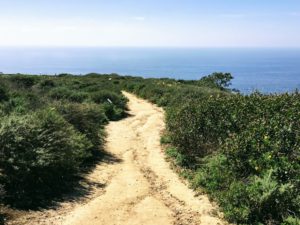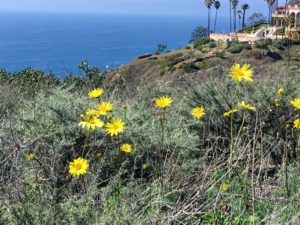 What a great place to watch the horizon for whales. Next winter, I plan on returning to this spot to wait for the Gray whales!
You really must experience San Diego whale watching; there is nothing like it!
Before we leave here, I want to share something I found. These Lady Fingers are over fifty years old! Realistically, they have been around for as long as I have. I love seeing old plants!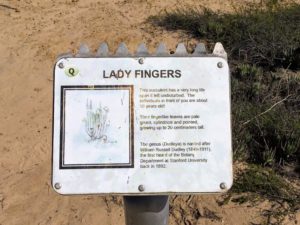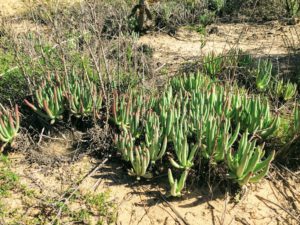 ---
Gem #5- San Diego River Mouth Living Museum

SanDiegoRiver.org
Ocean Beach
Ocean Beach was the first beach that I visited when I came down to live in San Diego to go to college. I love Ocean Beach City Beach because it reminds me of Toes Beach, the beach I grew up on in Los Angeles.
Look at all of the sand!

San Diego River Mouth
The San Diego River travels southwest for over 52 miles until it makes its way here and finally to the Pacific Ocean. As part of the Pacific Flyway, many migratory birds stop here on their way South. Above, I have included a link if you want to know more about the San Diego River.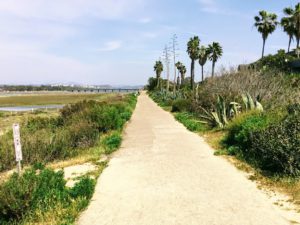 Today we started our adventure at the Dog Beach parking lot and walked about .25 miles inland through the coastal dunes. I should also mention that a bike path runs parallel to the river if you do not feel comfortable walking in the sand for such a long distance.
Once I eventually reached the mouth of the San Diego River, I was amazed when I found this Living Museum set up. Many placards display exciting facts about native plants and animals seen here along the paths.
Let's have a little look!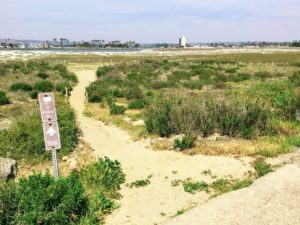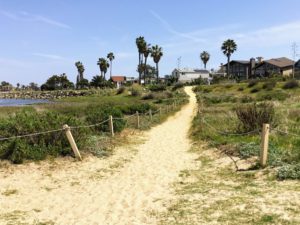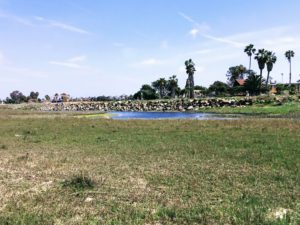 Through some research, I discovered that this body of water near the bike path is named Smiley Lagoon.
---
End of the Road
So, which hidden gem in San Diego do you think you would like to visit? With over seventy miles of coast to explore, San Diego County offers almost limitless amounts of Ocean fun and wonder.
If I had to pick my favorite, I think it would be the San Diego River Mouth at Dog Beach in Ocean Beach.
I plan to return this winter just in time to check out all of the birds 'wintering' in San Diego. I can not wait to walk the bike path inland for a couple of miles to see the river channel.
Please check back regularly, as I will write about five more hidden gems soon!
Have any questions or comments? Please feel free to leave a message down below.
Until next time!
---
Five More San Diego Hidden Gems!
I have always had a deep-seated passion for the Ocean Environment which ultimately led me to receive a degree in Marine Biology. Living in the San Diego area for over 30 years, I have extensively explored the 70 miles of San Diego's coastline, and I am here to share! Please use my website to your advantage and have a look around at all the wonders that the beaches of San Diego can offer you!