Birch Aquarium is located on the Scripps UC San Diego campus overlooking the Scripps Pier and the Pacific Ocean. Partnered with the Scripps Institute Oceanography (SIO), the Birch Aquarium is a fabulous place to visit to learn about all the ocean's natural wonders and creatures.
More than 460,000 people visit this aquarium annually. There is so much to do and learn here.
Let's now take a look at everything the Birch Aquarium has to offer!
Birch Aquarium-La Jolla General Information
Website- https://aquarium.ucsd.edu/
Phone- (858) 534-3474
Hours- 9am-5pm daily
Free Parking for 3 hours-Handicap parking available in front of the Aquarium
Adults- 19.50
Children(3-17)- 15
Seniors- 16.50
Students- 16
College Students for assignment- 12
A Little History of Birch Aquarium
The Scripps Institute of Oceanography (SIO) founders felt it was essential to have an active aquarium opened to the public. They even included such a provision in their founding bylaws.
Their core belief was that the SIO had an obligation to the people to share all of its scientific findings discovered by the institution.
Fun Fact-The first aquarium was initially situated down below, closer to the pier. The newest aquarium opened its doors up on the hill on Sept 16, 1992.
Birch Aquarium's Mission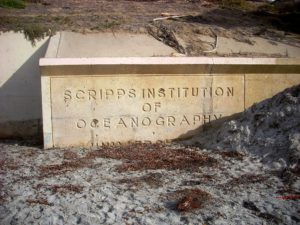 According to the official website, the mission of the Birch Aquarium is always to provide ocean science education to the public. Also, to interpret the Scripps Institute of Oceanography's research and advance ocean conservation.
Southern California Coastal Habitats
It is important to remember that many exhibits here are examples of different coastal habitats found here in Southern California. Such as rocky intertidal, sandy shore, and the kelp forest, to name a few. After visiting the Birch Aquarium, you will have a better understanding of what is under the water or living around the tide pools the next time you on the coast of San Diego.
You see, you can have fun and learn at the same time!
Other exhibits here also include the warmer water species found down in Mexico and the colder water species of the northeastern Pacific.
Let's now talk about a few of them.
My Favorite Birch Aquarium's Exhibits
There are several unique exhibits to be seen here. For instance, I have always liked the sardine and mackerel tank at the entrance. Indeed, there is something to be said about how the fish keep swimming around in circles; it feels a bit hypnotic.
It is hard to look away!
I am also partial to the Giant Kelp Tank as I am familiar with all of these fish from back in the day when I was a Fisheries Technician. I came to this aquarium to sit and study this tank before I started the job. It was a way for me to review.
I have provided a list of other exhibits to look out for and will be adding just a little exciting information!. OK, let's go.
---
Seahorse Conservation
The Birch Aquarium has been researching twelve different Seahorse species for more than 20 years.
Seahorses are fascinating fish!
For example,  did you know that seahorses are monogamous and mate for life? How special is that? There is also one unique fact that I have always remembered since college.
Seahorses Are Like No Other Animal on the Planet!
In particular, the seahorse is the only creature in the world where the male bears and looks after the young! It all begins with an eight-hour 'dance' where he swims around his mate, changing colors and showing off all of his camouflage abilities. If the female likes his dance, she will then transfer her eggs to his pouch.
Having the males in charge of the young gives this species a significant advantage. For one thing, the female can start making eggs again right away, thus ensuring adequate reproduction. For more incredible facts on the seahorse, please go here.
---
Coral Conservation
Birch Aquarium has been raising coral in captivity for more than twenty years. The Coral Conservation program allows the aquarium to trade with other aquariums and zoos, reducing the pressure off of the wild populations.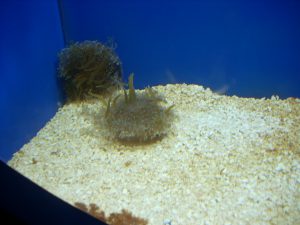 Raising coral is similar to propagating plants from cuttings. These fragments of coral can eventually grow into new colonies of young coral.
The Birch Aquarium has had both hard corals and soft corals spawn in captivity.
Breeding in the laboratory is a big deal!
Research is ongoing to understand better these spawning events and new ways of farming corals in the lab. Hopefully, this will protect wild colonies from exploitation in the future.
---
Seadragon Breeding Programs
While seahorses are a common sight off the coastal waters of North America, their cousins, the Leafy Seadragon and Weedy Seadragon are found only in southern Australia. Due to the pressure on the wild populations, the Birch Aquarium's Seadragon Propagation Project began in 2012.
The aquarium has been studying seadragons in the wild and their 'state of the art' breeding program with a partnership with SIO. Here is an explanatory video of this fantastic creature.
---
Giant Kelp Tank
The Birch Aquarium has a 70,000 gallon, two-story Giant Kelp Forest tank. This exhibit represents one of the four protected habits of the Matlahuayl State Marine Reserve, located south of La Jolla Shores Beach.
The Giant Kelp forest provides shelter for thousands of creatures. And did you know that Giant Kelp is found only on the west coast of North America?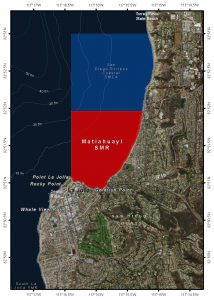 Found in the relatively cold shallow water close to shore, the giant kelp (Macrocystis pyrifera) can grow up to eighteen inches a day. It is also the most massive algae in the world, surprisingly reaching heights of over 100 feet.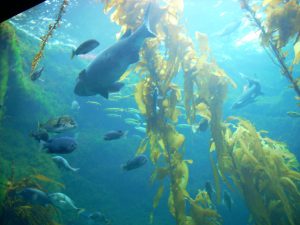 The Giant Kelp Tank Webcam
Check out this live webcam at the aquarium! Maybe you will see scuba divers cleaning the tank or feeding the fish.
For example, I love going to this webcam because most likely little children watch the tank in awe and wonder. Seeing them keep an eye on the Giant Kelp tank always brings me such joy!
Please keep in mind that the lights are only on during the hours that the aquarium is open, 9-5 pm (PST). Have a look for yourself!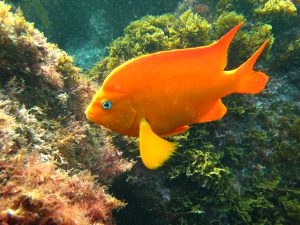 Fun Fact- If you happen to come upon a bright orange fish, that is California's state fish the Garibaldi. The young Garibaldi are red and have blue spots that go away when they mature.

---
ElasmoBeach at Birch Aquarium
First off, why Elasmobeach?
Well, sharks and rays are cartilaginous fish, meaning that their skeletons are cartilage, not bone. The definition of an Elasmobranch is any cartilaginous fish with 5-7 ventral gill slits.
The ElasmoBeach Experience
ElasmoBeach is an outdoor tank that intimately showcases the underwater sandy shore habitat similar to that of the San Diego-Scripps Coastal Marine Conservation Area.
For example, you will find many leopard sharks and rays here, just like what you would see below the bluff at La Jolla Shores Beach.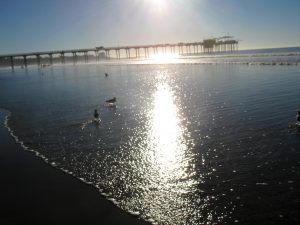 Experience ElasmoBeach for yourself and honestly see what is under the water the next time you are at the beach in San Diego.
Fun Fact- Each summer, thousands of leopard sharks make their way to south La Jolla Shores Beach to hang out in the shallow warm waters waiting to give birth. Did you know that the Birch Aquarium also offers Naturalist lead snorkeling trips., swimming amongst these sharks?

---
Preuss Tide Pool Plaza
Tide Pool Plaza, located on the outdoor plaza, overlooks the Pacific Ocean and La Jolla Shores beach.
 Here you will find an artificial version of a rocky intertidal pool, where the water ebbs and flows just like the natural tides.
Some inhabitants you will see include hermit crabs, sea stars, sea cucumbers, sea anemones, and the California Spiny lobster.
Also, I would like to point out that volunteers are located all around the plaza and will happily answer any questions you may have.
Intertidal Guide
I have also included a Southern California Intertidal Guide, compliments the Cabrillo National Monument, so you will be ahead of the game before you visit!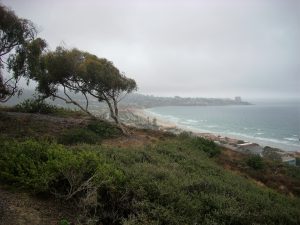 Fun Fact- Tide pool Plaza has exceptional panoramic views and is an ideal spot for San Diego whale watching.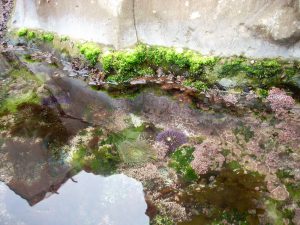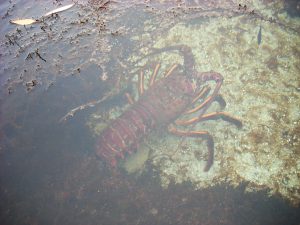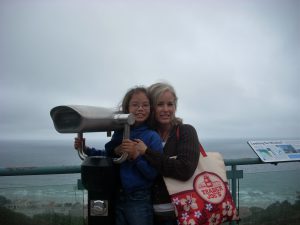 Fun Fact-Birch Aquarium offers naturalist-led tide pool expeditions at a couple of San Diego locations.
---
The Birch Aquarium Gift Shop
No trip is complete without visiting the Birch Aquarium's gift shop. Here is one of my favorite places to visit because everything in the store has to do with the ocean.
There are many unique items, but what I appreciate most of all is the scientific literature available for sale. Call me a geek, but I have yet to find these books sold anywhere else.
Fun Fact-The Gift Shop is open to the public as no entrance fee is required. For more information please contact at 858-534-8753 or at aquariumgiftshop@ucsd.edu.

---
The Splash! Cafe by the French Gourmet
When we visit the aquarium, we will stop halfway through to go outside and eat lunch.
Located at the entrance of the Birch Aquarium and adjacent to the life-sized gray whale statues sits The Spash! Cafe.
You may bring food in if you wish as there is a beautiful sized seating area with umbrellas. But you will be missing out on some delicious food by the French Gourmet!
There are sandwiches and snacks made from scratch, as well as many hot and cold beverages. It is also important to note that organic and gluten-free options are available well.
It has been a while, but I do remember that there was an incredible egg salad sandwich!
End of the Tour
Did you enjoy a mini-tour of Birch Aquarium? For the most part, I hope I have motivated you a bit to come here and see it all for yourself.
I only touched on a few of the exhibits, as there is much more to see, and I encourage you to visit the Birch Aquarium website for more information.
I have always held this Aquarium in very high esteem since my first visit back in 1985.
La Jolla Nearby Attractions
If you happen to have a little more time, there are a few places nearby that I would like to include.
Say, if you are in the mood for a stroll on the beach, La Jolla Shores Beach is just a five-minute drive down the hill.
Or maybe a walk around Downtown La Jolla, which is only less than ten minutes away. If you would like more information, click on the appropriate links.
How about a quick walk at the Scripps Coastal Reserve, which is just up the street! Here you can walk through a Biodiversity Trail sponsored and cared for by the students and staff at UCSD.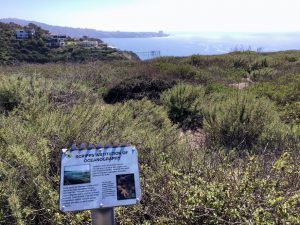 Or you could go a little bit further north and check out the Torrey Pines Gliderport, which is located overlooking Black's Beach.
There is a trail connecting the bluffs to Black's Beach. This site is only 5 minutes away!

Thanks again for joining me at the Birch Aquarium! Please leave any comments or questions below.
Until next time!
I have always had a deep-seated passion for the Ocean Environment which ultimately led me to receive a degree in Marine Biology. Living in the San Diego area for over 30 years, I have extensively explored the 70 miles of San Diego's coastline, and I am here to share! Please use my website to your advantage and have a look around at all the wonders that the beaches of San Diego can offer you!