Torrey Pines State Beach is located between La Jolla and Del Mar.  I have been visiting this beach for over 30 years and have never been tired of the sights.
While living in San Diego, this was our number one beach to come and visit.
I discovered Torrey Pines State Beach while working as a Fisheries Technician. This beach is a prime spot for surf fishing, and I can not think of a better place to have to work!
I love it here so much!
(858) 755-2063
Hours- 7:15am-Sunset
#This post continues my previous post-Torrey Pines State Natural Reserve. Please refer to the above link for more information concerning parking and rates.
Torrey Pines State Beach
With wide sandy beaches alongside towering sandstone cliffs and bright blue shallow waters, Torrey Pines State Beach has always been one of my top three favorite beaches in San Diego.
Beginning in  Del Mar just past the Los Penasquitos Lagoon and ending at Blacks Beach, there are 4.5 miles of coast to explore here, especially on a low tide.
Torrey Pines State Beach is the most popular State Beach in San Diego, so needless to say, crowds here on the weekends are not uncommon.
This beach is perfect for sunbathing, swimming, surfing, boogie boarding, walking, and fishing- oh, the endless possibilities!
Supermoon and Low Tides
To back up, I would also like to mention that this is the day the Supermoon/Bluemoon/Lunar eclipse took place (1/31/18).
Therefore my primary motivation for coming here was to photograph the tide pools and exposed beaches with a low spring tide.  For more information about what a Supermoon is and why it creates extreme tides, please click on the link below for an explanation.
—>Cabrillo Monument National Monument Tide Pools<—
Torrey Pines State Beach-Down the Beach Trail
It was a warm day for January, measuring in at a pleasant 75 degrees. We were happily surprised by the cloudless skies!
Please do not get me wrong; I love the beach regardless of the weather. But something can be said when you can see for miles and miles out onto the ocean.
It is as if everything on the beach shimmers when the sun is bright, to put it another way. And do not forget you also get the best pictures, in my opinion, that is.
So now, back to the adventure.
As stated above, my son and I were on a hike up above the beach at the Reserve. We just exited the "Beach Trail," and this is what we experienced.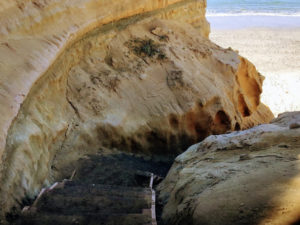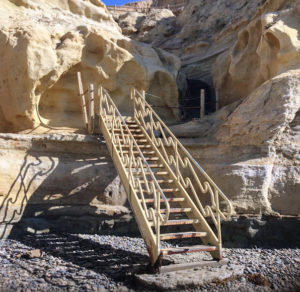 The stairway lets you down right onto Flat Rock Beach.
Wow, what an incredible reward after a long hike above the Reserve. Now we will have a look around towards the south of Flat Rock.
What is on the other side?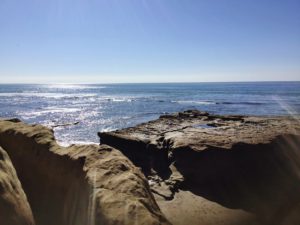 Do you see the passageway on the right of this photo? This path is an extremely narrow way to get around Flat Rock. And when I say small, I mean maybe just the width of your shoes, tight!
#Update-There was a bluff collapse over here, so there is no way around unless the tide is low enough. Please keep this in mind, and stay far away from the bluff in this area!
Black's Beach at Torrey Pines State Beach
Going around the corner, we are now looking at the beginning of Black's Beach, which goes on and ends where the surf is breaking in the far distance.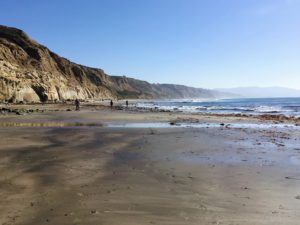 Located directly below the world-famous Torrey Pines Golf Course,  Black's Beach is one of San Diego's renowned surfing spots and a nude beach.
There are several paths to reach this beach. One such path, the Ho Chi Minh Trail, connects to this beach, but the descent is very steep, so a word of caution is needed.
Two other trails lead to this site, but I will go over those in a different post-one that concentrates on Black's Beach.
––>Black's Beach-The Naked Truth<—
Please check back later as this trail is on my 'to-do list.'  I have always wanted to experience the surf here but have shied away because it is a nude beach. Call me a prude, but I will eventually get there one day! With clothes on, though.
Torrey Pines Gliderport
Situated south of the golf course is Torrey Pines Gliderport which has been here since the late 1920s.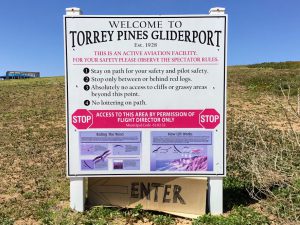 You will find access to everything related to foot-launched aviation at this establishment, including hang gliding, paragliding, and powered paragliding pilots.
The Torrey Pines Gliderport website says, "We seek to promote all forms of flight and to make Southern California a destination for flight enthusiasts from around the world."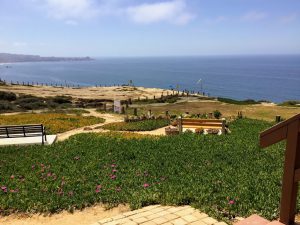 Another great thing to mention is that Cliffhanger Cafe is on-site and is open from 9 am to 4 pm.
Enjoy the offerings of this full-service deli/cafe while looking out onto the Pacific ocean and enjoying the views of the cliffs. What a great place to look for whales and dolphins!
 2800 Torrey Pines Scenic Dr, La Jolla, CA 92037
Fun Fact- On February 24, 1930, Charles Lindbergh had his first maiden flight along the cliffs of Torrey Pines. He soared all the way from Mt Soledad to Del Mar and ultimately establishing the first gliding distance record!
Let's start to head back north now and have a closer look at Flat Rock.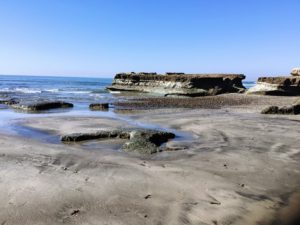 Torrey Pines Indian Bath Tub Rock
Flat Rock is also referred to as the  "Indian Bath Tub Rock" because its center has a deep-seated pool.
There are also several theories on how Flat Rock became separated from the bluff, but my favorite is that back in the late 1800s,
Del Mar hotels offered picnic/horse and carriage rides to Scripps Beach in La Jolla, so they demolished the Rock to make way for the road.
It seems credible, but this route could only be accessible at an extremely low tide, just like today.
For more information on the history of Flat Rock, please visit here.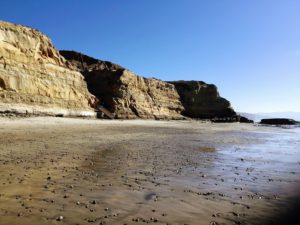 We were looking back from where we exited the Beach Trail from the Torrey Pines State Natural Reserve.
Do you notice Flat Rock is in the distance?
A Walk on Torrey Pines State Beach Tidal Flats
Let us now walk up the beach and see what is usually underwater.  I had no idea there were so many reefs this close to shore here at Torrey Pines State Beach.
But now it all makes sense why this beach is so famous for shore fishing.
---
---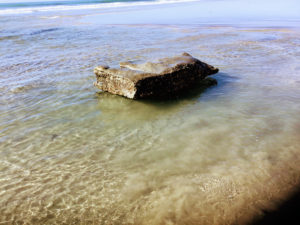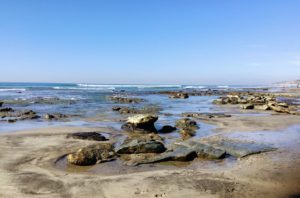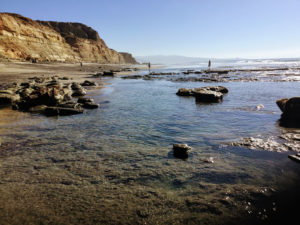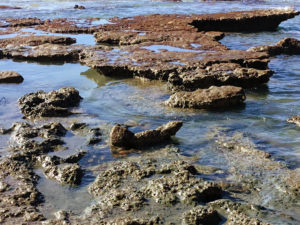 ---
---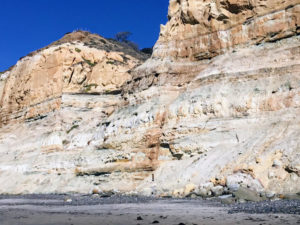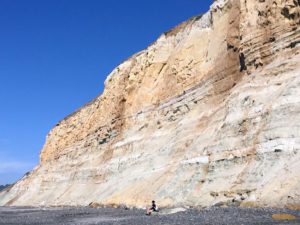 You can quickly get a proper feel on just how high these sandstone bluffs are with someone sitting in front of them, can't you?
We are getting closer to the entrance.
There must have been some significant current action for this seaweed to be washed onto the shore.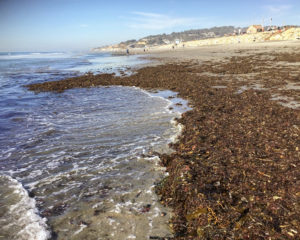 Torrey Pines South Entrance
 We stopped in the South Parking Lot area restrooms and found this great display that depicts several examples of what is seen here on the beach.
On our way out, I was happy to see these signs.
Especially after realizing that there are so many large rocks and reefs in the surf zone!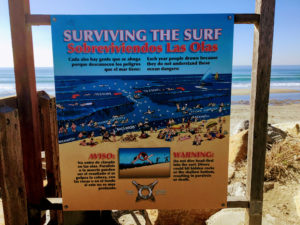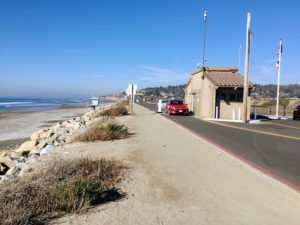 A lovely friendly warning.
Stay away from the base of the cliffs!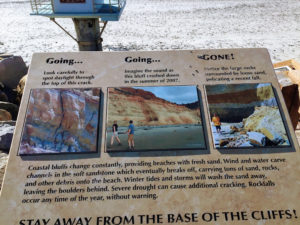 We are returning to the North Parking lot and stopping on the bridge to look down at the Los Penasquitos Lagoon inlet going out to sea.
Here is another view of the Los Penasquitos Lagoons inlet taken from the South Parking Lot.
Well, we have finished our adventure and are extremely hungry!  Know I would like to share with you all one of our favorite places to go after visiting Torrey Pines State Beach.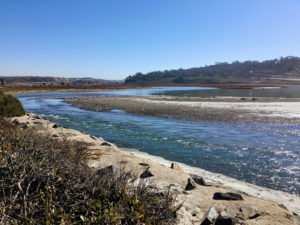 End of Tour-Let's Eat!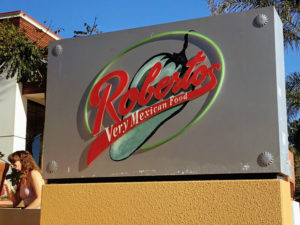 Phone: (858) 436-7189
Website- robertos.us
Robertos-Very Mexican Food taco shop has been in this location since 1964 and has been a local favorite ever since. I highly recommend this establishment for its food, especially the fish burrito!  Also, you can not beat the convenience of being just across the street!
If you check out the link above, you can order online! How cool is that?
Thank you so much for joining us on our Supermoon/Lunar Eclipse day at one of my favorite beaches in San Diego County.
I hope that I have piqued your interest and that one day you, too, will experience Torrey Pines State Reserve for yourself. Remember, no beach day is a sad day!
Until next time!
I have always had a deep-seated passion for the Ocean Environment which ultimately led me to receive a degree in Marine Biology. Living in the San Diego area for over 30 years, I have extensively explored the 70 miles of San Diego's coastline, and I am here to share! Please use my website to your advantage and have a look around at all the wonders that the beaches of San Diego can offer you!