La Jolla Shores Beach has over 1 mile of sandy Beach. It is between the Scripps Institute of Oceanography and La Jolla Shores Hotel at 8300 Camino Del Oro in La Jolla, California.
This Beach has some of the most gentle waves during the summer in San Diego, making it an excellent beach for the family.
Discovering La Jolla Shores Beach
Due to its calm waters, this Beach is ideal for swimming or learning how to surf.   Additionally, a boardwalk is attached to the Beach, which makes biking, skating, and jogging popular activities here.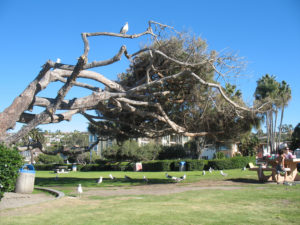 There is a large parking lot with 350 spaces available at this location, but I suggest you come early, or you will have to find parking in the residential areas.
Lifeguard stations are open here from 9 am to dusk.
Let us now look at what La Jolla Shores Beach offers you!
As I have mentioned, the calm waters here are ideal for families with small children.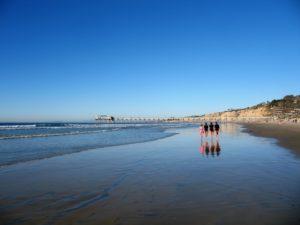 It is an excellent time to walk on the shore during a low tide here. I especially like looking for shells on this beach.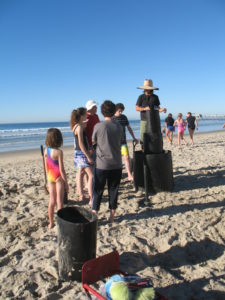 On this day, we ran into a gentleman explaining how to make the proper sandcastles. I am serious when I say that you never know what you might see here at La Jolla Shores Beach! Every visit is different.
Now that we have a general overview of La Jolla Shores Beach, let us get into some deep explanations on why I love this Beach so much, shall we?
---
Ellen Browning Scripps Memorial Pier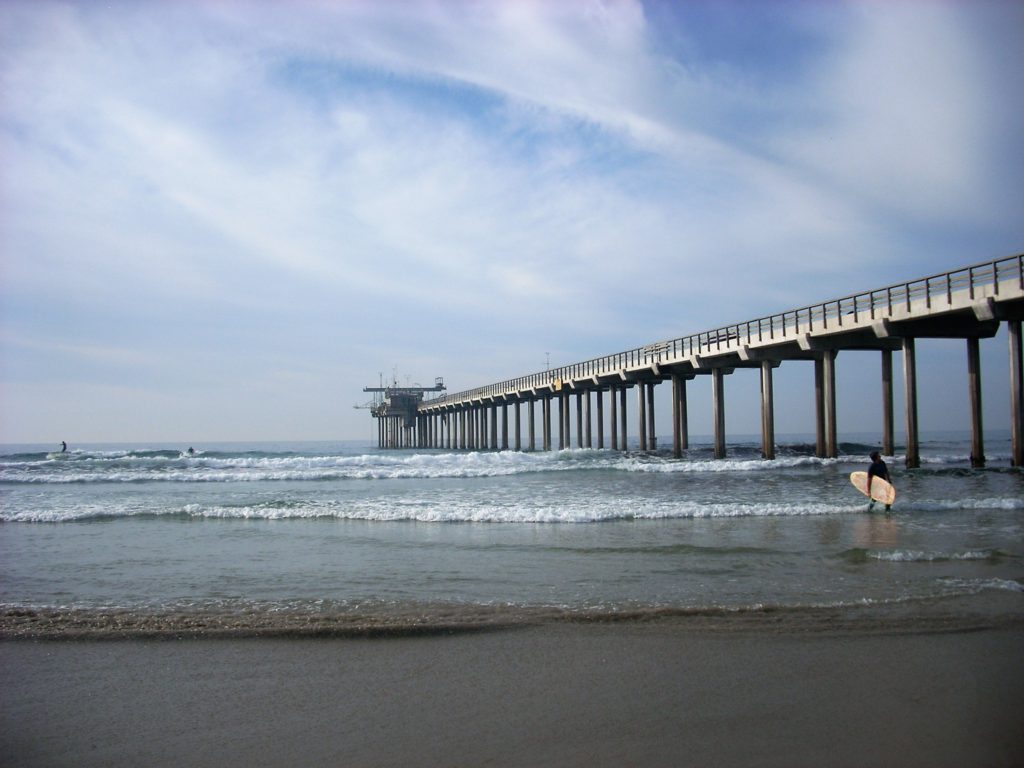 La Jolla Shores Beach
The Ellen Browning Scripps Memorial Pier is found just north of La Jolla Shores Beach and is one of the world's most massive marine research piers.
Merely looking at both the pier and the library from the Beach still to this day motivates me.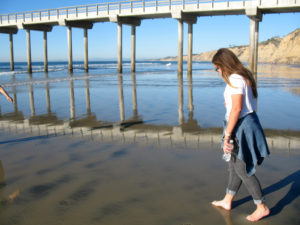 This pier was first built in 1915 to collect seawater for the University's marine laboratories and a public aquarium.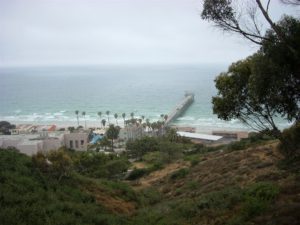 A generous philanthropist and well-known La Jolla community member, Ellen Browning Scripps (1836-1932), donated the $36,000 needed for the project.
The waters adjacent to the pier became a San Diego Marine Life Refuge back in 1929, making it much easier for the University to do research.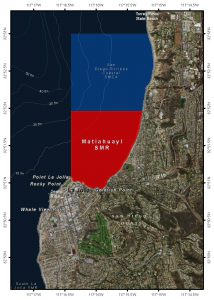 In 1951, an underwater breathing apparatus training program for scientists began at this location, and it remains the oldest such program of its kind in the country.
Fun fact: Twice a year, in early May and mid-August, the sun perfectly aligns with the pier's supports. I have yet to be there at the right time, but it is on my bucket list.
---
Scripps Institute of Oceanography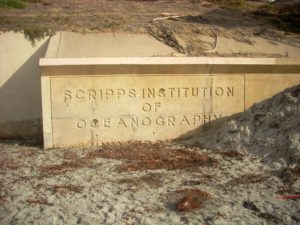 La Jolla Shores Beach
La Jolla Shores is not only one of the most popular beaches in San Diego but north of the pier is the home to one of MY most inspiring places on the planet!
Scripps Institute of Oceanography (SIO) is the home of anything and everything about the Ocean.
And of course, where else would you expect its library to be?
Right above the shoreline, of course.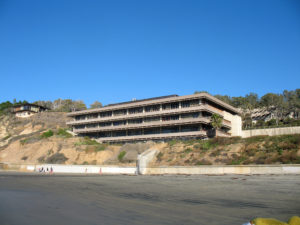 After college, I volunteered with the U.S. Fish and Wildlife Service and wrote a research paper. One day, a biologist on staff encountered dolphins while on a boat in San Diego Bay.
As a volunteer, I was tasked with finding all information on marine mammals seen in and around San Diego Bay. I was excited to start my research at the Scripps Institute of Oceanography Library.
Researching in this library was incredible. It was as if my dreams were coming true!
I can still feel what it was like in the Scripps Library's reference area. Oh, the satisfaction of walking out of there with over 100 pages of journal articles (which I still have)…ah, great memories.
---
Scripps Coastal Reserve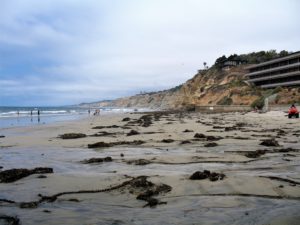 La Jolla Shores Beach
When walking north past the pier and the SIO library, you enter the Scripps Coastal Reserve, which covers over 1000 acres in La Jolla across many different terrains.
These habitats include Mesa top, coastal canyon and bluffs, sandy Beach, rocky intertidal, submerged coastal plain, and a deep submarine canyon.
Wow, talk about the diversity of environments!
The Reserve comprises two distinct areas: the shoreline and marine protected area and the upland area referred to as the  "Knoll" or "Cliffs."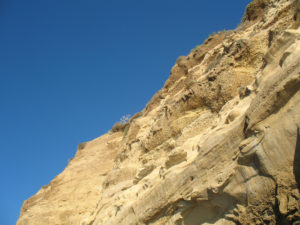 Let's now have a look-up top.

On a side note, to reach the Scripps Coastal Reserve, you must drive from La Jolla Shores Beach; click on the above link for more information.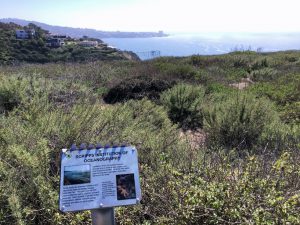 The beauty here is breathtaking!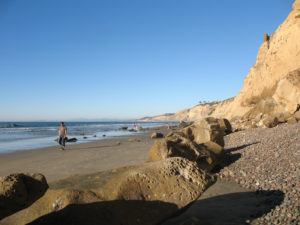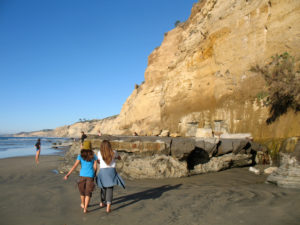 If the tide is low, you can also reach Black's Beach (San Diego's notorious public nude Beach.)
—>Black's Beach-The Naked Truth<—
---
La Jolla Underwater Ecological Reserve
La Jolla Shores Beach
Venturing south from the parking lot and walking a bit, the La Jolla Underwater Ecological Reserve begins.
Spanning over 6000 acres, the La Jolla Underwater Ecological Reserve begins at the midpoint of La Jolla Shores Beach and continues to the La Jolla Cove.
(Click on the link below for a more in-depth look into the boundaries and history of the underwater park)
—>Sea Caves at La Jolla Underwater Park<—
Established in 1971, this Ecological Reserve consists of four distinct habitats: sandy flats, rocky reefs, kelp beds, and a submarine canyon.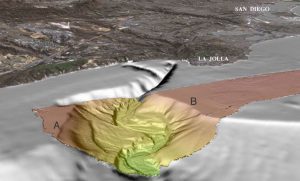 The ocean bottom here slopes smoothly and suddenly drops 500 feet (150m) and reaches depths of 600 feet (180m) in the park.
Because of current water upwellings in the submarine canyon, a great deal of plankton rises to the surface; for this reason, whales are seen very close to shore at La Jolla Shores Beach.
This is where I saw over 10 Blue Whales on a Recreational Sportfishing boat offshore over 20 years ago.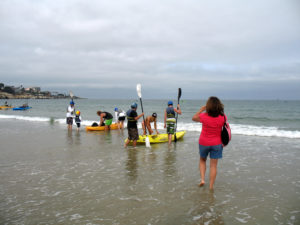 The waves dwindle out before making it to shore because of the trench and two artificial reefs offshore. As a result, this site is ideal for kayaking, scuba diving, snorkeling, paddle boarding, swimming, and underwater photography.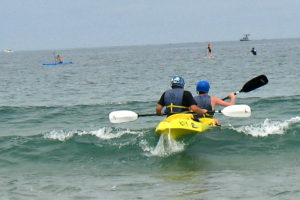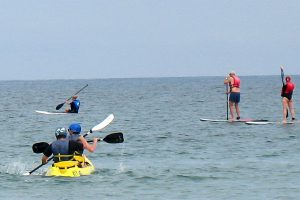 This spot is also notorious in the summer because pregnant leopard sharks hang out in the warm shallow water, waiting while their pups grow.
Here is your chance to snorkel with sharks! There is no danger, as these creatures are very tame.
Scripps Birch Aquarium offers naturalist-guided snorkeling expeditions with the sharks up and close.
If you are interested in more info, here is the official website for the Birch Aquarium at the University of California San Diego– Scripps Institute of Oceanography.
---
South La Jolla Shores Beach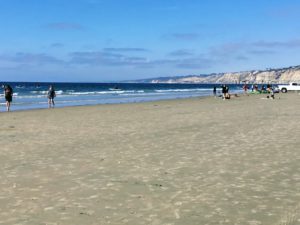 Following this Beach south, you will come upon one of the best tide pools on all the beaches in San Diego.
I have since been here with my kids at least a dozen times, and we always seemed to see unique things.
If I remember correctly, we saw a little octopus once. But the sea anemones are everywhere, and you might even see a few crabs and fish around too.
And if the tide is really low, you can even explore a couple of sea caves!
—>Top Ten Best San Diego Tide Pools<—
---
La Jolla Shores-Family Friendly Beach
La Jolla Shores beach
As I mentioned, this Beach is ideal for families with its calm waters and sandy beaches. But it gets even better; there is a fantastic playground and a grassy park with picnic tables.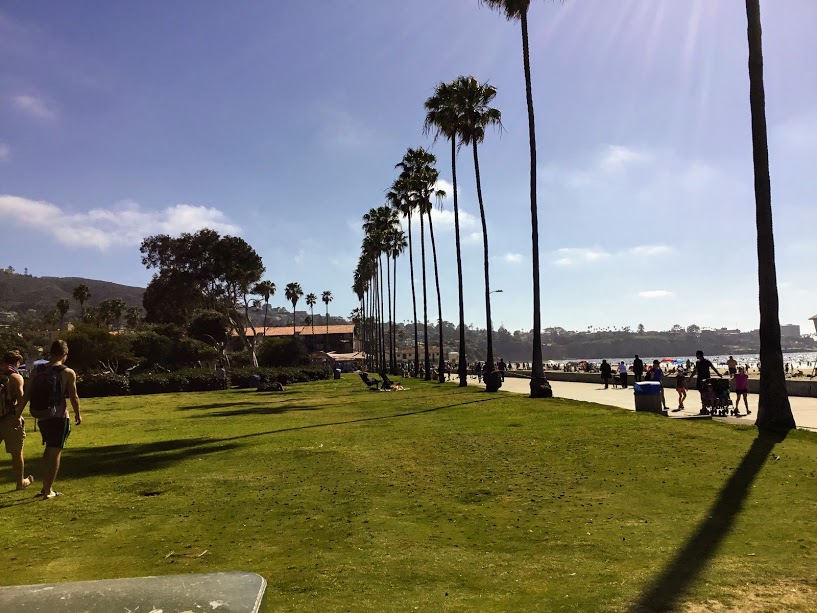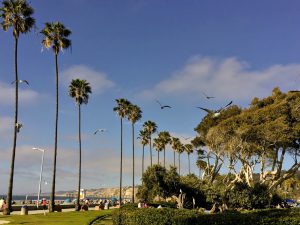 La Jolla Shores Hotel, situated north of the parking lot, offers luxurious beach tents for patrons to rent.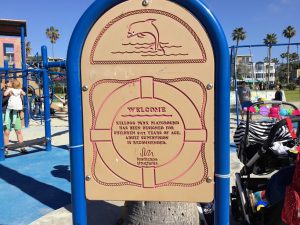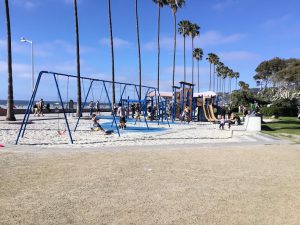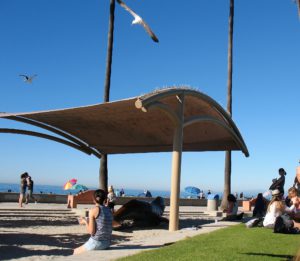 Where else can you sit on a Gray Whale at a playground? Why at La Jolla Shores Beach, you can!
It was 21 years ago when JJ, a motherless newborn, was found sick and dehydrated near shore in Los Angeles, and she was sent to San Diego SeaWorld to be nursed back to health.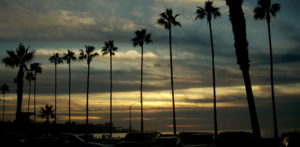 End of the Tour
There you have it! Isn't La Jolla Shore Beach spectacular? I mean, this Beach has everything. There is something for everyone to do.
La Jolla Shores is the best family beach in all of San Diego!
—>Showcasing the Best Beaches of La Jolla<—
So the next time you are in San Diego, why not come and check this place out? You will not be disappointed, that is for sure!
Well, I hope you enjoyed your tour of La Jolla Shores Beach! Please feel free to leave any questions or comments below!
Until next time!
I have always had a deep-seated passion for the Ocean Environment which ultimately led me to receive a degree in Marine Biology. Living in the San Diego area for over 30 years, I have extensively explored the 70 miles of San Diego's coastline, and I am here to share! Please use my website to your advantage and have a look around at all the wonders that the beaches of San Diego can offer you!