One of my very best friends, Paula, lived in Pacific Beach for a bit when we were both in college. I have distinct memories of visiting her apartment right off the Pacific Beach Boardwalk and close to Crystal Pier.
Fast-forward 33 years, and we are back!
Seriously though, Paula, her husband John, and I spent an hour together soaking in the sun, ocean, and wind while reminiscing. Check out what we experienced on this sunny but very windy mid-November day.
Where is Pacific Beach?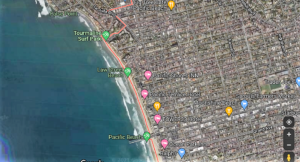 Pacific Beach is found between La Jolla to the north and Mission Beach to the South.
Let's now take a look at some of the day's highlights!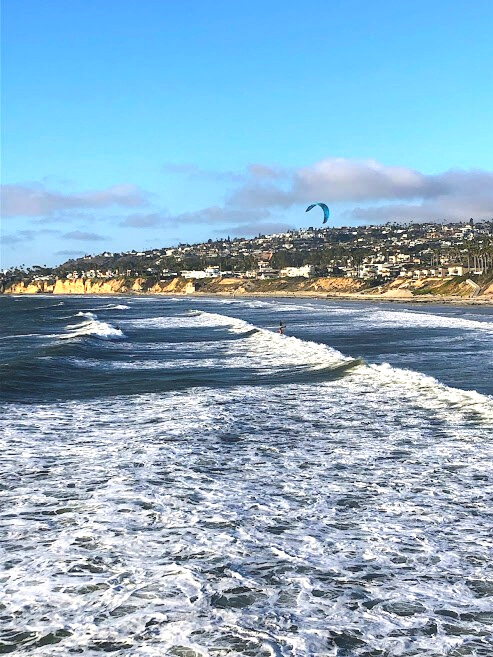 Here we are looking out over North Pacific Beach from the Crystal Pier. If you follow the surf break straight ahead, this is where the Tourmaline Surfing Park is located (just south of Law Street Beach.) When the conditions are right, you will see many surfers paddling out past False Point (see map above.)
Walking Pacific Beach Boardwalk
First off, parking in Pacific Beach is tough to come by. My suggestion would be to look around in the neighborhood a couple of blocks away from the beach. It may take a bit, but it is worth it, in my opinion, not to pay for parking if possible.
So once we arrived, we headed north on the boardwalk (Ocean Front Walk) towards Law Street Beach. A trail will take you straight to Paradise Park, situated above Law Street Beach. On the contrary, if you walk South, the boardwalk connects to Mission Beach Boardwalk.
These beaches are beautiful places to explore during a very low tide when the conditions are right.
The beach just north of Law Street Beach is the Tourmaline Surfing Park. Continuing, you come upon a small cove adjacent to False Point, where you can have your virtual oasis as not many people ever come over here.
The beaches here are not as crowded as the pier and over at Mission Beach.
The Significance of Diamond Street
We stopped our little stroll over here at Diamond Street. I would add that just south of this staircase can fish onshore.
The southern boundary of the South La Jolla State Reserve is just north of the staircase. So it is good to use this staircase as a physical marker and ensure not to fish anywhere north of here.
See the link below for more in-depth information on Saltwater Fishing in San Diego.
Checking Out Crystal Pier
After taking a brief walk on the Pacific Beach Boardwalk, we decided it was time to go and check out the pier.
I have so many beautiful memories of this pier. One of my favorite things to do when my children were young was rollerblade with a stroller on the boardwalk.
We would start at South Mission Beach Jetty, and the pier was where we would stop, take off the skates, and walk onto the dock to see what was going on. And then, once done, we would head back to the jetty. All in all, it is a 5.5-mile adventure!
Fun Fact- All along the Mission Beach/Pacific Beach Boardwalk are orange strips that denote .25 miles increments.
Walking Crystal Pier

At the very end of Garnet Street, Crystal Pier is a private pier built in the early 1920s and stretches 1936 feet offshore.
The cottages located at the base of the pier were built in 1932. Some day I will stay here, and I can not wait. How cool it would be to sleep up over the ocean. That truly is a dream come true!
It is essential to mention that because this pier is private, you must have a fishing license if you wish to fish here.
This pier is unique in terms of fishing because the underwater environment is entirely sandy, and the water here is much more shallow compared to Oceanside and Ocean Beach Piers.
Species caught here include those that prefer sandy bottoms, such as halibut, shovelnose guitarfish, and several types of surfperch.
Fun Fact- The best spot to fish is located half way out on the south side.
Watching the Surfers off Crystal Pier
One of my favorite things on the pier is taking photos of the 'wave riders.'  I am the first to admit that they aren't that good, but not too bad for a camera phone if you ask me!
People Watching and Espresso
Before we were on our way to leave, we took time to get a coffee and sit for a bit.
Boy, was it a beautiful November day!
All along the boardwalk, you can find benches or tables to sit and people watch.
Pacific Beach Main Lifeguard Tower
There is a beach access mat just south of this lifeguard station if you are in a wheelchair.
You are likewise able to check out a manual or powered beach wheelchair.
See the link below for more information.
End of Our PB Adventure!
Thank you for taking the time to read about my Pacific Beach adventures. You know, San Diego does have some of the best weather in the nation, if not the world!
I can't leave Pacific Beach before telling you PB might be for you if you are into bars! This town likes to party, and most bars are close to Crystal Pier.
If you have any comments or questions, please feel free to ask.
Until next time!
Helpful Posts-
I have always had a deep-seated passion for the Ocean Environment which ultimately led me to receive a degree in Marine Biology. Living in the San Diego area for over 30 years, I have extensively explored the 70 miles of San Diego's coastline, and I am here to share! Please use my website to your advantage and have a look around at all the wonders that the beaches of San Diego can offer you!