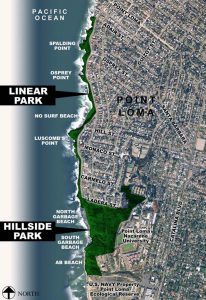 Sunset Cliffs Natural Park is over 18 acres of cliffs adjacent to the Western coast of Point Loma beginning at Ladera Street.
There is a sandy trail that runs parallel to Sunset Cliffs Boulevard that makes for a gorgeous walk.  Whenever we have company visiting from out of town and want to show off our coastline, this is the where we go.
The Beauty and Wonder of Sunset Cliffs Natural Park
---
---
Above is a short video that showcases the beauty of the cliffs next to the water.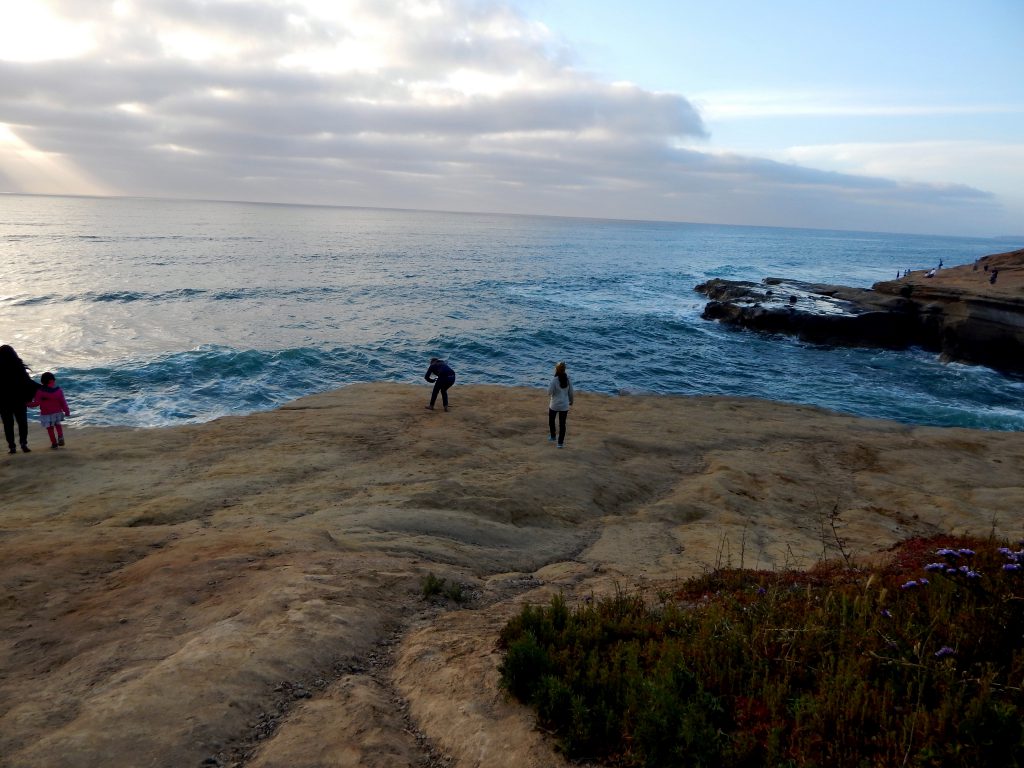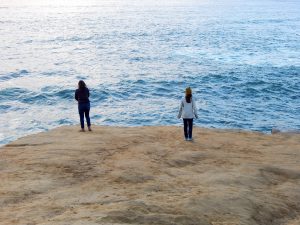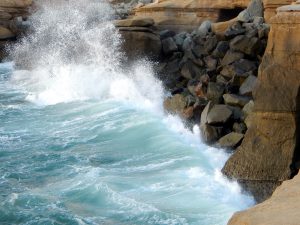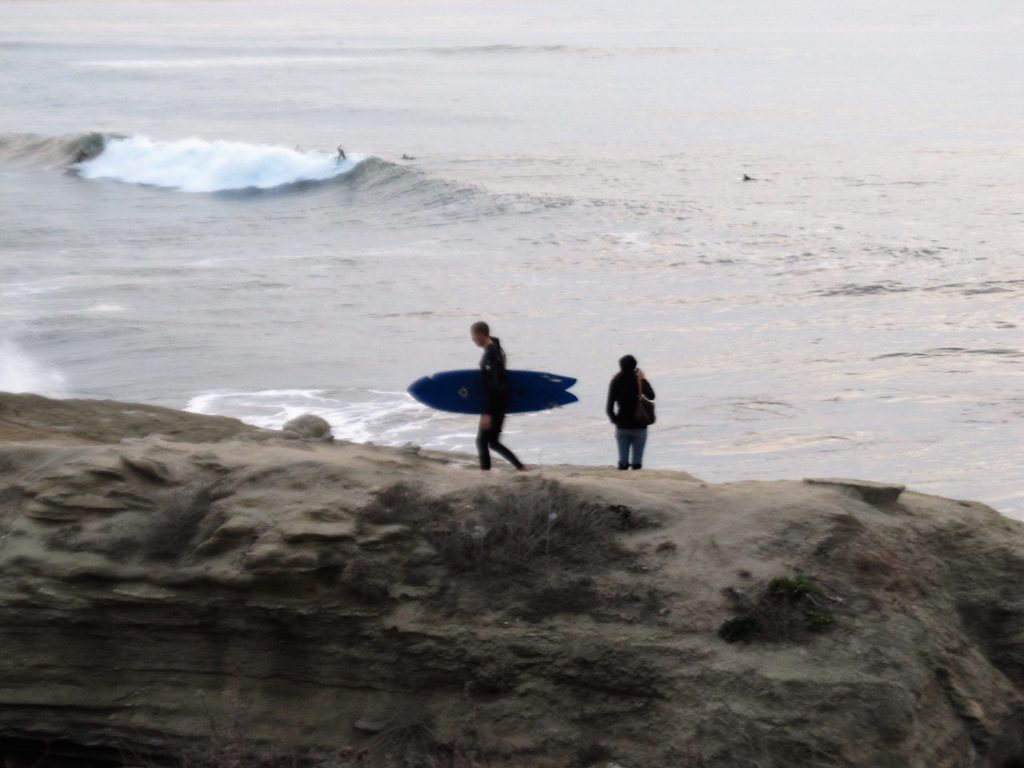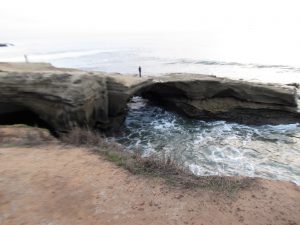 A Bit of Sunset Cliffs History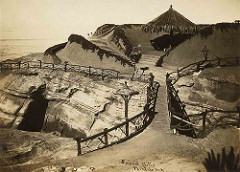 Sunset Cliffs Natural Park
Through the centuries, the native American Kumeyaay Indians would travel seasonally here to fish and gather foodstuff from the intertidal pools as well as collect food from indigenous plants.
Upon further investigation, I also found another couple of exciting things!  First of all, in 1918, the sporting tycoon Albert Goodwin Spalding owned property right on the cliffs. 
Spalding envisioned a place where people could appreciate the coast.  He invested 2 million dollars in bringing this dream to fruition. 
He ultimately hired a Japanese architect to construct what was eventually named  "Sunset Cliff Park." Take a look at this cutting-edge architecture!
I wish it were still around.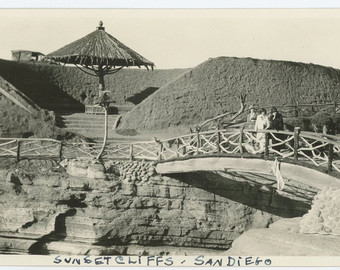 I love these old pictures! Here is what the site looks like today. If you look close enough, you will find anchors for the handrails still in place. I always wondered about that!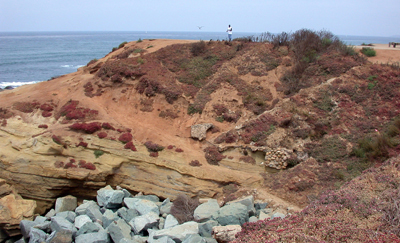 The original site of Spalding's Sunset Cliffs Park.
OK, I had no idea about this one, and I have been coming here for well over 30 years. It seems that San Diego has its own "Goonies" cave right under our noses- the Rum Runners Cave.
Rum Runners Cave
---
---
Sunset Cliffs Natural Park
The cave received its name because boats from Mexico would drop off barrels of rum by use of block and tackle during the prohibition.
With the delivered cargo, it then was taken through the tunnels to unknown places, but how did they do this?
 Well, when entering the cave, there is a spiral staircase leading to a tunnel with many twists and turns.
Old-timers still whisper that they believe that a tunnel led to a house right on the cliff.  Could this have been Spaulding's house, maybe?  Hmmm?
This cave has been closed off for some time now, but that doesn't seem to hinder people from exploring.   So a word of caution, it is illegal, and you will get a ticket if found down there due to safety concerns.
 There is another hidden sea cave half-mile south of the Rum Runner Cave. I can not believe that I have never heard of these caves before!
Gazing at the Ocean-Sunset Cliffs Natural Park
Sunset Natural Park
In my opinion, this is THE SPOT to watch a sunset. I remember taking my sister-in-law here when she was about 19. She told me that she had never seen an ocean sunset before. Blasphemy! I said to her that I knew just the right place and was up to the challenge.
Once we parked, she went off on her own; having a seat to watch the display. She sat there, patiently absorbing in all the wonder.
When she arrived back to the car, she was speechless.  On the way home, she couldn't stop talking about how great it was. She ended up writing several poems about the event.
I, too, had an incredible incident when my son was just under two. We sat in the car facing the sea, looking for any Gray Whale spouts. When suddenly I saw two whale spouts on the horizon! I immediately took my son out of his car seat and got us out of the car as fast as I could.
Carrying him along the cliffs (near the street not on edge), pointing as we went; he was excited, but not nearly as much as his momma! Looking back, I probably looked a fool, but I don't care. I love this place.
Sunsets at Sunset Cliffs Natural Park
---
---
Here is a video that I shot at the end of July 2017.
Here is another example of one sunset taken on December 21, 2012, the day the world was supposed to end!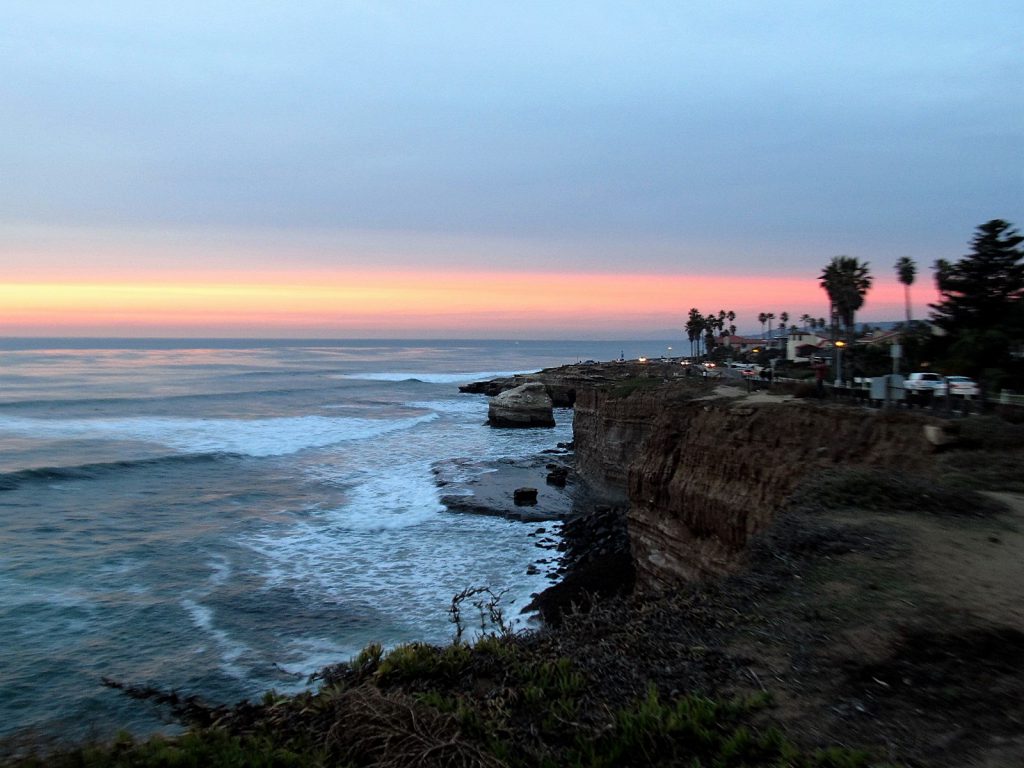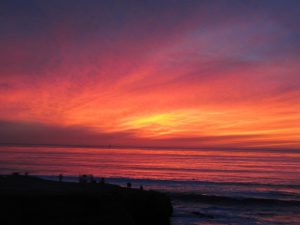 I hope you enjoyed yourself, and please feel free to leave any questions or comments!
---
Learn How To Make A Business Website For Free!
I have always had a deep-seated passion for the Ocean Environment which ultimately led me to receive a degree in Marine Biology. Living in the San Diego area for over 30 years, I have extensively explored the 70 miles of San Diego's coastline, and I am here to share! Please use my website to your advantage and have a look around at all the wonders that the beaches of San Diego can offer you!