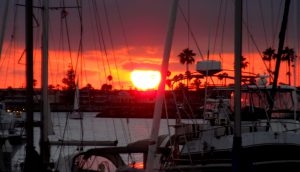 If I can put one touch of rosy sunset into the life of any man or woman, I shall feel that I have worked with God– G.K Chesterton
Encountering a San Diego sunset on the coast is something you are not likely to ever forget. With San Diego having over 70 miles of coast,  where are the best places to experience a San Diego sunset?
Few things touch my soul more than a sunset. There is something magical that happens when the sun rays hit upon the ocean water. It is as if the entire surroundings are shining from within.
It is my pleasure to share with you, my top 5 spots where I think that you can see, that exceptional San Diego sunset in all its glory and more!
Under each listing, I have included one fun fact; or in other words, a secret.
Continue reading "Top 5 Spots to View a San Diego Sunset"
I have always had a deep-seated passion for the Ocean Environment which ultimately led me to receive a degree in Marine Biology. Living in the San Diego area for over 30 years, I have extensively explored the 70 miles of San Diego's coastline, and I am here to share! Please use my website to your advantage and have a look around at all the wonders that the beaches of San Diego can offer you!