So did you hear about the massive storm that Southern California endured on January 6th? Did you know that there also was a Full Moon on January 6th? It sounds like a perfect combination to me. There were reports of waves reaching the insane height of over 20 feet in some spots! Unfortunately, I wasn't able to get to the coast to have a look on that incredible weekend, but I was available on the 11th. I looked at the surf report for the second week in January, and Wednesday the 11th looked like the best bet in catching a few shots of big waves with my camera; hurray!
Join me as I journey down the coast, first Oceanside, then Carlsbad, and finally ending my adventure at Swami's in Encinitas.
Just How Big Were the Waves on January Sixth in San Diego?
The storm came onshore in San Diego early on Thursday,  January 5th. The National Weather Service anticipated widespread coastal flooding, heavy rains, high winds (20 to 30 mph), and massive surf.
Also, the storm has been described as a 'bomb cyclone' because it started as a low-pressure system that rapidly intensified into a massive storm that created a west-northwest swell. So needless to say,  W to NW facing beaches experienced the largest waves.
How massive were the waves, you ask?
Oceanside Pier- 7 to 10 feet
Carlsbad State Beach- 4 to 5 feet
South Ponto- 5 to 7 feet
Encinitas- 8 to 9 feet
Black's Beach- 15 to 20 feet
La Jolla Cove- 18 to 20 feet
Mission Beach- 18 feet
Imperial Beach- 9 to 10 feet
I want to note that two surfers were rescued by lifeguards on the morning of Jan 6 at two separate beaches in La Jolla; one at Windansea and the other at The Cove. Seeing that both spots were seeing waves reaching up to 20 feet, this is no surprise, especially at Windansea Beach.
What Was Damaged By the Waves?
In the aftermath of the storm, several significant damages occurred. The most substantial happened over at the Ocean Beach Pier, and, unfortunately, at this time, the pier is closed indefinitely.
Over in La Jolla, which had the most significant increase in waves due to the direction of the swells- The Children's Pool Observation Deck was closed due to a damaged railing.
Ironically, on Jan 11th, the Stonesteps Staircase in Encinitas was deemed structurally unsound. The main support beam for the upper deck and lower stairs is unsafe and needs to be replaced.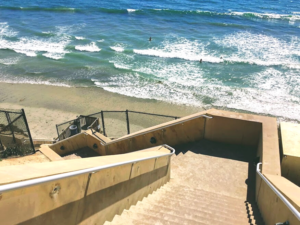 Intense coastal flooding also occurred in Imperial Beach, Mission Beach, and Del Mar.
Did I See Big Waves on Wednesday, January 11th?
Today was the day when the waves were supposed to be about half the size as seen on the 6th, but I was still excited to go and explore a few North San Diego County beaches.
So did I see any big waves?
Here is what I saw.
Oceanside
My first stop of the day, at 10:30 am, was over at Buccaneer Beach. I wanted to see if the Loma Alta Creek connected to the ocean, and sure enough a large inlet had formed.
I continued south for about a quarter of a mile and headed for the Cassidy Street Beach staircase and was not surprised to see that there was limited beach access, as the waves were splashing around at the bottom the stairs.
Buccaneer Beach
Cassidy Beach
Carlsbad
Next, I continued on Coast HWY 1, reached Carlsbad City Beach, and found two city workers cleaning up the sand at the bottom of the stairs.
I was in for a huge surprise when I was over at Tamarack State Beach! As I was walking to the parking lot south, heading toward the jetties at the Agua Hedionda Lagoon Inlet, I noticed all of the sand. It was evident that the late-night or early-morning waves reached to the parking lot!
Carlsbad City Beach
Tamarack State Beach
---
---
Warm Water Jetty Beach
Encinitas Waves in Mid-Afternoon
I started my quest of Encinitas waves right on the border of Carlsbad at Grandview Beach. The waves had excellent form, and many surfers were far out there, waiting patiently for the next big one.
Over at Moonlight Beach, it was evident how much sand had disappeared from the beach!
Swami's State Beach was packed! The waves reached to the stairs, so getting into and out of the water was a bit tricky. While hanging out on the staircase, I noticed a professional photographer set up to take pictures of the surfers. I took a look online and found his webpage. It turns out that his photographs are for sale, so if by some chance you surf over here, I urge you to check out his webpage.
Grandview Surf Beach
---
---
Moonlight State Beach
Swami's State Beach
Resources
Helpful Posts
I have always had a deep-seated passion for the Ocean Environment which ultimately led me to receive a degree in Marine Biology. Living in the San Diego area for over 30 years, I have extensively explored the 70 miles of San Diego's coastline, and I am here to share! Please use my website to your advantage and have a look around at all the wonders that the beaches of San Diego can offer you!