Today I would like to take a closer look at the Western snowy plover (Charadrius nivosus nivosus). I became inspired to learn more about this elusive bird by a very close interaction that I had with two plovers up North on the Central Coast over at Surf Beach, Lompoc (see down below for more information)
The Western snowy plover is a wader and one of the smallest shorebirds in Southern California, as it is only the size of a sparrow. The chicks are so tiny that they can easily be mistaken for cotton balls!
Bird Species of Special Conservation Concern in California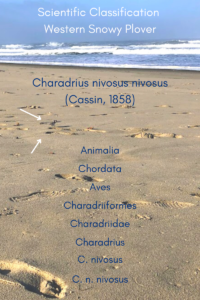 Due to low population and habitat loss, the Western snowy plover was listed by the federal government as threatened on March 5, 1993. They prefer to nest on beaches, estuaries, peninsulas, bays, salt pans, and rivers in Oregon and California.
Camouflaged nests render the most eagle-eyed observer helpless amongst the beach wrack on the shore, making this a prime reason for a roped shoreline seen on several beaches on the coast of San Diego.
Plovers like to nest next to the federally endangered California least tern. Biologists take advantage of this fact, which allows a threatened species to nest next to an endangered species.
Let's now take a deeper dive into the characteristics of the Western snowy plover.
Characteristics of the Western Snowy Plover
Identification 
The birds are less than 6 inches tall (16 cm) with a pale sandy upper body with darker patches on the shoulders and head, a partial black neck ring and a thin, pointed black bill, and dark gray to black legs. The darker legs distinguish the Western snowy plovers from other plover species.
During the summer, the male has a black bar across his forehead, a dark eye patch, and a dark partial neck ring; on the other hand, the female is light brown all over.
In the winter, both the male and the female look similar (light brown all over)
Juveniles look like females but with pale gray legs
Habitat
sandy beaches or alkaline lakes
Feeding
The plover feeds by rapidly running, picking up food, or foraging at the surf line or beach.
Their preferred food source are marine worms, small crustaceans, and insects.
Nesting
In the Powel et al. 2002 study, it was noted that the plovers nest much more frequently in Northern California compared to Southern California
On the West Coast, the Western snowy plovers can have up to two broods per mating season.
They nest in shallow depressions (scapes), on the open beach, dunes, or salt flats

males press their chest into the sand and use their feet to scrape out a shallow bowl
the nest is made out of any beach debris: seaweed, driftwood, shells, and even human footprints – eggs are loosely covered with sand

usually have 2 to 3 eggs in a clutch that are brownish-yellow with dark marks and incubate them for 25 to 30 days
The female will leave the chick after six days in the male's care, then renests with a new male. The male may also choose to renest with a new female.
they often return to the same nesting site year after year
males take care of the young into they fledge, which is about a month, and then will nest with another female
Voice-
low whistled flight call that sounds like- "Ku-wheet"
Natural Predators-
coyotes, foxes, hawks, falcons, raccoons, owls, and humans
the nests are so small and inconspicuous that they are quickly stomped on, mainly because the height of the season is summer. Also, due to off-road vehicles, beach walking, and playing sports.
Two Western Snowy Plovers at Surf Beach
So, now I would love to share an experience with you.
My husband and I took a short trip to his hometown of Lompoc, California, just north of Santa Barbara.
Early Friday morning, we took off to stroll Surf Beach.
I can not tell you how excited I was to stumble upon these two little birds on the beach!
---
---
San Diego County Western Snowy Plover Protected Areas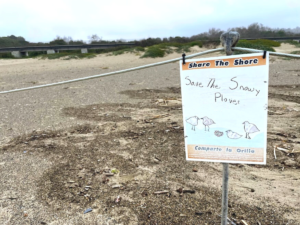 Before I leave you, I have listed some prime spots where you can hopefully see these cute little birds from a reasonable distance with a nice pair of binoculars.
The best places in San Diego to see Western snowy plover are at the San Elijo Lagoon in Encinitas, along the Silver Strand State Beach in Imperial Beach, and over at the Tijuana Estuary as well as-
Trestles
Camp Pendleton
San Luis Rey River Mouth
Agua Hedionda Lagoon
Batiquitos Lagoon
San Elijo Lagoon/ Cardiff State Beach
San Dieguito Lagoon
Los Penasquitos Lagoon
Fiesta Island
Mariner's Point
Bonito Coves
South Mission Bay
San Diego River Channel
North Island
Coronado Beach
Silver Strand
Chula Vista Wildlife Reserve
Western Salt Company South San Diego Bay
San Diego National Wildlife Reserve, South Bay
Tijuana Estuary and Beach
---
Helpful Posts
I have always had a deep-seated passion for the Ocean Environment which ultimately led me to receive a degree in Marine Biology. Living in the San Diego area for over 30 years, I have extensively explored the 70 miles of San Diego's coastline, and I am here to share! Please use my website to your advantage and have a look around at all the wonders that the beaches of San Diego can offer you!