Anytime I am on the coast, I am happy! How about you? Down below are a few of my San Diego beach highlights. Will you join me as I go over my 2019 year in review? I sure had fun remembering all of the great places I visited, and as always, I have plenty of photos to share!
I have written about many of these beaches previously, so click on any link for additional information.
Ready? Let's Go!
---
January San Diego Beach Adventures in 2019
 Buena Vista Lagoon-Buccaneer Beach-Oceanside Harbor
My oldest daughter Maya and I went to investigate the western section of Buena Vista Lagoon in Oceanside on the 15th of January. It was a gloomy day, but any day on the coast is a good day in my book!
First, we were able to take a quick walk around the nature trail.
We also popped into the nature center to look around for a bit.  Later, we crossed the street to see the section of the lagoon behind the Saint Malo Beach community that I have never seen before.
I enjoyed taking pictures of the railroad tracks and seeing a few native plants.
Next, we went over to Buccaneer Beach and the Loma Alta Creek Nature Trail in search of birds. I especially love this area, as there is always something interesting to see here.
A day in Oceanside is never complete until we visit the Oceanside Harbor and the San Luis Rey River Estuary. Again, for the avid birdwatcher, the San Luis Rey River inlet always has unique shorebirds visiting here in the wintertime. As for Oceanside Harbor, there are always cool things to do and see here.
January 22- Mission Bay-Pacific Beach- South La Jolla
Once I arrived at Mission Bay, I noticed that it was a gorgeous blue-sky day with a slight breeze coming from the west. In January of last year, I was working on a post that lists all of the San Diego Launch Ramps, so my mission for this day was to visit the Santa Clara Launch Ramp, which is located in the northwestern section of Mission Bay.
While there, I was also able to take a few photos of Mission Bay Sportcenter as well as Santa Clara Recreational Center and the Mission Bay Aquatic Center. Here is the spot where you will find water sports equipment to rent out; such as paddleboards, kayaks as well as small boats.
I also got a few good shots of the 7.0 ft high tide, which had just peaked two hours prior. I have to say that I do not recall ever seeing the water at Mission Bay to be this high before, so it was a bonus to this day.
While in the area, I decided to go across the street and take a few shots of Crystal Pier and continue north to document as many of the southern La Jolla Beaches as time allowed.
I had two hours and a goal! At the end of the day, I was only able to go to Palisades Park, Linda Way beach access, Calumet Park Beach, Bird Rock Beach, and finally ending up at La Jolla Strand Beach.
Click on the link above for maps of each location.
---
Hiking on the Coast of San Diego in March
Exploring San Elijo Lagoon
As you can see, I hadn't been to the coast since January 22, and I was getting anxious. So on March 28, I decided that today was the day to get down to the beach!
My youngest daughter Jada and I set off to finally check out the Slot Canyon over at Annie's Canyon Trail in Encinitas.  Formerly known as the ' The Mushroom Caves,' this trail is located over on the southwestern section of the San Elijo Lagoon. It turns out that this isolated canyon used to be closed to the general public, and a big partying spot back in the day.
Fun Fact- An anonymous donor, named Annie sponsored the clean-up and rehabiliation of this canyon so that it could be opened and shared with the public. Thank you, Annie!
Photographing Native Plants at San Elijo Lagoon
The day was just perfect! Along the trail, many of the native plants were in bloom, and I was able to find a few wildflowers as well! Another great treat was the number of birds that we encountered.
Entering Slot Canyon
When we finally arrived at Annie's Canyon and Slot Canyon, you could feel our anticipation. If you are claustrophobic, I would suggest taking the alternate "View Point" trail, which takes you up the hill, rather than going through the canyon.
But, if not, you are in for a treat. The sandstone bluffs allow for a very narrow slot in which you can walk through carefully. In the middle of the canyon, you will see the " Mushroom Cave" riddled with graffiti and the remnants of many fires bonfires via the black ash evidence on the sandstone walls.
It should be noted that once you are in, the only way out is by going forward. There is absolutely no room to go backward, especially with others behind you.
At the end of the canyon, there is a metal latter attached to the bluffs, which allows you to exit. The views of the lagoon from the top of the trail are exceptional.
Cardiff State Beach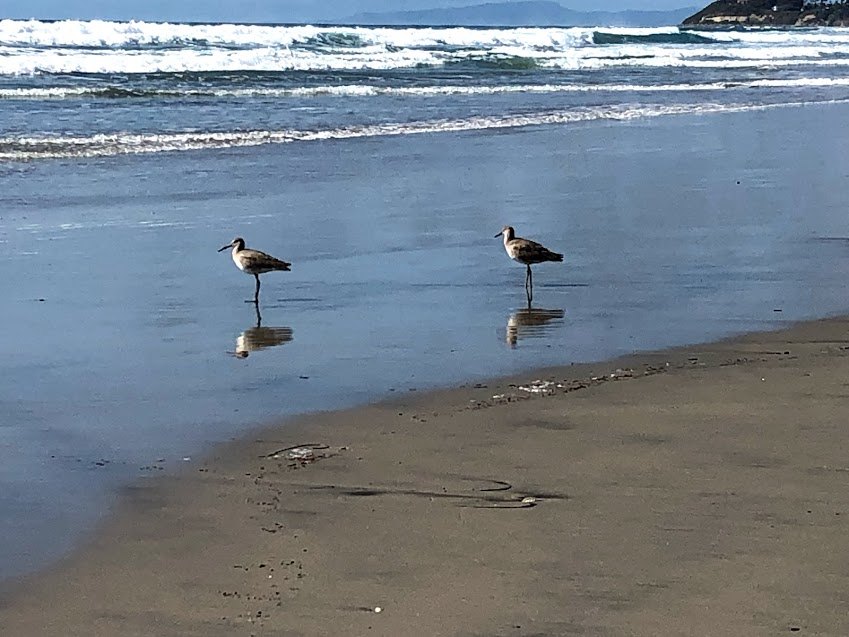 After our hike, we headed across the street to Seaside State Beach and South Cardiff State Beach as well as the inlet of the San Elijo Lagoon. I always love visiting this beach because of all the sand dune vegetation.
---
San Onofre State Beach in April
As I continue my 2019 year in review, I am happy to share with you all one of my favorite trips of last year! On April 2nd, my two girls and I headed off to one of my most favorite beaches in all of San Diego County- San Onofre State Beach.
I could not wait to see how all the native plants and wildflowers were looking as we just had a pretty substantial storm come through a couple of days prior.
Oh, How I Love the Trestles Beach Trail!
We started up north hiking Trestles Beach Trail and saw so many great plants, bushes, and trees looking their best due to previous rain showers. I love how rustic this area is.
San Mateo River was going out to the ocean, and this is the first time that I have witnessed this. There were also so many birds to see hanging out around the inlet.
There was also a lot of debris littering the beach. You do remember me mentioning that we just had two big rainstorms the week before?
I do love driftwood, and you can always find so much here as San Onofre State Beach.
San Onofre State Beach – Bluff Beach
So we stay over at Trestles for about an hour, and then we headed back to the car and drove over to San Onofre Bluff Campground, which is located in the southwestern section of San Onofre State Beach. I have wanted to come here for so long, and today was the day!
Once arriving at the campground, we choose to go to the very southern end and begin our adventure by going down the very last trail, Trail 6.  This allowed me a couple of great shots of Camp Pendleton's beaches to the south.
Another great feature over here is that hardly anyone is ever here. In a state with millions of people, being alone on the beach seems like an impossibility, but not here at San Onofre Trails Beach. I adore the seclusion, and I bet you would too. That is, if you appreciate miles of wild, untouched beach, then this experience is for you!
---
Hiking North Agua Hedionda Lagoon Trails in May
I had a few hours one day, so I decided to go check out the North Agua Hedionda Trails. You see, I have already hiked the Discovery Trail, which is located at the Agua Hedionda Lagoon Discovery Center as well as the Hubb's Trail, which is the most northwestern trail of the lagoon.
To hike all of the trails at Agua Hedionda Lagoon, I still needed to visit: Kelly School Trail, Bayshore Drive Trail, and Cove Drive Trail. So this was my mission today, to visit all of the trails of North Agua Hedionda Lagoon.
Exploring the Kelly School Trail at Agua Hedionda Lagoon
I began over at the Kelly School Trail, which is just under .6 miles long and consists of upland as well as coastal marsh plants. As the name hints, the beginning of the trail is located across the street from Kelly School. The native vegetation over here looks quite old and is pushing its way over the fence in several areas along the trail.
There is a small hill found about midway on the trail that you can walk up, which allows for fabulous views of the lagoon. On this hill, I was thrilled to find many wildflowers in bloom!
Having a Look at Bayshore Drive Trail
Continuing my adventure, I got back into the car and drove a very short distance to the Bayshore Drive Trail. Here is a fantastic spot to go paddleboarding or kayaking as no powerboats are allowed in this section of the lagoon.
To the east, there is an ecological reserve where humans and dogs are not allowed. Birdwatching is fantastic here, especially in the morning.

Touring Cove Drive Trail and Hubbs Trail at Agua Hedionda Lagoon
Just west of the Bayshore Drive Trail is Cove Drive Trail, which is a short .25 mile shoreline hike located near the Carlsbad Boat Club. Here you can walk right along the  Agua Hedionda Lagoon shoreline.
It feels a bit strange, though, because the trail is right next to the backyards of houses above the lagoon. This section of the lagoon is the only spot where you may launch powerboats. No passive vessels are allowed here.
After a short walk on the trail, still having a bit of time left,  I decided to end my day over at Hubbs Trail. I have always loved coming here ever since I discovered this popular fishing spot while working as a Fisheries Technician, back in the day. Here you can see birds foraging in the lagoon, as well as many native plants to photograph.
---
Touring Torrey Pines State Natural Reserve in June!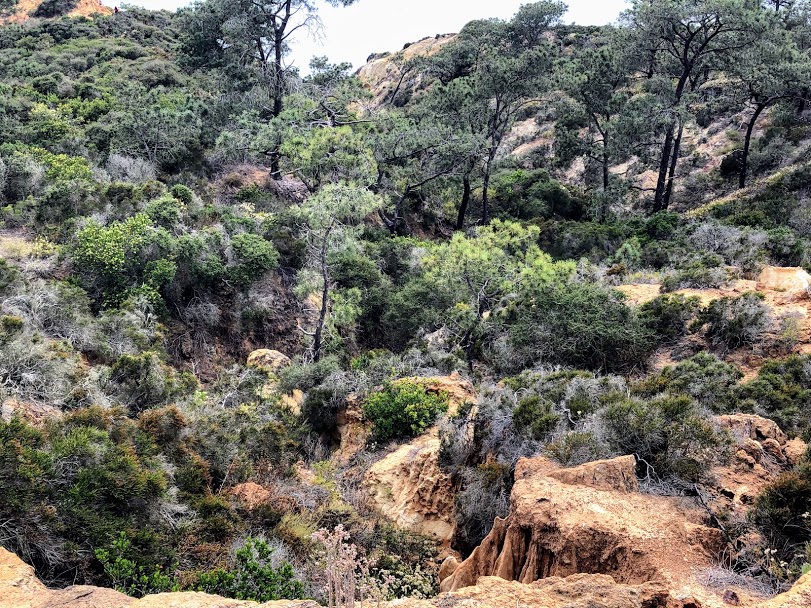 As I continue my 2019 year in review, I would like to mention that I have already written about my San Diego Summer Fun of 2019 in a previous post. I do not want to say the same thing twice (pesky SEO), so if you are interested in additional information, please click on the link above.
First, I would like to give special accolades to my next adventure, as Torrey Pines is and has always been one of my favorite places in all of San Diego.
The funny thing is, is that we were not even planning on going here if it wasn't for the fact that my daughters had two free tickets for the San Diego County State Fair, which is held at the Del Mar Racetrack every year.
My husband suggested that we drop them off for the day so that we could go on a beach adventure, just the two of us. Seeing that Torrey Pines State Beach is just south of the fairground, I found this to be the perfect opportunity to go hiking up on top of the bluffs at Torrey Pines State Natural Reserve.
My mission on this day was to photograph wildflowers. I have never experienced being there when most wildflowers are in bloom, so the anticipation was killing me. Let's say that I was not disappointed by what I saw.
San Diego Native Plants at Torrey Pines
Hiking the Trails at Torrey Pines State Natural Preserve
Seeing that our time was limited, we decided that rather than climbing up a very long and steep hill, parking next to the Torrey Pines Visitor Center would be a better idea.
We started our adventure going on the High Overlook Trail and continued to the Parry Grove Trail, which has 118 steps going down the bluff. I have to say that going down those stairs was my favorite part of the day. It allowed me to get some magnificent shots of the vegetation on the bluffs.
One of the unique things about Torrey Pines State Natural Reserve is the Maritime succulent scrub, which is only found here in San Diego as well as in Northern Baja California, Mexico.
And let us not also forget that the endangered Torrey pine tree (Pinus torreyana) is only found to grow wild at this reserve, and Santa Rosa Island, which is off the coast of Santa Barbara (about 190 miles north).
A Rare Sight on Torrey Pines State Beach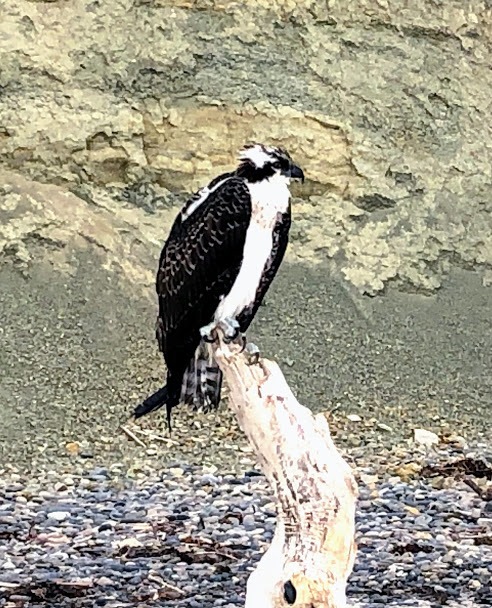 We ended our day by going down to the beach to relax a bit. While I was looking south, I noticed that there was an Osprey! I walked over to get a closer photo. I have always heard that there was an Osprey nest located in the Torrey Pines State Beach Bluffs, but I was never lucky enough to find it. Well, today was the day!
---
July San Diego Beach Days Are My Favorite Days!
Two important days happen in July, my birthday, and my wedding anniversary. As a long-standing tradition (on my part), I always go to the beach on these two special days, and this year was no exception.
My Birthday at Moonlight State Beach!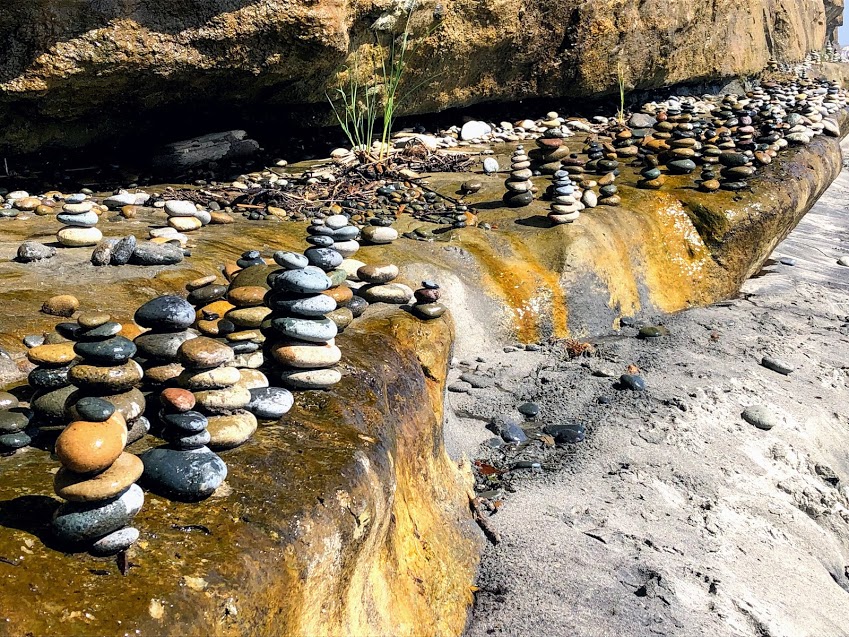 On July 1st, my girls and I head off to Moonlight Beach to celebrate my birthday. My day consisted of my walking south to Boneyards to inspect the bluffs, and to watch the surfers ride the waves near Swami's State Beach.









Fourth of July at Swami's State Beach
On the Fourth of July, my husband and I celebrated our 24th Wedding Anniversary by going to, you guessed it, the beach. I was excited to show him Swamis State Beach, as he has never been.
The day was sweltering, so I was delighted that we brought our beach tent for some needed shade. Even in the shade, it was hot. I feel this is due to the reflection of the sun off of the bluffs. Please keep this in mind if you visit this beach on a hot day.
Located right above Swami's State Beach, I introduced my husband to the Self- Realization Fellowship Meditation Garden. He was blown away by the beauty and was wondering what took him so long to come here finally. For me, this was the fifth time that I have been here, and I love to show this place off!
Annie's Canyon Trail & Swami's State Beach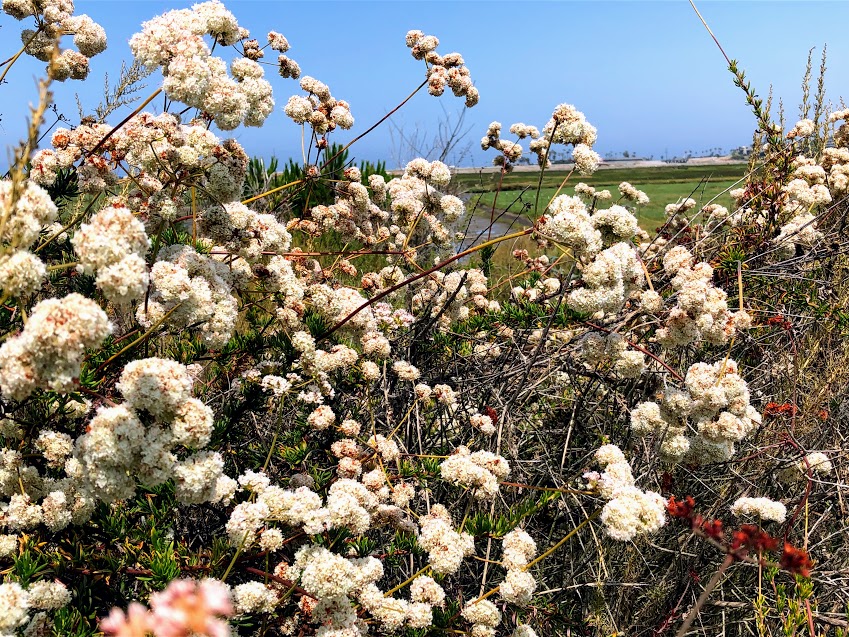 When my youngest daughter and I came here in March, I kept thinking to myself that my other daughter would love this hike! So guess where we went on the 23rd of July? The area was a bit dryer compared to March, but all in all, many of the plants were still in full bloom
After our hike, we headed across the street and spent the day at Swami's State Beach. It was a perfect day!
---
Hot August Beach Days!
Oceanside Breakwater Way Beach- Oceanside Pier
On August 2nd, my girls and I set off to have a beach day in Oceanside, which was a first for me. I have walked the Oceanside shoreline, but I have never set up and laid on the beach.
Later in the afternoon, I walked north to check out the San Luis Rey River inlet. I was pleasantly surprised at how low the tide was on this day, and I got many great photos.
Later on, we all headed south to walk on the Oceanside Pier.
San Luis Rey River
San Luis Rey River Terminus
Roberts Cottages
Cruising North Strand
Fishing to end of Oceanside Pier
Surfing north Oceanside Pier
Heading Down South to Border Field State Park 
I know that I have mentioned that the primary goal of San Diego Beach Secrets is to showcase every single beach on the coast of San Diego County.
Well, on August 13th, we headed down to the most southern beach of San Diego, in fact, the most southwestern spot of the contiguous United States – Border Field State Park.
To read more on this adventure, click here.
Tijuana River Valley Trails Map
Torrey Pine Tree
Salt Heliotrope- Heliotropium curassavicum

Mexico-United States Border
Border Fence on the Beach
Entrance to the beach
Tijuana River National Estuarine Research Reserve
International Friendship Park
Agua Hedionda Lagoon Discovery Center- South Ponto Beach Grandview Beach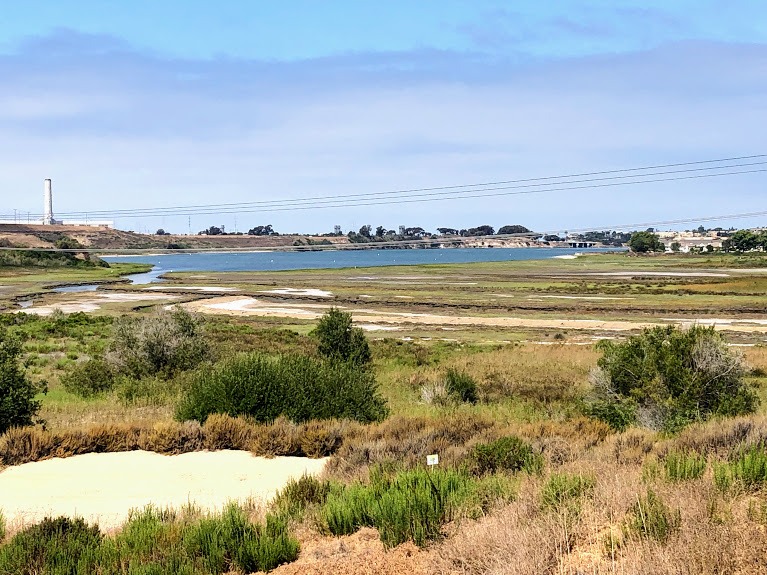 On August 19th, my daughters had an eye appointment in the morning, and we planned to go to the beach afterward.
Well, we got out pretty fast, so we decided to first head over to the Agua Hedionda Lagoon Discovery Center. I was excited to show my girls this amazing nature center, its native garden as well a short nature trail- the Discovery Center Trail.
Around noon we headed south to go to South Ponto Beach. Which is just west of Batiquitos Lagoon I have always loved to photograph South Ponto Beach over here because of the sand dunes.
It was a low tide day, and I was able to walk south to Grandview Beach to see what the surfers were up to.
Piper the Pig
Agua Hedionda Lagoon Discovery Center Trail
Discovery Center Trail
South Ponto Beach, Carlsbad
View from up on the bluffs
Batiquitos Lagoon
Grandview Beach Lifeguard Tower
Surfing Grandview Beach
Grandview Beach Bluffs
Walking & Contemplating My New Life on the Beaches of Encinitas
On August 23, I headed south to spend the day at the beach in Encinitas. I was down in the dumps because both of my girls were away at college, and my son and grandson just moved out as well.
Seeing that I have been a stay-at-home Mom for close to twenty years, I was feeling lost and unsure how to proceed in my new life. So what better place to contemplate life, than on a very long walk at the beach.
Moonlight Beach
When I first arrived at Moonlight Beach, which has been a family favorite for the past 25 years, I tried to lay in the sand and enjoy my environment. Well, that didn't last too long, as I became very anxious. To alleviate my anxiety, I decided to take a hike south and concentrate on taking photos of the bluffs.
As I approached Swami's State Beach, I enjoyed taking a bit of a break by sitting on the reefs and watching the surfers in the water
Rather than sitting on Moonlight Beach on the way back, I kept going north, making my way through Stonesteps Beach and finally reaching Beacon's Beach.
Again, I concentrated on taking photos of the bluffs, birds, and the ocean. By taking photo's, I was distracting myself from thinking about life.
Today, I went a little farther than I have gone before on Beacon's Beach, and I have pictures to prove it! The tide was just right, and I was able to pass this seawall and get a glimpse towards Grandview Beach.
While making my way south, back to Moonlight Beach, I was able to get this great photo of birds flying away from a ground of track and field students that were on the beach — seeing the kids brought back memories of my youngest daughter who used to run track. Isn't funny how sometimes the universe gives you a gift of joy when you need it most?
Oh, how I love this beach!
---
September Days at the Beach!
Have I ever mentioned that in Southern California, the hottest months of the year are September and October? And did you know that my household has no airconditioning? No?
Well, as a way to escape the heat (it was over 100 degrees F), I took my mother-in-law down to Pacific Beach for the day on Sept 4th.
A Day at Pacific Beach & Mission Beach
We started our day over in North Pacific Beach, parked near Palisades Park, and continued on the bluff trail toward Crystal Pier.
The day was gorgeous, but even by the coast, it was hot! There was a storm building throughout the day, and the humidity was extreme.
I wanted to go check out the San Diego River to see if there were any exciting birds, so we headed over to Hospitality Point Park. Around this area is where you can get great views of the river as well as the beginning of the Mission Bay inlet.
Afterward, I was getting a bit worried about my mother-in-law due to the heat, so we headed over to South Mission Bay to rest on a couple of blankets for a while at Mission Point Park
If you like to fish, here is a prime spot! We ended our day over at Mission Beach Boardwalk to have a cup of coffee, which was awful, but the views were divine.
My First Time at Crystal Cove State Park in Orange County!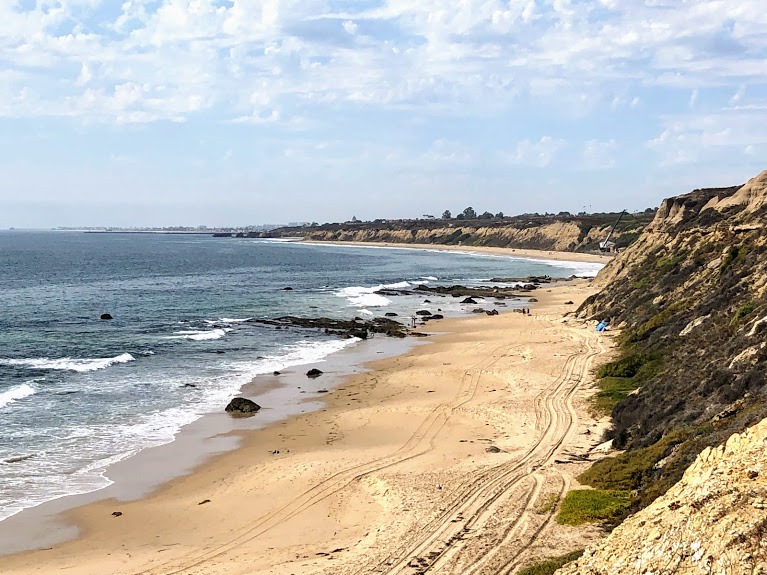 On September 16th, I headed northwest to visit a very good friend who was vacationing in Newport Beach, Orange County. She is a fellow native Californian who moved to the Midwest over three years ago, but she loves the beach as much as I do. Well, on second thought, she loves to layout on the beach, but with a little convincing, I had her walking the shore in no time.
Crystal Cove State Park
She and her family were staying at a beach house for a few days, and I was lucky enough to be invited. Being that this was their vacation, they had planned to go to Crystal Cove. I was extremely excited because I have always wanted to go here. Last summer, my husband and I got a peek of the shoreline while we were on a RIB whale watching tour, and ever since, I have been longing to go here.
At Crystal Cove, there are many cabins that you can rent for a very reasonable price. The only downfall in this day and age, is there are no phones, TV's or WiFi. I could deal with that, could you?
The views here at the park are exceptional!  There are several walkways intermediately that allow you to go up on top of the bluffs.
I am so thrilled that I was able to visit Crystal Cove State Park and can not wait to come back here and share the beauty with my family!
---
October Surprise at Annie's Canyon Trail!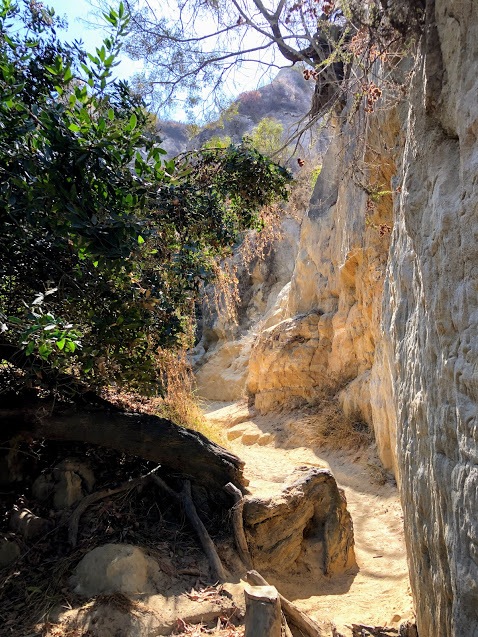 You read that, right! Yes, I visited San Elijo Lagoon's, Annie's Canyon Trail, for the third time in a year! The first time I went with my youngest daughter and thought, wow, my other daughter would love it here.
I went again with both my daughters and then thought, wow, my husband sure would like it here. So, when my husband had a day off, we headed over to Encinitas to walk the southwestern section of the lagoon.
To say my husband enjoyed himself would be an understatement! He was like a little kid in a candy store! So much so, we walked through the canyon three times. I didn't even do that with my kids.
After our epic hike, we head across the lagoon to go and visit the Nature Collective (formerly known as the San Elijo Lagoon Conservancy.,) to take a stroll around the .5 mile Nature Center Loop.
Local and State officials have been restoring the lagoon for three years now and I wanted to see how everything was coming along. Over 120 million dollars was allotted for the project and all should be done and ready by June 2020.
---
---
Reflecting on the End of the Year
While looking over my photos, I had no idea that October was the last month that I visited the San Diego coast. I can not believe how fast this year went by! How about you?
I started the new year the right way by going down to La Jolla on New Year's Day. Usually, this is a tradition with my family. We like to see the first sunset of the new year on the coast.
Do you have any extraordinary things to share regarding your visits to the coast in 2019? I would love to hear. So please feel free to leave any comments or questions. Here is to a legendary 2020
I have always had a deep-seated passion for the Ocean Environment which ultimately led me to receive a degree in Marine Biology. Living in the San Diego area for over 30 years, I have extensively explored the 70 miles of San Diego's coastline, and I am here to share! Please use my website to your advantage and have a look around at all the wonders that the beaches of San Diego can offer you!