Can you believe that 2020 is almost here? Me neither! One of my New Year's resolutions is to go to the beach more. How about you? At San Diego Beach Secrets, our primary goal is to be as informative regarding anything and everything there is to do and see on the coast of San Diego.
So here, I present to you our very first newsletter- the San Diego Beach Buzz!
Down below are a few examples of things to do on the coast of San Diego County for January.
Important Information Concerning the Ocean Waters in January
To start, I must get this pertinent information out of the way. It is not advisable to enter any of the beaches off the coast of San Diego County in January, especially after heavy rains.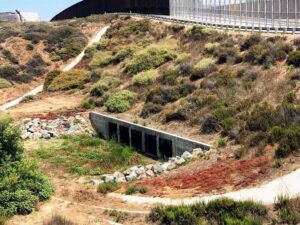 All beaches south of Coronado are closed due to sewage contamination from Mexico, while all San Diego County beaches are also closed due to dangerous urban runoff after recent rainfall.
Unfortunately, this is a common occurrence here in San Diego during the winter months. There are usually signs posted, warning of high bacteria levels, but I highly recommend not entering the water at all, especially near river mouths (lagoon inlets)
New Year's Day Celebrations in San Diego!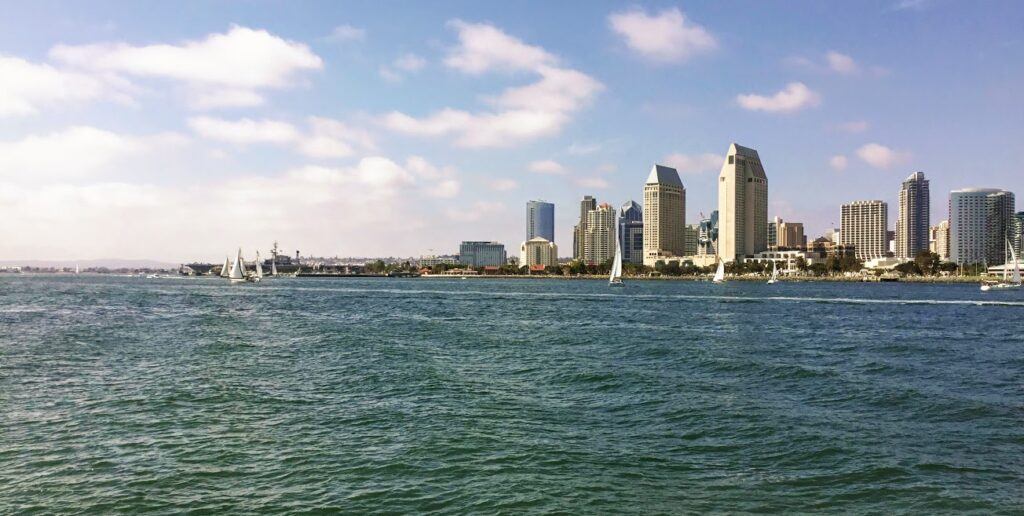 San Diego Bay comes to life during the holiday season. There is always something to see or do over here, and in January, especially so. I found a few free exciting things to do.
San Diego New Years Day Race, (12:25 pm)- fleet racing in San Diego Bay sponsored by the San Diego Yacht Club. The race begins at the east end of Harbor Island.
New Years Day Champagne Brunch with Hornblower Cruises

– (11 am)

January 1-5 San Diego International Auto Show at the San Diego Conventions Center- (10 am to 9 pm) January 1-4; 7 pm on the 5th
January 5- Ice-skating on Coronado Beach at the Hotel del Coronado Hotel! January 5th is the last day to experience this unique opportunity of ice-skating on the beach!
Polar Bear Plunge at La Jolla Shores Beach–
New Years Day Polar Bear Plunge and Chili and Potluck- sponsored by the La Jolla Cove Swim Club (10 am)- this event is for LJCSC members only, but it would be interesting to watch or maybe even to jump into the water with them!
San Diego Bird Watching in January
San Diego County has over 515 species of birds that visit our area throughout the year. The winter months are a prime time to see unusual birds that follow the Pacific Flyway and stop here to rest and gather food.
I have written extensively on the best San Diego birding hot spots previously if you would like to read more, please click on the link provided. Several Nature Centers offer free bird watching tours!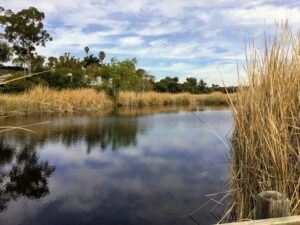 2nd- Leo Carrillo Blvd Bird Walk (8 am- 10:30 am)
4th- Whelan Lake Birding Sanctuary Walk (8 am- 10 am)
8th- El Corazon's Garrison Creek Trail Walk to view birds and local flora (7:30 am- 9:30 am)
 18th- San Dieguito River Park Bird Walk (8:30 am -11:30 am)
25th- Coastal Birding 101 (9 am- 12:30 pm)

in search of wanderers, songbirds, and shorebirds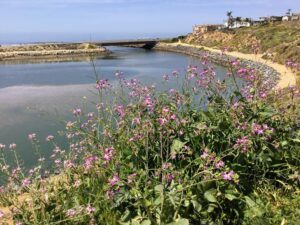 26th- Search the Skies with Rick Groves (8 am), meet at the Discovery Center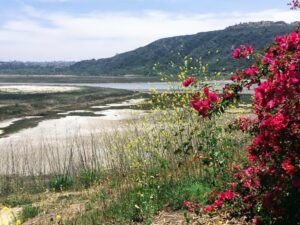 10th- Monthy Bird Count (7:30 am)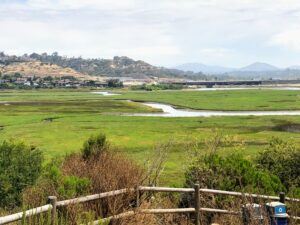 4th- Guided tour with naturalist Mike Blanco (10 am- 11 am)
5th- Family Fun Day (11:30 am- 1:30 pm)- craft making, animal encounters, family-friendly stations, and live presentations
11th- King Tide Tour + Cardiff Living Shoreline- family-friendly beach event during high tide
26th- Wings Over Wetlands (10 am– 3 pm)-annual festival celebrating the birds at San Elijo Lagoon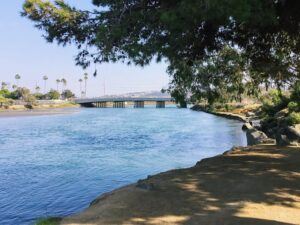 January 4- monthly bird count with Jayne Lesley (7 am-12 pm)
January 18- Volunteer Habitat Restoration (8 am- 11 am)- join a Park Ranger in planting native plants and removing invasive species to protect wildlife habitat
January 18- Whelan Lake Bird Walk– (8:30 am- 11:30 am) with John Haddock who is a member of Buena Vista Audubon Society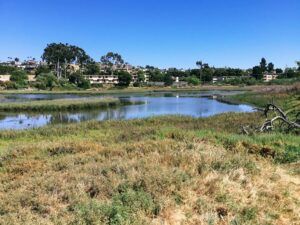 Bird and Nature Walk @ 1 pm- Meet at the kiosk by the corner of Famosa Blvd. and W. Pt. Loma Blvd.
January & San Diego Tide Pools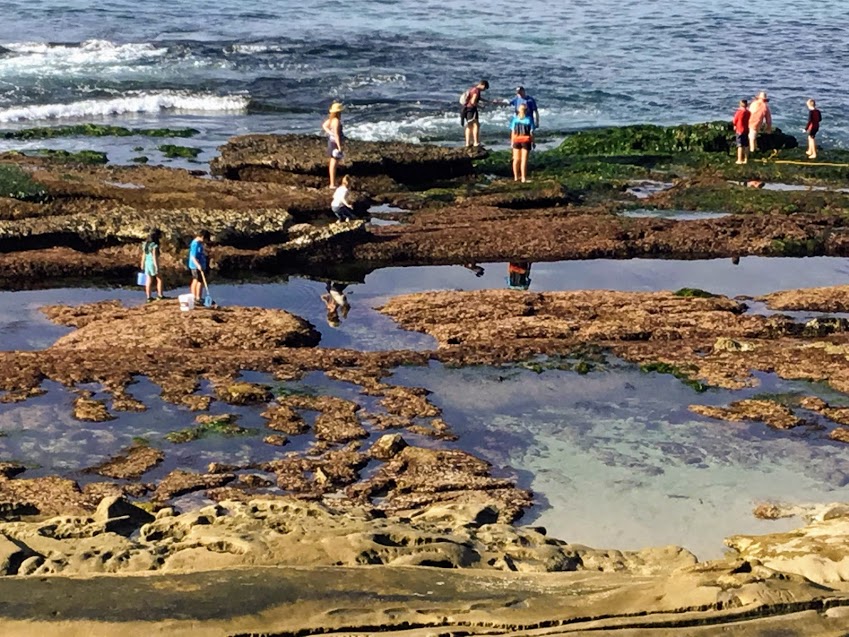 Did you realize that during the winter is the best time to explore tide pools at the beach?  During the winter and early Spring months, negative low tides occur during the day. For January, the best days are found on the 8th to the 12th as well as the 20th to the 26th.
I have previously written about the Top Ten Best Tide Pools in San Diego, so please click on the link for more information.
Make sure to check the tide chart before embarking on your adventure!
Here are two events that I found which are sponsored by the Scripps Institute of Oceanography/ Birch Aquarium.
Click on the link provided for more information
January 11- Guided Tide Pool Adventures at Dike Rock (3 pm- 5 pm)
January 25- Guided Tide Pool Adventures at False Point (3 pm- 5 pm)
San Diego Whale Watching in January!
The month of January is a superb time to check out the southern migration of the California gray whales as well as other marine mammals that pass by the coast of San Diego.
I have listed all the possible Whale Watching tours in San Diego, so please click on the link for more information. On a side note, remember to dress warmly, as it can get quite cold out on the water.
January Extra Tidbits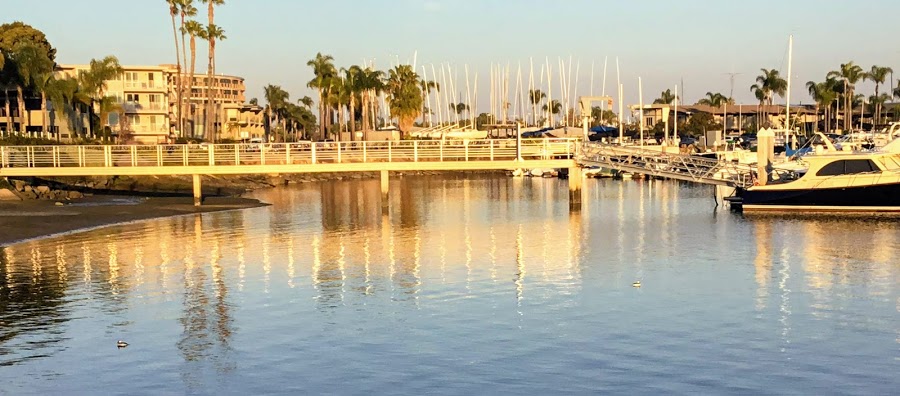 On January 11, from 12 pm to 4 pm, San Diego Brew Fest takes place over at Liberty Station, Here you have a great view of San Diego Bay and Point Loma.
Have a good time choosing to taste over 150 beers from 70 breweries, dance to live music, and experience food truck alley (food not included).
Experience the sights and sounds of the San Diego Bay as well as enjoying both local and international craft beers.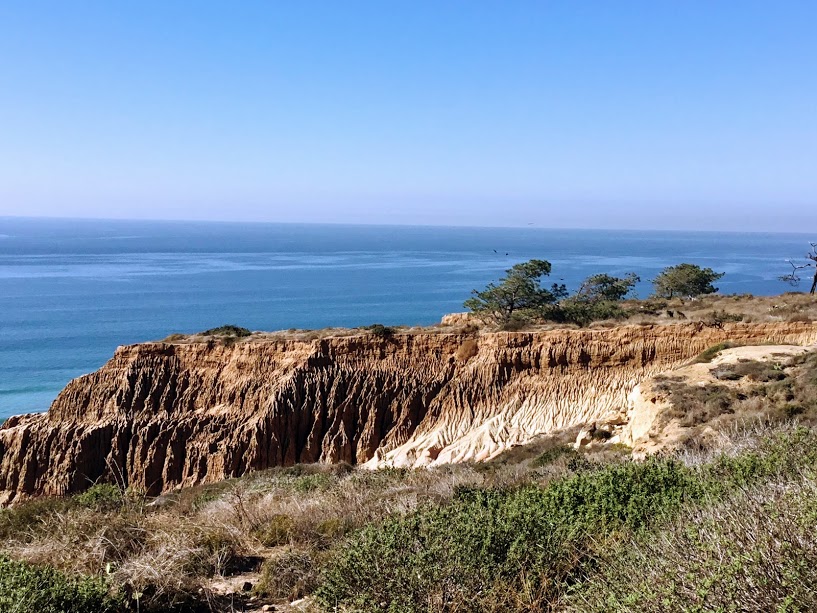 At Torrey Pines Golf Course on January 23-26, the Farmers Insurance Open Golf Tournament takes place overlooking Torrey Pines State Beach and the Pacific Ocean.
Happy New Year From San Diego Beach Secrets!
You wish you all the best year ever!  Here is to much love, prosperity, and world peace for 2020. Please leave any comments or questions that you have regarding the beaches of San Diego, as I am here for you!
I have always had a deep-seated passion for the Ocean Environment which ultimately led me to receive a degree in Marine Biology. Living in the San Diego area for over 30 years, I have extensively explored the 70 miles of San Diego's coastline, and I am here to share! Please use my website to your advantage and have a look around at all the wonders that the beaches of San Diego can offer you!