One of the best ways to experience Oceanside Harbor up close and personal is to go on a Harbor cruise. Or even better, going out of the Harbor and exploring the coastline.  Here, I would like to present to you a list of all possible Oceanside harbor cruises.  As you are about to see, Oceanside Harbor cruises have a little bit of something for everyone. Just have a look!
I have previously written and listed all of the possible whale watching tours as well as all San Diego Sportfishing Party boats offered in San Diego County in two other posts. Please click on the links above for any additional information concerning whale watching or fishing tours in Oceanside.
A Variety of Oceanside Harbor Cruises
There are many cruises to choose from so let's see what Oceanside Harbor has to offer, shall we?
Oceanside Harbor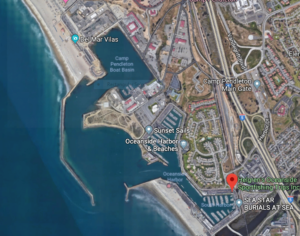 First off, Oceanside Harbor is 38 miles north of Downtown San Diego and is the only harbor in North County San Diego. I could not find any dinner cruises available here, but there are several sailing charters as well as a variety of "special cruises" available.
As I mentioned before in the beginning, I have listed all of the whale watching and fishing tours from Oceanside Harbor in two previous posts so click on the above links if you would like to fish or see whales.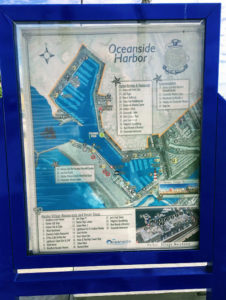 Okay, let us now have a look at what the Oceanside Harbor has to offer!
---
Pacific Coast Sail Charters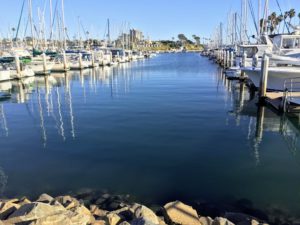 1900 N Harbor Dr, Oceanside, CA 92054
Obsession-39 ft sailing yacht
Captain Les George -U.S. Coast Guard licensed Captain with over 30 years experience
Amenities-
 luxury cushioned interior
XM radio stereo system
complete galley with refrigeration
restroom
up to 6 people
Additional Offerings-
Cruise out to sea or up and down the coast
You may sit back and watch or help with the sails
Sailing lessons
Burials at sea
Team building workshops
Rates-
2.5 hours with up to 6 people-$325
for each additional hour-$75
call for further information
---
Oceanside Adventures
256 Harbor Dr, Oceanside, CA 92054
(888) 507-1130
Private Charter Info-(760) 277-3073
One level design, high-speed 50-foot, 49 passenger catamaran
As you can guess by the name of the website-Oceanside Adventures, their main concentration of tours has to do with whale watching. Well, I found a couple of trips for you that are out of the ordinary.  For example, how would you like to take a Wine Cruise or a Santa Cruise? Check it out!
Wine and Harbor Cruise
From 5 -6:30 pm, on the first Saturday of every month (except Dec & Jan), Oceanside Adventures offers a 90-minute tour of Oceanside Harbor along with an appetizer platter and three tastes of wines from Beach Colony Winery, all for only $39.
 Santa Harbor Cruise
On December 8th, Oceanside Adventures is offering a 20-minute boat ride with Santa Clause between 11 am – 3 pm for only $3! All proceeds are going toward Friends of Oceanside Parks.
Parade of Lights Harbor Cruise
Also on December 8th, at 7 pm the Oceanside Yacht Club will be putting on their annual Parade of Lights in Oceanside Harbor. Come and join the crew of  Oceanside Adventures and be right there in the middle of all of the action!
The tour last for 90 minutes and is only $29 and $19 for children 3 to 12.
Make sure to dress warmly and do not forget your camera!
---
South Coast Sailing Charters
(951) 972-0224
7 am- 9 pm
Sea Star- 42-foot Catalina sailing yacht with a 14-foot width, holds up to 6 people
Captain John Mc Aninch
Amenities-
full galley with refrigeration and freezer
spacious rear padded seating
2 heads (restrooms) with electric toilets
equipped with a dodger to protect from wind and sea-spray
shade cover available upon request
Rates-
2 hours-$275
3 hours-$375
---
Sunset Sails
(760) 207-5572
sailoceanside.com
The Bueno- just shy of 36 feet
Captain Steve Ford
Amenities-
large comfortable cockpit
galley, refrigerator, dining area, showers
Two private staterooms for overnights plus additional bunks
accommodate 1 to 6 people
Rates-
Sunset Sail- 1.5 hour- $250
Day Sail- 2 hours-$250
Day Sail- 3 hours- $350
Learn to Sail- $620
Catalina 3 to 4 day- Call for rates
---
Pacific Marine Charters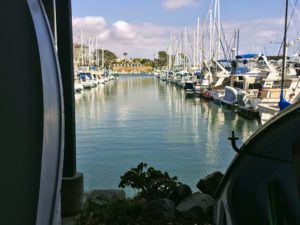 951) 522-6104
La Bella Vida- 36 foot Hunter Sloop Sailboat
Captain Bill Deluna and Captain Glenn Henderson
Amenities-
luxury boat
cabins
restrooms
galley and stove
dodger to protect from wind and sea-spray
inboard engine
Rates-
Day Sail or Sunset Sail, up to 6 people with 2-hour min
$125 per hour
Additional Offerings-
Burial at Sea
Wildlife Watching
Wine Cruises
Educational Programs
Photography Sessions
---
Manfred Marine Unlimited
(760) 500-0849
www.manfredmarineunlimited.com
36 foot Islander Sloop
Captain Bob Olsen
Additional Offerings-
Sunset Cruises
Moonlight Cruises
Memorials at Sea
Romantic Day and Evening Cruises
Adventure Sailing
Rates-
Call for prices and more information.
---
So what do you think? Did you see any Oceanside Harbor cruises that you might be interested in experiencing?
Please check back later as I will be continuing my search of all available harbor cruises in Mission Bay and San Diego Bay. Feel free to leave any comments or questions you may have.
Until next time!
Learn How to Make a Business Website for Free!
I have always had a deep-seated passion for the Ocean Environment which ultimately led me to receive a degree in Marine Biology. Living in the San Diego area for over 30 years, I have extensively explored the 70 miles of San Diego's coastline, and I am here to share! Please use my website to your advantage and have a look around at all the wonders that the beaches of San Diego can offer you!