Today I would like to share with you all one of my most awe-inspiring places to go to in San Diego County. Every time I am here, I never want to leave. Wherever you look, there is something incredible to see. Even the sounds here are sweet! If you enjoy taking photos, San Onofre State Beach is THE place you must visit!   The views here are extraordinary! Situated on top of towering sandstone cliffs, San Onofre Bluffs Campground has some of the best coastal hiking trails to experience in North County, San Diego.
There are seven 1/4 mile hiking trails that lead you down to the beach, as well as countless numbers of ravines, gullies, arroyos, and barrancas.   I think you will love it here, especially if you appreciate a wild and undeveloped beach, which is my favorite type of beach!
On this particular day, my daughter and I started over at Trail Six (see map below) and set up a tent to relax.
My goal on this day was to explore vast amounts of uncharted territory by exploring a few narrow sandstone gullies and a wider barranca south of Trail Six.
Would you care to see what I experienced?
Below, I have provided a campground map to understand the terrain and location better.
–>San Onofre State Beach Bluffs Campground Map and Information<–
*Of particular note- in case you notice the pink hue in some of the photos, this is because of all of the fires that were (some still are) burning while I was here.
San Onofre State Beach Bluffs Campground
First, mentioning a $15 entrance fee is essential, so keep that in mind (it is worth it!). The park is open for day use, but the gates close at sunset.
Before I start, I have written several articles showcasing this gorgeous area! Here they are-
The San Onofre State Beach Bluffs Campground borders Marine Corps Base Camp Pendleton to the South and East. At Bluffs Beach's end is a chain-linked fence and sign to clarify where the State Beach ends and Camp Pendleton begins (see photo below.)
Just for fun- Because I love it so much here, down below are two photos showing the boundaries of San Onofre State Beach. The first displays the northern border and the second the southern border where Camp Pendelton's coastline begins.
Fun Fact- When the initial counties of Los Angeles and San Diego were first set up in 1850, the boundary that separated them was found on the coast at San Mateo Point. So when Orange County was established in 1889, the San Mateo Point was authorized as the southern point for this new county.
Hiking The Entire San Onofre State Beach Coastline
The distance between the Northern and Southern boundaries is over 6.5 miles apart.
So if by some chance you wish to hike from Trestles Beach Trail to Trail Six at Bluffs Beach,  I highly recommend that you consult a tidal chart prior, as some spots on the beach are not passable during high tide.
Also, take the trip back into account because hiking 13 miles in the sand is not an easy hike!
Camping on the Bluffs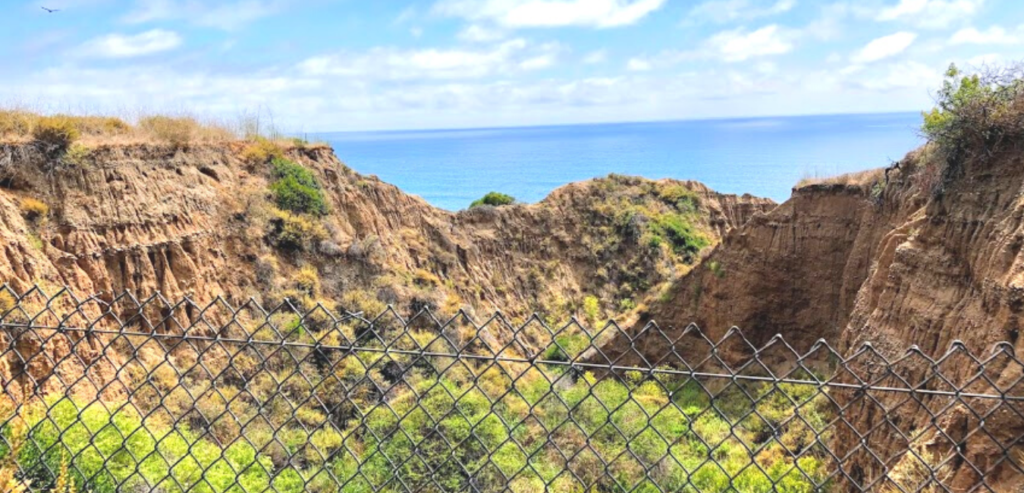 As stated previously, San Onofre State Beach Bluffs Campground is over three miles long and has seven designated trails that guide you down to three and a half miles of sandy coastline.
This rugged and undeveloped campground is located on Old Pacific Hwy 101, converted into a long continuous parking lot.
There are 157 bluff-top and RV camping sites. Once you pay your fee upfront at the booth, somebody will direct you to day-use parking next to Trails One and Six.
Camping Fun Fact-While researching on Yelp, I found some excellent intel to share with you if you are interested in camping here! It seems that the best camping spots with an ocean view are 1-23. While on the other hand, the worst sites are between 24-45. They are considered awful due to the constant loudspeaker noise at the truck depot across the freeway.
*Please note this because you will get a ticket if you park in a designated camping spot.
The Southern San Onofre Boundary, Nudity, and Camp Pendleton
Once we entered the park, we headed to the southern border of the San Onofre Bluffs Campground, near the beginning of Trail Six.
In the past, the beach south of Trail Six was a nude beach.
Let me clarify.
A 1000-foot stretch of beach adjacent to Camp Pendleton was historically used as a nude beach.
At the time of this writing, it is no longer, but there has been an active fight for nudists to reclaim this beach.
I do not want to get into too much detail, and no,  no one was bathing in the nude during our visit.
The fight for the right to be au natural here has been in the works for quite some time south of Trail Six. Please click on the link below to read more about this battle.
–>Friends of San Onofre Beach<—
While reading over The Friends of San Onofre Beach website, the Park Rangers were hassling the nudist's main complaint.
On the other hand, park rangers and staff complained about cleaning up sex toys and condoms. They also pointed out the 150 cited criminal incidents on the nude section of the beach.
In the meantime, some have taken it upon themselves to migrate further south and set up on the Federal beaches of Camp Pendleton.
I am not here to tell anyone what to do, but please be aware that there are hefty fines when one trespasses onto any military establishment.
–>Section 1382 of Title 18 forbids trespassing on military bases<–
San Diego's Other Nude Beach
If you desire to go to a nude beach, Black's Beach in La Jolla is one of the most extensive nude beaches in the United States, and it is located less than 30 minutes south of here!
And the bluffs over at Black's Beach are very similar to those at San Onofre Bluffs Beach. It is a win, win situation!
Trail Six and Beyond at San Onofre State Beach!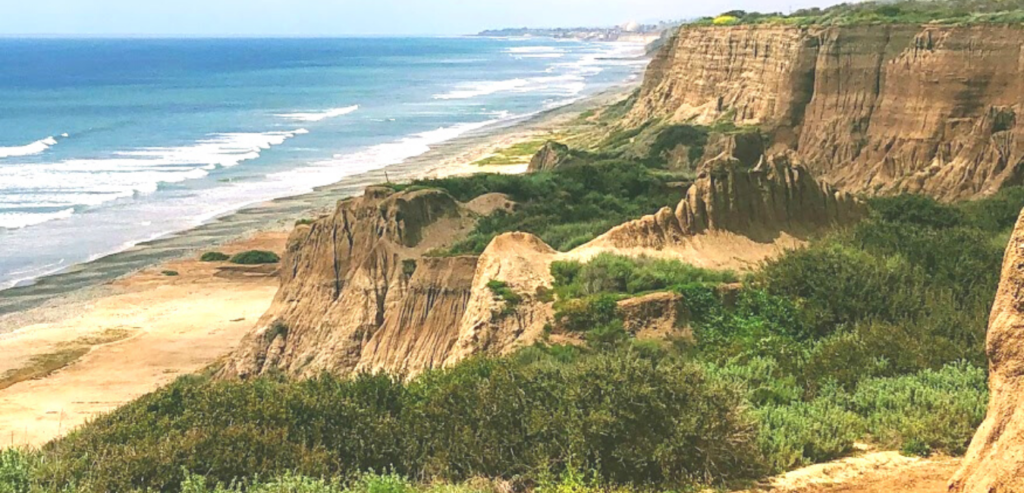 So here we are, standing on top of the sandstone bluffs at the beginning of Trail Six. Over here, you can sometimes forget about SONGS' presence (San Onofre Nuclear Generating Station), which is always a good thing.
On a side note, there have been several shark sightings in the waters near Trail Six.
If you are interested, click on the link provided below.
It is time to head down the trail and check out the beach!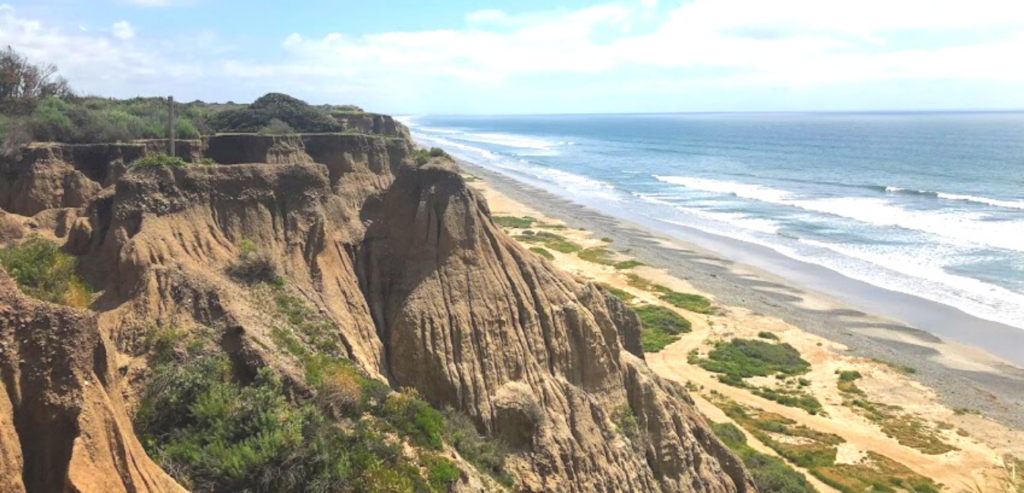 –>San Onofre Trail Six Shark SIghtings!<–
Exploring the Sandstone Bluffs at San Onofre State Bluffs Beach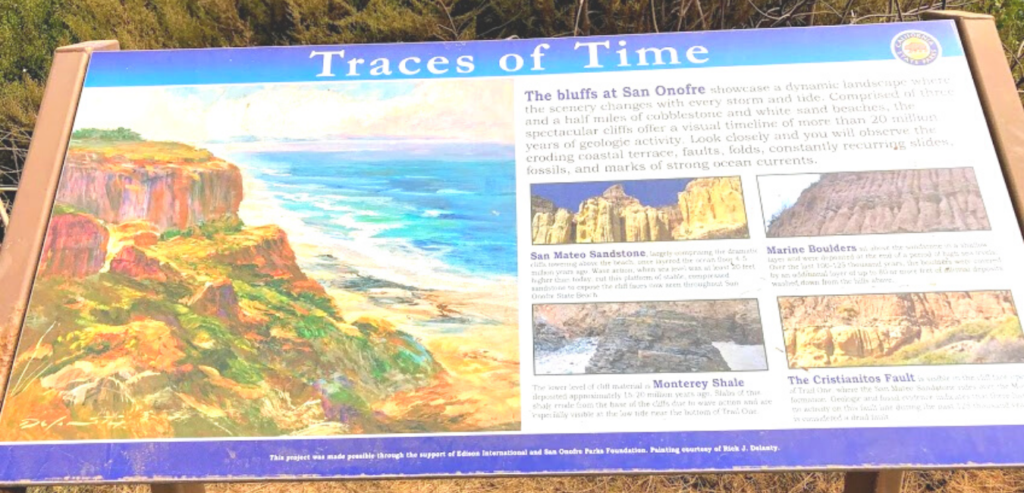 Let's now go check out the bluffs! Most of the geological formations at San Onofre Bluffs Beach are relatively soft and quickly eroded sedimentary rocks. The delicate material was deposited here over 20 million years ago when this entire region was underwater.
This is one of the many reasons you should never try climbing up or down these cliffs. It is surreal how easily these bluffs crumble to the touch.
I found some fascinating information that goes into more depth; if you are interested, click the link below.
–>Geological Gems of  California State Parks<–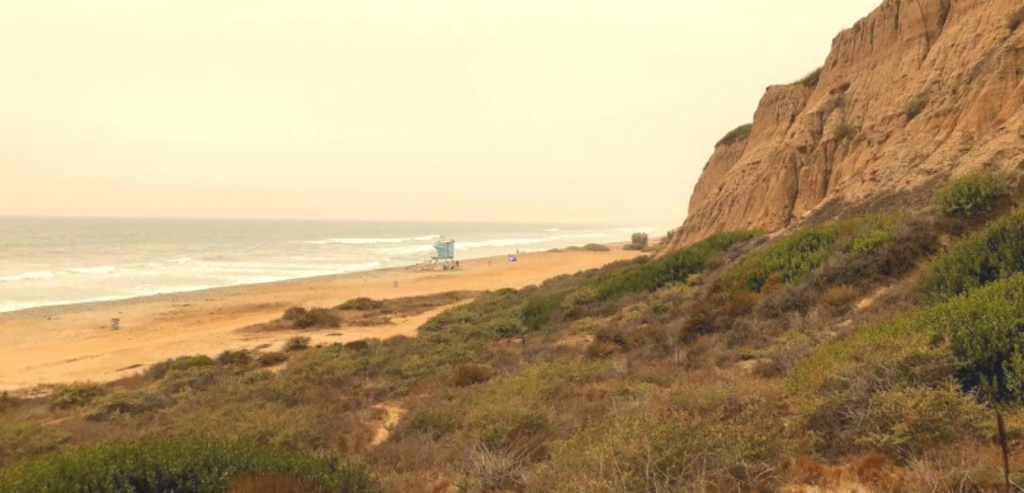 As we continued south, I was taken aback by how large this lemonade berry bush was facing the ocean, right on the shoreline.
Do you notice the lemonade berry bushes also blanketing the top of the bluffs? Looking closely, several tree tobacco plants are swinging in the wind up on the top right.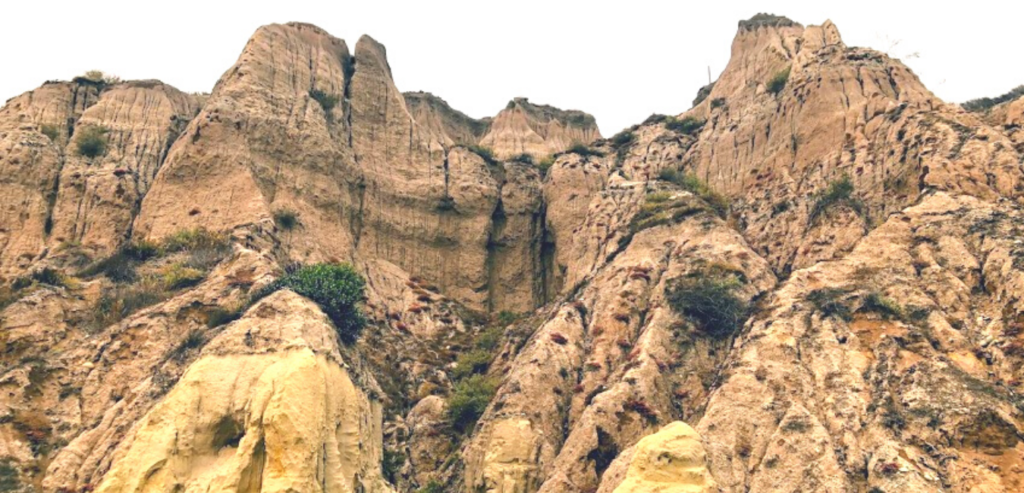 Peeking Into a Small Ravine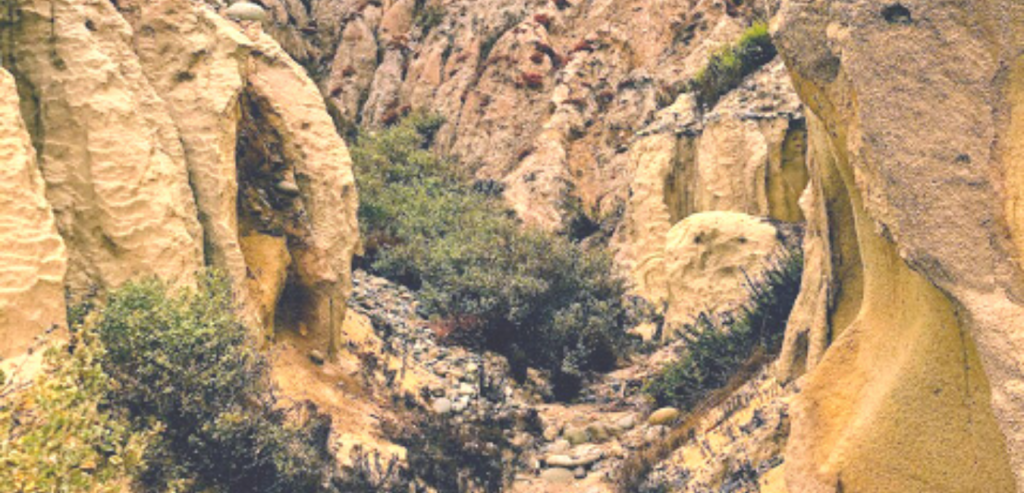 As I entered this narrow ravine, I was surprised by the number of plants and reminded of our unusually high rainy season this past spring.
Now let's walk inside and see what we can find within this hidden passageway! (It is not hidden, but let's pretend.)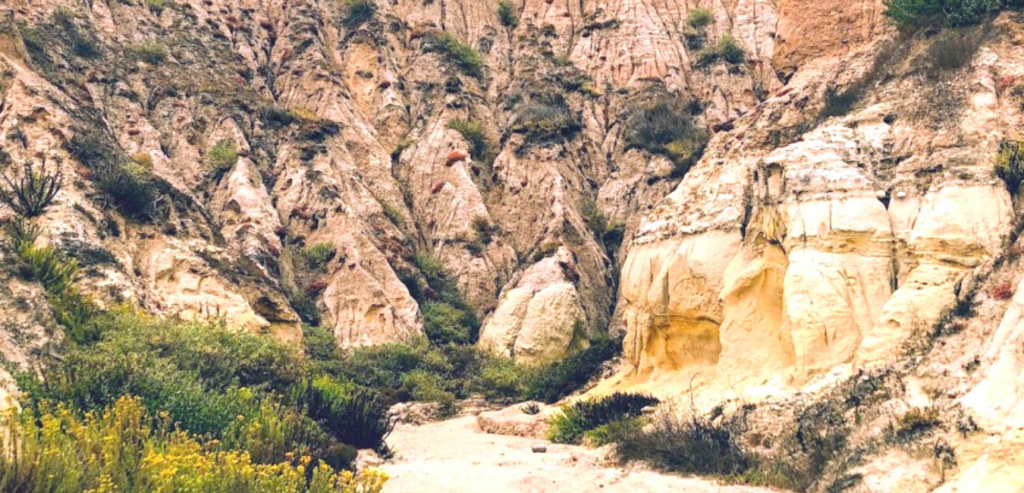 I have a thing for pareidolia, which is seeing faces in objects. Do you all of the faces in the bluffs?
Turning the corner, I was met with more gorgeous lemonade berry bushes.

Here is the spot where I had to turn around. I did not feel safe proceeding any farther because the path was becoming too narrow, so I headed west back to the beach.
Who Were the Kumeyaay?
When I was scanning over these bushes, I recalled how the original inhabitants of this area, the Kumeyaay, utilized this plant.
During quarantine, I spent many hours in the chaparral thicket behind my neighborhood, examining and learning about Southern California's native plants. I studied more extensively about this tribe to acknowledge the first names given to each plant by the Kumeyaay.
The Kumeyaay, which translates to 'those who face water from a cliff,' would harvest the lemonade berry bushes (Rhus integrifolia) to be used as a remedy for colds and coughs to help ease the pain of childbirth.
The fruit of this plant is used as a sweetener, both cooked and raw.
If you are interested in how many other Southern California native plants were used by the Kumeyaay tribe and the native names for each plant, click on the link below.
The information I uncovered is fascinating! 
–>Southern California Native Plants-Native Uses<–
I have also written extensively about a Kumeyaay coastal hunting trail in La Jolla. The path is believed to be over 9,500 years old!
–>La Jolla Coast Walk Trail-Let's Go!<–
Looking Into the Most Southern Barranca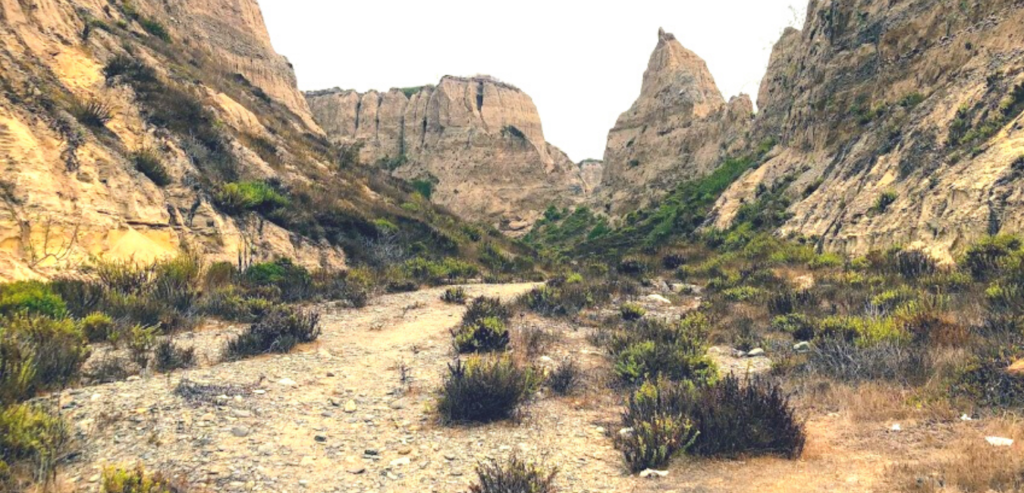 After walking, I came upon a gigantic gully/ravine, a barranca, or an arroyo.
According to its official definition, an arroyo 'is a steep-sided gully formed by the action of fast-flowing water in an arid or semi-arid region, found chiefly in the southwestern US."
While the formal definition of a barranca is "a narrow winding river gorge." Both words are helpful and valuable vocabulary when one is looking to describe, in terms, of, the natural wonders of San Onofre Bluffs Beach.
Let's look at the last barranca/arroyo before reaching the southern border of San Onofre State Beach. The point of view above shows how vast this ravine is. Scattered all about are blooming coastal goldenbushes (Isocoma menziesii.)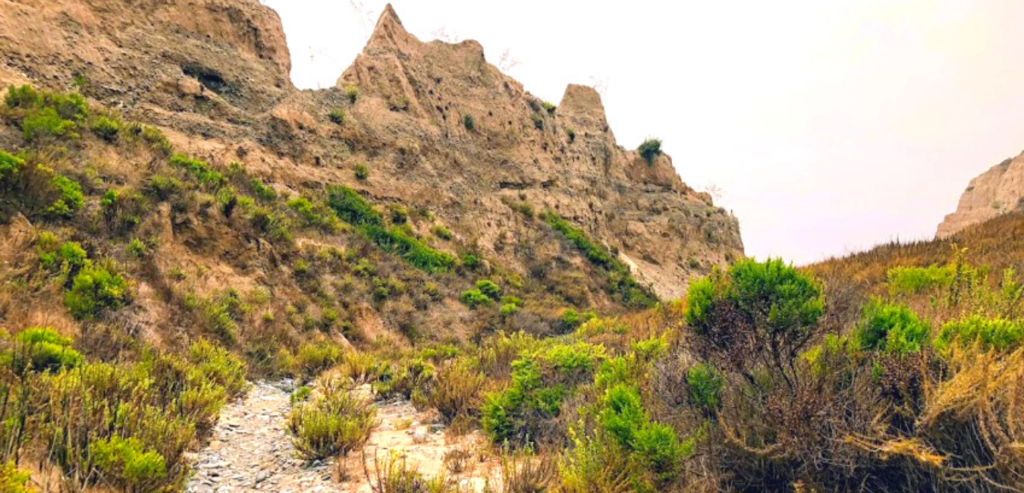 As I turned the corner, I noticed quite a few coyote bushes (Baccharis pilularis.)  I wish I had remembered the Kumeyaay's name for this plant while I was here-Samaall Kwsiyaay.
One way they utilized this plant was as a remedy for poison oak.
Looking to the west inside of the ravine, I noticed that there had been a recent rockslide. During times of intense rainfall, landslides are widespread along these bluffs, but it is important to note that landslides replenish the beach with sand.
Over 80% of the bluffs here at San Onofre State beach show evidence of landslides.
Continuing, we pass by a community of west-facing California sagebrush bushes with a couple of coyote bushes upfront.
The Kumeyaay name for the California Sagebrush bush is Kwechash, and it is utilized for various reasons:  one is inhaling its smoke to treat respiratory tract infections.
Click on the link above to see other ways the Kumeyaay utilized the California sagebrush.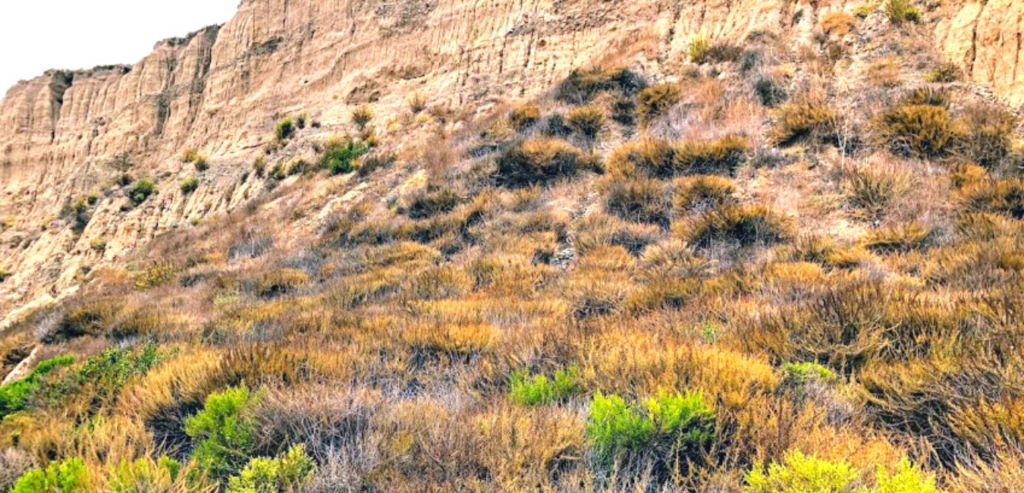 San Onofre State Beach Southern Border
Let's now look at the ocean and walk to the southern boundary, shall we?
The beach here is pretty broad compared to the northern section of Bluffs Beach.
As we were nearing the boundary, we came upon this wooden shack. This is the third structure that I have come here while visiting.
So the question is, why are these structures built here? I think that I stumbled upon the answer!
Who was Saint Onuphrius?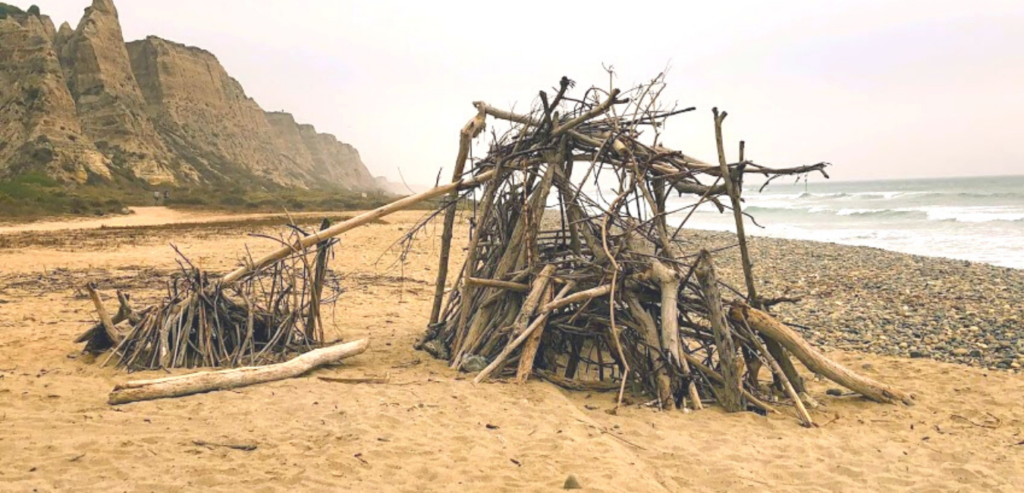 I can not tell you how stunning it is over here. What I especially appreciate while strolling on the beach here is the solitude.
This gets me thinking.
Did you realize San Onofre is named after the 4th Century Egyptian Saint Onuphrius? This park was part of Rancho de San Onofrio y Santa Margarita, established in 1841.
The Legend of Saint Onuphrius
The story has it that Onuphruis retreated to the desert with the great desire to study and imitate the hermits' life.
It is said that he came upon the famous hermit Hermias. Hermias told him that he had been waiting for Onuphrius and had a divine revelation to share.
Hermias then led Onophirius to his modest hut, which was situated underneath a giant palm tree. There they sat and strengthened each other's spirituality by indulging and sharing intimate knowledge.
Legend recalls that his fame spread far and wide to the other hermits in the area, and they would actively seek him out for counsel and blessings.
Wow! I never knew precisely how San Onofre got its name, but this is perfect!
What is extraordinary about this beach is the solitude you can achieve while here. San Diego County has over 3.3 million people,  but you can feel alone on this beach. For example, I was here for over 3 hours and probably only saw about ten people all day.
Now I know better why I keep finding these driftwood huts on the beach! Homage to Saint Onuphrius!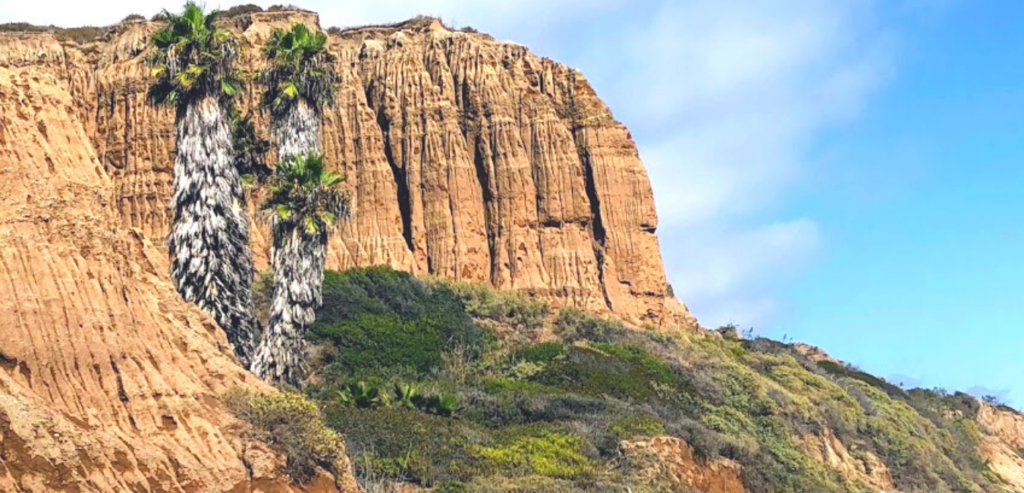 And do you remember how there was a palm tree? These gigantic palm trees are found close to Trail Four, and the hut is by Trail Six. Let's pretend again that the hut was under the palm trees! It sure makes for a great story.
---
What do you think of the bluffs over at San Onofre Bluffs Campground? Do you believe that you would ever like to walk in and out of the barrancas and arroyos?
Thank you for making it this far!
Until next time!
I have always had a deep-seated passion for the Ocean Environment which ultimately led me to receive a degree in Marine Biology. Living in the San Diego area for over 30 years, I have extensively explored the 70 miles of San Diego's coastline, and I am here to share! Please use my website to your advantage and have a look around at all the wonders that the beaches of San Diego can offer you!