One day I decided to head down to the coast to do more research on my website. So,  I had my itinerary ready, with over 12 beaches to check out, starting with North Pacific Beach.
I was fortunate that it was such a lovely day, and it was so warm that I didn't even need a jacket. Where else can you experience the mid-70s in the winter but Southern California?
 My "Beaches of San Diego County" was a big help. Here, I  have linked each beach's address to Google Maps.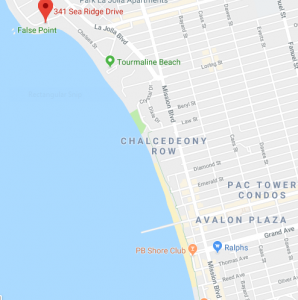 North Pacific Beach/ Law Street Beach- Ocean Blvd and Law St
Crystal Pier- 4500 Ocean Blvd
Tourmaline Surfing Park- Tourmaline St & La Jolla Blvd
Linda Way Beach Access- 341 Sea Ridge Dr
# Of particular note, click on a photo to see an enlarged version.
---
Touring North Pacific Beach
On our adventure today, we will look over North Pacific Beach, Tourmaline Surfing Park, and finally end at the Linda Way Beach Access point.
It is essential to realize that all the above locations are connected when the tide is low and makes for a lovely walk.
First,  Pacific Beach is considered a bustling beach town, with many college students and young professionals living and playing here.
Surfing and partying are all the rage here, but there are a few quieter spots in North Pacific Beach, and I am here to share with you a few prime locations.
Pacific Beach and Bars
It may be a cliche, but the two most popular activities here are beaches and bars. Many bars and restaurants are on the boardwalk,  close to the pier, throughout Pacific Beach.
Looking at the map above, you will see that North Pacific Beach or Law St Beach starts about half a mile north of Crystal Pier.
The large patch of green is Palisades Park, which overlooks Law St Beach.
Examining carefully, you can see that the locations mentioned above tuck under False Point, but more on that later.
Let's go!
Law Street Beach and Ocean Blvd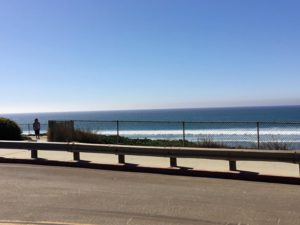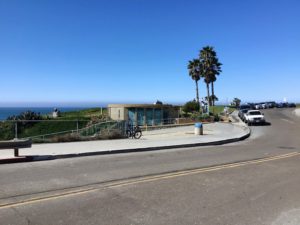 Before starting, it is important to mention several stairways and ramps to use when entering this beach.
Entrances are on Loving St, Crystal Dr,  Law St (where we are), Chalcedony St, Diamond St, and Felspar St.
No parking lot exists, so you must park in the residential area.
Restrooms are available here at the Law Street entrance and the Diamond Street entrance.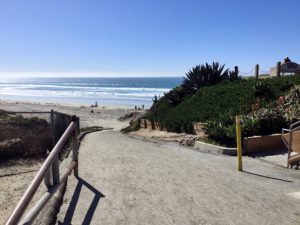 Here we start to go down to the beach, surrounded by 75-foot cliffs.
How fortunate to have this access.
A walking path continues the boardwalk at the top, which starts just past the Crystal Pier.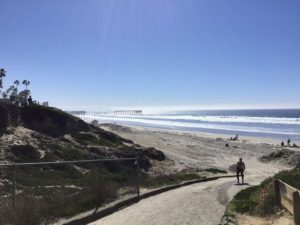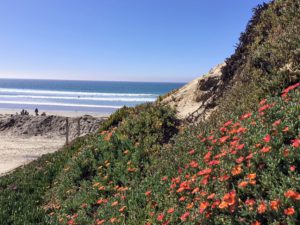 ---
---
Here we have a local surf school set up at the beach entrance.
---
---
Before heading up top to check out Palisades Park, let's have a quick look at Crystal Pier.
Crystal Pier- Pacific Beach
The construction of the Crystal Pier began in the early 1920s. Eventually, it was named the Pickering Pleasure Pier and soon became a popular vacation destination.
At the beginning of the pier, the Crystal Pier Hotel & Cottages, built in 1930, provides the only experience of sleeping over the ocean water.
Some of them even have balconies!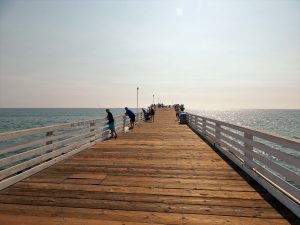 Here at the end of Crystal Pier, fishing is the thing to do.
An interesting fact is that in 1927 the end of the pier was the site of the Crystal Ballroom. Back then, there was a "Midway" in the middle of the pier, with carnival-like attractions and games leading up to the end of the pier to the ballroom.
Unfortunately, it turns out that the Ballroom and the Midway only lasted for three months.
Palisades Park
What a fantastic hideaway that I found! There is a narrow stretch of green grass with benches with the most incredible view! You can experience everything about the beach at this park without the sand.
And do not forget that a walking path and several dirt trails will take you to the beach.
The Pacific Ocean +Yoga= Pure Bliss
I also found an exciting activity here every Saturday and Sunday at 9 am.
A yoga instructor, Namasteve, lives across the street from this park.
He sets up in his front yard and provides a donation-based Vinyasa Yoga class overlooking the Pacific Ocean!
 I would love to try this someday, and I could only imagine what would be unforgettable.
Website– http://namasteveyoga.com
If interested, get there early because over 100 people show up!
You can see the Tourmaline Surfing Park and False Point sticking out north.
Let's go!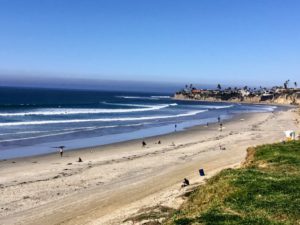 Tourmaline Surfing Park

Tourmaline Surfing Park is right at the border of San Diego and La Jolla. Surfing at this beach has been extremely popular here since the early 1930s.
Nestled between towering cliffs, the surfers would call this place 'The Canyon" because of its unique access to the beach due to its being a canyon.
Back in the day, access to the beach was minimal due to all the residential housing in this area.
While researching this site, I found some interesting facts about the Tourmaline Canyon in the 1960s, so please visit here if you would like to know more.
Here we have a vast parking lot. Do you notice the descending roadway making its way to the parking lot?
Looking at the memorial at the restroom, I discovered that the motto of this park is: "Surf well, spread Aloha, share waves without judgment."
---
---
Family Friendly Surfing at Tourmaline
Tourmaline Surfing Park is a beautiful family beach and a great place to learn how to surf.
There are two surf breaks here, one close to shore, ideal for beginners, and a break farther out for the more advanced wave rider, and both great for longboards!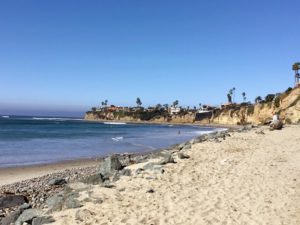 During the wintertime and with a north swell, False Point helps form some incredible waves that will travel to Tourmaline.
Several surfers are out in the water riding the more advanced wave found near False Point.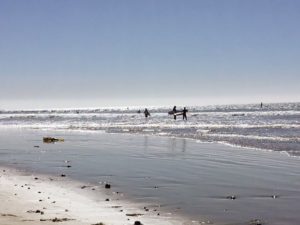 We are getting close to False Point, so let's look!
False Point-Linda Way Beach Access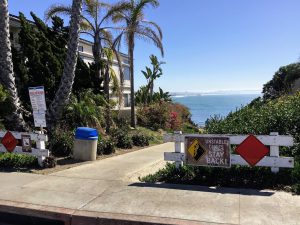 I was so excited to find this access way to the beach! The view here is out of this world!
There is no parking lot or natural beach, just a bunch of rocks. But, when the tide is low, this is an excellent spot to check out the tide pools.
Let's see!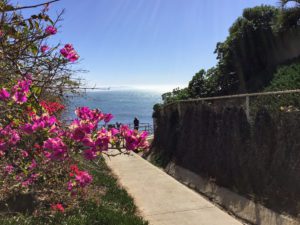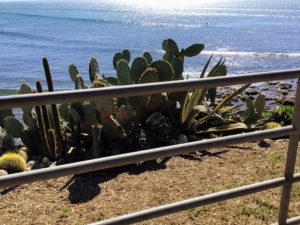 Here we have the perfect example to showcase that Southern California is a semi-arid desert. Where else can you see cacti next to the ocean?
Linda Way/False Point Tidepools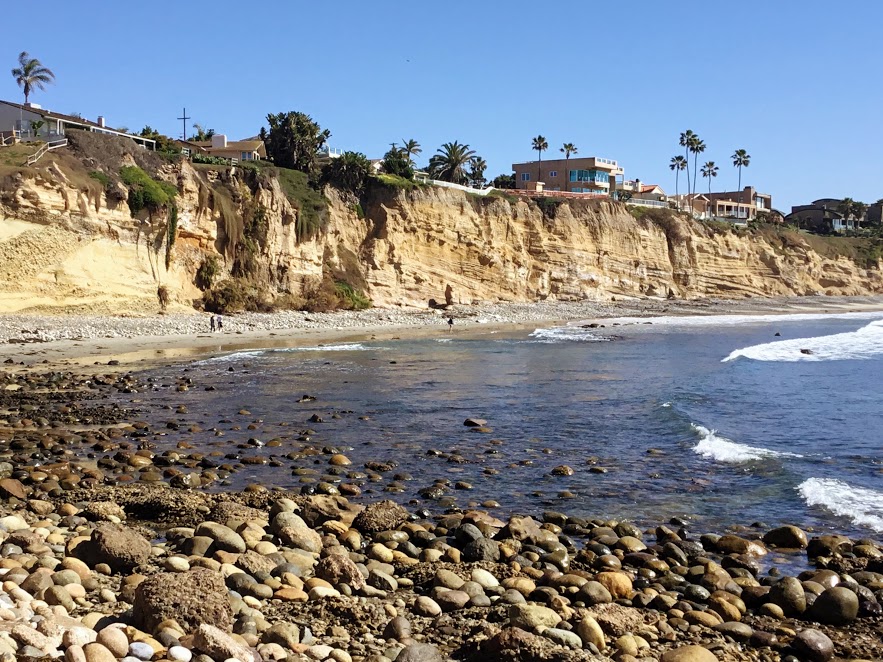 Looking toward Tourmaline Surfing Park to the right, you can see that both beaches are connected when the tide is low.
In other words, if you would like to go for a walk here, checking a tide chart is a must!
False Point is a popular site for tide-pooling; the Birch Aquarium offers naturalist-led tide pool expeditions here.
Oh no! A storm drain!
A good rule of thumb is never to go into the ocean the day after a storm, especially near a storm drain.
Exploring the beaches of North Pacific Beach was so satisfying, as it felt like I was the only one on the beach.
There is nothing better for the soul than a day at the beach.
End of the Tour
So there you have it- North Pacific Beach, Tourmaline, and False Point are all connected with a low tide.
The bluffs are magnificent, as well as the views of the incoming waves. The walk is just spectacular but very rocky over at False Point.
All in all, you can not go wrong visiting here on a negative low tide day.
There is so much to see and do. I especially enjoyed watching the surfers off of False Point.
It is hard to imagine paddling so far out to catch a wave!
---
I hope you enjoyed your mini-exploration, and my only wish is for you to come out and enjoy the area for yourself!
Please feel free to leave any comments or questions below! Also, please check back, as I will concentrate on the nine other beaches I visited on this day, starting with the beach right around the corner from False Point.
Thanks again!
---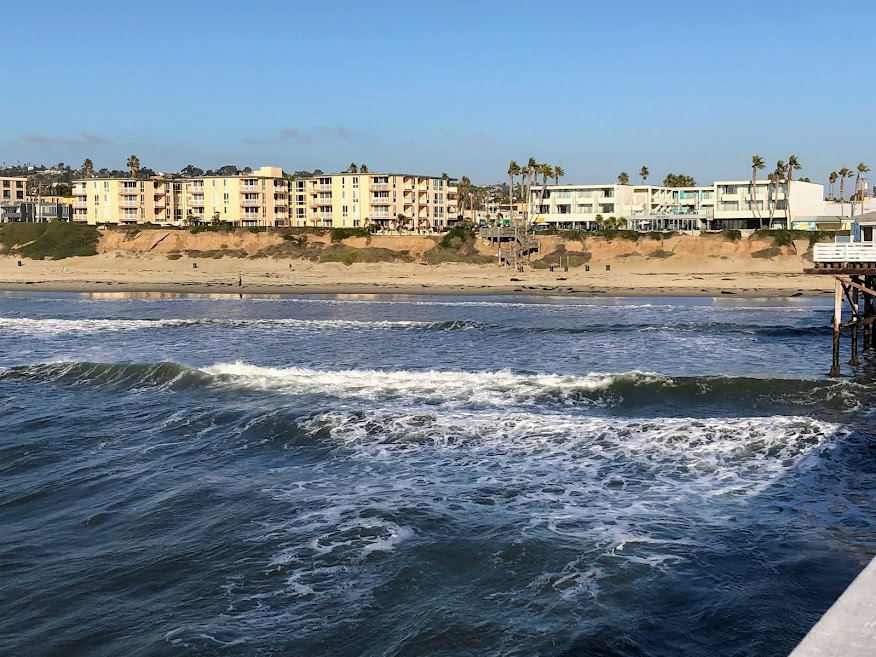 Helpful Posts-
I have always had a deep-seated passion for the Ocean Environment which ultimately led me to receive a degree in Marine Biology. Living in the San Diego area for over 30 years, I have extensively explored the 70 miles of San Diego's coastline, and I am here to share! Please use my website to your advantage and have a look around at all the wonders that the beaches of San Diego can offer you!