I remember when I was working at a coffee shop in San Diego's Hotel Circle while in college, the number one question that the tourists would ask was, "Where is La Jolla," followed by, "How did you get to Black's Beach?"
Ok, so why so many inquiries?
Well,  the answer is that Black's Beach is one of the largest public nude beaches in the United States. Just thinking about seeing naked people made me uncomfortable when I was young, so going there at that time was out of the question.
Fast forward twenty-five years later, and I end up taking my two teenage daughters there!
Did I also mention that the surf is phenomenal?
Black's Beach is a Nude Beach, You Say?
The naked truth is yes; you may be swimsuit-free on this beach if you like or fully clothed if you wish as well. My girls and I, yes, we had clothes on, if you were wondering.
In the mid-1970s, Black's Beach was the first and only public nude beach in the country.  Around 1977, the southern portion of the beach was taken over by the City of San Diego, and nudity was no longer allowed, but the northern section still allows nudity to this day.
---
---
How To Get To Black's Beach
Black's Beach is located at the southern portion of the Torrey Pines State Reserve in the community of La Jolla in San Diego. It is an extremely isolated beach and therefore difficult to reach.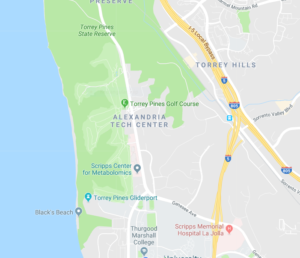 There are four different ways to get to Black's Beach.
Of particular note, I would like to mention that I have written extensively on several of these options, so I have linked each specific post for you if you would like more information.
Several Ways to Get to Black's Beach
First off, you may park at Torrey Pines State Beach and walk about 2 miles south.
The second option is to start at La Jolla Shores Beach and walk about 3 miles north.
The third option would be to park at UCSD and walk down Salk Canyon Rd, which is a .5 mile gated and paved road that lets you out at the southern section of Black' Beach. Unless you are a student, I do not suggest parking on campus.
And finally, the way that we took down today is called the Torrey Pines Gliderport Trail. This trail is not for the faint of heart as the descent is steep, but all in all, the path is kept up pretty well. A group of nudists maintains the trail throughout the year.
Torrey Pines Gliderport Trail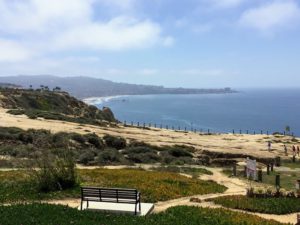 Torrey Pines Gliderport is located between the Salk Institute and the world-famous Torrey Pines Golf Course.
Established in the 1920s, the Torrey Pines Gliderport has been the go-to place for any foot-launched aviation, such as paragliding and hang-gliding.
Today we will be taking the trail, which is located just to the south of here.
---
Walking Down Gliderport Trail To Black's Beach
Ok, are you ready to go and see this unique beach?
Let's go!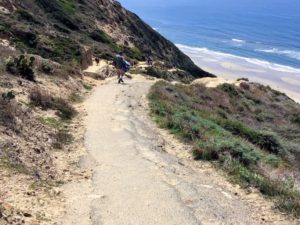 Here we are making our way down at the beginning of the trail. As you can see, there is much erosion.  It is critical to be aware of your surroundings at all times. The descent is steep, so if you have bad knees, this trail is not for you.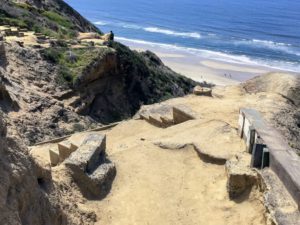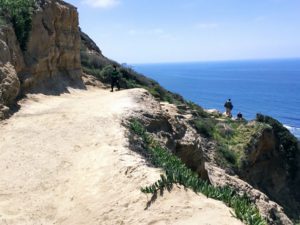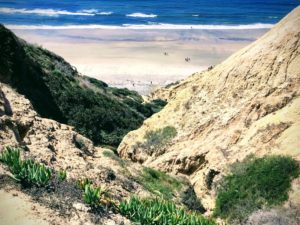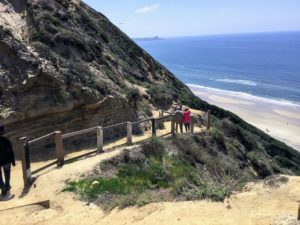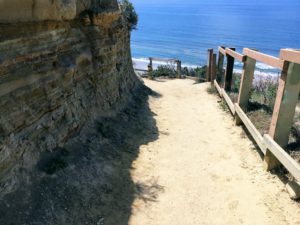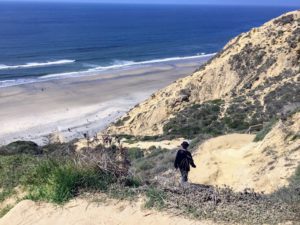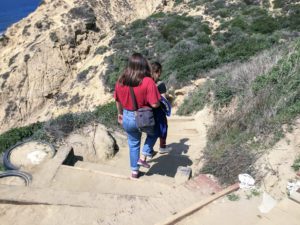 We are almost there!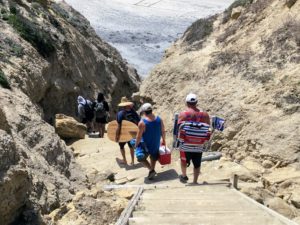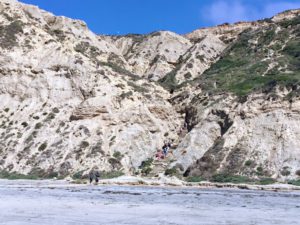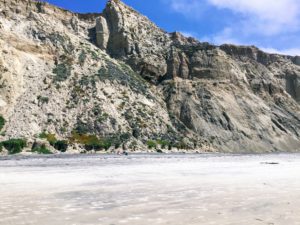 Here, have a look at what we saw when we first exited the trail.
The Naked Truth
When we exited the trail and looked to our right, we were immediately taken aback by the 'unclothed' sunbathers. Yes, we saw naked people.  Not necessarily saw, maybe glanced at would be a better word. We turned left and started to walk South.
And the naked truth was that we were uncomfortable. To each their own, I always say, so we just kept our heads down and our eyes straight ahead.
Ho Chi Minh Trail
Just south of the Gliderport Trail, we now come upon the Ho Chi Minh Trail, which many will use as a way to get down to Black's Beach.
It is a hazardous way to get here, so I will not say much more, except do not go down this trail.  I am not sure if this was a drill or if someone was really being rescued, but there was a helicopter flying around while we were here. Please do not try this route!
Look how small my girls look next to these cliffs!
Let's go and check out the southern section of Black's Beach! Remember, you have to wear clothes over here.
South Black's Beach-Torrey Pines City Beach
On the southern side of Black's Beach, a phenomenal surf break is located right offshore.
The excellent surf is primarily due to the funneling of the swells going through the La Jolla Submarine Canyon, especially on a WNW swell.
The water is also notoriously rough, so only the most advanced surfers should surf here.
Also, swimming is not recommended here, as the rip currents are powerful.
I was surprised by how much sand is on this beach.  I can not think of any other beach which sits in front of cliffs having this much sand and beach anywhere else in San Diego County.
Looking toward the south, you can see Scripps Beach and La Jolla Shores Beach in the far background.
Heading Back to North Black's Beach
While heading back, my girls were panicking a bit, so I told them to stay on the south side while I proceeded to go north to take a few more photos. I kept my eyes straight ahead and tried to remain cool.
Suddenly In the distance, I saw an unclothed young gentleman walking towards me on the shoreline. I stopped and turned toward the water, and started taking pictures of the waves and a shorebird.
Here is the picture I was taking when the bare naked man was walking by on my right.  I will not lie; I stayed here for quite some time until the coast was clear.
Once the coast was clear, I headed a bit more north and came upon more people without bathing suits.  I found it fascinating that there were just as many people walking the beach clothed on Black's Beach, enjoying the shoreline, as unclothed.
Looking over toward the cliffs, can you see the paragliders are soaring in the air?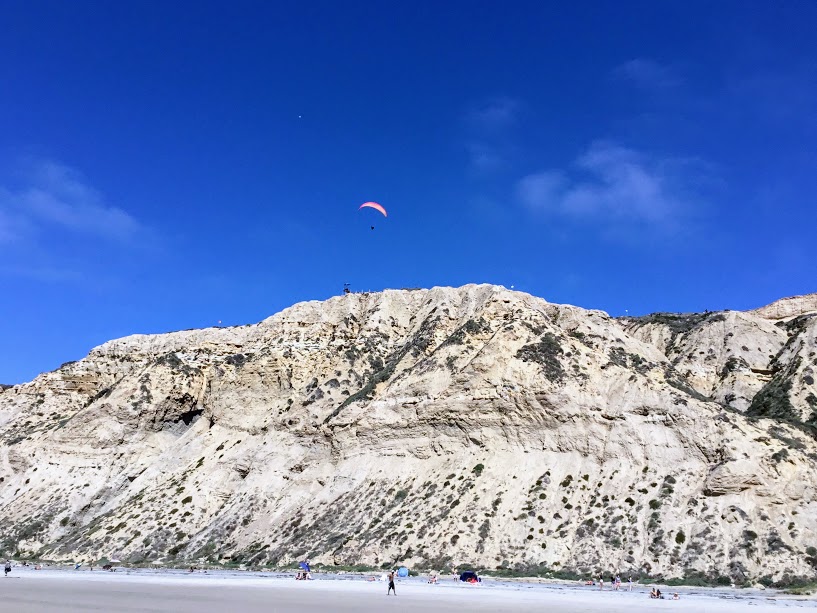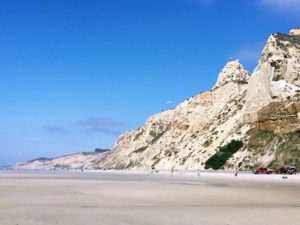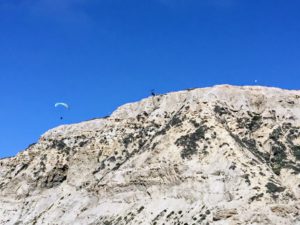 There is a lifeguard posted up here to keep a watch on the water.
 Can you spot him at the very top?
End of Our Adventure
So, thank you so much for joining me on my very first visit to Black Beach; I must end with apologizing to any nudist or naturalists that I may have offended by the overuse of the word naked throughout our adventure. But, I am not afraid to say that it was quite a shock to me! I think I will be able to handle it much better next time. In fact, one day, I think I will come here and lay out…on the south side, of course.
---
So what did you think? Would you like to visit a nude beach? Have you ever visited a nude beach before? I know I will always remember this day, and I am pleased that I finally came to Black's Beach, even though it took me 25 years to do it!
Until next time!
---
I have always had a deep-seated passion for the Ocean Environment which ultimately led me to receive a degree in Marine Biology. Living in the San Diego area for over 30 years, I have extensively explored the 70 miles of San Diego's coastline, and I am here to share! Please use my website to your advantage and have a look around at all the wonders that the beaches of San Diego can offer you!