One of the best ways of experiencing a marine environment is by being out on the water. The purpose of this post is to concentrate on Mission Bay and list all of the available Mission Bay cruises that are offered.
To begin with, I want to take the time to mention that all cruises I will be listing do not include whale watching or fishing. I have written extensively on both previously, so please click on the above-underlined links if you want further information.
Mission Bay History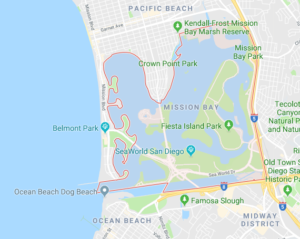 Mission Bay, home to San Diego's pride and joy, Seaworld, is located just 13 miles north of Downtown San Diego.
Originally a salt marsh, the city of San Diego put a concerted effort into transforming Mission Bay into an aquatic park known as Mission Bay Park. The park's development started in the mid-1940s and continued throughout the 1950s and 1960s.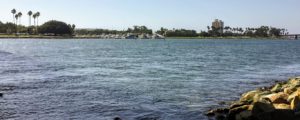 Once finished, Mission Bay Park spanned over 4235 acres with a total of 27 miles of coastline, making it the largest man-made water park in the country! If you like the ratios- Mission Bay Park is 54%water and 46% land.
That is a lot of water! So let's get on the water now!
Fun Fact- When Juan Rodriquez Cabrillo sailed by here for the first time in 1542, and he named this area 'False-Bay', due to the fact that it was a huge tidal marsh.
Mission Bay Cruises
Let us now look at the wide variety of Mission Bay cruises I have found for you! I want to start with the larger cruises and continue with smaller venues, followed by sailing charters.
(#Updated information for 2021)
Cruise San Diego
(619) 288-8554
Ohana– 65 feet double-decker, holds 128 people
Amenities–
unique design for bay cruises
year-round
indoor, outdoor sitting
private charters
roped off VIP areas, reserved Captains Bridge available
Cruises–
Sunset Cruise offered every Thursday and Saturday from 4:30 to 5:45
Mission Bay Cruise-3 pm, 6:45 pm, 8:30 pm
Sea Nature Cruise- call for information
Rates–
Adults (18 and older)- $39
Children (2-17)- $35
Captain's Bridge- $99
Under 2- Free
Special Notes–
Cruise San Diego has a few additional offerings, such as having a chilled bottle of wine waiting for you and chilled vodka. Please take a look at their website for more information.
The Ohana is docked at the Hyatt Mission Bay Regency Mission Bay Marina.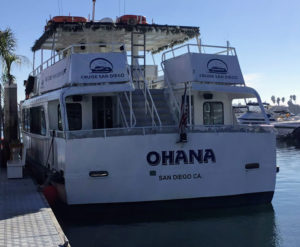 ---
Bahia Belle Cruises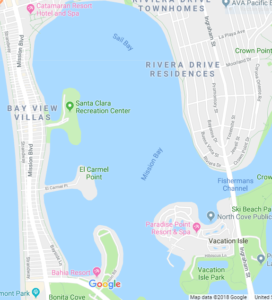 (858) 488-0551
bahiahotel.com/bahia-belle-cruises
Bahia Belle– 74-foot, holds up to 160 people
William D Evans– 100-foot, holds up to 450 people
Two Mississippi-style sternwheeler triple-decker boats cruise Mission Bay between the Bahia Resort and Catamaran Hotel and Resort and Spa (see map above.)
Fun Fact- The Bahia Belle, built in 1942, used to ferry military personnel in San Diego Bay.

The Bahia Belle and The William D. Evans docked at the Bahia Resort
I found another unique Mission Bay cruise out of Bahia Resort Hotel and its sister property, Catamaran Hotel Resort and Spa.
Every weekend (Friday to Sunday), a complimentary family sunset cruise is offered to guests of both resorts.
But, I did find that the public is also welcome, but for a fee. It must be noted that this cruise is first-come, first-serve, and resort guests board first.
Amenities-
indoor and outdoor seating
observation deck
full bar
wifi
Cruises-
Family Sunset Cruise- 6:30 pm-9:30 pm, Friday-Sunday, (except December-February),
Bahia Afterdark- 9 pm- 12:30 am, live entertainment, DJ's, $5 drink specials
New Year's Eve–see website for information, reservations a must
Both boats are available for private events- Cruise Packages
Rates-Free to Resort guests, all others $10
Special Notes-
There are several boarding times available at both resorts, so please refer to the Bahia website above for more information.
---
Osprey Yacht Charters
(619) 253-0420
Osprey 62– 62 -foot, holds up to 12 people
Captain Arturo
Hours- 8 am to 8 pm
Amenities-
the interior has room for 6 to sleep, with two cabins and one master suite
Three heads with showers
sumptuous and comfortable seating
21-foot beam allows for better equalization of the water
Cruises-
2-hour Daytime Day Charter
3-hour Daytime Day Cruise
3-hour Sunset Bay Cruise
Rates-
2 hours- up to 6 people-$600, up to  12 people- $800
3 hours- up to 6 people-$800, up to 12 people- $1000
Special Notes-
Also Available for:
Fishing Charters- 1/2 day for $1300; 3/4 day for $2600
Ash Scattering
Private Catalina Charter- 3 days and three nights for up to 8 people- $6500
Private Mexican Outerbanks Charter
Live Music Boat Concert- cruise Mission Bay, then anchor in the middle of the Bay and enjoy a private concert- $1200
---
Duffy of San Diego
(888) 582-6080
Duffy of San Diego | Boat Rentals & Charters San Diego
Duffy Bay Island  Electric Boat- 21-foot, electric, silent and eco-friendly
Hours- 9 am to 4:30 pm
Opened every day except Monday, with the Captained Wine Cruise only available Wednesday-Sunday.
Amenities-
Carpeted interior, mahogany tables, cushioned with pillows, a Surry op with a crystal-clear enclosure which may be opened up if you wish
All passengers have their own space and table
surround sound stereo
Cruises-
A 90-minute Captained Wine Cruise- includes wine with a cheese and cracker platter. You may upgrade to a Charcuterie plate for an additional fee.
Six passenger maximum (due to COVID restrictions, all have to be from the same family)
Three-time slots are offered: 11:45 am, 1:45 pm, and 3:45 pm
Rates-
Two people- $189
Four people- $396
Six people- $594
It should also be noted that infants and children count as a passenger.
Special Notes-
Duffy of San Diego also offers boat rentals, with their vessels fitting up to 10 passengers. No boating license is required! Please refer to the website for more information. It sounds like a fabulous way of experiencing Mission Bay while on the water!
Here are the rates:
1.5 hours- $198
3 hours- $309
Brand New 2020-2021 Boats- $209
---
Malarky Charters
(844) 724-5787
Malarky- 47-foot performance sailing catamaran
Available every day for private charters
Amenities-
four queen beds
outdoor lounge deck and dining table
full kitchen
indoor lounge and dining table
room for up to 12 people
Cruises-
Sunset Cruises
Wind and Wine Cruises
Family Fun
La Jolla Tours
Whale Watching
Corporate Events
Sailboat Racing
Rates-
$550/hour plus add-ons
All day- $3500
Special Notes-
At Malarky Charters, they have stated that their primary goal is for you to feel like this is your boat, your captain, and your crew. Experience the waters of Mission Bay like very few do.
Take one step further and customize your adventure with any of these additional add-ons, such as:
stand up paddleboards
jet-skies
ocean kayaks
Aqua Lilypad
snorkeling equipment
water slide
drinks and appetizers
Here is one more Mission Bay cruise that I found.   The Game Day package includes a cruise around Mission Bay, then the captain will anchor the boat, and you will be able to sit on the deck with seven different televisions broadcasting your game in the middle of Mission Bay. How many people can say that they have ever done that before?
The trip lasts for 4 hours and costs $1600.
---
Gone Sailing Charters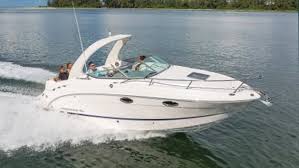 (619) 855-5936
(844) 735-7245
gonesailingcharters.com
Shock Wave- 29-foot Chapparel, a high-quality speedboat that has room enough for 1 to 6 people
Available everyday
Amenities-
speedboat
full kitchen
cushioned interior
wine and beer available
Cruises–
Rates–
2-hours for 1-3 people is $300, 4-6 people is $450
3-hours for 1-3 people is $450, 4-6 people is $675
4-hours for 1-3 people is $600, 4-6 people is $900
see the website for additional fees for Mission Bay cruises for up to 8 hours
Special Notes–
All charters are under the command of a licensed Coast Guard captain. Gone Sailing is happy to charter your ideal Mission Bay cruise, so feel free to tell them your intentions of what you would like to see and experience.
(Update-2021)- Gone Sailing now has additional private yachts and sailing charters available. Please see the above website for more information.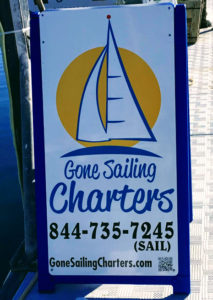 ---
Hot Tub Cruisin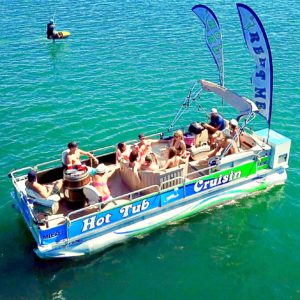 (619) 905-5100
A one-of-a-kind hot tub boat rental!
8 am to 11 pm every day
Amenities-
the hot tub water can be adjusted for personal preference
a stereo system that connects to any music-playing device
an optional propane grill is available
an optional 50-quart under-seat cooler and a 6-quart 'in the hot tub cooler.'
Cruises-
Captained Mission Bay Cruise, which holds up to 6 people
Rates-
1 hour $180
Two hour-$360
Three hour-$540
Four hour-$625
Special Notes-
Hot Tub Cruisin offers Self-Captained Cruises and Anchored Cruises for up to 10 people. Please refer to their website for additional information.
---
Seaforth Boat Rentals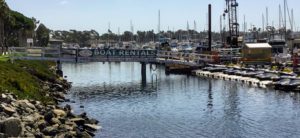 (888) 834-2628
If you want to go on a private sailing Mission Bay cruise, I found a little something.
First, I would like to mention that Seaforth Boat Rental is family-owned and is the most extended established boat rental, tour, and charter company in San Diego. They have four locations throughout San Diego- Downtown San Diego, Harbor Island, Coronado, and Mission Bay.
Every day at 3:30 pm, a 2-hour private sailing tour is offered. There are several vessels to choose from-
Standard (up to 5-7 passengers)   $275
Midsize (up to 10 passengers)   $375
Luxury (up to 10 passengers)   $475
Yacht (up to 12 passengers)   $575
Elite (up to 12 passengers)   $700
Superior (up to 12 passengers)   $900
Special Notes-
The Sunset Cruise departs one hour before sunset, so that time will vary. Please refer to the website for more information.
---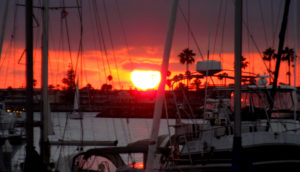 So which Mission Bay cruise would you be most interested in experiencing? I love the idea of sitting in the middle of the Bay in a hot tub! I had a wonderful time researching the Mission Bay cruises, each with something special.
Please feel free to leave any comments or questions you may have! Make sure to check back soon, as I will list all of the San Diego Bay cruises offered out of Downtown San Diego, Harbor Island, and Coronado.
Until next time!
I have always had a deep-seated passion for the Ocean Environment which ultimately led me to receive a degree in Marine Biology. Living in the San Diego area for over 30 years, I have extensively explored the 70 miles of San Diego's coastline, and I am here to share! Please use my website to your advantage and have a look around at all the wonders that the beaches of San Diego can offer you!