Oceanside Beach, CA, is 30 min north of Downtown San Diego in North County San Diego. Did you know that the city of Oceanside is best known for being the home of the Marine Military Base Camp Pendleton?
Join me for a mini-tour of Oceanside Pier a day after a winter storm!
 A Day After A Storm – Oceanside Beach CA
If we had to pick which coastal site is closest to us, it would be Oceanside Beach, CA.
Living 20 miles inland, this is where we go if we only have a few hours to kill and often includes taking a quick stroll on the Oceanside Pier.
Some of our most exciting times are when we get up and go on a whim; so we did just that one day when I came home early from work.
Once we arrived, we walked into a bunch of seagulls flying around at the base of the pier.
Walking Oceanside Pier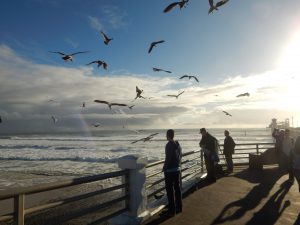 Big Beautiful Waves at Oceanside Beach 
The waves were so big and loud, and you could feel the electricity in the air. It was a bit chilly, with the wind blowing pretty hard.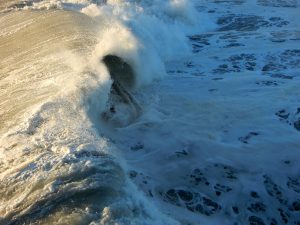 YouTube Surprise at Oceanside Pier
Oceanside Beach CA
While watching this surfer, I looked over next to me and saw a gentleman with the oddest equipment I had ever seen.  It looked like he was fishing with his camera. It is tough to explain, but it turns out that he films underwater with his GoPro camera.
I approached him and was fascinated by what he told me. He goes to different locations and leaves his GoPro underwater for a bit, and in the meantime, underwater, he can maneuver and see what is going on in real-time.
Once I got home, I searched on YouTube for his channel, TASi, and found it completely addicting! I can watch this stuff for hours. I mean, I always stare out at the water and wonder what is going on underneath, and now I have real-time examples. Yippee!
Skip to the 7 min mark. I love seeing the flowing of the water.
This video is one of my favorites because you can see and hear the fish.  You listen to croakers 'croak'.
There is so much going on underneath the pier! I am so fortunate to have found this channel and many others like it.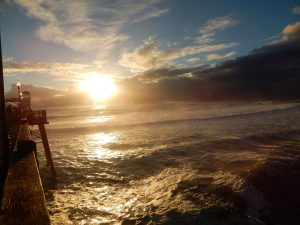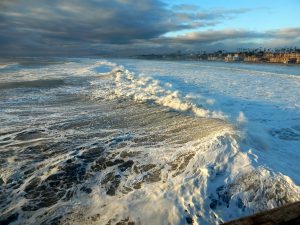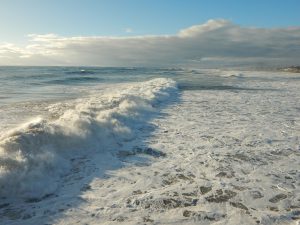 Time To Say Goodbye! So Soon?
Oceanside Beach CA
Though we only stayed for less than an hour, boy, did we experience so much!
I hope you enjoyed your mini-journey. Please feel free to contact me with any questions or suggestions.
---
More Oceanside Information!
I have always had a deep-seated passion for the Ocean Environment which ultimately led me to receive a degree in Marine Biology. Living in the San Diego area for over 30 years, I have extensively explored the 70 miles of San Diego's coastline, and I am here to share! Please use my website to your advantage and have a look around at all the wonders that the beaches of San Diego can offer you!