Boy, oh boy! What a year 2022 was! Yes? I didn't get to the coast as much as I had wished, but I did have many stellar moments! Today as an homage to the year, I would like to share the best of the best photography and a few moments revisited in my annual 2022 year in review.
Please bear with me as I am trying to remember everything by just looking back at the photos.
Ready?
Let's go!
January 2022- Bird Rock La Jolla
I can't tell you how awesome it was to experience La Jolla on an extremely low tide; the views here are more than otherworldly.
Notable Moments–
One thing that stuck out to me today was the number of dogs walking around on the tide pools. This area is a part of a State Marine Conservation Area, so seeing the dogs walking on the tide pools made me cringe.
I was thrilled that I was able to witness Bird Rock on a King Low Tide because the last time I experienced this was in 1990! I had a marine invertebrate zoology field trip while in college.
My only regret was that we didn't walk further north, as I would have loved to see what Calumet Beach looked like. I love how the waves sound over there because of the large stones hitting each other.
Helpful Posts-
---
March 2022- San Onofre Bluffs Beach
Well, here I am again at my favorite beach! Today I took my girls on this outstanding adventure!
Notable Moments–
The tide was relatively low on this day, so we were fortunate to see what is usually covered with water. There was one angler fishing with an egret closely watching his every move.
Another highlight of the day was finding a hut. Did you know San Onofre State Beach is named after Ophinius- The Hermit? These huts are built all along the beach; you must explore a little, but I bet you will find one!
Another great thing we found on this day was the picnic area near Trail 4.
Oh, how I love this place!
Helpful Posts–
---
April 2022- Oceanside Harbor Beach
Today was a melancholy beach day. Why? My son and grandson were visiting and wanted to see the ocean, but they would leave the next day. So I was both happy and a bit sad at the same time.
The day was crisp, and the wind was blowing steadily; as you can see, bean clams span the intertidal zone as far as the eyes can see! My grandson and I played on shore barefoot, and you could feel the clams and their attached hydroids moving around in the sand (for more information, click on the link below.)
My day is never complete at Oceanside Harbor without taking a quick walk around to take photos.
Notable Moments-
Unfortunately, just about 100 yards from where my grandson and I were playing in the waves, there was a dead California sea lion pup.
It was also super windy on this day, and a stranger came up to us and asked if we would like his kite. So on this day, my grandson flew a kite for the first time!
Helpful Posts-
---
May 2022- Memorial Day at Tamarack State Beach- Carlsbad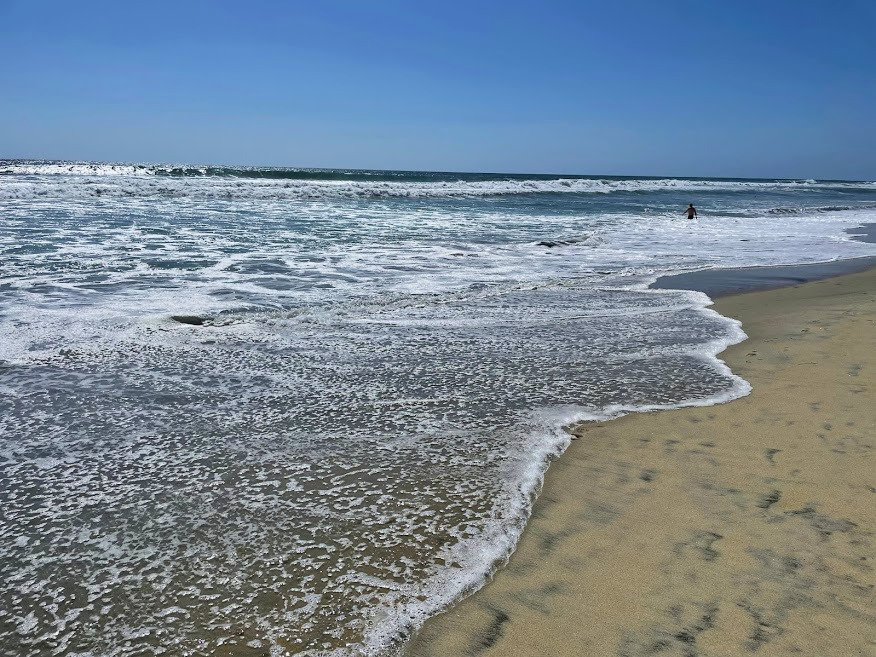 On Memorial Day, my husband surprises me with the offer of driving to the coast. Lord knows, I answered, yes, please!
To make matters even more sublime, once we arrived, we were fortunate to find parking at 2 pm on holiday right next to the beach; hallelujah!
The only regret I had on this day was that I was not wearing shorts because it was hot!
Notable Moments-
We had an amazing time lying on the sand and soaking in the sun. Again, I sure would have liked to have had shorts on, but no worries.
Later in the day, I walked on the Carlsbad Sea Wall Trail and ended up on the bridge looking over the Agua Hedionday Lagoon inlet. While standing there, I imagined the great white shark seen over here years ago, in conflict with eight dolphins.
Helpful Posts-
---
June 2022- La Jolla Shores/ Scripps Beach
It was a scorching day inland, so the girls and I set off for some relief. La Jolla Shores has always been a family favorite, so we were off for a summertime adventure!
Notable Moments–
We were pleasantly surprised by how low the tide was today. The tide was so low that we went past the Ellen Browning Scripps Memorial Pier to check out the tide pools at Dike Rock on Scripps Beach.
I also was able to see the new mural close to the pier.
Later in the day, my daughters spent hours in the water as it was incredibly warm.
Helpful Posts
---
July 2022- Swami's State Beach & Oceanside Harbor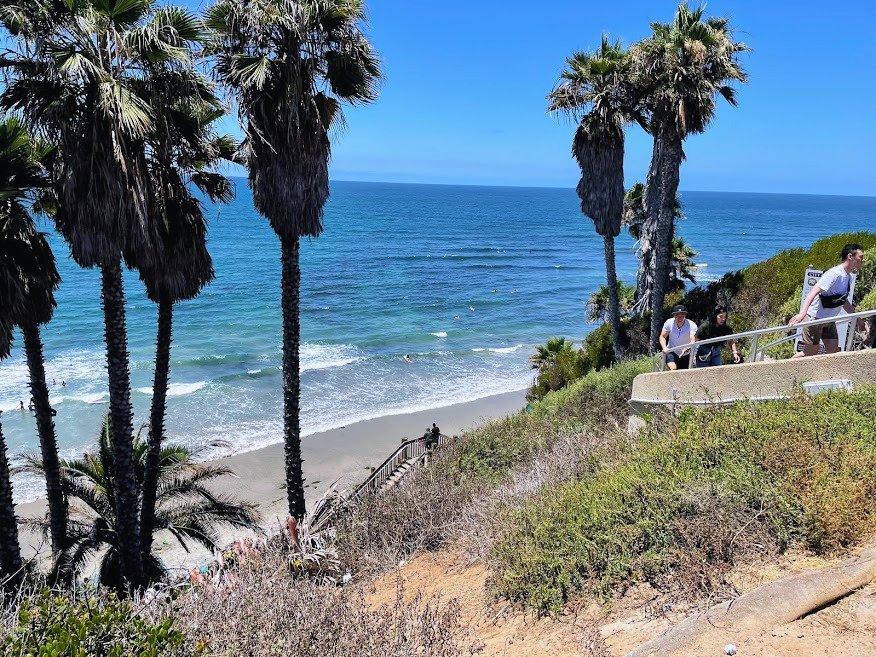 Now we come to the halfway point of my 2022 year in review. We usually religiously go to the beach on July 1st (my birthday) and the Fourth of July (our anniversary), but this year we only went on the fourth.
Can you believe it? I was able to visit two San Diego beaches this month! Hallelujah!
Notable Moments–
So on this day, to say that it was hot is an understatement! The way this beach is set up (in a cove), the temperature is reflected off the bluffs, making this beach a type of 'hot box' when the temperatures are high.
Unfortunately, the tide was too high for me to take a quick tour south through San Elijo State Beach and Cardiff State Beach to check out the inlet of the San Elijo Lagoon.
Oceanside Harbor Beach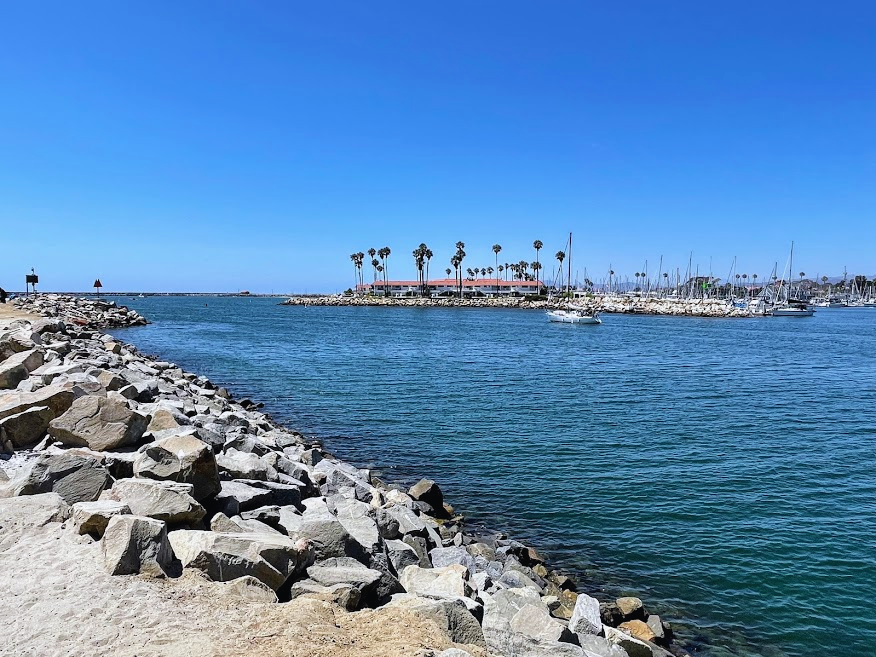 Today I persuaded my daughters to join me in going to the beach. It was hot! Have I mentioned just how hot the summer of 2022 was?
The girls had the time of their lives by staying in the water for over an hour. I took the time to take my Oceanside Harbor walk.
Helpful Posts-
---
August 2022- Mission Bay & The Beaches of Solana Beach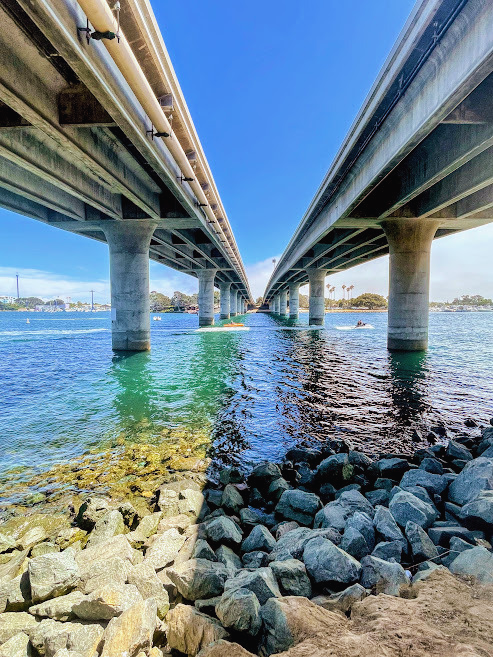 So my husband invited me to his work picnic, and I took advantage of my beach time by getting away from the party to take pictures.
Ski Beach is the place to launch jet skis and other smaller watercraft.
The Beaches of Solana Beach- From Cardiff to Del Mar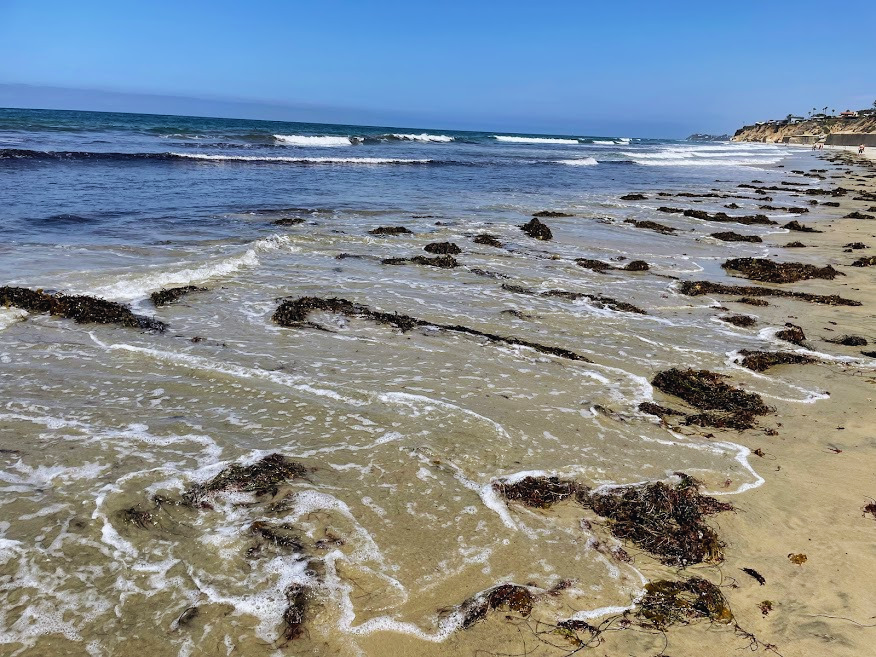 On August 18th, I happily made my way to Solana Beach. Out of all of the beaches in San Diego, Solana Beach was the one place where I had not walked the entire coast. That all ended today!
I was able to walk the entire coast of Solana Beach! Boy, was it lovely! There were so many birds, and the beaches were covered with seaweed. I assumed a strong current flowed offshore, bringing so much on shore.
Notable Moments–
I started in the middle at Fletcher Park Beach, walked north, and finally ended at Cardiff State Beach; the day was so clear, warm, and pleasant. I noticed that over here is an excellent place for snorkeling as the water is so flat just south of the surf break Table Tops (see link below for more information.)
On the way back, I walked south, ending up at San Dieguito Lagoon inlet. There were so many dogs at the North Del Mar on this day, and it was amusing to watch them all.
I wanted to hike the stairs up to the viewpoint- Del Mar North Bluff Preserve, but I was barefoot, and the sand was too hot!
Helpful Posts-
---
September 2022- Three Trips to the Coast! Yippee!
San Onofre State Beach- Trail 6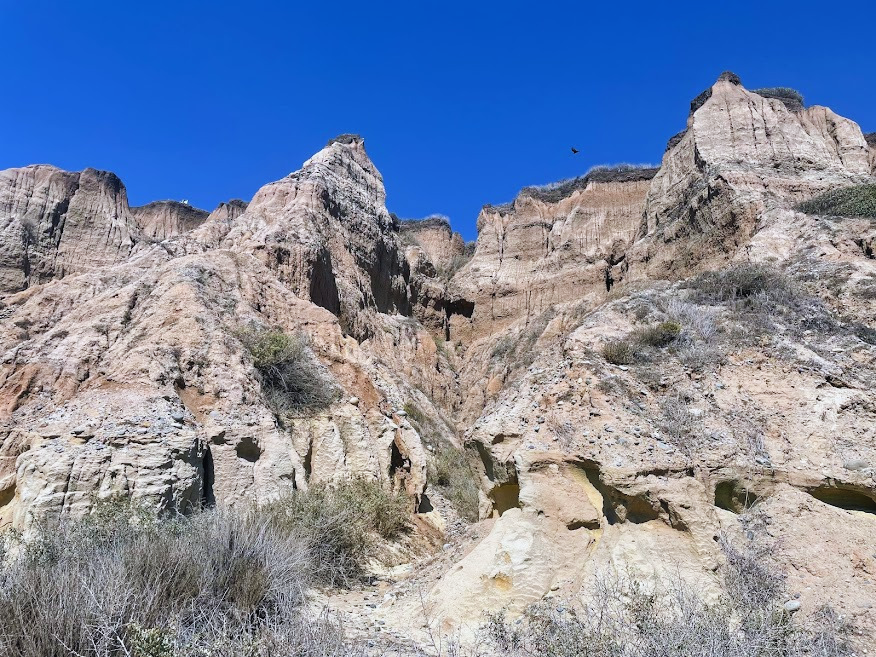 As we continue my 2022 year in review, we are back to San Onofre Bluffs Beach. On this day, I concentrate on the beaches near Trail Six.
There was always someone fishing over here, and I appreciated the nice breeze blowing on this day as it was sweltering hot again!
(Have I told you just how hot 2022 was?)
South Oceanside on the 12th
Today was a solo beach day, and my goal was to go to as many Oceanside beaches as possible.
I started in South Oceanside and visited Loma Alta Creek and Buccaneer Beach. Afterward, walking along the creek, I continued my adventure by making my way over to Oceanside Harbor.
The day was still overcast (I was hoping for some clearing), and I continued walking past the San Luis Rey lagoon and made my way to the Oceanside Pier.
I ended up walking over 5 miles in under 2 hours.
Cabrillo National Monument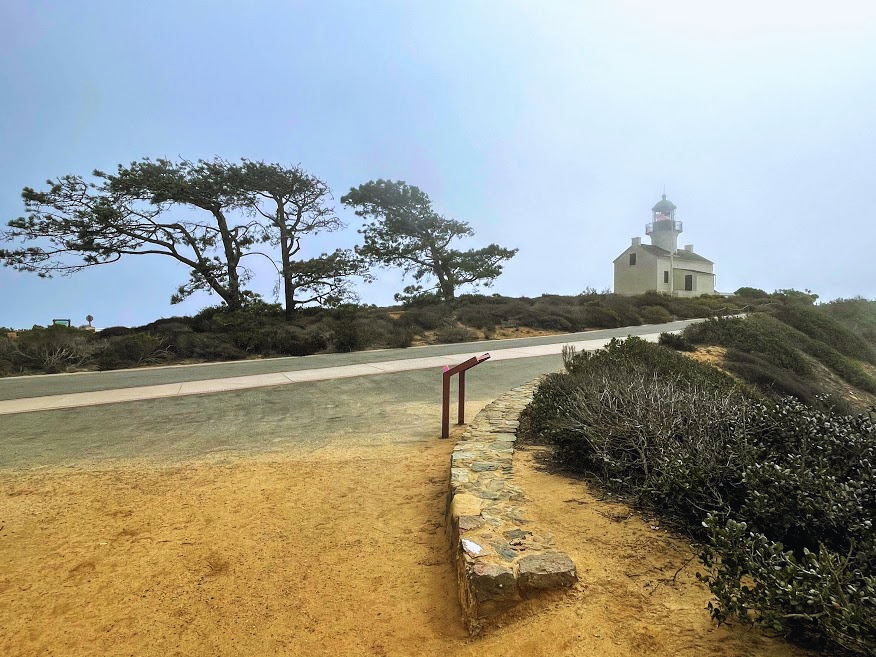 So I took my daughters to the airport at the end of September and took advantage of the trek by going over and checking out the Cabrillo National Monument.
In 2017, my family and I visited the tide pools west of Point Loma. Today, I wanted to try out the Bayside Trail on the east side.
Notable Moments-
One of the most apparent moments was the fog, and it made for some dramatic shots, but I prefer clear skies.
Right across San Diego Bay at this location is North Island, so the constant sound of fighter jets taking off and landing was heard throughout the day.
I had a fantastic time going into the Cabrillo Lighthouse and Cabrillo Monument Nature Center and was pleasantly surprised to see the wide variety of books available here.
Helpful Posts
---
November 2022- Buena Vista Lagoon and Saint Malo Beach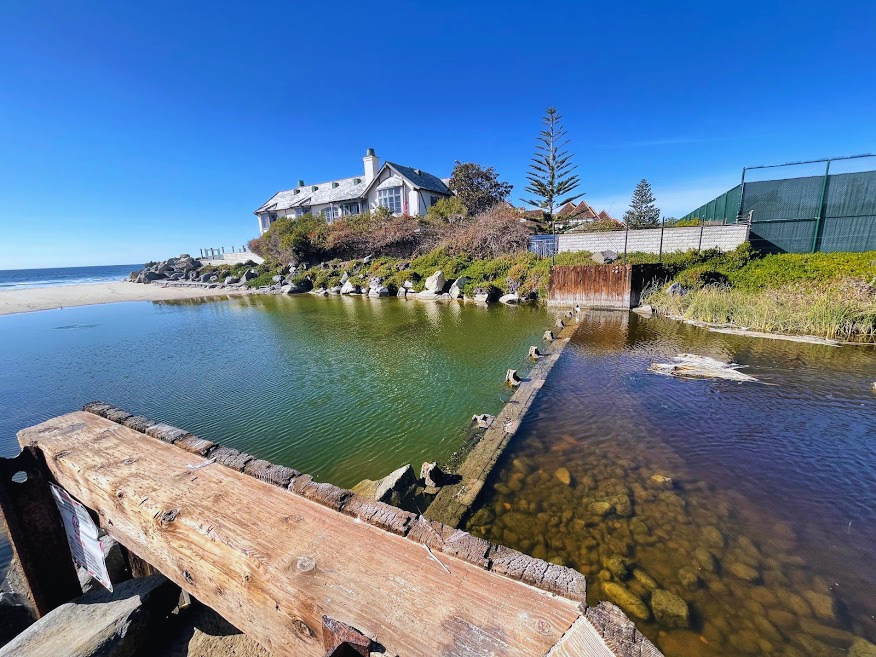 Today is the day before Thanksgiving, I was going to Carlsbad to meet up with a very good friend, and while waiting for her to arrive, I took advantage of my free time and went over the Buena Vista Lagoon.
I was extremely excited to see all the new improvements I had been reading about. There indeed, was a stark improvement!
Notable Moments-
I crossed the street and checked out the lagoon in front of the Saint Malo beach residences. To get this photo, I had to crawl underneath the railroad tracks.
To walk in front of the Saint Malo housing and check out the lagoon weir, I headed to Cassidy Street beach and continued my walk south. When first entering the beach, I noticed the deep water pools close to the rocks, so I had to walk gingerly.
When I finally arrived at the weir, to say I was surprised by what I saw was an understatement! I had never seen such a pool of water in front of the structure before, and I can only assume that this resulted from a higher-than-usual tide.
Helpful Posts-
---
December 2022- Torrey Pines State Natural Reserve
Today I was joined by one of my very best friends, so that was something different: having someone to talk with while walking. We started our adventure today by parking right across from the Nature Center.
The first trail we took was The Westover Look, followed by Razor Point Overlook, and finally, we took Beach Trail down to the beach.
Notable Moments-
There was a lower-than-average tide, so Flat Rock was accessible. I wanted to walk past Flat Rock, but unfortunately, I didn't want to get wet because I was wearing jeans. There was a rather large pool of water between the two rocks.
One of my favorite things about this day was walking the trail back barefoot, and I must say that I did much better barefoot than with shoes.
A highlight of this day was purchasing the book- Native Plants- Torrey Pines State Reserve & Nearby San Diego County Locations by Margaret L Fillius. I have been yearning for this book for so long!
Helpful Posts-
An Hour at San Onofre Bluffs Beach
The day after Christmas, I met up with one of my best friends for a little stroll south of the San Clemente Pier in Orange County. I hadn't been over by this pier for 24 years. It was a glorious time.
So on the way back home, I decided to stop off at San Onofre Bluffs Campground for about an hour.
Notable Moments-
One of the main reasons that I wanted to come here was to photograph the sandstone bluffs just south of the San Onofre Nuclear Generator (SONGS). When the lighting is proper (about 2 hours before sunset), the cliffs look mystical.
I was also excited to explore the Cristianitos Fault, which is in the same area. As you can see in the photo above, the Trail One path going down became too steep for me, and I stood there for three minutes trying to figure out if I could go down.
I finally decided it wasn't worth it, got back in my car, and traveled south 3miles to Trail Six.
---
How did you like my 2022 year in review? I am fortunate to go to the coast as much as I did this year.
Please look at all the Helpful Posts I have listed if you want more in-depth information.
So here is to 2023!
Let us make 2023 a much more promising and glorious year for all!
Until next time…
I have always had a deep-seated passion for the Ocean Environment which ultimately led me to receive a degree in Marine Biology. Living in the San Diego area for over 30 years, I have extensively explored the 70 miles of San Diego's coastline, and I am here to share! Please use my website to your advantage and have a look around at all the wonders that the beaches of San Diego can offer you!