Hey! Have you ever seen an earthquake fault line? No? Well, today is your lucky day! Referred to as the Cristianitos fault, you can walk right up to it over at San Onofre State Beach.   Now I need to state this fact upfront so there will be no confusion what so ever. I am not a geologist, therefore please be patient with me. If I make an incorrect claim, do not hesitate to correct me down in the comments at the end of the post. I love to learn new things and will not be offended at all.  Several references have helped me out tremendously, though, and I have left them down below for you as well. I encourage you to check them out!
Ok, let's take a trip over to San Onofre State Beach (my favorite beach in San Diego) and investigate the Cristianitos fault line. As a bonus, I will also be pointing out a few other unique geological features seen over here at this fabulous State Beach.
One more thing. Did you know that the San Onofre Nuclear Generating Station (SONGS) is located less than 800 yards away from this earthquake fault line?
Wait; what?! A nuclear generating station? Next to a fault line?
SONGS is no longer active and has been decommissioning for several years now. But obviously, the question is, why build a nuclear power plant right next to an earthquake fault line? (Click on the above link for more detailed decommissioning information.)
#Click on any photo for a larger version
The Cristianitos Fault Line-Shake, Rattle, & Roll?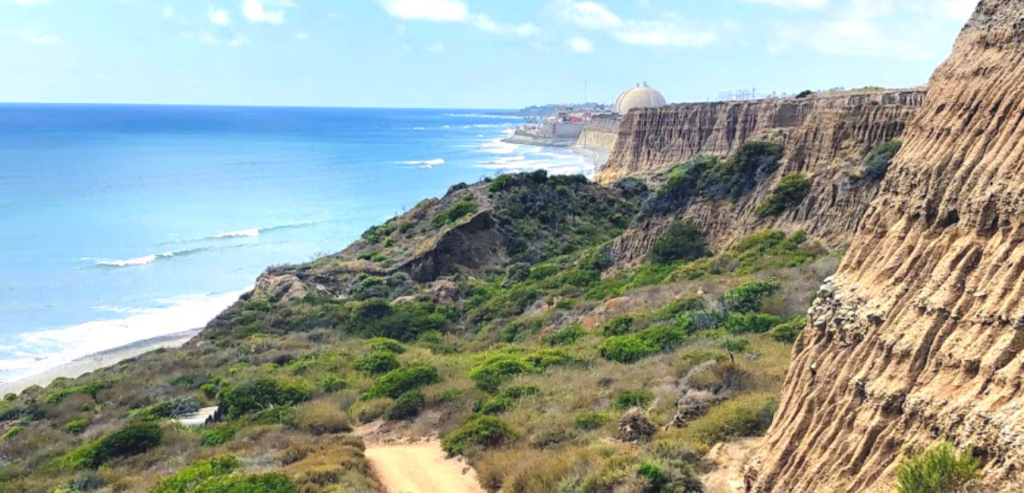 Continue reading "Checking Out the Cristianitos Fault"
I have always had a deep-seated passion for the Ocean Environment which ultimately led me to receive a degree in Marine Biology. Living in the San Diego area for over 30 years, I have extensively explored the 70 miles of San Diego's coastline, and I am here to share! Please use my website to your advantage and have a look around at all the wonders that the beaches of San Diego can offer you!