Boy, what a year! Ironically, did you know that the last time my husband and I were at the beach before this nightmare of a year was on a King Tide? We experienced the extreme low tide on January 12 at Sunset Cliffs Natural Park, which was sublime. If I had known that I wouldn't be back at the coast until May 26, I would have taken more videos! Anyway, I digress. Let's make the best of what is left of this unprecedented year, shall we? Below are my top recommendations on the best San Diego beaches to visit and experience the highest and lowest tides left of the year, otherwise known as the last King Tides of 2020.
(Updated dates for 2021, 2022, and 2023 are below! All times refer to San Diego, so add ten more minutes if you are in the Los Angeles area.)
–>Top Ten Best San Diego Tidepools<–
The Last Lowest Tides of the Year!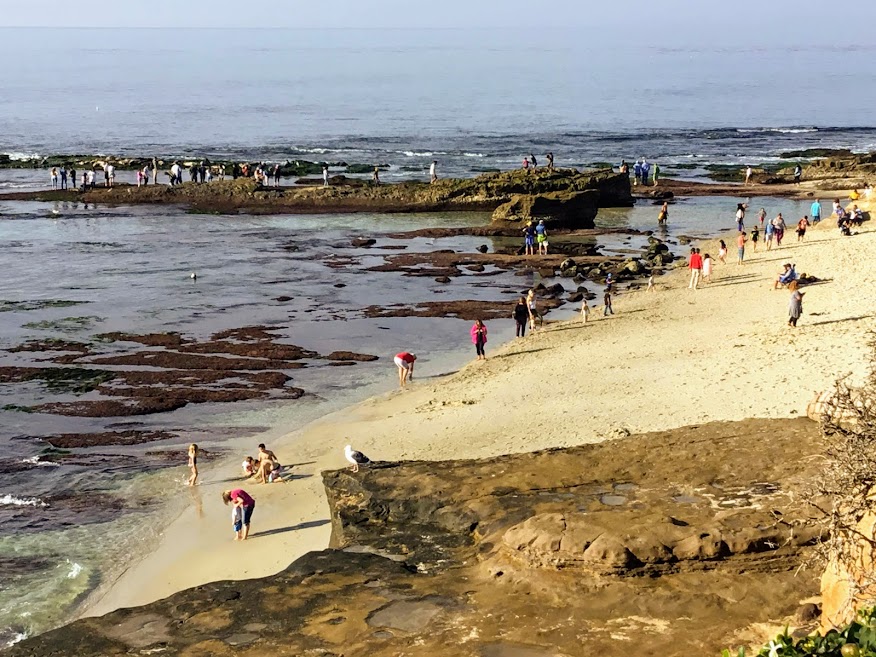 So how low and high are we talking about? There are two high and two low tides per 24 hours on the West Coast of the United States.
What is the tide?
Tides are long-period waves that cross the planet, pulled back and forth from gravitational pulls due to the earth's interaction with the moon, sun, and other heavenly bodies.
A King Tide is an unscientific term to describe the year's highest and lowest tides. A high tide can be over two feet from normal. What does that mean?
For a King High Tide, the water reaches over 2 feet onshore than usual (referred to as a mean tide) and retreats more from the shore than expected. I immensely love extreme low tides as they offer a glimpse of what is hidden under the water!
Here are the numbers-
December 13
High Tides-

8:24 am-(7.50 feet)
9:37 pm- (4.55 feet)

Low Tides-

1:18 am- (1.3 feet)
2:42 pm- (-1.71 feet)
December 14
High Tides

8:18 am- (7.62 feet)
9:54 pm- (4.47 feet)

Low Tide

2:01 am- (1.54 feet)
3:28 pm- (-1.89 feet)
December 15
High Tide

9:00 am- (7.51 feet)
10:45 pm- (4.34 feet)

Low Tide

2:43 am- (1.77 feet)
4:14 pm – (-1.81 feet)
December 16
High Tides-

9:03 am (7.4 feet)
10:43 pm (4.4 feet)

Low Tides

3:27 am (2.03 feet)
5:00 pm (-1.51 feet)
Considering the above chart, you can see that the best time to experience the lowest tides only happens in the late afternoon. In comparison, King Tides always occur in the early morning during the Summer, making the Winter the prime time to experience a King Low Tide.
The California King Tide Project
The California King Tide Project documents how far the high tide will come onto the coast. They believe this will give a good idea of how far the water might reach onshore if the seas rise within the next couple of decades due to 'climate change.' I will leave this here for you and let you make a decision.
Would you like to help document the highest tide? The California King Tide Project would love to see your photos! Click on the above link for more information.
Lowest of the Low-San Diego Low Tide Adventures!
My main goal is to document the lowest of the low tides. I love how you can observe what is usually covered up with water. Over the years, I have seen some incredible sights.
Today I would like to give you a few suggestions on where to go during the next King Tides. If I have a photo of the area, I will share it.
Starting from North to South, here are my top picks!
San Onofre State Beach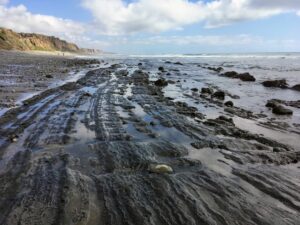 –>Getting to Know San Onofre State Beach<–
–>Checking Out the Cristianitos Fault<–
San Onofre State Beach is one of my favorite beaches in San Diego due to its 'wildness.' I have recently come to appreciate this beach's geology. Surfing over here is so good due to what is underneath the waters.
During a negative low tide, I was taken aback by the incredible number of rocks and pebbles.
Over south at San Onofre Bluffs Beach, you can witness a large amount of Monterey Formation uncovered by the low tide.
Oceanside Pier
–>Discovering Oceanside Pier CA<–
When the tide is right south of the Oceanside Pier, a little secret becomes undercover. Off Wisconsin Street, you can see the original pier pilings from the first Oceanside Pier, initially built in 1888 but eventually wiped out by a winter storm in 1890.
Fun Fact- The palm trees that are lined up and down Pacific Street, were planted in the 1890's.
Terra Mar Beach Tidepools

So why am I pointing out Terra Mar beach over at Carlsbad? I find these reefs to be so unique. You can even watch the surfers and explore the tide pools simultaneously.
Torrey Pines State Beach- Monterey Formation
In 2018, my son and I made a trip to hike up on top of the bluffs at Torrey Pines State Natural Reserve. It was a King Tide, a Super Moon, a Blue Moon, and a Lunar Eclipse (talk about a trifecta)!
I had to go and check out the coast on this day. I had always wondered why Torrey Pines State Beach had great shore fishing, and now I know why.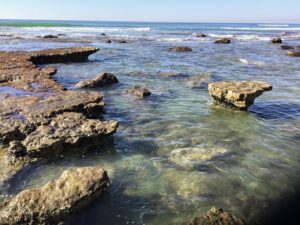 The Seven Caves of La Jolla
–>La Jolla Coast Walk Trail, Let's Go!<–
–>Sea Caves at La Jolla Underwater Park<–
The Seven Caves of La Jolla are a popular destination for kayakers who launch from La Jolla Shores Beach.
As you can see, access to these caves is only by water (snorkeling, paddleboarding, kayaking.) But on a negative low tide, it is possible to enter these caves by dry land.
It is quite a hike to get here, as you will have to navigate the tidepool rocks, so please keep this in mind.
The best starting point would be over at La Jolla Shores Beach. I suggest starting your adventure at least 1.5 hours before the low tide peaks. This way, you will have a buffer window that allows you to be at the caves when the tide is at its lowest.
Sunset Cliffs-Garbage Beach
–>King Tide at Sunset Cliffs Natural Park<–
–>Discover Sunset Cliffs Natural Park<–
My husband and I could visit Sunset Cliffs during the King Tide on  January 12, 2020. We started our escapade at Garbage Beach and proceeded south to check out New Break Beach. Usually, there is no way to get to this small beach unless there is a shallow tide. It was an experience for sure!
I even was able to see two tiny caves.
If you want to see the infamous "Rum Runners Cave," make a right at the staircase at Garbage Beach, heading North. Just a head's up; many people might do the same.
A Shipwreck off Coronado? Yes!
The SS Monte Carlo sits on the ocean's bottom, very close to shore, just south of the Hotel del Coronado. When there is a negative side, you can see this beauty.
Click on the above link for some interesting information.
I have yet to see it all in person, but I saw bits peaking up from the water several times.
Cabrillo National Monument Tidepools 
–>Cabrillo National Monument Tide Pools<–
Over here at the tip of Point Loma, where the Cabrillo National Monument is located, the shoreline looks otherworldly during a negative low tide.
My family and I witnessed this beautiful area on January 1, 2018. On this day, it was a King Tide and a Super Moon with a low tide reaching -1.98 feet!
Please click on the link above if you want more information on what a Super Moon is and why it makes the low tide even lower.
More Tidal King Days in 2021
If you could not make it to the coast to check out the King Low Tide in December, here are some more beautiful days to take advantage of in 2021!
January 2021
11th at 2:27 pm- (-1.7 feet)
12th at 3:09 pm- (-1.8 feet)
13th at 3:50 pm- (-1.7 feet)
14th at 4:29 pm- (-1.4 feet)
February 2021 
8th at 1:39 pm- (-1.3feet)
9th at 2:19 pm- (-1.5 feet)
10th at 2:55 pm- (-1.5 feet)
11th at 3.28 pm- (-1.4 feet)
December 2021
3rd at 2:37 pm- (-1.52 feet)
4th at 3:25 pm- (-1.64 feet)
5th at 4:15 pm- (-1.65 feet)
6th at 5:08 pm- (1.48 feet)
---
King Low Tides in 2022!
January 2022
1st at 2:34 pm- (-1.90 feet)
2nd at 3:21 pm- (-2.09 feet)
3rd at 4:07 pm- (-2.01 feet)
4th at 4:52 pm- (-1.70 feet)
29th at 1:44 pm- (-1.58 feet)
30th at 2:27 pm- (-1.93 feet)
31st at 3:08 pm- (-2.03 feet)
February 2022
1st at 3:47 pm- (-1.87 feet)
28th at 2:10 pm- (-1.64 feet)
December 2022
22nd at 2:46 pm- (-1.67 feet)
23rd at 3:32 pm- (-1.89 feet)
24th at 4:20 pm- (-1.86 feet)
25th at 5:09 pm- (-1.61 feet)
---
King Low Tides for 2023!
January 2023
19th at 1:51 pm- (-1.5 feet)
20th at 2:34 pm- (-1.9 feet)
21st at 3:16 pm- (-2.0 feet)
22nd at 3:57 pm- (-1.9 feet)
February 2023
17th at 1:36 pm- (-1.5 feet)
18th at 2:15 pm- (-1.8 feet)
19th at 2:53 pm- (-1.8 feet)
20th at 3:29 pm- (-1.6 feet)
December 2023
24th at 2:56 pm- (-0.9 feet)
25th at 3:24 pm- (-1.1 feet)
26th at 4:13 pm- (-1.2 feet)
27th at 4:50 pm- (-1.0 feet)
# December of 2023 seems odd, as the King Low Tide numbers seem abnormal. We will have to keep this in mind.
Until next time!
---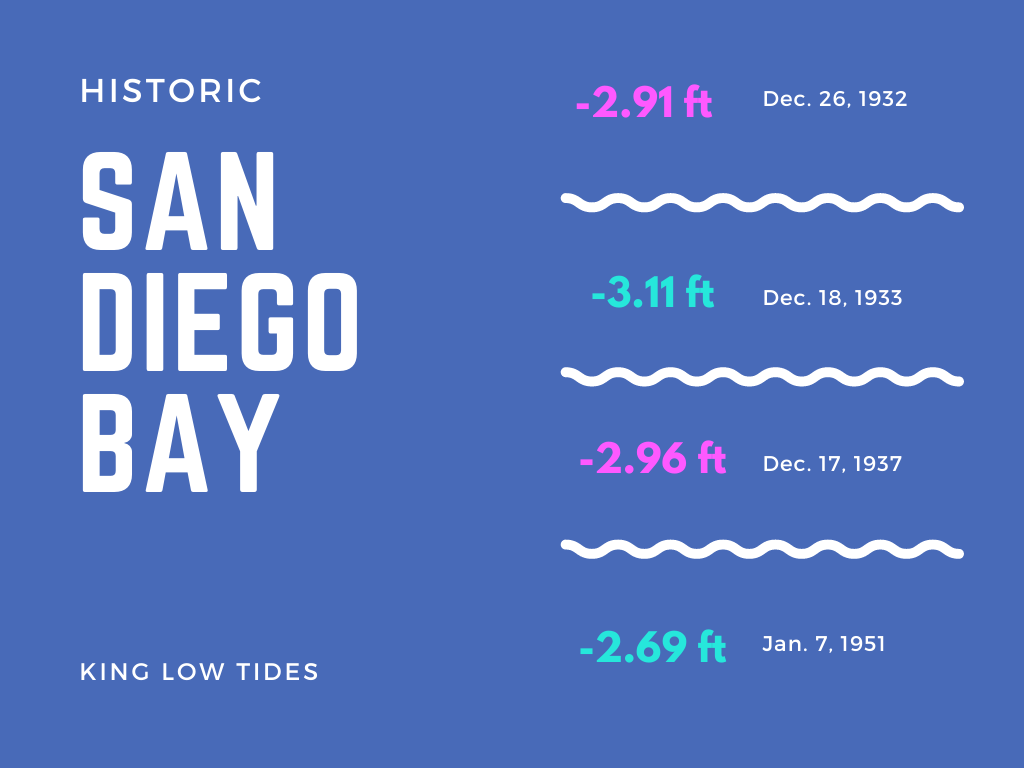 I was challenged to find the lowest tide ever in San Diego, and I hope this delivers!
---
References–
I have always had a deep-seated passion for the Ocean Environment which ultimately led me to receive a degree in Marine Biology. Living in the San Diego area for over 30 years, I have extensively explored the 70 miles of San Diego's coastline, and I am here to share! Please use my website to your advantage and have a look around at all the wonders that the beaches of San Diego can offer you!