I want to present a complete list of all public San Diego Sportfishing Party Boats. First, what is the difference between a Party Boat and a Charter Boat? Well, to put it simply, a Party Boat is available to anyone who would like to come. While on the other hand, you can say that a Charter is a private rental where the public is not welcome to join.
I will list all available Party boats in San Diego County, starting first up north in Oceanside Harbor.
A Few Much Needed References
I have included here a link to Sportfishingreport.com.  If you look towards the bottom of the list, you will see all of the San Diego Sportfishing party boats and Charter boats that go out daily. Have a look! Every Sportfishing boat in California is listed here. What I like about this site is that every fish caught is recorded.
Here is a valuable page as well-The Current California Recreational Fishing Regulations.
The Captains and crew are well aware of the rules and regulations, but it never hurts to get an idea before setting out to fish.
Also, I would like to include "Everything Thing You Need To Know About Fishing in Mexico," as it can get very confusing.
San Diego Sportfishing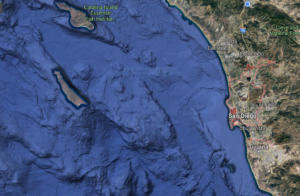 San Diego has some of the best weather in the world and some of the best Fishing! Up until the late 1970s, the city of San Diego was known as the Tuna Fishing Capital of the World. Still, to this day, in late summer and early fall, Fishing offshore of San Diego and Baja California, you will find some of the largest yellowfin tuna slobs in the world!
Other species you might encounter include wahoo, bigeye tuna, dorado, and bluefin. It must be noted that these species are targets for the longer-range boats, not the 1/2 day or 3/4 day San Diego sportfishing Party boats.
What are 1/2 Day and 3/4 Day Party Boats?
The 1/2 Day Party boats usually stay outside a kelp forest, like those found off Point Loma or La Jolla. They may also sit over an artificial reef. These boats primarily catch kelp bass, sand bass, bonito, yellowtail, rockfish, halibut, barracuda, and California sheephead.
Some 3/4 Day Party boats will look for tuna but mostly stay close to shore. Out of San Diego Bay, though, some 3/4 Day boats will take you out to the Coronado Islands, off of Mexico, which I have to say is a fabulous trip!
Let us look at what San Diego offers for Open Sportfishing Party Boats!
#I would like to note that all prices seen below are current as of September 2018. Please see all appropriate links to verify current prices
---
Oceanside Harbor Sportfishing Party Boats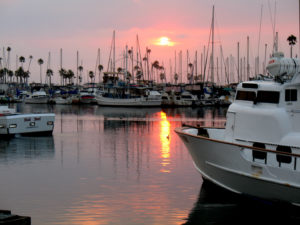 Oceanside Harbor is located 45 minutes north of Downtown San Diego and is the only harbor in North County San Diego.
The harbor is also shared with Marine Base Camp Pendleton. Oceanside Harbor offers a variety of boats to choose from for Chartering a fishing trip, but only two companies provide such tours when it comes to open party boats.
Helgren's Sportfishing
1395 1/2 North Harbor Dr. Oceanside, CA 92054
760-722-2133
Fleet-
Electra- 75-foot
Oceanside 95- a 95-foot used for long-range
Sea Trek- 60-foot  popular for 3/4 day trips
Trips offered
1/2 day Sun-Fri (10 am-3 pm) /Sat (6 am- 12:30 pm) – $ 40
3/4 day daily from 7 am- 4 pm – $ 75
full day daily from 5 am- 5 pm -$ 120
Military, Senior, and child discounts are available
Additional Offerings
Overnight Charters
Shark Fishing
Burials at Sea
Whale Watching
Multi-day trips
Twilight and Night Fishing
Harbor Coastal Cruise Excursions
Rod/Reel and Tackle Rental- $16.00
1- day fishing license (16 years old and above)-$15.60
free parking
---
Oceanside Sea Center
315 South Harbor Drive, Oceanside, CA 92054
760 450-0403
Fleet-
Blue Horizon- 55 foot, used for 1/2 day and 3/4 day as well as overnight trips
Chubasco II– 60-foot
Sea Star-60-foot
Southern Cal- 65 foot
Pronto- 45-foot
Trips offered-
1/2 day (6 am- 12pm)/ (10am- 4 pm)/ (12:30 pm- 5:30 pm)- $45
3/4 day (7 am-4 pm)- $75
Private Charters are available as well

San Clemente Island
Mexico waters overnight trips

Whale watching trips
Additional Offerings-
Military, SSenior, and child discounts
Private Charters
Burial at Sea
Floating Science Lab trips are coming soon!
Tackle available for rent
1-day Fishing Licence $15.69
Food Galley
---
Mission Bay Sportfishing Party Boats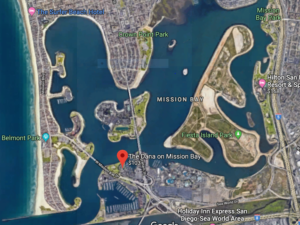 Mission Bay is located less than 15 minutes from Downtown San Diego in Mission Beach. Leaving out of this landing is advantageous if you would like to fish north of the La Jolla kelp beds and venture south to the kelp beds off Point Loma. Both fishing sites are relatively close to Mission Bay. The beauty here is that there is not as much travel time to get out of the bay.
---
Seaforth Sportfishing
1717 Quivira Rd, San Diego, CA 92109
(619) 224-3383
Fleet-
New Seaforth– 85-foot
San Diego- 75-foot
Many other vessels are available for private charters
Trips Offered-
1/2 day (6 am- 11:30 am), (12:30 pm- 5:30 pm)-$48
3/4 day Mexico Coronado Islands (5:30 am- 5:30 pm) -$155
Overnight Trip (10 pm-8 pm)- $260
1.5-day Limited Load (9 pm- 6 am)- $475
2.5-day Baja Coast- (9 pm-6 am)- $750
Additional Offerings-
Whale watching tours
Private Charter Cruises
Twilight trips
Rod and tackle rentals
1-day fishing license- $15.69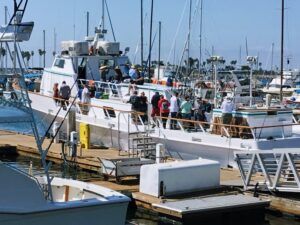 ---
Sportfishing Party Boats Out of San Diego Bay
San Diego Bay is the largest and deepest harbor in San Diego County. Here you will find many options for San Diego sportfishing party boats, as there are three companies to choose from.
---
H&M Landing
2803 Emerson St, San Diego, CA 92106
(619) 222-1144
Fleet-
Premier– 81-foot
Malihini- 80-foot
Grande- 85-foot
Constitution- 75-foot
Jig Strike- 56-foot
Fisherman III- 65-foot
Mustang- 70-foot
Daiwa Pacific-60-foot
Old Glory- 85-foot
Ranger 85- 85-foot
Ocean Odyssey-85-foot
Relentless- 60-foot
Trips Offered
1/2 Day (6:30 am- 12:30 pm), (1 pm- 6:30 pm)-$52
Full-Day Coronado Islands (5:30 am- 5:30 pm)- $155
Full-Day Offshore (5:30 am- 5:30 pm)- $155
Overnight Fishing- (9 pm- 7 pm)- $215-$275
Multi-day Fishing-( 1.5 days to 3.5 days) $380-$1085
Long Range Available-see website
Twilight Fishing
Additional Offerings
Whale Watching
Great White Shark Cage Diving on MV Horizon from August to November off Guadalupe Island, Mexico- $2795
Private Charters
Family Deep Sea Fishing Charters
Corporate Charters
Bachelor Party Charters
you can arrange customized charter itineraries
---
Point Loma Sportfishing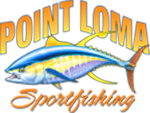 1403 Scott St, San Diego, CA 92106
(619) 223-1627
Fleet-
Daily Double- 65 foot
Mission Belle– 65 foot
El Capitan- 65 foot
New Lo-An- 65 foot
Grande- 88 foot
Point Loma- 58 foot
Trips Offered-
1/2 Day (8:30 am- 2:30 pm)/ (3 pm- 8:30 pm)- $50
3/4 Day (6:30 am- 4:30 pm)-$85
Full-Day Coronado Islands (6:30 am- 6:30 pm)- $155
Overnight (9 pm- 7 pm)- $260
1.5 day (8 pm-6 am)- $380-$435
Two days (9 pm- 7 pm)-$590-$780
2.75 day (Noon- 6 am)- $700-$995
Three days (11 am- 7 am)-$1525
please see the website for more!
Additional Offerings
Private Charters
One day to up to 16-day trips
1.5 day -3.5 day Baja Coast Trips
16-23 day trips, 1000 miles south in Mexico
Tackle rentals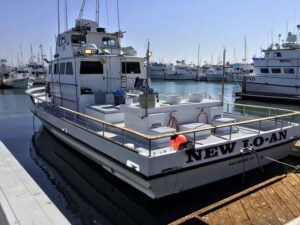 ---
Fisherman's Landing
2838 Garrison St, San Diego, CA 92106
(800) 566-0273
Fleet-
Dolphin- 85-foot
Liberty- 85 foot
Condor- 90-foot
Islander- 85-foot
Fortune-65-foot
Pacific Queen– 85-foot
Trips Offered-
1/2 Day (6:30 am – 12:30 pm)/ (1 pm- 6:30 pm)- $50
Full-Day Offshore (5:30 am- 5:30 pm)- $155
Full-Day Coronado Islands (5:30 am- 5:30 pm)-$155
Overnight ( 8pm- 6 pm)- $250
Full-Day Bluefin Tuna (Kite and Flat Falls jigs) (10 am- 10 pm)- $650
1.5 Day (9 pm- 6am)- $380
2 Day ( 9pm- 7 pm)- $600-$650
3 Day (11 am- 6 am)- $860
Additional Offerings
Private Charters
Nature and EcologyTrip to Baja California (619-221-8500)
Kids fish-free every Thursday!
Tackle Rentals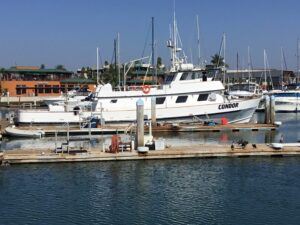 ---
Final Thoughts
Boy! Did I have fun researching for this blog? So many memories came flooding back about the Party boats that I worked on when I was a Fisheries Technician (over 20 years ago).
If I had to estimate, I would say that I have been on at least 100 Party boat trips. I would interview each angler and identify, weigh, and measure each fish. And yes, I was filthy at the end of each trip! Fish scales, guts, and grime were all over me, but it was a blast!
My favorite part, and I do not laugh at it, was taking a nap while everyone was Fishing. There is no better sleep than being rocked back and forth on a boat. Another thing that I loved was the solitude. Something is to be said about being out on the Water and looking back onto shore. Just imagining the hundreds of thousands of people back onshore while there are only a few boats offshore is the best feeling. It is surreal.
Enough about me, what do you think? Have you ever wanted to go fishing on a Party Boat?
If you have any comments or questions, please feel free to leave them below.
Until next time!
---
Additional Information if you would like to Get on the Water!
I have always had a deep-seated passion for the Ocean Environment which ultimately led me to receive a degree in Marine Biology. Living in the San Diego area for over 30 years, I have extensively explored the 70 miles of San Diego's coastline, and I am here to share! Please use my website to your advantage and have a look around at all the wonders that the beaches of San Diego can offer you!