On July 9th, 2018, my husband and I set off to Newport Beach to go whale watching for my 50th birthday present. You see, we both agreed to do something out of the ordinary for our monumental birthdays, I mean how often do you turn 50? Ok once, yes I know, but it is a big deal right?
If you asked anyone who knows me they will tell you that I am a little crazy when it comes to whales. I also love the summer, so summer plus whales, now that calls for a celebration! Summertime whale watching in Southern California is an opportune time to see the most majestic whale there is- the blue whale. Oh, did I happen to mention that the blue whale is my totem animal? More on that later.
Before this trip, I had not been whale watching in Southern California for over 20 years, so I was extremely excited for this day!
First off, I didn't want to go on the traditional whale watching cruise; I wanted to try something different. So today we would be going on a RIB- a rigid inflatable boat out of Newport Landing, in Newport Beach Harbor in Orange County.
Newport Landing Whale Watching Tours
309 Palm St #A., Newport Beach, CA 92661
(949) 675-0550
For a bit of reference, Orange County is located south of Los Angeles County and north of San Diego County. I have to say that I was a bit disappointed when my husband said that we would be leaving out Newport Beach Harbor. You see,  I have my website-San Diego Beach Secrets, and on there, there is a list of all possible whale watching tours offered in San Diego County, not Orange County!
It was all good though, as I had only once ever been off the coast of Orange County on a ship. I was eager to compare the two coastlines. Other than that, I just went with the flow and had no expectations.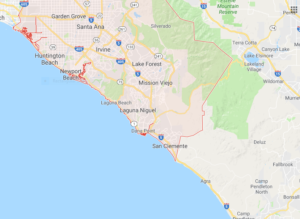 Rigid Inflatable Boat-RIB
I am not sure what I was more excited about, seeing whales or riding on a RIB! For someone who loves the ocean water,  riding on a RIB was a dream come true.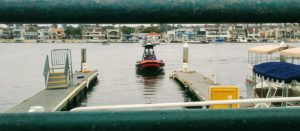 There is something to say about being able to go so fast on the water as well as being so close. Also, you do not get seasick! Well, today we didn't because the water was relatively calm. Let's take a look!
Zooming on the Water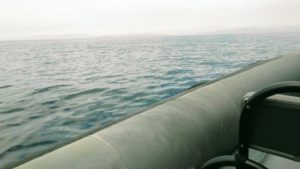 Do you see how the unique low to the water design allows you to be so close to the dolphins and whales in the water?  The open design allows for a 360-degree view from anywhere on board.
The vessel that we were on only had six seats. And did I happen to mention how fast you go? We came upon whales within the first 30 minutes of our trip. You see the Captain knew exactly where to find them, as he had just been out to the same spot with a previous trip.
There She Blows!
Do you know how to find a whale out in the water? You look for the 'spouts' from their blowholes. I can not tell you how cool it is to hear these up close and personal.
I think it is important to mention that what you are seeing and hearing is just warm water vapor being emitted when they exhale. If the conditions are right, sometimes you will see a rainbow.
A blue whales' spout is very tall and straight and can reach heights of over 35 feet and hangs in the air longer than any other whale. Because of this it that much easier to find them when looking towards the horizon.
Blue Whales! Here, There, Everywhere!
I can not even tell you how excited that we all were sitting on the RIB surrounded by at least eight blue whales! These creatures can reach lengths of up to 100 feet and weigh over 150 tons.
These two sailboats were so very fortunate to have an up close and personal meeting with several of the blue whales.
Short-Beaked Common Dolphin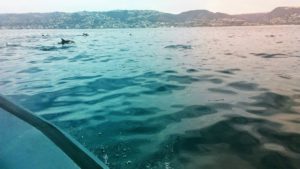 Another great surprise that awaited us on this beautiful day was a large pod of short-beaked common dolphins. I was able to lean forward on the bow while the captain was driving the vessel on the slower side.
It was a dream come true as I watched them surf the bow and glide with the boat. To say that it was surreal would be an understatement, then again I may be a tad overdramatic; but when it comes to anything to do with me and the ocean, all bets are off so to speak. If you would like to learn more about all of the possible marine mammals seen off of the coast of Southern California, please go here, as I have prepared a list just for you!
A Little Extra Whale Watching Fun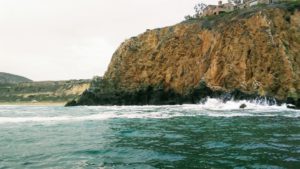 So, seeing that the vessel is small and easy to maneuver, the Captain surprised us by taking us close to Crystal Cove. The water was so clear! You could almost see all the way down to the bottom.
If you look closely, there are several harbor seals on the rocks under the bluffs. The Captain mentioned that this is the only spot where you can find harbor seals in Orange County. On a side note, in San Diego harbor seals are quite common in La Jolla!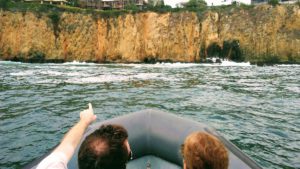 I am not going to lie, when the Captain started to go near the shore, I panicked a bit. But the RIB was very easy to maneuver, and the Captain knew what he was doing, so now I feel a bit ashamed in panicking at all.
After checking out the harbor seals we looked over to our left and there were a few Pacific bottlenose dolphins! They stayed a good distance away from us and dove deep once we approached. Wow! How lucky we were!
Zooming Back to the Harbor
As I mentioned earlier, the boat ride was almost just as exciting as seeing all of the marine mammals. To be honest, I could stay out all day long!
Right before we headed back into the harbor, we stopped to look at the California sea lions lounging on the buoy.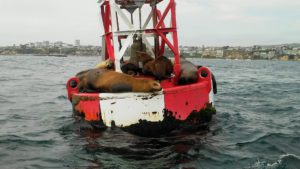 Can you believe how close we were to these sea lions?
Blue Whale Totem
So is it weird that I feel like the blue whale is one of my totem animal or in other words, my spirit animal? Well, take a quick look and see what that means.
The whale-spirt symbolizes depth, strong family ties, emotions, creativity, solitude, compassion, intuition, imagination, and knowledge. I am an odd bird, and I will be the first one to admit that. I have known since the age of 9 that I loved whales and that love has only expanded with age!
End of Tour
We had such a spectacular time! Can you believe all of the marine mammals we saw? The largest animal to ever live, the blue whale, about 100 short-beaked common dolphins, several Pacific bottlenose dolphins, a handful of harbor seals and several California sea lions. Boy, what an epic day for this Cancer birthday girl!
All in all, it was an almost perfect day! I highly recommend taking a whale watching tour with Newport Landing Whale Watching. Have a look at the website above as there are several tours to choose from. After riding on a RIB, it is going to be hard for me to ever go back on one of those large boat tours, but to each there own. I appreciate the variety that they offer. Check it out!
So what did you think? Have you ever been out whale watching in Southern California before? What did you see? Have you been whale watching anywhere else in the world? I would love to hear about it. Please feel free to leave any questions or comments that you may have down below. I have also made a short video of our adventure, so please check it out!
---
---
Learn How to Make a Business Website for Free!
I have always had a deep-seated passion for the Ocean Environment which ultimately led me to receive a degree in Marine Biology. Living in the San Diego area for over 30 years, I have extensively explored the 70 miles of San Diego's coastline, and I am here to share! Please use my website to your advantage and have a look around at all the wonders that the beaches of San Diego can offer you!