Say, are you looking for dog-friendly beaches in San Diego? There is no better feeling than sharing the outdoors together as a dog owner! And what better place to explore than at the beach!
Here I would like to present a comprehensive list of all the dog-friendly beaches in San Diego. I will be covering the entire San Diego County, first starting up north and making my way to the U.S./ Mexico Border.
I have added a # to specify which location is leash-free.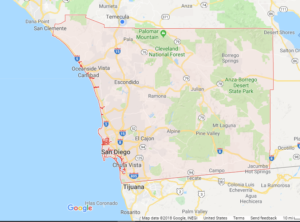 Dog-Friendly Beaches in San Diego North County
If you stay in North County, San Diego, there are only a few places where you can walk on the beach with your dog. Both the cities of Oceanside and Carlsbad do not allow dogs on the beach at all.
But, fear no more, San Onofre State Beach, located 20 minutes north of Oceanside, has two areas where you can experience the sand and water with your dog.
If you were to travel a bit south, San Elijo State Beach,  Seaside Beach at Cardiff State Beach, and a few Del Mar Beaches allow dogs.
Let's have a look.
San Onofre State Beach
Old Pacific Highway, San Clemente, CA 92672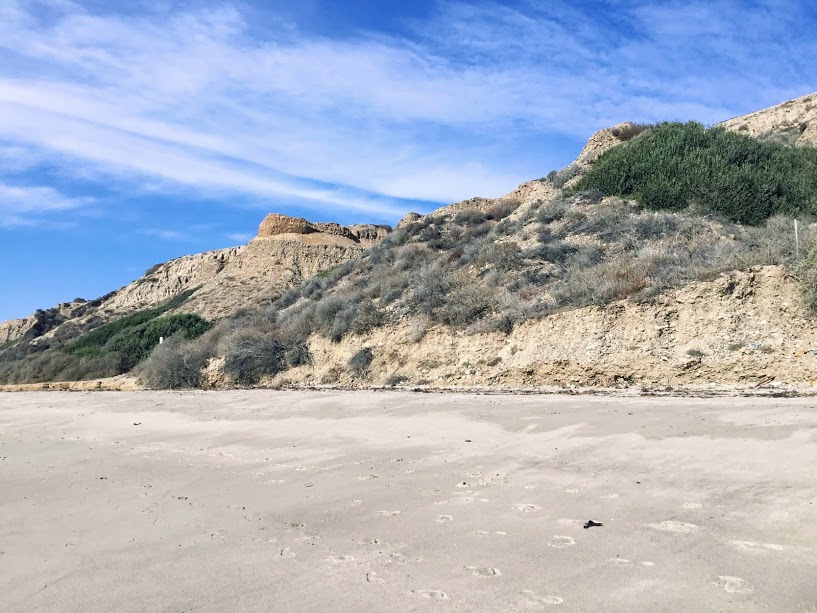 Seeing that this is a State Beach, there is a 15 dollar charge, but it is worth it!
It is also important to mention that the only place dogs are allowed on a leash is at the very south end of the parking lot at Dogpatch Beach. 
 At San Onofre State Beach, you will find a large sandy beach that you and your pal can explore. Also, the water is relatively calm here, which is excellent if your dog enjoys going in the water.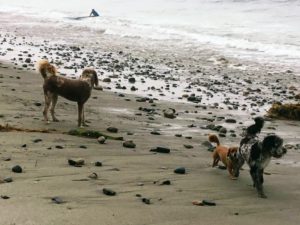 San Onofre Bluff Campground
5200 S Pacific Coast Hwy, San Clemente, CA 92672
Situated on top of the bluffs overlooking San Onofre State Beach at the San Onofre Bluffs Campground, you will find six nature trails that start up top and that will connect you down to the beach.
Dog's are allowed only on Trails 1 and 6 with a leash no greater than 6 feet long. San Onofre is a very rural location, and the trails can be dangerous, so please keep that in mind.
Also, because Trail 6 is so isolated, it has become an unofficial nude beach. Keep that in mind!
---
San Elijo State Beach
San Elijo State Beach is another dog-friendly beach in San Diego that is an absolute must-visit if you enjoy watching people surf!  Dogs have to be on a leash here and be aware that coastal reef nearshore can be hazardous to dog paws and human feet.
There are showers upstairs at the campgrounds if you would like to rinse off your dog. The surf is rough at this beach, so keep that in mind.
---
Seaside Beach at Cardiff State Beach
2526 S Coast Hwy 101, Solana Beach, CA 92075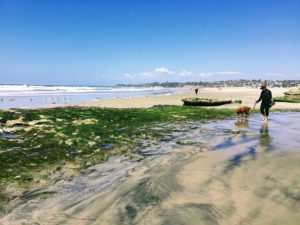 There is a vast parking lot here starting at four dollars an hour or 15 for all day. There are showers and restrooms, which are always a plus! Remember to keep your dog on the leash and pick up after them as the north side of this beach is protected habitat.
---
Del Mar Shores Beach Access
180 Del Mar Shores Terrace, Solana Beach, CA 92075
Dog's are welcome here south of the staircase with a leash. Solana Beach also requires that the leashes be only a maximum of 6 feet.  If you were to follow this beach south, you would be at Del Mar Dog Beach.
---
Del Mar Dog Beach- North Beach

#
3200 Camino Del Mar, Del Mar, CA 92014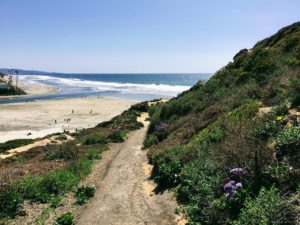 Located directly behind the Del Mar Fairgrounds, Del Mar Dog Beach is the place to go if you want your dog to be leash-free from Labor Day to June 15. After June 15, your dog must be on a leash. Here we have one of the most dog-friendly beaches in San Diego, North County!
There is a large sandy beach with lots of room for your dog to roam. It is important to note that the water currents are a bit rough when the tide is high, so please keep this in mind if your dog likes to swim.
---
Del Mar City Beach
1660 Coast Blvd, Del Mar, CA 92014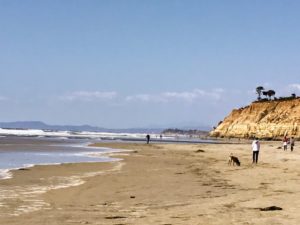 The rules of this beach are the following: leashed dogs are only allowed from Labor Day until June 15; after that, no dogs are allowed for the rest of the year.
---
Del Mar South Beach Access
Stratford Court & 11th St, Del Mar, CA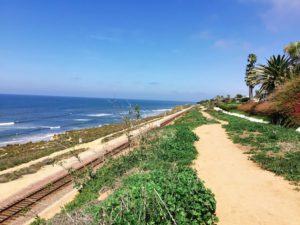 At South Beach Del Mar, leashed dogs are welcomed year-round. Here at South Beach Del Mar, you will find a dirt trail above the bluff train tracks, making for an excellent walk with your leashed dog. The path is gorgeous, and not many people are aware of it, so you're welcome!
Getting here is tricky as there is no parking lot, and the entranceway is in a residential neighborhood.
---
San Diego City Dog Friendly Beaches
Here in San Diego, we especially love our dogs! Every beach run by the city allows leashed dogs on the beach before 9 am throughout the year, and times vary with the time of year.
Here are to official times when no dogs are allowed on any San Diego beach, boardwalk, or adjacent parks-
April 1 to October 31 from 9 am to 6 pm
November 1 to March 31 from 9 am to 4 pm
For further information, I have included a link to the rules and regulations for the San Diego City Beaches.
–>San Diego Beach Amenities and Regulations<–
---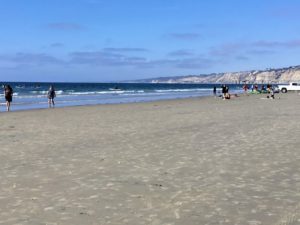 La Jolla Shore Beach is one of my favorite beaches! Your dog will love that you can take a nice long walk on the shoreline. A short bike path runs parallel to the beach, making for a great option if you do not want your dog getting sandy.
---
Pacific Beach-Palisades Park
Law St & Ocean Blvd, San Diego, CA 92019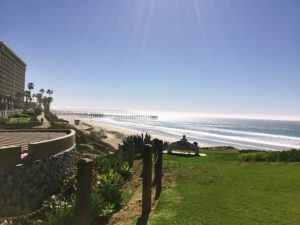 Pacific Beach is one of the most crowded beaches in San Diego. I have presented you here with the option of getting away from the enormous crowds with your dog.
As stated previously, you may walk your dog with a leash on the beach and adjacent parks but only before 9 am or after 6 pm (4 pm in winter).
Palisades Park is located in North Pacific Beach, provides a small dirt trail that follows the bluffs south, and will eventually connect you to the Pacific Beach Boardwalk. Here you may explore the coastline from up above and down by the shore.
---
Fiesta Island-Mission Bay
#
1750 Fiesta Island Rd, San Diego, CA 92109
Fiesta Island is located across from SeaWorld in Mission Bay. Here your best friend can be leash-free 24 hours a day if you are within the boundaries. What a great place to hang out and frolic in the calm Mission Bay waters and watch the boats go by in the distance.
—>Fiesta Island-A Closer Look<—
Please remember to bring ample amounts of water and be sure to clean up any presents left behind.
---
Ocean Beach Dog Beach
#
Ocean Beach Bike Path, San Diego, CA 92107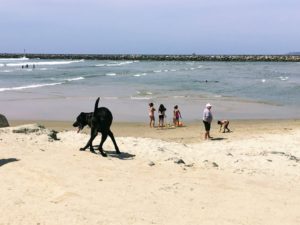 If I had to pick one of the most dog-friendly beaches in San Diego, it would have to be Ocean Beach's nationally famous Dog Beach! Did you know that Dog Beach in Ocean Beach was the first leash-free beach in the United States! Here dogs are allowed leash-free for 24 hours a day!
Dog Beach is located in north Ocean Beach, right next to the mouth of the San Diego River. Dogs, beachgoers, and surfers can all enjoy the beach together in this oasis.
The City of Ocean Beach asks that you do not take puppies here without vaccinations and that all dogs have a current license on their collar, and please pick up after your dogs.
Let's have a look at the video showcasing dogs having the time of their lives, not to mention their owners too!
---
---
After doing a little research, I found this establishment-Dog Beach Dog Wash only located a few blocks away, where they offer you the opportunity to wash your dog. What a great idea to go and wash your dog after a day at the beach; I mean, you do need to clean them, yes?
Check it out!
---
Sunset Cliffs Coastal Trail (Linear Park)
So this is not a 'beach' per se, but it is one of the loveliest walks in all of San Diego.  At Sunset Cliffs Coastal Trail, you can walk the bluff with your leashed buddy and take in all that this area has for you., which is quite a lot!
I implore you to take in the sounds of the surroundings-crashing waves, screeching birds, and the soft subtle winds that will transform your mental health.
And don't forget the many surfers in the water, they are always fun to watch.
You will never be bored here!
—>King Tide Sunset Cliffs Natural Park<—
Again the same rules apply here as in all of San Diego City Beaches. Dogs are only allowed between the hours of 6 pm and 9 am and always on a leash.
I highly suggest coming here to check out the sunset, as the view over here is out of this world here!
---
Coronado Dog Run Beach
#
Ocean Blvd, Coronado, CA 92118
Coronado Island is found just across the Bay from Downtown San Diego. Over here, you will find another 24-hour leash-free dog beach! Dogs are allowed leash-free between Sunset Park and Ocean Drive to the U.S. Naval Air Station border. There is an ample amount of dunes to run around and gentle waves for the most part.
The City of Coronado is stringent, so if you have a dog without a leash outside of the boundaries, you will get a $500 ticket. No food or treats are allowed on the beach, and Coronado will not tolerate aggressive dogs or people here.
At the far end of the beach, near the entrance of the Naval Air Station, there is a water fountain for both humans and dogs. Small plastic bags are also available for you to pick up after your baby.
---
Imperial Beach
Imperial Beach, CA 91932-south of Imperial Beach Blvd
706 Ocean Ln, Imperial Beach, CA 91932– north of Palm Ave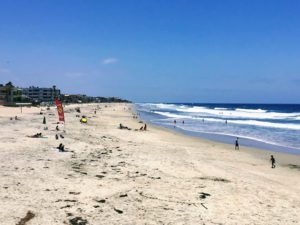 Imperial Beach is located just 2 miles north of the U.S. /Mexican Border. You can only walk your dog south of Imperial Beach Blvd in South Imperial Beach or north of Palm Ave. You will be sited if you try to walk between the two. Also, dogs are not allowed on the Imperial Beach Pier.
Of particular note,  I do not recommend visiting Imperial Beach after a rainstorm as the bacteria levels in the ocean waters are always extremely high. Please take this into account if you plan to visit.
---
Tijuana Slough National Wildlife Refuge
1680 Seacoast Drive, Imperial Beach 91932
So now we come to the very last place in the United States for your dog to walk on the beach, with a leash, of course. As you can see, a protected National Wildlife Refuge is here, and therefore no dogs are allowed within.
You are allowed the walk the coastal strip, though. The fur babies must be on leashes here as there are some roped-off sections on this beach to protect threatened bird species, the Western Snowy Plover's breeding grounds.
I have to say that it is a beautiful walk, with relatively few people around, which I appreciate. Here it is also possible to walk south to the mouth of the Tijuana River. Again, the water here is not the cleanest, so please keep that in mind while visiting here.
---
Dog-Friendly Beaches in San Diego Summary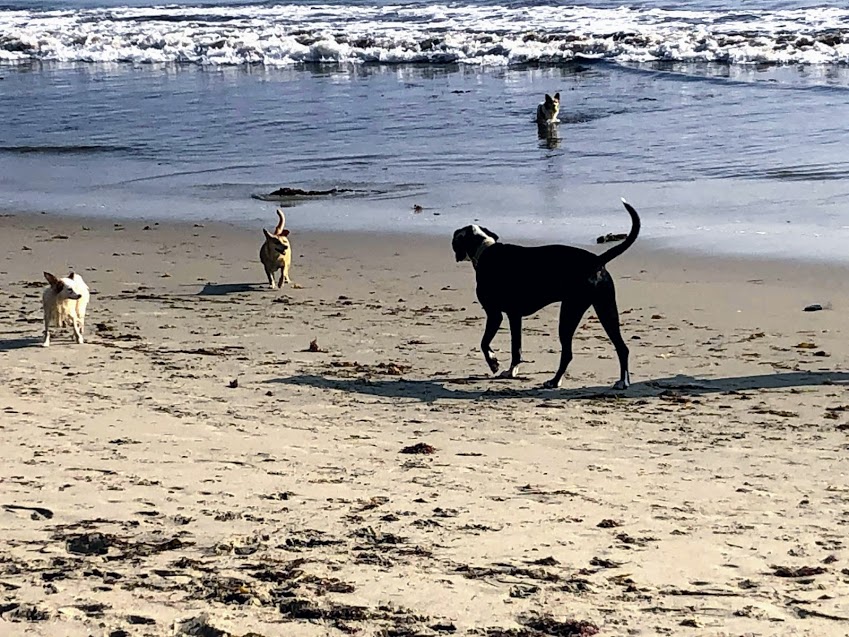 As you can see, there are quite a few options when it comes to taking your dog to the beach in San Diego.
San Diego City Beach Hours And Requirements
Before 9 am or after 6 pm (April 1-Oct 31) or 4 pm (Nov 1-March 31)
All beaches require a maximum of a 6-foot leash
Imperial Beach allows for an 8-foot leash
Pick up after your dog
The appropriate license on the dog collar
No Dogs Allowed On These San Diego Beaches
City of Oceanside
City of Carlsbad
Leash-Free San Diego Beaches
Del Mar Dog Beach-North Beach (only between Labor Day and June 15)
Dog Beach Ocean Beach
Fiesta Island, Mission Bay
Coronado Dog Run Beach
So there you have it, all of the dog-friendly beaches in San Diego. Boy, am I in the mood to go to the beach with my dog now! How about you?  Please feel free to leave any comments or questions below.
Until next time!
I have always had a deep-seated passion for the Ocean Environment which ultimately led me to receive a degree in Marine Biology. Living in the San Diego area for over 30 years, I have extensively explored the 70 miles of San Diego's coastline, and I am here to share! Please use my website to your advantage and have a look around at all the wonders that the beaches of San Diego can offer you!