As my girls and I walked around Famosa Slough on a clear November day, we realized that we still had a couple of hours before picking my husband up from work. So we decided to go to Shoreline Park on Shelter Island at San Diego Bay. We have been coming here for years!
I love to watch the boats in San Diego Bay. But there are so many other things to pay attention to over here, for instance, observing the jets take off and land over on Naval Air Station North Island/ Coronado or shorebird's dive-bombing into the bay. On a clear day, you can see the Coronado Islands of Mexico (Islas Coronado.)
And how about the smells? There is nothing better than the crisp smell of saltwater, is there? I find it so refreshing!
The sounds here on Shetler Island are just as unmistakable: sea lions barking, the wind blowing through the trees, and the water lapping on the rocks after a large ship goes by. You might even hear the chattering of green parrots. Did you know that a flock of green parrots live here on Shelter Island? More on these lively parrots later.
Let's now look at what we saw and offered here at Shoreline Park/ Shelter Island.
#Click on any small photo to see a larger version.
Exploring Shoreline Park in November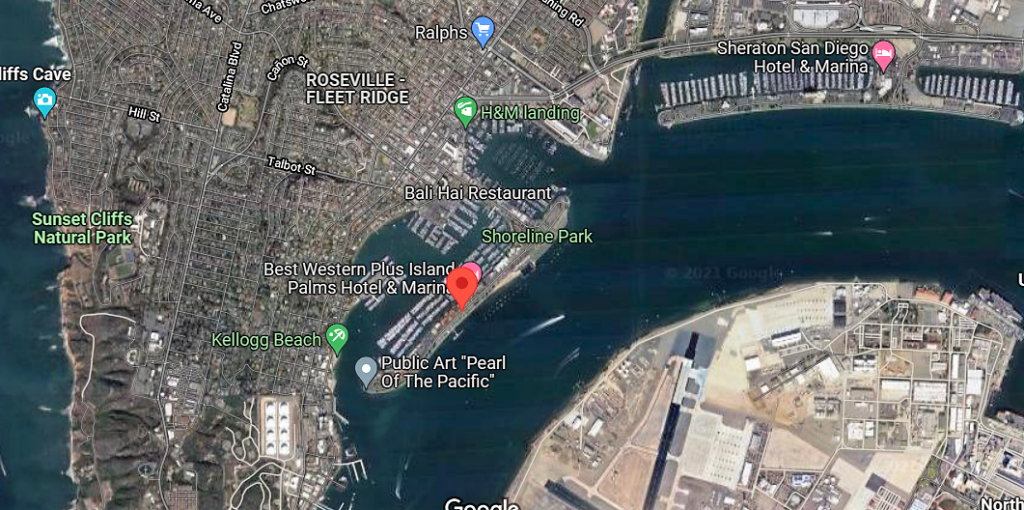 Shoreline Park is a narrow band that stretches for one mile on the bayside of Shelter Island. Dogs are welcome here but must be on a leash.
Let's now take a look at all of the things that are offered within Shoreline Park.
Shoreline Park Amenities–
restrooms
picnic tables
grass park
gazebo
fire pits
paved bike/walking path
leased dogs are welcomed
kids play area
sand beach
art walk
Shelter Island Fishing Pier with a small restaurant (see down below)
harbor on the backside
many hotels with bars; including Humpreys on the Bay
Where to Park on Shelter Island?
When we visit Shelter Island, I usually park near the pier or in front of the San Diego Harbor Police dock at the island's southern tip. It is important to note that regular parking is limited near the Shelter Island launch ramp, and all parking spots are reserved for vehicles with boat trailers.
Shelter Island Boat Launch
The Shelter Island boat launch had a grand 're-opening' ribbon-cutting ceremony after a 9.6 million dollar overhaul on January 22, 2019. Over 50,000 boat launches here annually, being one of the busiest launch ramps on the entire coast of California!
Below are the many upgrades the Port of San Diego made, such as an enlarged basin, broader and longer loading docks, and a public observation deck. We always love to walk on the deck but be forewarned of a large amount of guano, or in other words, bird poop.
Let's Have a Bonfire at Shoreline Park!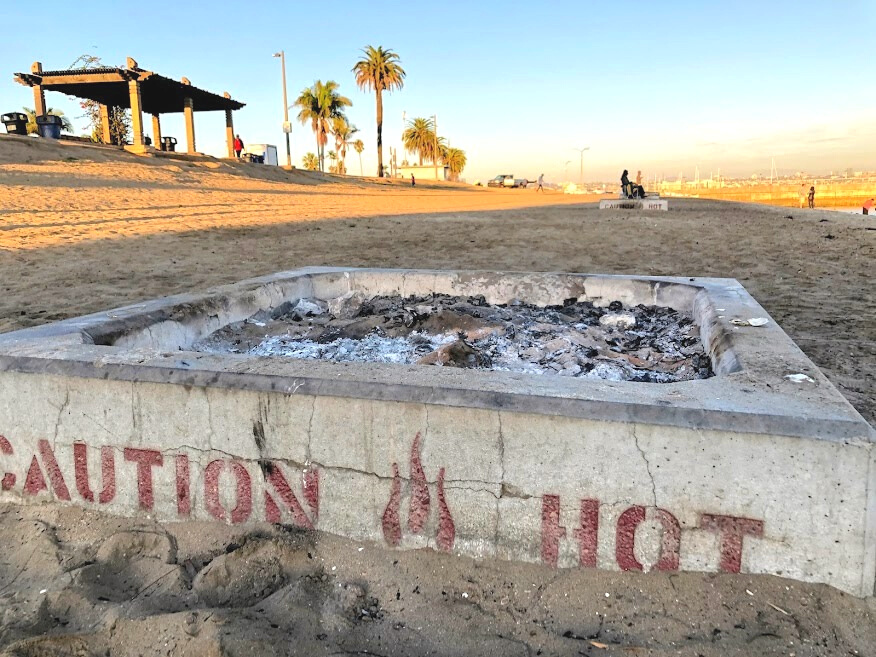 We go south, passing the Shelter Island boat launch; we reach the four fire-rings on the sandy beach. It would be so cool to have a bonfire over here!
The Shelter Island Pier- A Closer Look
The Shelter Island Pier is one of the busiest piers in San Diego Bay, and it is a crazy mess on the weekends, in which every inch of space available is taken. The pier is situated 200 feet offshore, is made of wood, T-shaped, and measures 500 feet long. The underwater environment is a mixture of mud, sand, eelgrass, and rocks.
Fun Fact- If you are looking to catch opal eye, the best spot is right next to the bait shop.
Due to the position within San Diego Bay, the closest pier to the ocean, there have been some weird fish or unusual catches, such as thresher and angel sharks.
After reading through numerous fish forums, it seems that mackerel is the number one catch, followed by spotted bay bass and kelp bass.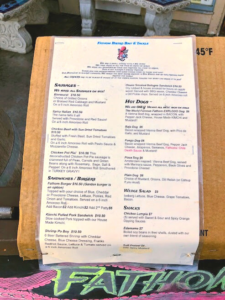 Fathoms Bistro, Bait, and Tackle is located right on the pier and offers some interesting, tasty eats! The pulled pork with homemade kimchi with lumpia sounds like something  I would be interested in ordering. They even house-made sausages! Another major bonus for anglers fishing here is the wide variety of beer offered. 
Shelter Island Art Walking Tour
So today, I didn't get photos of all the statues, seeing that we only walked from the launch ramp to the southern tip of the island.
Down below is what we encountered.
If you are interested, I found this Shelter Island Self-Guided Art Tour pamphlet, courtesy of the Port of San Diego, for you to use the next time you visit Shoreline Park.
The first two pieces we encountered are situated very close to Shelter Island Pier.
Bubble Bath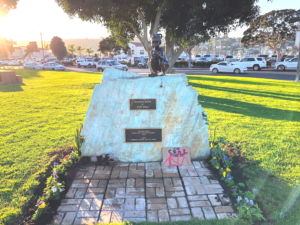 Artist– Dan Hill (2000)- bronze
Tunaman's Memorial 
Artist- Tranco Vianello (1986)- bronze
I urge you to read the names.
The Osprey Box at Shoreline Park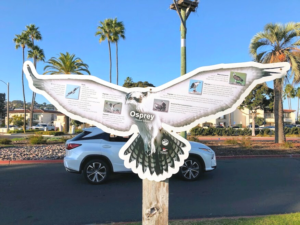 We pass by Shoreline Parks' osprey box as we keep walking south. The Port of San Diego has erected these across San Diego Bay to deter seagulls and pigeons.
A Few Osprey Facts
is the only species in the Family Pandionidea
found in all continents except Antarctica and many islands
diet of live fish almost entirely
they have a unique shape as they fly with their wings slightly arched and slightly bent at the wrist
in Southern California, pesticide use in the 40s and 50s of DDT led to a population decrease
in 1997 a pair of ospreys nested in San Diego County for the first time since 1912
osprey pairs mate for life
the same nest is used year after year with additional material added each year- the nests can weigh hundreds of pounds
breeding season is from March 15 to August 15
a clutch usually consists of three eggs, with one to two surviving
the nesting period lasts 44- 59 days, with the incubation period being about 38 days
Pacific Spirit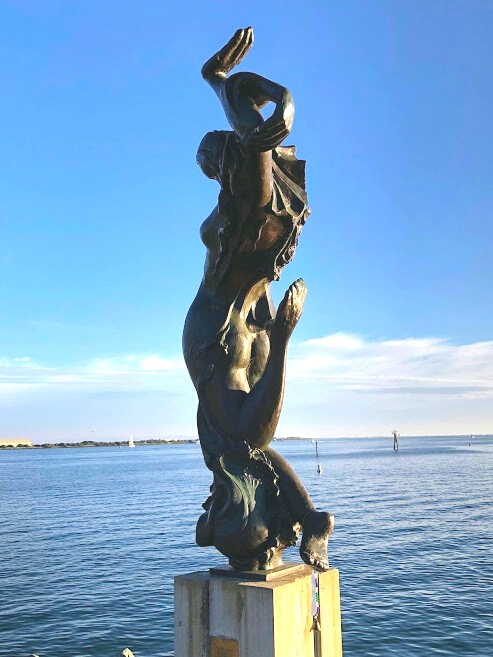 Artist- James T Hubbel- 2002
Material– bronze Oh, how I love this statue! If I had to pick my favorite spot at Shoreline Park, right here is it, for sure! Here we are on the southwestern tip of Shelter Island.
You can sit here and witness the boats and other vessels coming into the bay and the many sailboats that come by here quite close. Kona Kai Marina is on the backside of Shelter Island.
Pearl of Pacific and Pacific Rim Park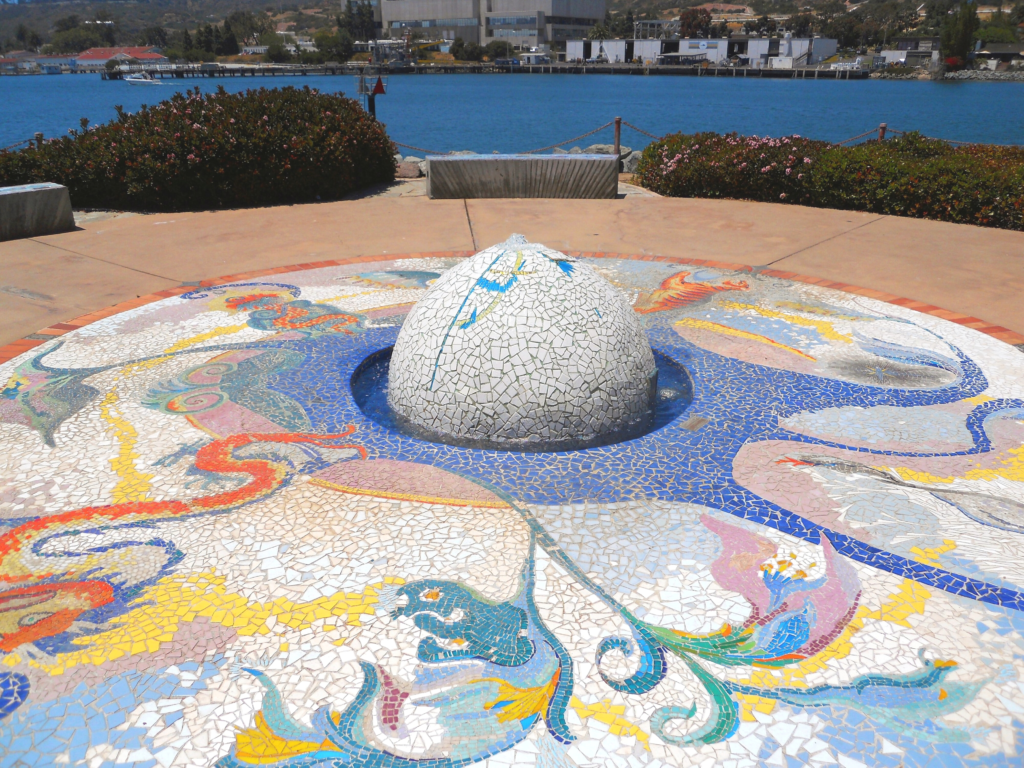 Artist- James T Hubbell -2006
Material- concrete and mosaic artwork and fountain- Pacific Rim Park
Pacific Rim Park was created in 1998 to unite Pacific Rim countries- Mexico, China, Russia, and the United States. The project was led by artist James T Hubbell and many architect students from the above countries, under the supervision of leading urban planners and other artists.
Click on the link provided below for more detailed information.
Observing the Opening of San Diego Bay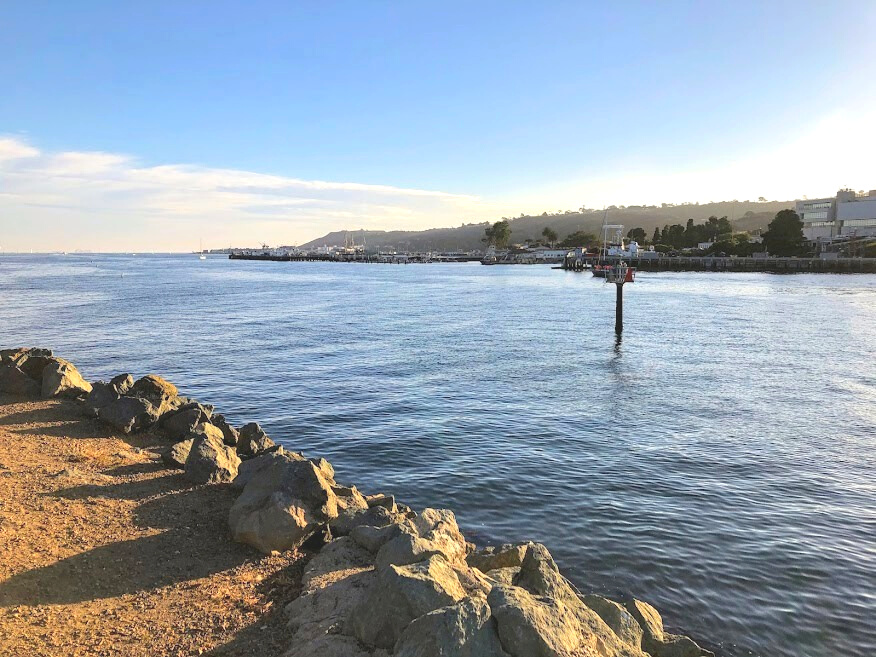 Here we are at the very tip of Shelter Island and my favorite spot.
Why?
Right across from here is Naval Base Point Loma, where they have been doing dolphin and sea lion training over the years.
On any given day, you may have the pleasure of observing the dolphins with their trainers. You can also hear the familiar bark of the California sea lion over here.
Another reason I love it over here is that you have a great view of the opening of San Diego Bay.
It is not uncommon to see shorebirds diving for fish over here too! That is always fascinating to watch.
End of Shoreline Park Tour
Thank you so much for joining me on a mini-tour of Shoreline Park at Shetler Island.
Oh, I almost forgot!
So about those flock of green parrots over here? They nest in the tall palm trees on Shelter Island, and no one is sure how they came to become native here.
Some speculate they migrated here due to deforestation in Mexico and South America, initially native. Others believe escaped parrot pets started the population.
Another theory I came across was that many parrots were set free during a pet store fire. Whatever the reason, five different species of parrots live in San Diego.
I often heard them when working over at the Shelter Island boat launch ramp, across the street at the resort, Humprey's Half Moon Inn.
So next time you are there, look up in the trees.
Thank's again, and until next time!
Helpful Posts-
I have always had a deep-seated passion for the Ocean Environment which ultimately led me to receive a degree in Marine Biology. Living in the San Diego area for over 30 years, I have extensively explored the 70 miles of San Diego's coastline, and I am here to share! Please use my website to your advantage and have a look around at all the wonders that the beaches of San Diego can offer you!