I would have a bit of fun with this post today. With all the exploring I have been doing in San Diego County, I have noticed the elusive Torrey pine trees while on my adventures.
I am so intrigued that the Torrey pine tree is endangered and is the rarest pine tree in North America. The Torrey pine tree only grows naturally on a tiny strip of land on Torrey Pines State Natural Reserve (TPSNR). Because of this, I keep noticing them wherever I go around San Diego County!
I have tried to find any information on who planted these trees, but I was ecstatic every time I saw a Torrey pine tree. So I did a little research, and let me tell you, it was not easy. There is plenty of necessary information, but other than that, not so much.
Torrey Pine Tree Information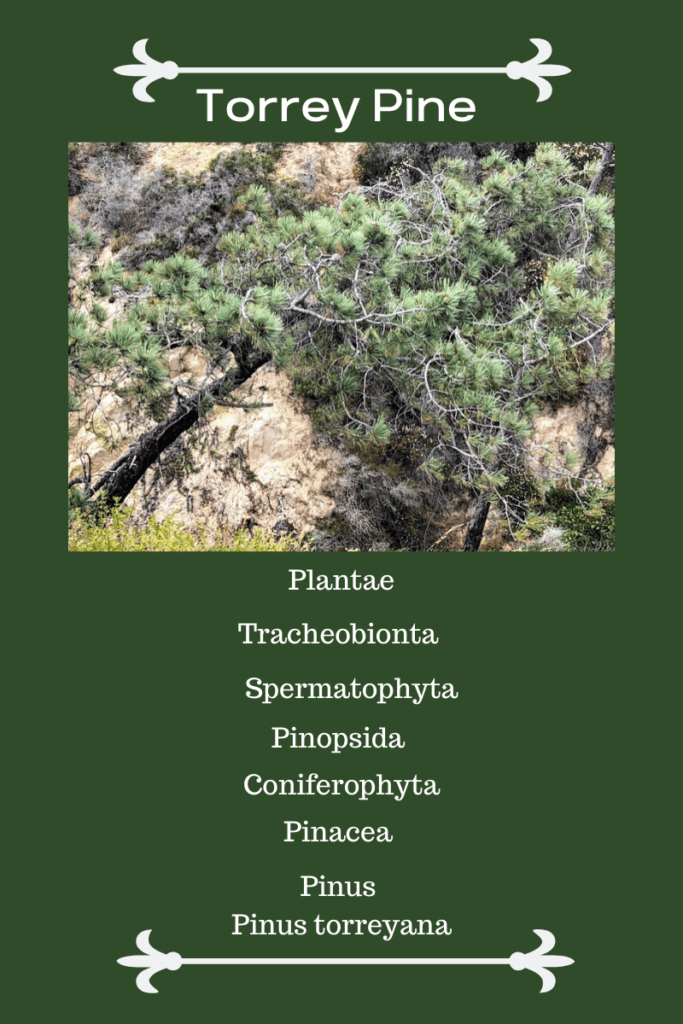 First and foremost, the Torrey pine tree only grows naturally in Del Mar and Santa Rosa Island, off the coast of Santa Barbara, which is 175 miles away.
The Santa Rosa Island trees are a subspecies – Pinus torreyana insulavis and are usually shorter, more sprawling, and have shorter needles and broader cones than the mainland population.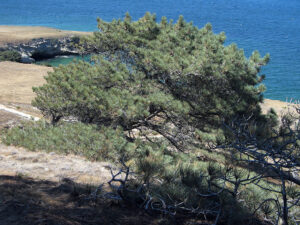 Torrey pine trees found in Del Mar (Pinus torreyana torreyana) are wind-sculpted, more bent on the bluffs, and rarely reach heights over 39 feet (12 m). In contrast, inland trees in more sheltered areas can grow straighter and reach heights up to 108- 148 feet (33 m- 45 m) tall.
So, if established in a warm, damp climate, away from the coast, the Torrey pine tree makes an excellent shade tree.
Another interesting fact is that the Torrey pine tree has been planted as a plantation tree for forestry use in New Zealand, Australia, and Kenya.
Where is the World's Largest Torrey Pine Tree?
The giant Torrey pine tree is located south of Santa Barbara in Carpinteria. The tree, The Wardholme Torrey Pine, was planted as a seedling by Judge Thomas Ward in 1888. The story goes that this tree was planted as part of a contest to see who could grow the giant Torrey pine tree.
Today, the tree is over 126 feet tall,  with a 130 feet branch spread and more than a 20-foot trunk circumference.
I can not wait to visit this tree! The Wardholme Torry pine tree can be found in a vacant off Carpinteria Ave, between Walnut and Maple Avenues.
Update- On July 10, my husband and I visited the Wardholme Torrey Pine tree! To learn more, click on the link provided!
Longest Needles of all Pines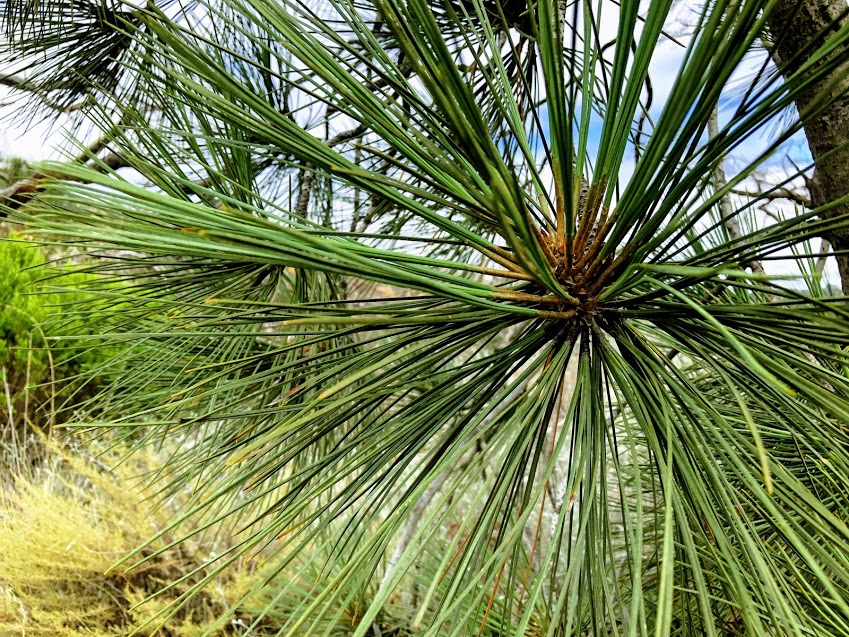 One of the easiest ways to tell that you are looking at a Torrey pine tree is to look at the needles. Of all the pines, the Torrey pine has the longest needles (9 to 12 inches) and is paired in fives.
If you look closely, you will see a grove in the center of each needle, allowing the fog to accumulate and then drop down onto the tree, down to its roots.
Amazing Torrey Pine Tree Adaptations!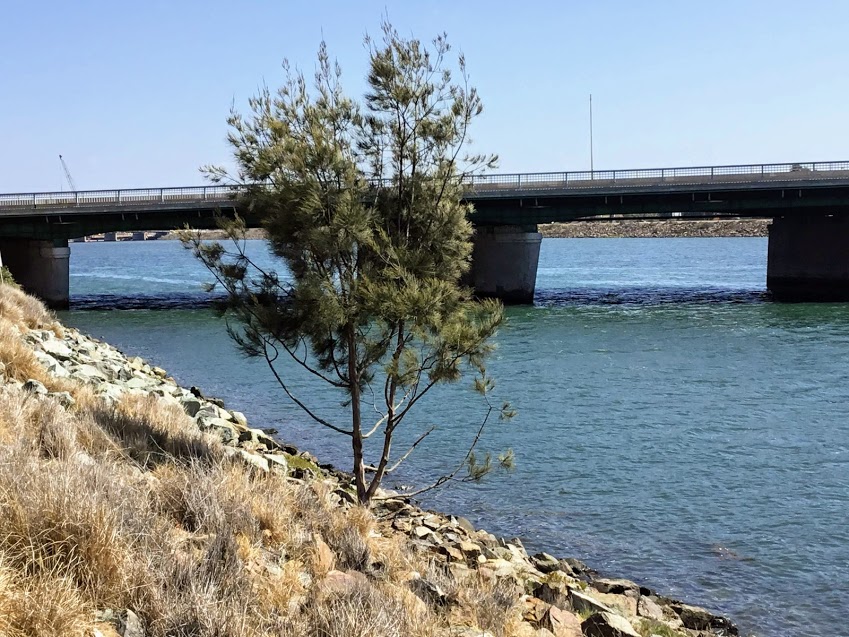 Did you know that the Torrey pine tree is the only pine tree that can live on the coast of Southern California? Why? Well, seeing that we get less than 12 inches of rain annually is not nearly enough for most pine trees to survive.
So how has the Torrey pine adapted? For instance, say you have a 6-inch seedling; its taproot is already 2 to 3 feet long. So once this tree reaches 40 feet, the taproot is over 200 feet long!
The Torrey pine tree is adaptable and can thrive in deplorable soil conditions and drought.
How do you ask?
Fog.
The tree will absorb surrounding fog and feed on any water source found by its root system. Pretty incredible. And do not forget those fantastic needles funneling water down to its base.
Where are all the Torrey Pine Trees in San Diego County?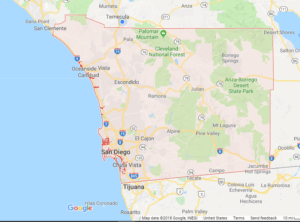 So who am I writing this post for? Well, you! I thought that seeing how rare and endangered the Torrey pine tree is, wouldn't it be fun to find out where they are all located across San Diego County?
I will start in North County, San Diego, and make my way South. If I have any additional information on each site, I will link previous posts that have addresses linked to Google Maps.
Now is the time to start our adventure! Please take a look and notice how all the trees look a certain way closer to the ocean shore.
San Onofre Bluffs Campground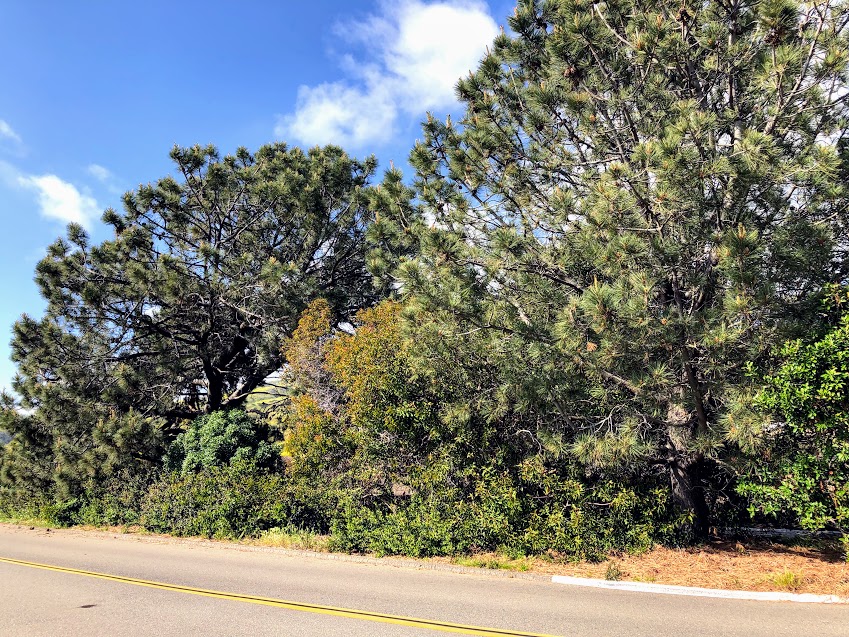 There are several large Torrey pine trees at the San Onofre Bluffs Campground entrance. They are pretty significant, and notice that they stand more upright than the trees right on the coastline. I love it here! If you like to hike, there 3 miles of sandy beach with six trails that connect the beach to the bluff.
---
Las Flores Viewpoint
Twenty miles south of San Onofre, the Las Flores Viewpoint exit is off Interstate 5. Here you have a parking lot, and that is pretty much it. The Aliso Creek Rest Area is only 2.5 miles south if you have to use the restroom.
The first photo is of a Torrey pine tree found east of the parking lot. As you can see, it too is more upright than the second Torrey pine tree shown in photo number two, which is found right on the bluff.
---
Aliso Creek Rest Area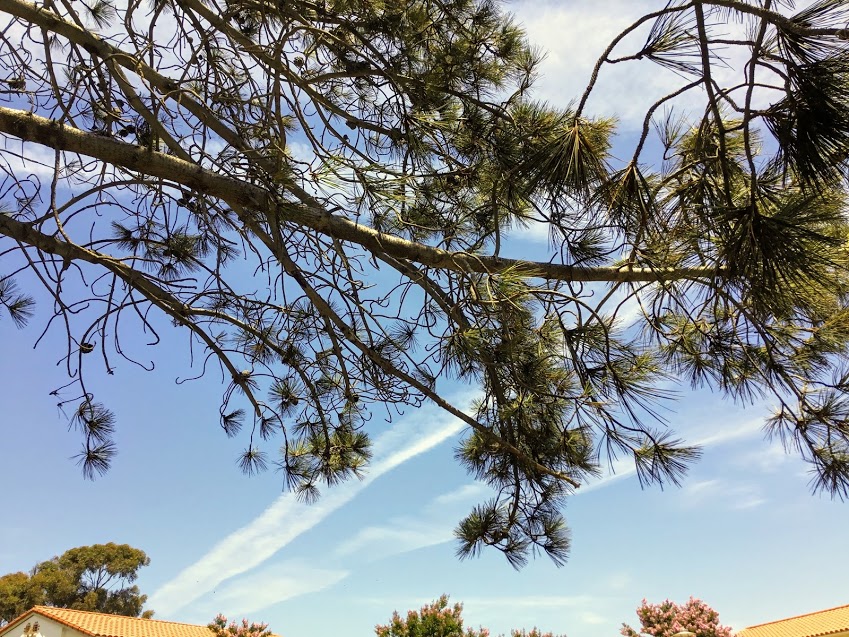 Here is the grand dame of Rest Areas, which you come upon right before Oceanside. As mentioned above, there are many restrooms, snack vending machines, and a large grassy area with picnic tables.
There are several large trees within this lush grassy park area and a very tall Torrey pine tree in the center.
---
Oceanside Harbor
There are several Torrey pine trees scattered around Oceanside Harbor. But, in the northern section of the harbor, next to the Jolly Rodger Restaurant, a large dead Torrey Pine tree had become a rookery for the Great blue heron, great egret, and the double-breasted cormorant.
The tentative word here is "was" because this tree was taken down last year, like several others. The birds were very messy, and the restaurant customers complained to boat owners about this mess. It was a rookery, so I am not sure what to say. If you were to ask me, I would say the mess was worth it.
I am happy that we could experience this roosting tree before it was gone. Again, do you notice how tall this Torrey pine tree is due to being isolated by the coastal winds?
---
Buena Vista Audubon Nature Center- Oceanside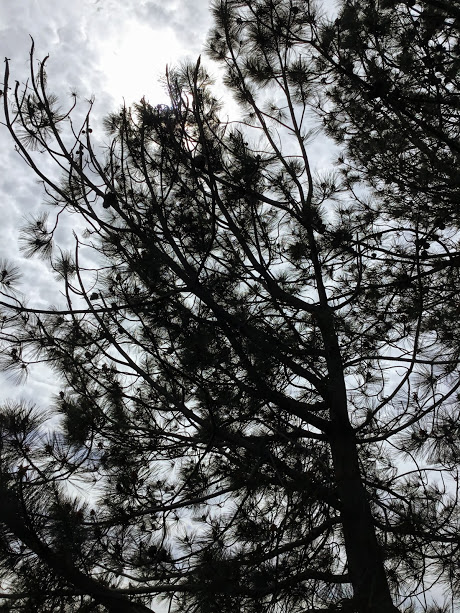 The first time I visited the Buena Vista Lagoon and walked around the nature center's loop trail, I was pleasantly surprised to find Torrey pine trees. This area isolated them from the strong winds, and you can tell by their height.
This was the first lagoon and nature center I visited, so I would 'desperately' look for Torrey pine trees at each lagoon and nature center after that. And let's say that I was never disappointed.
---
Agua Hedionda Lagoon- Carlsbad
Agua Hedionda Lagoon Discovery Nature Center
One of the first things you notice when pulling into the Agua Hedionda Lagoon Discovery Center's parking lot is several Torrey pine trees situated in and around the parking lot. The trees here are quite large compared to the other nature centers.
Bayshore Drive Trail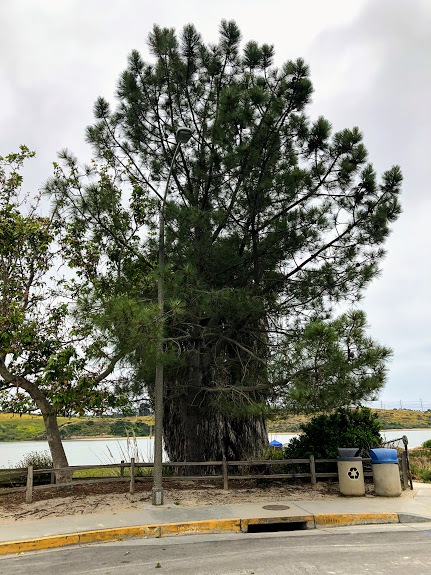 In May last year, I explored a few of the northern trails of the Agua Hedionda Lagoon. I have to say that my favorite was Bayshore Drive Trail. Can you guess why? Well, because there are several Torrey pine trees here. The trees are right next to where there are benches to observe birds foraging in the mudflats.
As you can see, the trees are growing up right here.
"Tomato Fields" Carlsbad Abandoned Lot
I found this spot quite by accident. As I was driving north on Carlsbad Blvd, I noticed two rows of trees standing in an abandoned lot. To say I was intrigued was an understatement.
So I drove to Manzano Dr, parked my car, and started my adventure! Ever since I have been here, I have desperately tried to find any information on this area, and so far, the only thing I have found is that there used to be a tomato field here in the past.
I have no idea when, how, or who used to live here, but I will find out! Whoever planted these trees sure did an excellent job. Notice how full these trees are compared to bluff trees.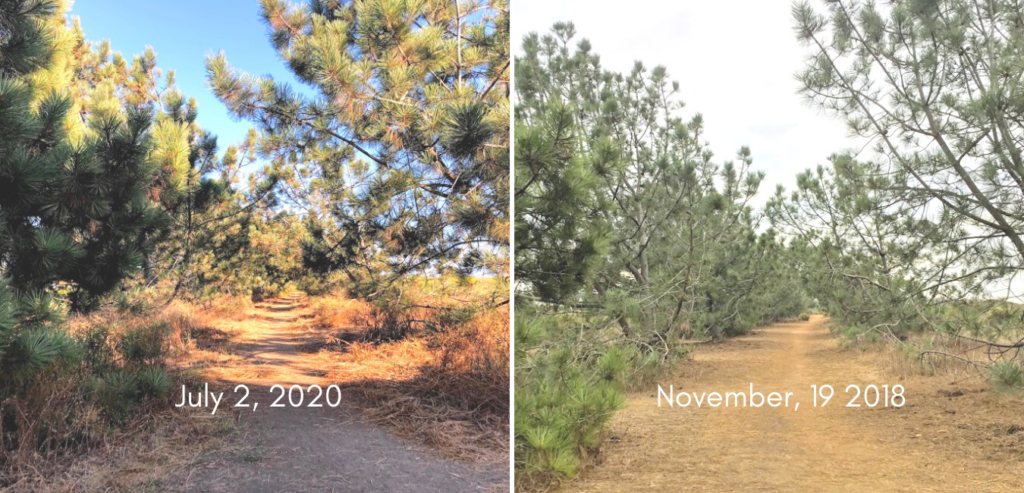 Updated-Whenever I am in the area, and I like to stop by to see how the trees are doing. Here is a comparison from 2018 to 2020. It should be mentioned that we had an exuberant amount of rain at the beginning of 2020. Can you see the difference in growth?
November 19, 2018
July 2, 2020
---
Swami's Seaside Park-Encinitas
If I had to pick my favorite beach to hang out on, Swami's State Beach would be it! There are several Torrey Pine trees at Swami's Seaside Park, and you will notice an old Torrey pine tree stump carved into an Easter Island statue in the center of the park!
---
Coast to Crest Trail-San Dieguito Lagoon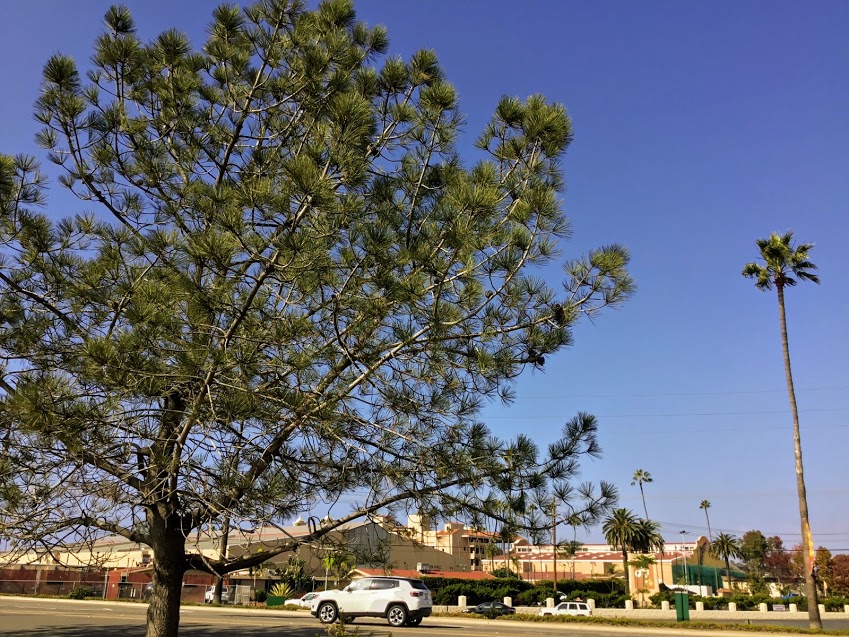 While hiking the Coast to Crest Trail and the San Dieguito Lagoon, I was happy to see a row of Torrey Pine trees on the trail.
Adjacent to the trail, the Del Mar Racetrack has been rehabilitating the area by cleaning and replacing non-native plants with native plants.
I took the second photo at the very end of the trail. It is not uncommon to see Torrey pine trees everywhere in Del Mar!
---
Torrey Pines State Natural Reserve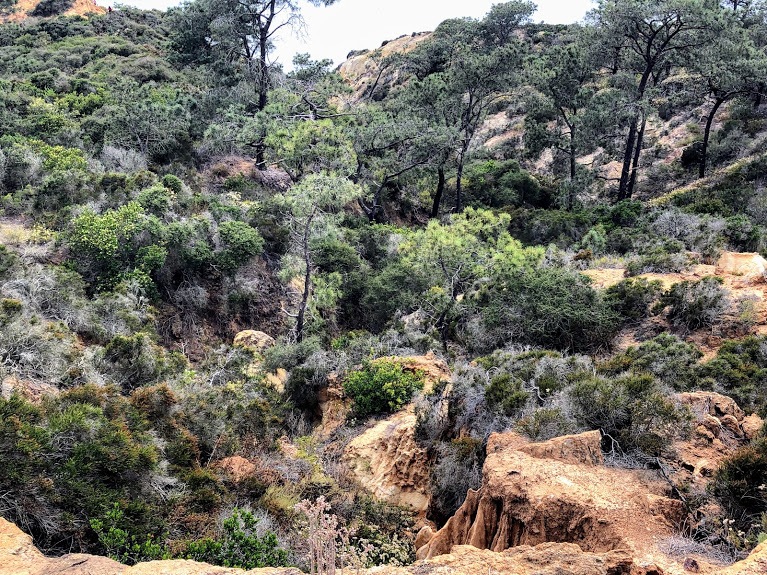 If you love Torrey pine trees, then Torrey Pines State Natural Reserve is ground zero! As stated above, here is the only place in North America where the Torrey pine tree grows wild. I can express how incredible this park is! Nowhere on earth does any other tree species have such a small habitat as the Torrey pine tree.
In the 1980's many of the Torrey pine trees in the park were starting to become infested by the Bark Beetle.
Over 30% of the trees died. It is believed that the trees became stressed out by drought. In response, Bark Beetle pheromone traps were set up to eliminate the beetles.
The traps give off a scent of a distressed Torrey pine tree. It was a great success, and the traps were removed in the mid-'90s but were reintroduced in 2001.
Torrey Pines Gliderport
There is a lovely Torrey pine tree full and upright about 2 miles south, up on the hill, in front of Torrey Pines Gliderport.
Torrey Pines Golf Course is just north of here, and the infamous nude beach, Black's Beach, is directly below.
---
 La Jolla Bluffs
The bluffs of La Jolla are found just south of Torrey Pines State Beach, and due to its location, parts of La Jolla are sheltered from the winds. A case in point is that the Torrey pine trees found at Goldfish Point right in front of the Cave Store are very tall, and it is not uncommon to see cormorants up in the trees.
La Jolla Coast Walk Trail
On the La Jolla Coast Walk Trail, I found this lone tree on the bluffs north of the Cave Store. Can you even imagine trying to survive by hanging off a cliff? This shows you how deep the roots adhere to the bluff.
---
Torrey Pine Trees at Mission Bay
De Anza Cove
I can not tell you how many Torrey pine trees can be found scattered around Mission Bay! First, let's start at the most northern section of the bay, over at De Anza Cove. Here is a known rookery for the Great blue egret. Notice too how filled in these sheltered trees are.
Fiesta Island
Next, as we continue, a few small Torrey pine trees are found at the entrance of Fiesta Island. Notice how windswept these trees are. You can easily guess that the wind is a strong influence over here.
Vacation Isle
Across from Fiesta Island, many Torrey pine trees on Vacation Isle are in the center of the bay. Again, I was surprised by how healthy the trees look in this location.
San Diego River Channel
On the southern edge of Mission Bay, off of Seaworld Drive and parallel to the San Diego River Flood Control Channel, many Torrey pine trees are seen. Again, do you notice how tall the trees are over here?
---
Fort Rosecrans National Cemetery
Did you happen to know that the very best place in San Diego to go bird watching with the most variety of birds is at the Fort Rosecrans National Cemetery in Point Loma?
San Diego has the most extensive biodiversity of birds and plants in the nation. Located underneath the Pacific Flyway, thousands of birds visit the cemetery and utilize the vast selection of available trees.
---
San Diego Bay- The Living Coast Discovery Center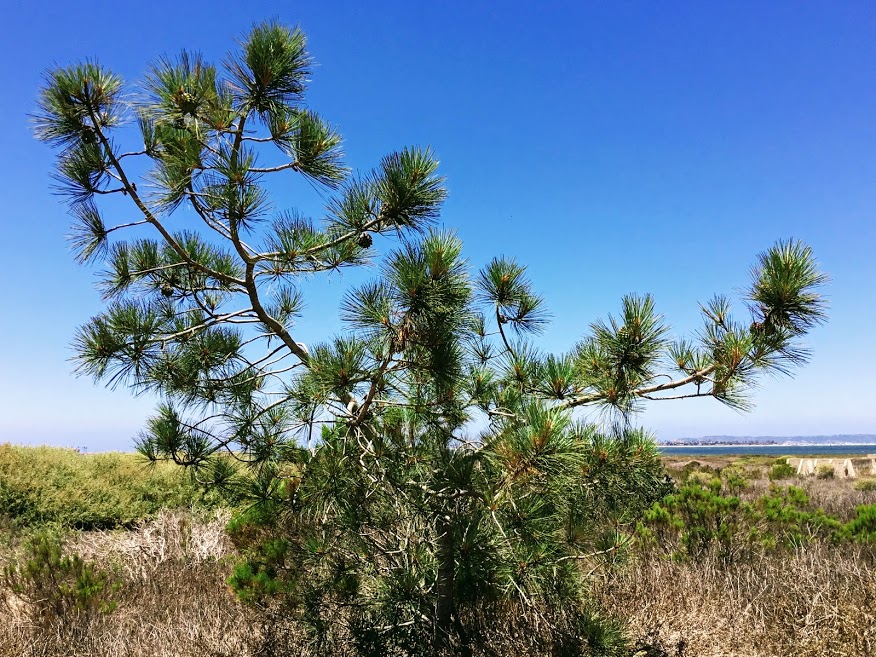 I highly suggest visiting The Living Coast Discovery Center in Chula Vista if you are ever in the area. Here you can learn about the San Diego Bay ecosystem and native animals and plants.
While walking in the Native Garden, I was pleasantly surprised to see they had planted two Torrey pine trees. Seeing that we are over 24 miles south of Del Mar, to see Torrey pine trees over here was a great treat!
---
Tijuana River National Estuarine Research Reserve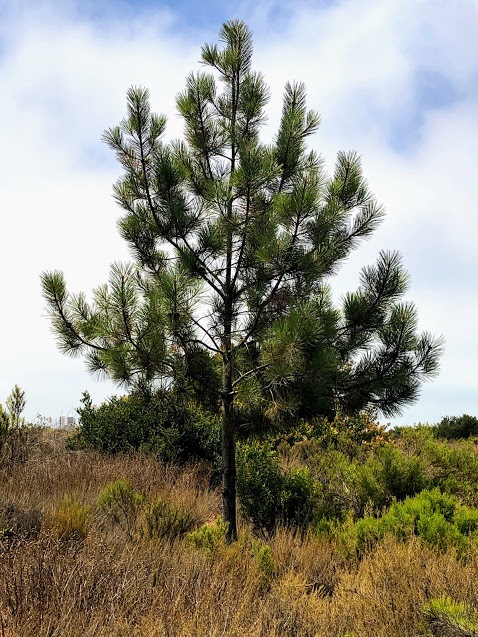 While hiking at Border Field State Park, found in the southwest corner of the Tijuana River Estuarine Research Reserve, I found a great surprise. At the beginning of the walking trail, a small Torrey pine tree is growing in the estuary!
---
Still, on the Hunt for Torrey Pine Trees
I will have so much fun looking out for Torrey pine trees every time I am on the coast of San Diego.
Another way of putting it is to actively seek out the Monumental Torrey Pine trees in San Diego. A Monumental Tree (heritage tree) stands out with great size, width, and age, and it is a way to recognize and value urban and city trees.
Del Mar officially has named the Torrey pine tree a Heritage tree for the city. No one can damage or remove any Torrey pine tree in Del Mar without a proper license.
Where are the Monumental Torrey Pine Trees in San Diego?
There are a couple on Catalina Blvd, a few in Coronado, and one in Union Place Circle in La Jolla. Click on the above link for more information.
The city of Ocean Beach has had a long-term affair with the Torrey pine tree. Over on Saratoga Ave, there are six heritage trees; over on Long Branch, there is one more and an eighth Torrey pine tree on the corner of Greene and Ebers.
Please check back later, as I will visit all of these trees ASAP!
Until next time!
I have always had a deep-seated passion for the Ocean Environment which ultimately led me to receive a degree in Marine Biology. Living in the San Diego area for over 30 years, I have extensively explored the 70 miles of San Diego's coastline, and I am here to share! Please use my website to your advantage and have a look around at all the wonders that the beaches of San Diego can offer you!