San Diego is one of the best places in the country to go on a whale-watching tour. In this article, I would like to present a comprehensive list of all possible San Diego whale-watching tours available in San Diego County.
Let's See Some Whales and Dolphins!
There are several species of whale to encounter here, especially during the Gray whales' migration season (Nov-April). The Blue whale (May-Nov) is another species commonly seen passing by the coastline of San Diego.
Along with whales, four possible species of dolphins are frequently seen on a San Diego whale-watching tour. These include the Pacific bottlenose dolphin, Risso's dolphin, the common dolphin, and the Pacific white-sided dolphin.
Seeing Whales in San Diego 
For more info on other possible marine mammal species seen off the San Diego coast, I have made a list that may be found here.                         
San Diego Whale Watching Tours
San Diego whale watching tours are available year-round, notably with the peak of the season being during the Gray whale migration (Nov 28 through April).
In San Diego, there are three harbors to choose from that offer whale-watching tours: Oceanside Harbor, Mission Bay, and San Diego Bay.
Let us now look at all the available San Diego whale-watching tours, starting with the most northerly location- Oceanside Harbor.
Oceanside Harbor Whale-Watching Tours
San Diego Whale Watching Tours
Oceanside Harbor is 36 miles north of downtown San Diego in the lovely city of Oceanside, California.
Oceanside Adventures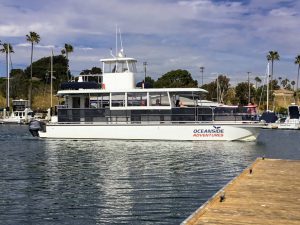 (760)-277-3737
Captain Joe
Oceanside Adventures is a luxury whale and dolphin tour narrated by an expert certified naturalist aboard a new 50ft Catamaran built by Cooper Marine in Florida.
This vessel is one level and seats up to 45 people with covered and uncovered seating options.
Meeting location- 256 Harbor Drive South 92054
Private charters are available as well. Charter Office- (760) 277-3073
2-hour tour-Call for times
September 5 to July 2
Adults- 54
Seniors- 49
Children- 44
Infants (0-2)- 10
July 3 to September 4
Adults- 64
Seniors- 59
Children- 54
Infants- 10
Whale Watching Oceanside Boat and Sailing Charter Services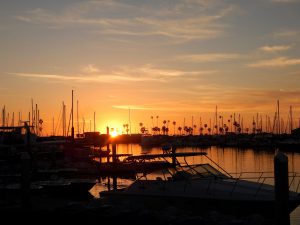 Pacific Marine Charters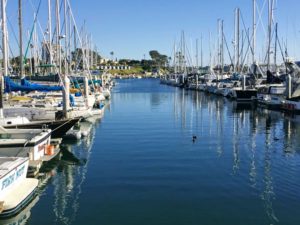 (951) 522-6104
Captain Bill DeLuna
Sailing tours for up to 6 people on the luxury sailboat yacht La Bella Vita.
2,4, and 6-hour charters
Call for times and rates- (951) 522-6104
---
Sunset Sails
1950 N. Harbor Dr. Oceanside, CA 92054
(760) 207-5572
Captain Steve Ford is a certified sailing instructor on 36 ft The Bueno. On the lookout for not only gray whales, but fin, humpback as well as blue.
Also, it offers Santa Catalina Tours!
up to 6 people
---
Pacific Coast Sail Charters
1900 N Harbor Dr., Oceanside 92054
pacificcoastsail.com
(760) 212-2963
Captain Les George has over 30 years of experience. 39 ft ocean-going sailing yacht Obsession with a luxury cushioned sailing yacht.
The Captain shuts down the engine once entering the ocean and then uses the sails. He is willing to head out to sea or sail the coast.
Stereo sound system.
Call for prices and times.
---
Mission Bay Boat Whale Watching Tours
San Diego Whale Watching Tours
Mission Bay is located 7 miles from downtown San Diego. There are several sailboat private charter options
San Diego Whale Watch
1717 Quivira Rd, San Diego 92109
Docked at the New Seaforth Landing
(619) 839-0128
Vessel- The Privateer– double-decker 87ft, 34 up top and 115 on the lower level
The Privateer has a unique history. It began its career as the first East Coast whale-watching vessel in Provincetown, MA, in 1973 and then spent 28 years in Gloucester, MA. Deciding on a warmer climate, in May 2011, The Privateer ventured down the Atlantic Coast and through the Panama Canal, reaching San Diego in 4 weeks.
A certified marine biologist narrates it.
A large platform with covered seating that accommodates 149 passengers comfortably. There are a snack bar and souvenirs, and kids receive an activity pad with crayons.
Whale guarantee- You will get a free return trip if you do not see any whales or dolphins, and you will get a half-price trip back if you see dolphins but no whales.
10-1 pm and 1:30-4:30
3-hour tour
Adults-48
Military, Seniors, Kids (2-17)-44
Military Monday- Half-off active military and their families-24
Tuesday and Thursday-29
Wacky Wednesday- Kids are half off
---
Mission Bay Whale Watching Chartered Tours
Outer Limits Charter
1717 Quivira Rd, San Diego CA 92109
(619) 757-7940
Outer Limits is a state-of-the-art Sportfishing vessel available for private specialized whale charter.
Offshore Blue Adventures Whale and Dolphin Tours
1500 Quivira Way #2, San Diego CA 92109
(310) 974-2176
Captain Cici Slayer with over 20 years of experience in sailing and powerboating.
Experience San Diego whale watching up close and personal on a 21ft Zodiac RIB (rigid inflatable boat). Each passenger will have a life jacket.
Maximum of 6 passengers.
3-hour tour
Adult- 80
Children under 10-50
Private Charter 175/hr+10%tax
---
Gone Sailing
1441 Quivira Rd "A" Dock, San Diego-92109
gonesailingcharters
(619) 855-5936
Captain Don Marchi
Mission Statement-"Our mission at Gone Sailing Charters is to set the sails and guide our yacht charters into coastal adventures, creating an open water sailing experience in San Diego that brings to life the romance of the wind and sea."
Gone Sailing Charter is the only Yacht Chartering Service in Mission Bay that goes out of the Bay into the open ocean and coastal waters.
10 am. 2 pm
3-hour tours
---
Xplore Offshore
(858) 361-9494
xploreoffshore.com
Often meet up in Mission Bay, but the Captain will meet you anywhere and operates daily.
Captain Russel Moore of the custom-built Navy Seal style RIB (rigid inflatable boat) vessel is a licensed 100-Ton Master.
Specializes in personally designed custom and intimate San Diego whale watching tours Winter whale watching tours 1-3 miles offshore. High-speed vessel.
Winter Whale Watching Tour- Whale watching season only. 2-3 hour tours 1-3 miles offshore to see Gray whales. 300-400 dollars. Winter tours 6-8 people max
Summer whale Safari- 3-4 hours, swim with dolphins and hang out with blue whales. Due to the longer duration, the summer tour is slightly higher than the winter tours. Summer 8-10 people.
The bottom line is that you create the adventure and pay according to how long you stay in the water.
---
San Diego Bay Whale Watching Tours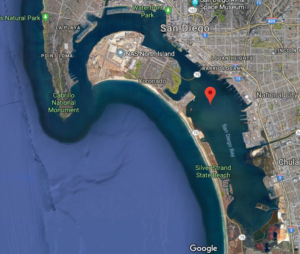 San Diego Whale Watching Tours
Adventure RIB Rides
1380 Harbor Island Drive San Diego 92101
(619) 808-2822
adventureribrides.com
The vessel departs from the Sheraton Hotel and Marina.
US Navy Seal RIBs (rigid inflatable boats)
Captains are all US Coast Guard licensed and Marine naturalists/experts.
Offer both public and private tours.
Each tour is customized to the customer's preferences.
Maximum six people.
Daily tours, 3-hour tours
9 am-12 pm
1 pm-4 pm
Adults-85
Children (5-12)-70
Private Tours for up to 6 people- 525 (call for details for up to 12 people)
Children 4 and up are allowed, but under four must have a private charter.
13 and under must wear a life vest.
---
H&M Landing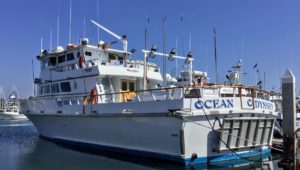 2803 Emerson St., San Diego, CA 92106
(619) 222-1144
The primary vessel used is 85 ft.
Departing from San Diego Bay, each trip travels through the waters surrounding Cabrillo State Marine Conservation Area (located north once leaving the Bay) and just south of the La Jolla State Marine Reserve.
The concentration of the trip will be on the rich diversity of wildlife in both areas.
H&M Landing has been conducting whale-watching tours for over 50 years
The H&M Fleet of whale watching vessels are all Coast Guard Certified and made for the open sea. Spacious and comfortable, offering indoor and outdoor seating, including full-service galleys.
The vessel departs daily on 3-hour tours.
Mon-Fri-10 am
San-Sun and Holidays-10 am and 1:30 pm
Adults-weekday-30 to 50
There are military and senior discounts
no children under 2
group rates for 30 or more
---
Flagship-With Birch Aquarium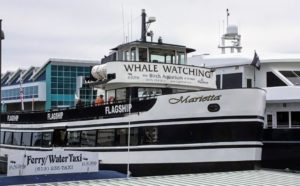 990 North Harbor Dr. San Diego, CA 92106
(800) 442-7847
Flagship has been conducting tours for over 17 years.
The Marietta is a comfortable two-story whaling yacht featuring 360-degree views with the main level, an upper sundeck, multiple restrooms, and a snack bar, including alcoholic beverages.
Experience a winter San Diego whale-watching tour with a whale expert from the Birch Aquarium!
Oct 14-Nov 26 Weekends only
Nov 27- late April daily twice 3.5 hours tours.
9:30 am-1:15 pm
1:30 pm-5 pm
Whale watch guarantee-Come back for free if you do not see a whale.
Adults-48 (weekend), 44(weekday)
Children- 25 (weekend), 21(weekday)
Senior/Military-42 (weekend) 37 (weekday)
Children 3 and under free
Special group rates for 20 or more
15% discount for Birch Aquarium members
---
San Diego Charters
955 Harbor Island Dr, San Diego 92101
(619) 846-8762
35′ and 36′ vessels
They begin the cruise within San Diego Bay, passing by the USS Midway, Coronado Bridge Embarcadero, and the Point Loma Lighthouse. San Diego Charters always looks for marine wildlife like sea lions, shorebirds, dolphins, and whales.
4-hour tours, which include snacks and beverages
Six people maximum
---
Hornblower Cruises and Events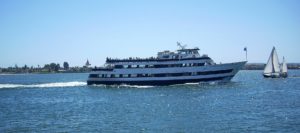 970 North Harbor Drive (at USS Midway) San Diego, CA 92101
(619) 686-8700
One of the most enormous and comfortable whale-watching boats in San Diego has stabilizers, significantly reducing the yacht's motion.
It is narrated by an experienced Captain and trained naturalists called "Whalers" from the San Diego Natural History Museum.
Includes pointing out many exciting and historical San Diego sites, including Navy Submarine Base, NOSC, the Point Loma Light House, and Cabrillo National Monument.
Snack bar with hot food, a full bar, and climate control indoor seating.
3.5-hour tour
9:30 am-1:00 pm
1:30 pm-5 pm-daily
---
Whale Watching Charters-San Diego Bay
San Diego Whale Watching Tours
San Diego Sailing Tours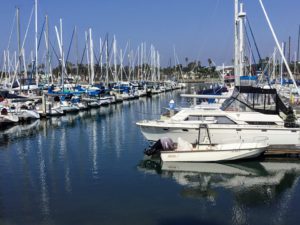 Cabrillo Isle Marina-1450 Harbor Island Dr
(619) 786-0173
sandiegosailingtours
Marine Wildlife Safari Tour- start your adventure with a craft beer or a glass of wine while you sightsee, sailing in and out of San Diego Bay for 2 hours and then venturing to the coast to little-known sites for spotting marine wildlife on the Ocean Wildlife Safari.
Package includes beer and wine, beverages, Hors D'oeuvres, and gourmet deli box lunch
Six people maximum
4 hours
Departure times: 7 am, 11 am
---
Mai Tai-San Diego Yacht Charter
1450 Harbor Island Dr. Ste 203
(858) 583-3447
Private whale-watching tours with multiple boats to choose from, depending on the number of people.
Six passenger boats- 250/hr
12 passenger boats-400-500/hr
13-27 passenger boats- 600/hr
40 passenger boats- 650/hr
50 passengers, boat-please call for information
---
Lucky Sol Sailing
1880 Harbor Island Drive, San Diego, CA 92101
(619) 431-1415
Lucky Sol Sailing is a veteran-owned sailing club located on Harbor Island near downtown San Diego offering Sailing Tours, Lessons, and Fractional Membership. Their goal is to be able to provide the very best experience possible.
4-hour tours
89 /person
399 private charter for up to 6 people
---
I sincerely hope you found what you were looking for on this list of  San Diego whale-watching tours. Please check back soon, as I plan to go on a trip soon!
Please feel free to leave any comments or questions below! Thank you for stopping by.
Until next time!
I have always had a deep-seated passion for the Ocean Environment which ultimately led me to receive a degree in Marine Biology. Living in the San Diego area for over 30 years, I have extensively explored the 70 miles of San Diego's coastline, and I am here to share! Please use my website to your advantage and have a look around at all the wonders that the beaches of San Diego can offer you!