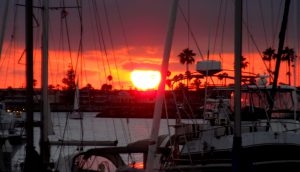 If I can put one touch of rosy sunset into the life of any man or woman, I shall feel that I have worked with God– G.K Chesterton
Encountering a San Diego sunset on the coast is something you will never forget. With San Diego having over 70 miles of coast,  where are the best places to experience a San Diego sunset?
Few things touch my soul more than a sunset. Something magical happens when the sun's rays hit the ocean water, and it is as if the entire surroundings are shining from within.
I am pleased to share my top 5 spots where I think you can see that exceptional San Diego sunset in all its glory and more!
Under each listing, I have included one fun fact, or in other words, a secret.
Top Five San Diego Spots To Check Out a Sunset
Seaport Village, San Diego
San Diego Sunset
One of the best places to view a San Diego sunset is downtown San Diego over at Seaport Village.
Seaport Village is over 90,000 square feet of waterfront shopping, dining and 4 miles of winding paths adjacent to San Diego Bay in downtown San Diego and is within walking distance to the San Diego Convention center to the south and the Cruise Ship Terminal to the north.
We love coming here, especially in the wintertime, with all the decorations and lights. The kids love this place because of the 1895 working carousel, with handcrafted wooden animals to ride on.
Fun Fact-  The section of land that Seaport village sits, is known as, " La Punta de Los Muertos"( Spanish for "Point of the Dead"). If you look around, there is a marker memorializing this site on the southeast corner of Market Street and Pacific Highway.
Seaport Village Address: 849 West Harbor Dr, San Diego-92101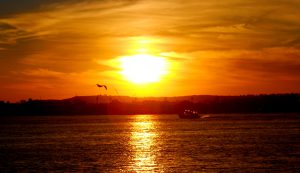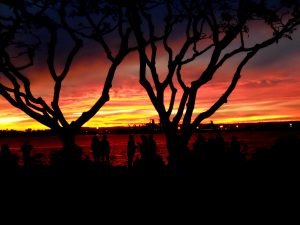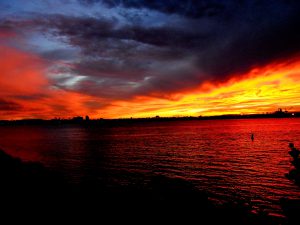 ---
La Jolla- Ellen Browning Scripps Park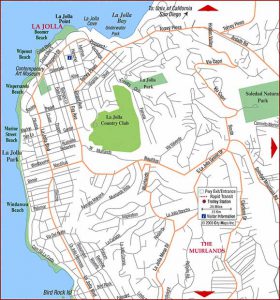 San Diego Sunset
Surrounded by the ocean on three sides, with ocean bluffs, caves, tide pools, and sandy beaches, La Jolla has some of the best views of the ocean environment in all of San Diego.
The Ellen Browning Scripps Park is 12 miles north of Downtown San Diego. Near the park is a large grassy area with benches and picnic tables, and a sidewalk on the edge of the cliffs.
Fun Fact- In 1890, the La Jolla Railway was built, ultimately connecting this area to San Diego.  Right above the La Jolla Cove, the railway built a dance pavilion and bathhouse to attract visitors to the beach; as well as a tent city to house visitors of the area from Memorial Day to Labor Day.
Address: 1100 Coast Blvd, La Jolla-92037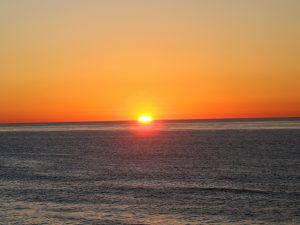 ---
Oceanside Harbor
San Diego Sunset
This harbor is a great place to witness a spectacular sunset, and of course, it is also a great place to check out all the boats.
Oceanside Harbor, located 37 miles north of Downtown San Diego, has over 900 permanent boat slips separated into two harbors.
The northern harbor is for recreational boaters, while the southern harbor includes a small commercial fleet, Sportfishing, and Charter fishing boats.
One of the perks of coming to Oceanside Harbor is eating at  Harbor Fish n Chips.
We sometimes come here for dinner after a day at a nearby beach when we have time. They have the best Fish n Chips and clam chowder! I have been eating at this establishment for well over 25 years.
Fun Fact-  The "USCGC Point Hobart" is based in Oceanside Harbor.
Address- 280 Harbor Drive South, Oceanside-92054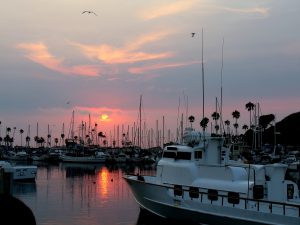 ---
Ocean Beach Pier / Sunset Cliffs

San Diego Sunset
Ocean Beach Pier is one of the longest concrete piers on the West Coast, measuring 1971 feet.
Because you are so far out on the water, this makes for an exhilarating sunset experience.
We start at the Ocean Beach Pier and then get back into the car and drive for about a half-mile; and finally, we finish the sunset at the Sunset Cliffs Natural Park.
The 68-acre city park is adjacent to the ocean and on Point Loma's western edge. The views here are insane, to be sure!
If you walk along the cliffs, please use extra caution as they can be very dangerous, particularly after it rains.
Fun Fact- I wanted to point out that there are secret tunnels in these cliffs. To learn more click on the Sunset Cliffs link above
Address Ocean Beach pier- 1950 Abbott St, San Diego-92017
Address Sunset Cliffs- Ladera Street, San Diego-92017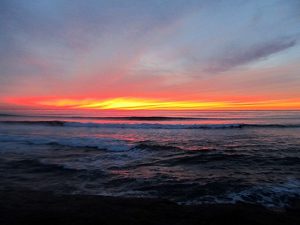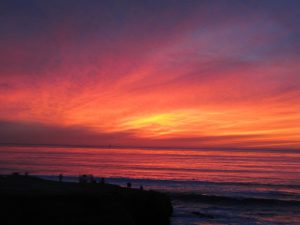 ---
South Mission Beach Jetty
San Diego Sunset
 Here is one of my favorite sites to watch the boats go in and out of Mission Bay.
The South Mission Beach Jetty is very popular for fishing and scuba diving near the rocks.
Located at the southern end of Mission Beach, there is always a crowd watching the surfing action. Many like to surf right next to the jetty, especially when the swells are right.
Following the walking path east, there is a grass lawn, children's playground, and benches to sit on and check out the show if you like.
Generally speaking, I love the contrast of the boats coming into the colors of the sun on the water and the birds surrounding ships coming in.
Fun Fact- Did you know that it is legal to fish without a fishing license on a jetty?  Just make sure that the water surrounds you on three sides.
Address- South Mission Bay Jetty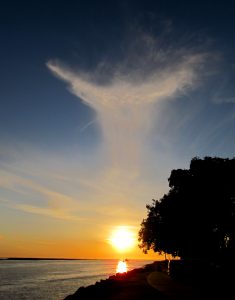 ---
San Diego Beaches Have the Best Sunsets!
SAN Diego sUNSETS
Given these points, what do you think? Which spot is your favorite out of the five?
With all things considered, which sunset resonated with you?
Upload and share your favorite ocean sunsets in the comment section!
Here is to all the Sunsets from all over the world!
Until next time!
.
I have always had a deep-seated passion for the Ocean Environment which ultimately led me to receive a degree in Marine Biology. Living in the San Diego area for over 30 years, I have extensively explored the 70 miles of San Diego's coastline, and I am here to share! Please use my website to your advantage and have a look around at all the wonders that the beaches of San Diego can offer you!