Every year, Coronado Beach makes the Top 10 beaches in the US. This beach is one of my children's favorite, as well. Coronado Island in San Diego, CA, can be seen across San Diego Bay from Downtown San Diego.
In particular, we enjoy the vast sandy beaches and adore going to the Hotel del Coronado, located less than a mile from our starting point.
Would you like to tour Coronado Island in San Diego, CA? Well, you have come to the right place. Come and join me on an epic adventure, going back in time and staying in the present simultaneously!
Let's go!
How Do I Get to Coronado Island?
There are several ways to get here, but crossing the Coronado Bridge is the most popular route. Another option would be coming up from the south via Imperial Beach or parking in Downtown San Diego and taking a ferry, which is quite fun.
---
A Little History of Coronado Island
Coronado Island San Diego Ca
First off,  Coronado is a land-tied island.
So why is Coronado called Coronado Island?
The term island was used to drive tourism to the area; in other words, it was a marketing ploy.
The Silver Strand is a tombolo, a sandbar joining an island to the mainland.
Nevertheless, Coronado sure does feel like an island. Especially when the Coronado Bridge is not open and the Silver Strand is flooded, there is no other way on or off except by ferry.
Regardless, the story of how Coronado Island came about is fascinating. Dr. Pat Abbott, an SDSU Geology Professor who is an expert in this area, has a fabulous explanation
---
---
 Fascinating Coronado Island Facts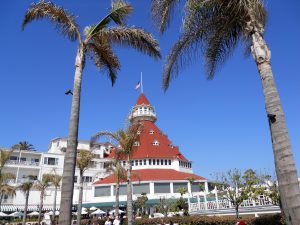 Coronado Island San Diego CA
1562-Juan Rodriguez Cabrillo, under the Spanish flag, claims the port and names in San Miguel (now known as San Diego)
1602– Sebastian Vizcaino, a Spanish explorer,  first sailed into the bay named San Diego de Alcala. He soon after makes a crude map that is eventually shared with the rest of the world. No other European revisited the area for 167 years
1850-1870– Shore whaling was very popular. Longboats would row out past the Point Loma Peninsula and kill migrating whales and then bring them back to Coronado for processing
1888– Hotel del Coronado opens just 11 months after the groundbreaking. It was the largest Hotel Resort in the world at the time.
1936– The SS Monte Carlo,  anchored 3 miles offshore in International waters, was a 'pleasure' barge where one could drink, gamble, and dance. On December 31, a massive storm came up and caused it to sink. Hundreds of vacationers watched while it happened and waited for the souvenirs to wash up on shore. You can see the ruins just South of Hotel del Coronado at low tide.
There are so many more interesting historical facts!
---
Let's Get Walking on Coronado Beach!
Coronado Island San Diego CA
We start our walk in the northwestern area, next to the Naval Air Station, North Island.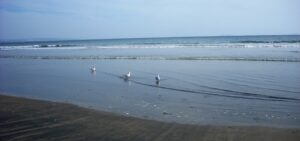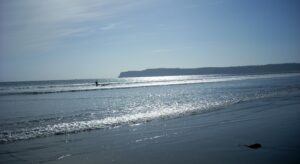 On the other side of the Point Loma peninsula is Sunset Cliffs Natural Park, with breathtaking views of the Pacific Ocean and the go-to place for incredible sunset photos.
At the tip of Point Loma sits the Cabrillo National Monument.
Here you will find the best tide pools to explore in all of Southern California- a hidden gem.
---
Hotel del Coronado
Coronado Island San Diego CA
One of the primary reasons our family loves to go to Coronado is to visit this hotel. It has such a rich history, along with incredible architecture.
I can not seem to get enough of this place!
If you venture down to the first floor, some photos chronicle many events that have taken place here.
Strange happenings have and still do occur here, such as the haunted room 3502.
So many strange things have happened here that housekeeping keeps in pairs when working in this room!
If you are interested in learning more, please visit the link below.
—>Ghostly Goings-On at the Hotel del Coronado<—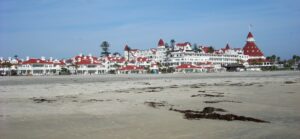 One of the back entrances.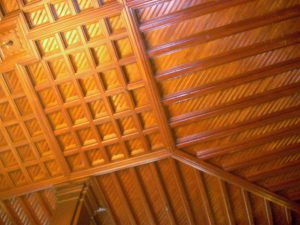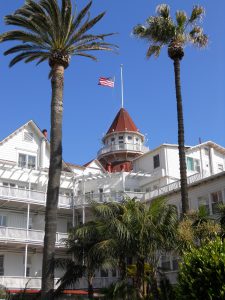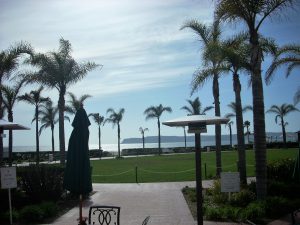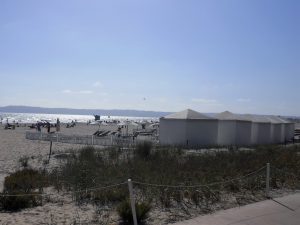 ---
Heading South on Coronado Beach
Coronado Island San Diego CA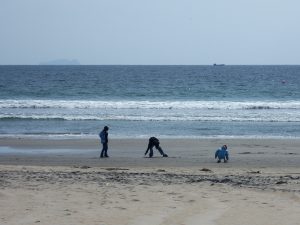 The largest of Mexico's Islas Los Coronado is located 15 miles from San Diego Bay in the left corner.
North Island is one of four islands off the Northwest coast of Baja, California. I have been out there twice, and it is breathtaking.
The islands are uninhabited except for a small military installment and a couple of lighthouses.
If fishing out near there, expect to see the Mexican military in boats checking for licenses.
Once you reach this point, markers indicate that it is Military property.
Fun Fact- The Gator Beach at Naval Amphibious Base Coronado is the beach where the Navy Seals do much of their training.
Turning toward the ocean at this spot, you can see part of the SS Monte Carlo in the surf.
We have gone as far as we are today, so let us start heading toward the dunes and ice plants.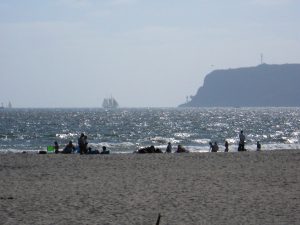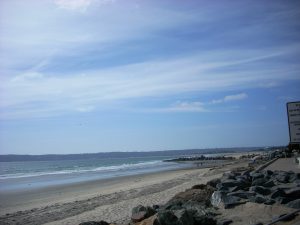 ---
Message in the Ice Plant?
Coronado Island San Diego CA
Coronado Islands dunes are another favorite spot we love to check out!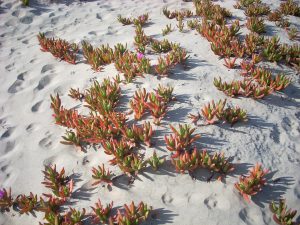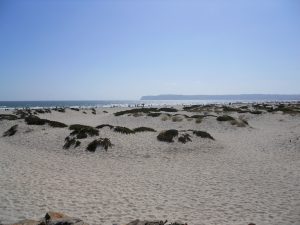 Can you see the secret hidden in plain sight here?
The ice plant in the dunes spells out Coronado. Armando Moreno, a city employee, created this absolute wonder in 1988.
Heading back toward the shoreline, we made a fantastic discovery!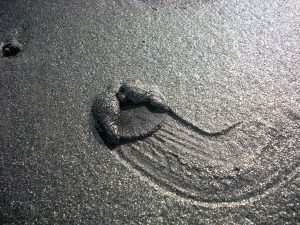 What an exciting day for me. I had never seen a live sand dollar before!
Here is a video explaining what a sand dollar is: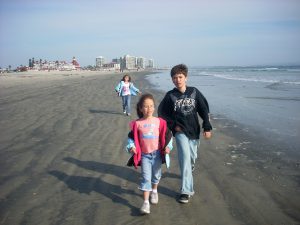 ---
Naval Air Station North Island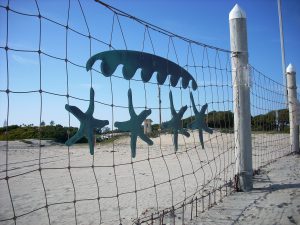 Coronado Island San Diego Ca
I remember coming to this beach in college to lie on the sand and watch the aircraft take off and land.
Needless to say, plenty of action is taking place overhead at this beach. First, it is a military air station, so just the name should give that away, yes?
I do not know, but maybe, the beauty of the surroundings overshadows the constant noise of military aircraft.
 The pilot waved to us when landing this helicopter. It was a good day.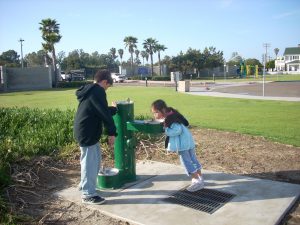 Fun Fact- Several Maverick- Top Gun movie scences were filmed south here!
---
End of Tour
Thank you for accompanying us on our Western Shore of Coronado Island journey in San Diego, California.
I hope I have piqued your interest! I hope you can experience one of the most beautiful beaches in San Diego one day.
Please feel free to leave me any suggestions or comments/questions.
I would enjoy hearing from you!
Until next time!
---
Bonus Day!
On October 12, 2021, we decided that we were going to go and check out Coronado City Beach on our way home from the San Diego Airport. Would you like to see a few photos?
Now for clarification, the day was perfect with cloudless skies (my favorite). As you can see, a few ships moored, waiting to enter San Diego Bay.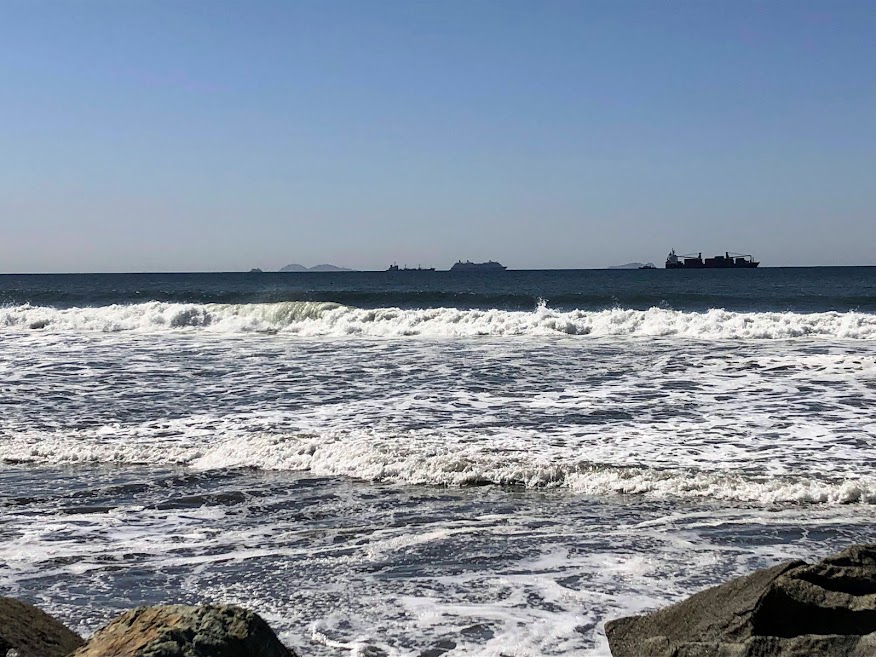 I have always had a deep-seated passion for the Ocean Environment which ultimately led me to receive a degree in Marine Biology. Living in the San Diego area for over 30 years, I have extensively explored the 70 miles of San Diego's coastline, and I am here to share! Please use my website to your advantage and have a look around at all the wonders that the beaches of San Diego can offer you!