SeaWorld, one of San Diego's premier adventure parks, is situated on 21 acres in Mission Bay Park and is located just 5 miles north of Downtown San Diego. This marine zoological park first opened its gates in 1964.
It wasn't until ten years later that I had the pleasure to walk through those gates for the first time as a child. I do not remember much, except for one thing: getting soaking wet from the Shamu show and wondering why in the world the water was so cold.
In college, I volunteered at San Diego State University to help a research biologist input data from his Elephant seal study at Hubbs-SeaWorld Research Institute(HSWRI). I loved every time I walked through those doors. I felt like I arrived, even if it was only volunteering.
SeaWorld- Over the Past Thirty Years
My husband and I have lived in and around San Diego County for over 30 years, and we have enjoyed being SeaWorld's annual pass members for at least 10 of those years. I love that my children not only had a blast on all the activities and rides, but they were also experiencing and learning many things regarding the marine ecosystem as a whole.
I want to share with you a few photos I have compiled over the years!
Whales and Dolphins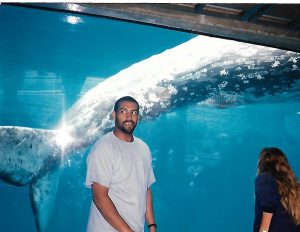 My passion, which has led me to the love of the Ocean, all started with my fascination with whales and dolphins. I knew at the age of nine that I wanted to be a blue whale.
There are no blue whales at SeaWorld, but you can see them off the coast of San Diego on a whale-watching cruise.
So fast forward to 1997, and my surprise, I hear a gray whale is over at SeaWorld! My son was only 12 months at the time, and I will never forget, sweet JJ, the 'orphan whale.'
JJ The Gray Whale
In 1997, SeaWorld was rehabilitating JJ, the Gray whale who was found suffering off the coast of Marina del Rey (130 miles north of San Diego). She was only one week old, so either she lost her mother or was abandoned.
Once she arrived, she only weighed 1,600 pounds compared to weighing over 18,000 pounds when released at 15 months. Can you believe that it is gaining over 9 tons!
JJ, to this day, 21 years after the miraculous recovery, is one of Sea Worlds' proudest moments.
---
Killer Whales at SeaWorld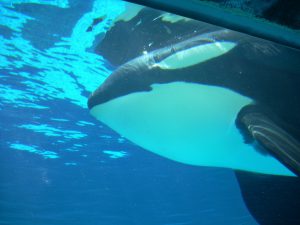 One of our favorite places to go first is to see the Orcas.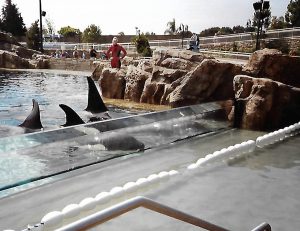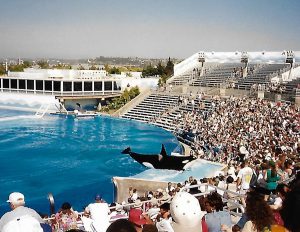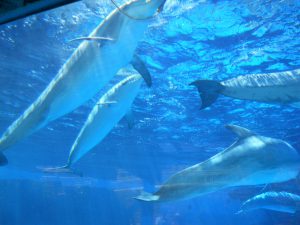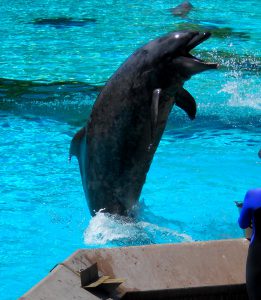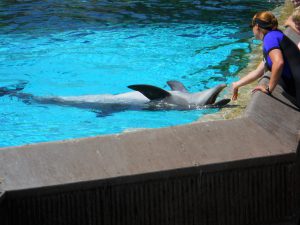 You can experience the dolphins up close with a trainer for an additional fee and can touch, feed, and interact with them using hand signals – Dolphin Encounter.
Dolphin Interaction is another option, where you get to do all the above, but you also get to swim with dolphins! The only requirement for both activities is that you be at least ten years old and 48 inches tall. How exciting it is to be in such close contact with these amazing creatures.
Sea Lions and Seals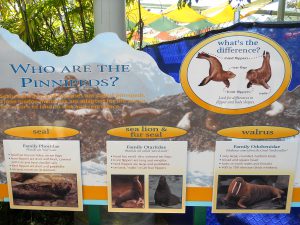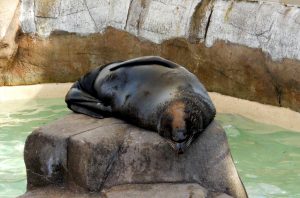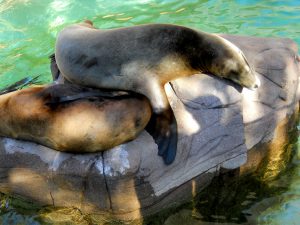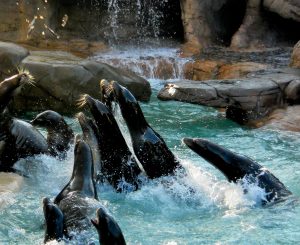 Sharks at SeaWorld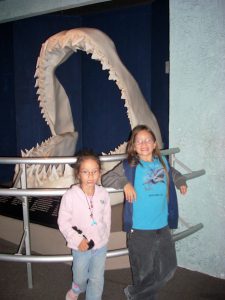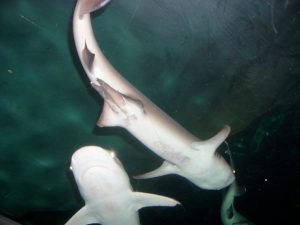 Other Creatures to See at SeaWorld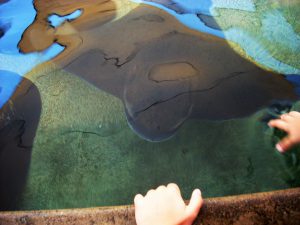 Seeing the bat rays is always a top priority for us when visiting SeaWorld. There are certain times during the day where you have the opportunity to feed them.
By placing the food flat in your hand, they will come and snatch it up, similar to what a horse does.  The feeling is unique.
Grouper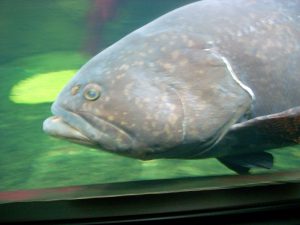 A couple of interesting facts on Groupers include:
Some species can grow up to 10 feet long and weigh 1000lbs
All Yellowmouth groupers are born female.  As they grow larger, they can become males if needed. Not many make it long enough to turn into males, thus ensuring a significant population of egg-laying females.
They can camouflage themselves to blend into the environment.
Green Sea Turtle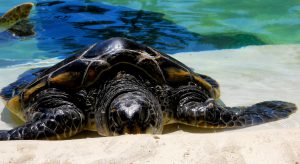 Little extra info for you-You may find the Green Sea turtle swimming in the southern part of San Diego Bay, as well as offshore of the San Onofre Power Plant,  both due to warm water runoff.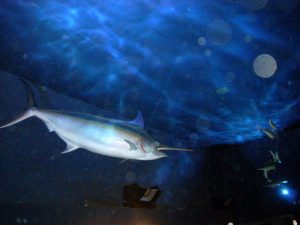 Bayside Skyride
Our day is not complete without going to the Bayside Skyride.  Come and join us!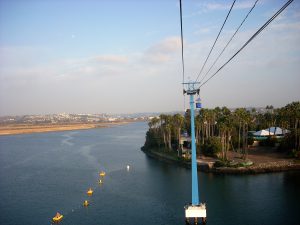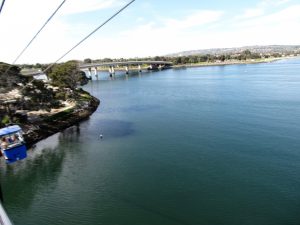 Why We Love SeaWorld Annual Passes
I appreciate the SeaWorld annual passes because they are only a tiny bit more than a one-day ticket. The flexibility is what we loved. We could make a day of it, or just a couple of hours if we choose to. There was always something to see or do.
The children were consistently excited whenever we reached the park. Each had their favorite place to visit. The Clyde and Seamore's sea lion show with Biff was their all-time favorite! We had to go every time.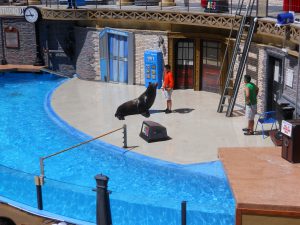 The Cirque de la Mer show was also a family favorite.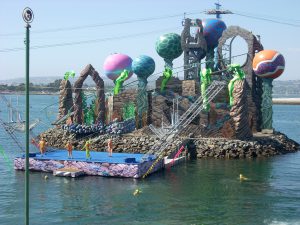 Thank you so much for joining us on our many adventures at SeaWorld!
  Please leave any questions or comments down below. I would love to hear what you like about SeaWorld and why.
---
I have always had a deep-seated passion for the Ocean Environment which ultimately led me to receive a degree in Marine Biology. Living in the San Diego area for over 30 years, I have extensively explored the 70 miles of San Diego's coastline, and I am here to share! Please use my website to your advantage and have a look around at all the wonders that the beaches of San Diego can offer you!