So on the very last day of January, I witnessed the second-lowest tide of the year, a -2.08! This is a personal record for me, as the lowest tide I had experienced was -1.98 at the Cabrillo National Monument tide pools,  followed by a -1.34 at Sunset Cliffs. I was excited about what we were in for over at Bird Rock Beach, La Jolla. Join me as I show you what is usually covered by water.
Bird Rock Beach is located centrally within the South La Jolla State Marine Reserve (SMR), so I would like to overview the area briefly.
As a bonus, I have added a few more places we visited on this particular day, including several spots south of Bird Rock Beach in South La Jolla. The view was beautiful, and I wished I could have explored the tide pools!
Unfortunately, I could not walk around the tide pools and explore with a broken finger, but I did get some incredible photos!
Oh, how I love La Jolla!!
Ready? Let's go!
So, Where is Bird Rock Beach, La Jolla?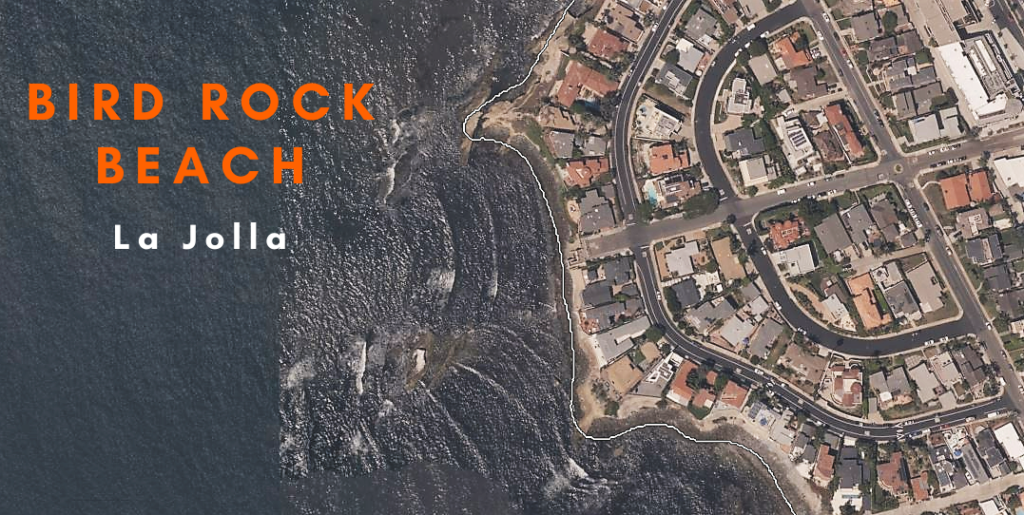 Bird Rock Beach is the center of the South La Jolla State Marine Reserve (SMR) and, in my opinion, one of the best tide pool beaches in San Diego. In all honesty, Bird Rock is only accessible during a very low tide, so calling it a beach is a bit of a stretch, but let's still go with it.
This is where my Marine Invertebrate Biology class had a field trip way back in the day.
Also, when my husband and I were dating, we used to explore this stretch of South La Jolla on bikes, which I highly recommend! Not only do you have a killer ocean view, but some of these houses are beyond incredible!
South La Jolla SMR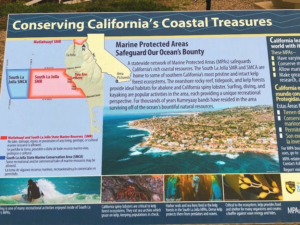 The northern boundary begins right below La Jolla Strand Beach at Palomar Ave. It's an excellent marker for those who fish because fishing is prohibited between here and down to Diamond Street in North Pacific Beach.
Quoting from the Department of Fish and Wildlife –
(CCR Title 14, Section 632(a)(1)(A)): In a State Marine Reserve, it is unlawful to injure, damage, take or possess any living, geological, or cultural marine resource, except under a scientific collecting permit issued by the department pursuant to Section 650 or specific authorization from the commission for research, restoration, or monitoring purposes.
So basically, lookie and no touchie.
The South La Jolla State Marine Conservation Area sits adjacent to the west; what's the difference?
In the Conservation Area, you are allowed to fish for pelagic finfish, while in the Reserve, you are not allowed to fish.
Here are a few fun facts about the Reserve:
MPA size spans 5.04 miles
1.7 miles of shoreline
2.33 miles of beach
1.45 miles of rocky shore
.24 square miles of kelp
South La Jolla Beaches and Viewpoints
From North to South, all the beaches sit within the South La Jolla SMR.
La Jolla Strand Beach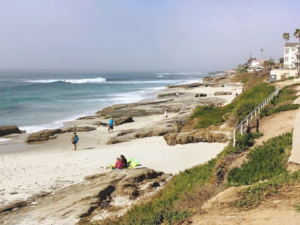 Camino de la Costa Beach Access#
Pensive Point Trailhead#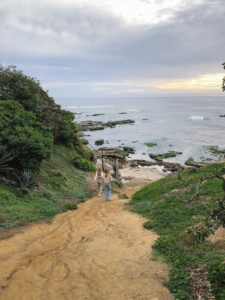 La Jolla Hermosa Park#
Bird Rock#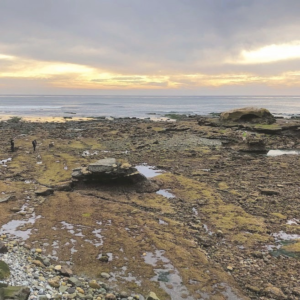 Calumet Park
Calumet Park is a sublime place to picnic or sit on the grass and stare out onto the ocean. What caught my attention here was the sound of large stones moving around with the tidal action of the waves.
Linda Way Beach Access
There is not much beach here unless on a very low tide. It is a lovely walk from here to Law Street Beach, or maybe to Crystal Pier when that is the case.
Tourmaline Surfing Parking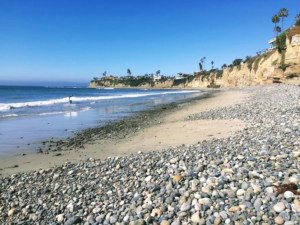 Tourmaline Surfing Park is one of the most laid-back surfing beaches where everyone can appreciate an SW swell, from a beginner to an expert.
North Pacific Beach (Law Street Beach)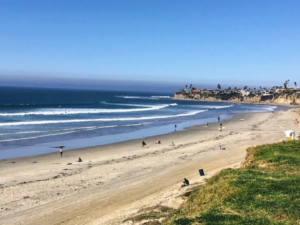 Just above Law Street beach is a small pathway that connects you to the Pacific Beach/ Mission Beach Boardwalk. A little bit south of here is where the Southern Boundary of the South La Jolla SMR is to be found.
Now that you have a general idea of what the South La Jolla SMR looks like, let's concentrate on Bird Rock.
Bird Rock Uncovered!

I love how the above panoramic photo came out. The scene takes your breath away, mainly when you are used to seeing everything, usually being covered by water.
So, where did the name bird rock come about? The large rock in the photo above used to resemble a bird.
Down below is the northern view.
Some Interesting Bird Rock Facts–
The Bird Rock housing community was built in the early 1900s but boomed in the 30s will the arrival of factory workers for WW11
Bird Rock Coastal Defense and Anti-Aircraft Training Center during WW11 were located just south of here.
Right off of Bird Rock was where two submarines collided in the fog while on a training mission in 1917- one of them sank and is still there.

There used to be a Bird Rock Inn located above Bird Rock Beach in the early 1900s. Charles Lindbergh is said to have eaten here just before leaving San Diego for Paris on May 20, 1927. Once in Paris, he completed his famous trip flying solo across the Atlantic Ocean. Bird Rock Inn was made out of stones found on the beach.
La Jolla Hermosa Park
As we continue our walk north, we next come upon the quaint location, La Jolla Hermosa Park.
I wish I had more time, as I would have enjoyed exploring the beach below.
Camino de la Costa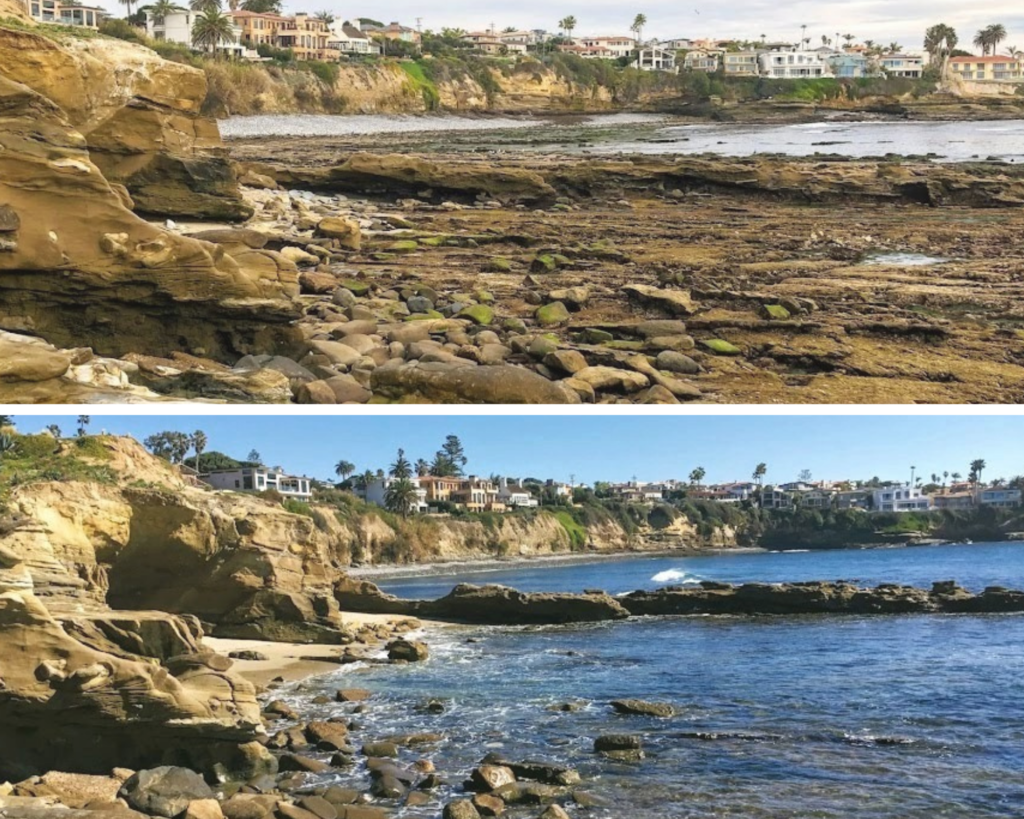 We reach the beach access point (staircase), Camino de la Costa, which translates to Street of Dreams.
Take a good look at those glorious mansions on the bluffs! Can you even imagine what it would be like, to wake up every day with these spectacular views?
I hope you enjoyed my mini Bird Rock, La Jolla tour!
Until next time!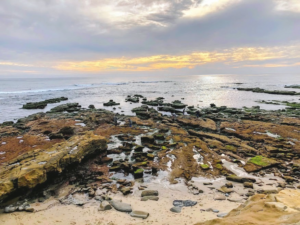 Helpful Posts-
Saltwater Fishing in San Diego
Resources–
Bird Rock – City By The Sea | A History of Bird Rock, La Jolla (kellymacdonaldre.com)
I have always had a deep-seated passion for the Ocean Environment which ultimately led me to receive a degree in Marine Biology. Living in the San Diego area for over 30 years, I have extensively explored the 70 miles of San Diego's coastline, and I am here to share! Please use my website to your advantage and have a look around at all the wonders that the beaches of San Diego can offer you!