San Diego, known as "America's Finest City," boasts over 70 miles of coastline to explore! Are you a piscator? Or, in other words, do you like saltwater fishing? Do you prefer to fish from piers or jetties? From shore or out in the ocean? San Diego's peak fishing season begins in April and until November. Would you like to learn more about saltwater fishing in San Diego?
–>The Beaches of San Diego County<–
What makes San Diego extraordinary is that the coastline is so varied. There are miles of sandstone bluffs in North County San Diego (San Onofre, Carlsbad, Encinitas, Del Mar). While down in South County San Diego, sandy beaches rule (Pacific Beach, Mission Beach, Ocean Beach, Coronado, Imperial Beach.) San Diego has it all, whether you prefer to fish from the beach, jetty, pier, boat, or by a chartered vessel!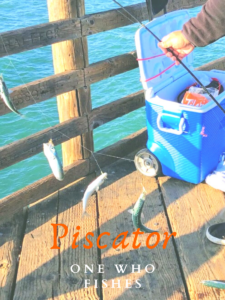 A Piscator Page, You Say?
I thought having a specific page on my website with all of the San Diego saltwater fishing information in one place would be good. A piscator page!
So down below, I have compiled complete lists of all San Diego saltwater fishing piers, saltwater sportfishing (half-day/full-day) party and charter boats, boat launch ramps, lobster fishing spots, the 2022 grunion run schedule, a few fish lists, as well as several prominent shore fishing locations.
As a bonus, I have included all harbor and bay cruises offered out of Oceanside Harbor, Mission Bay, and San Diego Bay for those who have no desire to fish but still yearn to be on the water.
To experience San Diego fully, you must get on the ocean, breathe in all the negative ions, and let the saltwater spray on your face. Believe me; you will thank me later. Also, don't forget to pack a sweatshirt, as it can get chilly out on the water.
---
San Diego Saltwater Fishing References
(Click on each photo for the direct link)
All the information is compiled in one place, making it much easier to come down and experience the San Diego coastline like a local.
I have also included a couple of California Department of Fish and Wildlife regulations and identification pages
–>Current California Ocean Recreational Fishing Regulations<–
–>California Marine Sportfish Identification<–
Important Update for 2023 ! – Starting January 1, the California fishing license will be good for 365 days!  So, no matter when in the year you purchase your fishing license, you do not need to renew it until 365 days later.
---
List of all San Diego Fishing Piers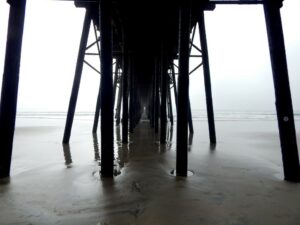 Do you like to fish off of piers?
San Diego has ten fishing piers to choose from. I have taken a closer look and provided you with what the underwater environment looks like and what amenities are available at each.
See which pier would be most suitable for your memorable fishing day!
San Diego Sportfishing Party Boats
Here is up-to-date information for the entire San Diego Recreational Sportfishing Fleet.
Select from six different landings; two out of Oceanside, one out of Mission Bay, and three out of San Diego Bay.
If you are interested in a private charter, that information is included. Half-day, 3/4-day, full-day, and multi-day trips are also listed.
San Diego Saltwater Boat Launch Ramps
I have showcased each San Diego County boat launch ramp from Oceanside Harbor, Mission Bay, and San Diego Bay. See which would be best for your next San Diego fishing trip.
North County San Diego has only one boat launch ramp at Oceanside Harbor. Mission Bay has five launch ramps, while San Diego Bay has four. Please remember that the ramp closest to the bay entrance will usually be the busiest.
So for Mission Bay, that would be Dana Landing. Simultaneously, the Shelter Island launch ramp is always the most congested at San Diego Bay over at San Diego Bay.
Here's a list of all artificial reefs found offshore Southern California-Artificial Reef Coordinates.
Lobster Fishing in San Diego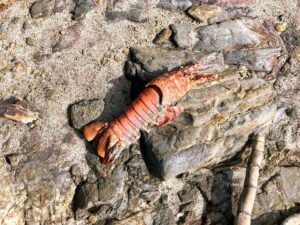 Historically, the California Spiny Lobster season begins on the first Wednesday in October, so this year's (2021) Opening Day will fall on Oct 2 at 6 am and end on Mar 18, 2022.
Discover the difference between a North American lobster, the Maine lobster, and the California spiny lobster.
Find out tips on where and how to find these elusive 'bugs' in San Diego.
Grunion Run Schedule 2022-San Diego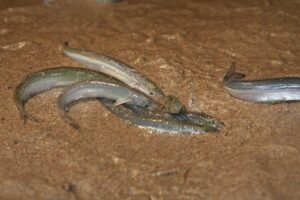 The 2022 Grunion Run Schedule for San Diego County looks closer at which beaches have the most excellent chance of hosting this annual event.
Generally, grunions prefer a dark sandy beach with a slight slope.
—>Updated! 2023 Grunion Run Schedule<—
Did you realize that biologists have noticed an uptick of great white shark sightings on the coast of San Diego when the grunion is running? Look at the link below and see how many shark sightings occur, especially in April and May.
---
What Kind of Saltwater Fish Are Anglers After in San Diego?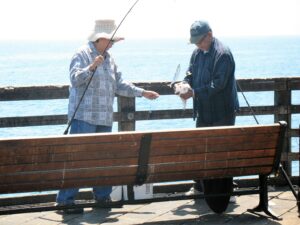 Here is a list of fish caught close to shore according to season.
As you can see, fishing in San Diego is always 'in season.'
All Year–
California halibut- Paralichthys californicus (minimum size 22 inches)
kelp bass- Paralabrax clathratus
barred sand bass- Paralabrax nebulifer
spotted sand bass- Paralabrax maculatofasciatus
California scorpionfish (sculpin )- Scorpaena guttata
rockfish– Family Sebastidae (see more information down below)
lingcod- Ophiodon elongatus
halfmoon- Medialuna californiensis
white croaker- Genyonemus lineatus
black croaker- Cheilotrema saturnum
cabezon-  Scorpaenichthys marmoratus
opal eye- Girella nigricans
Pacific bonito- Pelamys chiliensis
topsmelt- Atherinops affinis
jacksmelt- Atherinopsis californiensis
surfperch- Family Embiotocidae
Winter
white sea bass- Atractoscion nobilis (minimum size limit 28 inches)
Spring
California barracuda- Sphyraena argentea
yellowtail- Seriola lalandei
Summer
California barracuda- Sphyraena argentea
yellowtail- Seriola lalandei (minimum size 24 inches)
white sea bass- Atractoscion nobilis
spotfin croaker- Roncador stearnsii
sargo- Diplodus sargus
longfin sanddab-  Citharichthys xanthostigma
Pacific sanddab- Citharichthys sordidus
No Take
giant sea bass- Stereolepis gigas
great white shark- Carcharodon carcharias
What is a Finfish, Pelagic Fish, or Coastal Pelagic Fish?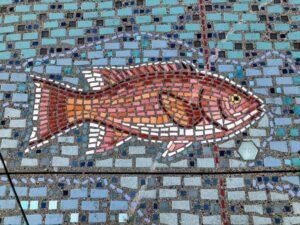 It is essential to distinguish between fish types near a Marine Protected Area (see map below). For instance, you can fish from shore over at La Jolla Shores Beach but only keep the coastal pelagic species. So, I thought giving you a few definitions would be good to understand the regulations better.
Shore-based anglers– anyone fishing from the piers, jetties, beaches, breakwater, docks, or any other man-made objects
Boat-based anglers– a fisherman angling from boats or any floating vessel (float tubes, kayak)
Divers– scuba or free diving with or without spearfishing equipment
Finfish- bony fish or cartilaginous fish (fish, skates, and rays)
Pelagic fish– any fish that lives within the water column, away from the shore
California or northern anchovy- Engraulis mordax
California barracuda- Sphyraena argentea
billfishes- (Family Istiophoridae)
common dolphinfish (mahi-mahi)- Coryphaena hippurus
Pacific herring- Clupea pallasii
Pacific jack mackerel- Trachurus symmetricus
King salmon- Oncorhynchus tshawytscha
Pacific sardine- Sardinops sagax
blue shark- Prionace glauca
shortfin mako shark- Isurus oxyrinchus
Pacific common thresher shark- Alopias vulpinus
Pacific bonito- Pelamys chiliensis
tunas (Family Scombridae)
Pacific chub mackerel- Scomber japonicus
swordfish- Xiphias gladius
yellowtail- Seriola lalandei
Marlins are not allowed for commercial take- Family Istiophoridae
Coastal Pelagic fish– any fish that lives within the water column close to shore
California anchovy- Trachurus symmetricus
Pacific sardine- Sardinops sagax
Pacific chub mackerel- Scomber japonicus
jack mackerel- Trachurus symmetricus
market squid
What Type of Fish Are Boats out of San Diego Going After?
I thought for fun, I would use this excellent book that I was able to procure recently- The Lore of Sportfishing, by Tre Tryckare, E. Ganer, and American Consultant Frank T. Moss. I found it at a thrift store in pristine condition for only 2 dollars!
It was initially written in 1976, but I am confident it is still relevant today.
Below, I have listed some of the top deep-sea fishing targets that anglers go after out of San Diego. Also included are the preferred water temperature (in Fahrenheit) that each species aligns with and the favored bait.
Albacore- Thunnus alalunga

56 to 61 F
live anchovies

Barracuda- Sphyraena barracuda

68 to 82 F
trolling lures, small live bait

Mahi-Mahi- Coryphaena hippurus

72 to 88 F
strip bait, squid, yellow lures

Blue Shark- Prionace glauca

68 to 85 F
live or dead bait; herring, squid, or any cut fish

Mako Shark- Isurus oxyrhynchus

64 to 80 F
strip bait, squid, herring, tuna, mullet

Thresher Shark- Alopias vulpinus

60 to 75 F
small fish baits or chumming live baits; mackerel, herring, squid

Yellowfin Tuna- Thunnus albacares

60 to 80 F
trolling or bait fishing with chum while drifting

Big Eye Tuna– Thunnus obesus

60 to 80 F
trolling or deep bait fishing from drifting boat

Bluefin Tuna- Thunnus thynnus

56 to 84 F
kite fishing, trolling, or chumming with live bait-herring, squid, mackerel, eel, whiting, mullet

Yellowtail – Seriola lalandei

70 to 84 F
live bait, casting, trolling, and sometimes deep jigging
Summary of Recreational Groundfish Fishing Regulation
Anglers should always check the California Fish and Wildlife website for the current regulations before fishing for groundfish (bottom dwellers) and check to ensure you are not in a Marine Protected Area (more information below).
Fishing for groundfish by boat in San Diego is only open from Mar 1 to Dec 31 and closed from Jan 1 to Feb 28.
The take of rockfish is not allowed seaward of 100 fathoms or 600 feet. It is also encouraged that anglers use a descending device when returning these and other deep-water species subject to barotrauma (injury due to change of pressure.)
Daily Bag Limits for Rockfish, Cabazon, and Greenlings Areas (RCG) are ten fish in combination per person except-
Vermillion rockfish- 4 fish/person
Quillback rockfish- 1 fish/person
Copper rockfish- 1 fish/person
Cabazon must be 15 inches
Kelp or Rock Greenlings must be 12 inches
You must not take these rockfish

Bronze spotted rockfish
Cowcod
Yelloweye rockfish
Other groundfish regulations are the following:
Lingcod- 2 fish/person – 22 inches
Ocean Whitefish- 10 fish/person at no size limit
California Sheephead- 5 fish/person- 12 inches
California Scorpionfish- 5 fish/persons- 10 inches (year-round)
Leopard Shark- 3 fish/person -36 inches
Pacific Sanddab- no limit

other flatfish- 10 fish of each species, but no more than 20 fish in total combination-(year-round)

Petrale Sole and Starry Flounder- no limit and no size limit- (year-round)
Other Federal Groundfish-  same as RCG with ten fish of each species but no more than 20 fish in total combination
If not noted, all the above groundfish may only be taken from Mar 1- Dec 31.
Also, rules may change within the season, so below is some additional information that I hope helps.
Recreational Groundfish Regulation Hotline– (831) 649- 2801
What Type of Fish do You Catch From the Shore in San Diego?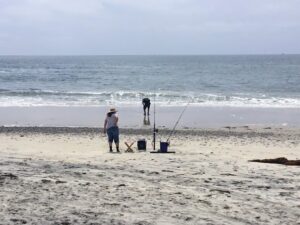 Here is a list of a few species caught from shore on the beaches of San Diego.
surf perches

silver surfperch- Hyperprosopon ellipticum
rubberlip surfperch- Rhacochilus toxotes
barred seaperch- Amphistichus argenteus
shiner perch- Cymatogaster aggregata
walleye surfperch-Hyperprosopon argenteum

croakers

California corbina- Menticirrhus undulatus
white croaker- Genyonemus lineatus
spotfin croaker-  Roncador stearnsii
fishowfin croaker- Umbr na roncador
white sea bass- Atractoscion nobilis

shovelnose guitarfish– Rhinobatos products
round stingray– Urobatis halleri
bat ray– Myliobatis californica
—>Common Surfperches of California-A Field Guide<—
---
Where are the Best Places For Surf Fishing?
Now I am no expert in fishing, and the only knowledge I have is from observing where the anglers prefer to set up on each beach. I am sure you can catch fish from any beach in San Diego short of the Marine Protected Areas (click here to see where).
For example, noting the sign above, over at Swami's State Marine Conservation Area, you can fish with hook and line from shore or spearfish, but no fishing from a vessel is allowed.
Please check the regulations because each MPA has different rules.
—>Fishing Guide for San Diego's Marine Protected Ar as<—
#I found this excellent phone app to tell you if you are within a Marine Protected Area. Click on the link for more information.
–>San Diego Marine Protected Area Interactive Map<–
Let's now go and take a look at a few saltwater shore fishing spots!
---
Surf Fishing Tip!
So the other day, I was over on Oceanside Harbor Beach and noticed that the entire surf zone was covered with coquina clams, also known as bean clams.
After some research, I discovered that these little guys attract fish. I found a fishing tip! First, find a sizeable concentrated area of these clams, toss a fresh shrimp or sand flea on top, and watch the fish come to you!
---
Top Two Spots at San Onofre State Beach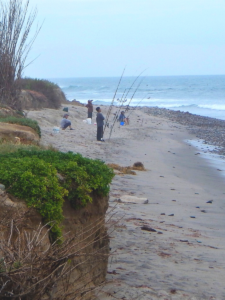 Oh, how I love San Onofre State Beach! Now surfing is the number one activity here, but there are two prime locations for surf fishing. The first is found north of Old Man's Beach at what is referred to as The Point.
The second location is south of Trail Six, below the San Onofre Bluffs Beach Campground. Each time I visit over here, there is always someone fishing.
Further Information on the Area-
---
Saltwater Fishing- Oceanside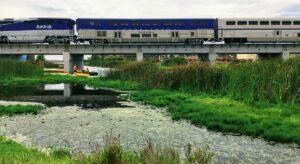 There are several areas to fish over at Oceanside. First, Oceanside Harbor is where you can launch your fishing boat.
Just south of the harbor is Oceanside Pier, where you can fish without a fishing license.
There is also the Oceanside Harbor Small Craft Pier, which again needs no license. What is so great about this pier is that the bait barge is located just across from it.
Another great spot is over on the rock jetties at the opening of the harbor. You do not need a fishing license if you are surrounded by water on three sides.
Oceanside beaches, especially south of the pier, are incredibly narrow and usually wet during a high tide, so please consider it.
There is an artificial reef located just north of the Oceanside Pier
Looking for a unique experience? Do you have a tube? One day, I saw two guys fishing in the Loma Alta Creek. I am unsure how I feel about this, as the water is not clean.
Further Information on the Area–
---
Salt Water Fishing Carlsbad
Agua Hedionda Lagoon
In North County San Diego, Agua Hedionda has to be the most popular shore fishing spot. There would easily be at least 25 anglers fishing at the lagoon's western edge during the day.
Another great spot would be on the Tamarack State Beach jetties in front of the Agua Hedionda Lagoon Inlet.
A recorded sighting of a great white shark attacking a seal within this inlet a few years back.
Fishing South Ponto Beach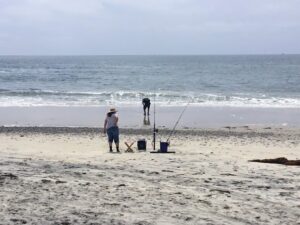 South Ponto beach always seems to have a few people fishing when I visit here. It could be that this location is prime because it is close to the entrance of Batiquitios lagoon. In addition, there is a vast paid parking lot with restrooms.
---
Fishing The Beaches of Encinitas 
Surf fishing on the beaches of Encinitas is hit and miss for sure, and I have to say the most popular places where I see anglers the most would have been either at Beacon's Beach or over at Boneyards.
Beacon's beach has a limited parking area with less than eight spots, and I suggest trying this spot later in the afternoon as it is a trendy surfing area.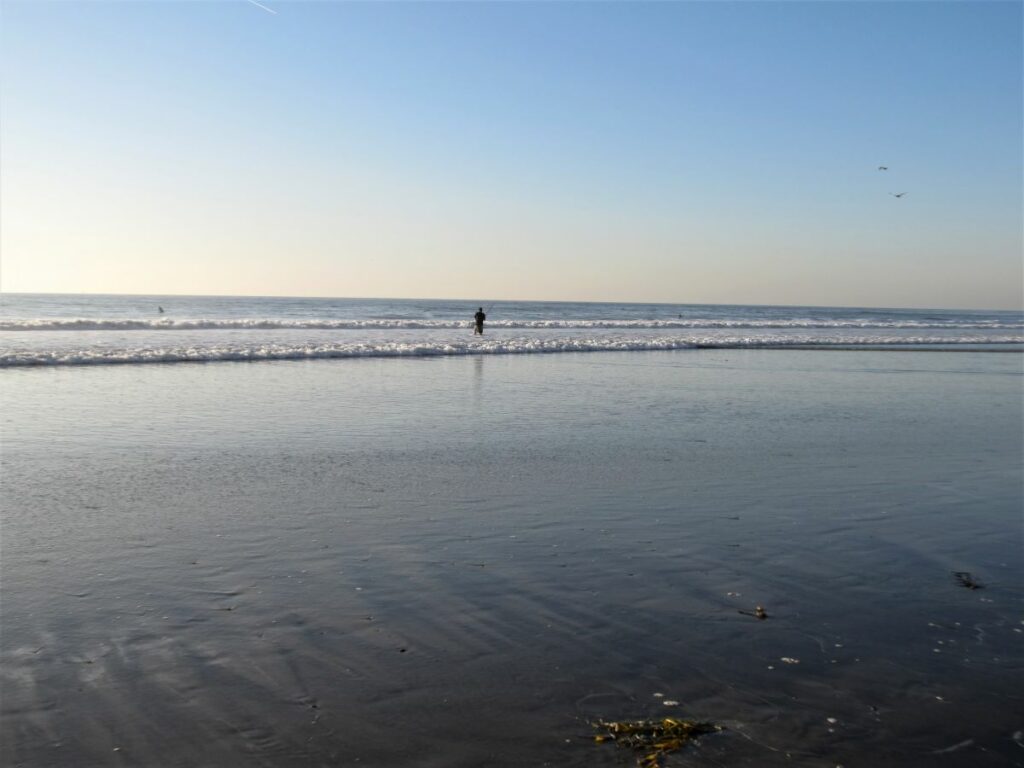 Boneyards would be the best bet, but getting over here is a bit of a hike. There are two ways to get to this beach. First, you can park at Moonlights' free parking lot and walk south for about a mile. And the second option would be parking at Swami's and walking north for almost half a mile. What makes Boneyards so unique are the reefs found close to shore and the fact that hardly anyone is ever on this beach.
It should be noted a Marine Protected Area begins around here and reaches down to San Elijo Lagoon, but fishing from shore is permitted.
Cardiff Dorymen
Just south of Swami's State Beach in Cardiff State Beach, the infamous Cardiff Dorymen would launch small wooden ships from this beach searching for fish. Can you imagine how hard it would be to fish without any instruments, but just a motor and two oars in an emergency?
---
Fishing Torrey Pines State Beach
Torrey Pines would always be my number one fishing spot to find the most anglers when I had to find saltwater shore fishermen. Though I recalled my adventures over twenty years ago, the number one spot at Torrey Pines is just south of the southern parking lot.
I remember at least 15 anglers fishing on the beach south of the lifeguard tower back in the day.
Fishing Naked at North Black's Beach?
Do you like to fish naked? Black's Beach, San Diego's only 'official' nude beach, is about two miles south of the Southern Parking lot.
Back in the day, when I was looking for anglers to survey, I witnessed this guy fishing over at North Black Beach. I couldn't tell until closer, but he only wore an extra-large Vietnamese conical hat. I stopped in my tracks and considered my options. Should I approach him?
---
Fishing Around La Jolla's Marine Protected Areas
La Jolla, referred to as 'the jewel,' is California's most beautiful city! I may be biased, but you must see this place in person to appreciate the absolute beauty.
La Jolla has three different Marine Protected Areas (MPA), so instead of pointing out where you cannot fish, let's point out where fishing is permitted.
The first MPA, San Diego-Scripps Coastal Marine Conservation Area, begins at Box Canyon, where the Ho Chi Minh Trail is located. The trail sticks out by having a large rope hanging down the cliff.
The border begins here so that you can fish anywhere north of the rope. But take note that this is where the nude beach begins. Now you can fish south of the Ho Chi Minh Trail down to the Ellen Browning Scripps Memorial Pier, but you can only keep coastal pelagic fish.
Matlahuayl State Marine Reserve- starts midway at La Jolla Shores Beach and ends at La Jolla Cove. There is NO fishing allowed here at all.
Continuing down the coast, we come upon the third MPA-South La Jolla State Marine Reserve, which begins at Palomar Ave and spans to Diamond Street in Pacific Beach.
So, fish south of Diamond Street to protect yourself from fishing tickets.
Where You Can Fish in La Jolla-A Summary
North of Ho Chi Minh Trail, fishing is permitted at North Black's Beach-Torrey Pines State Beach.

You can take coastal pelagic species on all beaches South of Ho Chi Minh Trail down to the Scripps Pier.

South of the Scripps Pier to Point La Jolla SMR= NO FISHING
Point La Jolla to Palomar Ave; all fishing allowed
Palomar Drive to Diamond Street in Pacific Beach-SMR= NO FISHING

South of Diamond Street, all fishing allowed
Helpful Resource-
Helpful Posts-
---
Salt Water Fishing Spots- Mission Bay
Mission Bay has over 27 miles of shoreline to explore, but not everywhere is prime for fishing. Down below are a few spots where I would always find anglers.
As you can see, the most popular fishing places to fish in Mission Bay are the areas toward the bay entrance and underneath bridges. I hear that is where the halibut like to hang out.
After quickly looking up the best spots to fish online, I found that Mariner's Bay, Quivira Basin, and the Mission Bay Channel all have an average depth of 20 feet, while the rest of the Bay has an average depth of 12 feet at high tide.
Mission Bay has a sandy bottom, so eelgrass and man-made structures, such as bridge pilings and boat docks, stand out as the best bet for finding fish.
Fish That Are Seen Most in Mission Bay–
spotted bay bass
shortfin corbina
California halibut
---
Sunset Cliffs Fishing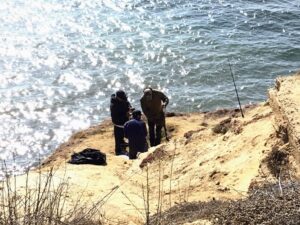 Another excellent place for fishing is at Sunset Cliffs, but you have to know what you are doing as the water can be rough here.
---
Fishing San Diego Bay
San Diego Bay is 1 to 3 miles wide and 12 miles long and is the third-largest natural Bay in California, after San Fransico Bay and Humboldt Bay.
The Bay is separated into two sections-North and south. The Northern Section has an average depth of 60 feet, allowing the military ships to maneuver. Comparatively, South Bay's water level may sometimes be only a few feet deep.
Overall, the average depth of the entire Bay is 20 feet.
Where to Fish? North or South?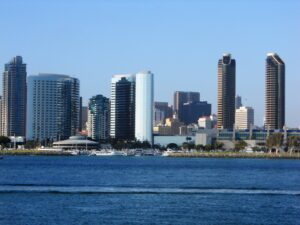 First, it must be noted that there are five different piers in San Diego Bay; three in the Northern Section and two in the Southern section. Each has its bit of charm, but in my opinion, Shelter Island is the best place to fish in San Diego Bay because it is so close to the entrance to the ocean, and the water in the channel is deep.
The most prevalent fish caught in San Diego Bay would be the spotted sand bass, followed by the barred sand bass.
Fishing North San Diego Bay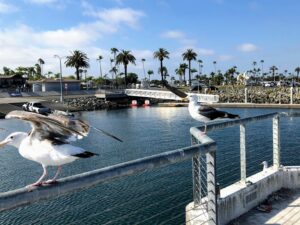 I have wracked my brain to remember where I would see anglers fishing on the rocks, and again, Shelter Island comes to mind. The most popular spots on the rocks are left of the Shelter Island launch ramp. But seriously,  all up and down Shelter Island is a good bet.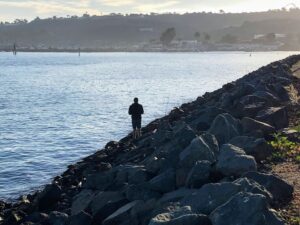 Another favorite place is Harbor Island which is always lined with anglers on the rocks.
I hear there is a great chance to catch halibut underneath the Coronado Bridge; however, you need a boat.
Fishing South San Diego Bay
Another prime spot for fishing in South San Diego Bay is near the Sweetwater Channel at Pepper Park in National City.
Pepper Park offers a boat launch ramp and a fishing pier.
The Sweetwater Marsh is a part of the San Diego Bay National Wildlife Refuge, so stay clear of the marsh, but the waters outside are ok to fish in.
Many fish species use the Sweetwater Marsh as a nursery; again, you might catch something unusual here.
Two Favorite San Diego Bay Fish
Down in South Bay, because the water is relatively shallow and considerably warmer than in North Bay, you may find some interesting species like Cortez bonefish.
These highly sought-after fish are caught here year-round but peak in late February to early June.
A good way of knowing that you have caught a bonefish is to cover it in a thick slime coat. I also hear that ghost shrimp are their preferred bait. 
The underwater topography in South San Diego Bay is pocketed with holes 20 to 30 feet wide and 20 to 30 feet deep. Bonefish like to stay near the edges of these holes, where the term 'fishing the edges' comes about.
One more warm water lover is the shortfin corvina, a coveted species in the San Diego fishing community. They are strong fighters that can be caught with artificial lures. It is important to note that the shortfin corvina follows the water to the sandflats to feed during an incoming tide.
Because the shortfin corvina resembles the juvenile white seabass, catching and releasing is always a good idea.
San Diego Bay has terrific fishing with many fish to target!
Fish Commonly Seen in San Diego Bay
spotted sand bass- Paralabrax maculatofasciatus
kelp bass- Paralabrax clathratus
barred sand bass- Paralabrax nebulifer
California halibut- Paralichthys californicus
shortfin corvina-

Cynoscion

parvipinnis

Cortez bonefish- Albula gilberti
Pacific bonito- Sarda chiliensis
yellowfin croaker-  Umbrina roncador
lingcod- Ophiodon elongatus
Pacific barracuda- Sphyraena argentea
---
More San Diego Saltwater Tours!
Have you ever thought of sailing or on a sunset wine cruise?
Before I leave you, I wanted to share a few other posts I have done to get you on that water!
Below, I have provided many boat tours offered throughout San Diego County.
#Click on the photo for more information
Oceanside Harbor Cruises-Get on the Water!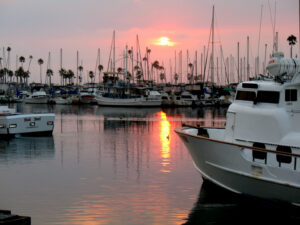 Mission Bay Cruises-Get on the Water!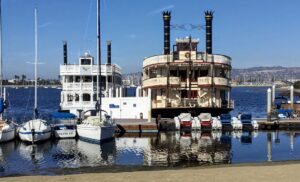 San Diego Bay Cruises-Get on the Water!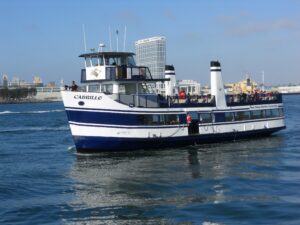 San Diego Whale Watching Tours
---
References–
California Department of Fish and Wildlife-Ocean Sportfishing
Fishing for San Diego Bonefish | Salt Water Sportsman
San Diego Bay Fishing | Risen Tide Sportfishing (risentidefishing.com)
365-day Licenses go into effect on New Year's Day | San Diego Reader
I have always had a deep-seated passion for the Ocean Environment which ultimately led me to receive a degree in Marine Biology. Living in the San Diego area for over 30 years, I have extensively explored the 70 miles of San Diego's coastline, and I am here to share! Please use my website to your advantage and have a look around at all the wonders that the beaches of San Diego can offer you!