San Diego, known as "America's Finest City," boasts over 70 miles of coastline to explore! Are you a piscator? Or, in other words, do you like saltwater fishing? Do you prefer to fish from piers or jetties? From shore or out in the ocean? San Diego's peak fishing season begins in April and until November. Would you like to learn more about saltwater fishing in San Diego?
–>The Beaches of San Diego County<–
What makes San Diego extraordinary is that the coastline is so varied. There are miles of sandstone bluffs in North County San Diego (San Onofre, Carlsbad, Encinitas, Del Mar). While down in South County San Diego, sandy beaches rule (Pacific Beach, Mission Beach, Ocean Beach, Coronado, Imperial Beach.) San Diego has it all, whether you prefer to fish from the beach, jetty, pier, boat, or by a chartered vessel!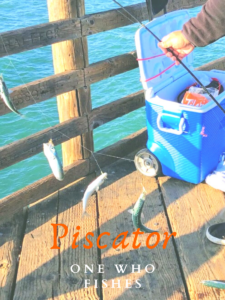 A Piscator Page, You Say?
I thought having a specific page on my website with all of the San Diego saltwater fishing information in one place would be good. A piscator page!
So down below, I have compiled complete lists of all San Diego saltwater fishing piers, saltwater sportfishing (half-day/full-day) party and charter boats, boat launch ramps, lobster fishing spots, the 2022 grunion run schedule, a few fish lists, as well as several prominent shore fishing locations.
As a bonus, I have included all harbor and bay cruises offered out of Oceanside Harbor, Mission Bay, and San Diego Bay for those who have no desire to fish but still yearn to be on the water.
To experience San Diego fully, you must get on the ocean, breathe in all the negative ions, and let the saltwater spray on your face. Believe me; you will thank me later. Also, don't forget to pack a sweatshirt, as it can get chilly out on the water.
Continue reading "Saltwater Fishing in San Diego"
I have always had a deep-seated passion for the Ocean Environment which ultimately led me to receive a degree in Marine Biology. Living in the San Diego area for over 30 years, I have extensively explored the 70 miles of San Diego's coastline, and I am here to share! Please use my website to your advantage and have a look around at all the wonders that the beaches of San Diego can offer you!